Official Xbox One Chatpad now on sale at Microsoft Store for $35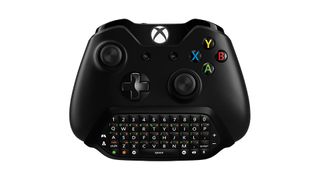 While the Xbox Elite Wireless Controller is in short supply, one of Microsoft's other official Xbox One accessories is now officially on sale. The previously announced Xbox Chatpad is now shipping from the Microsoft Store for $34.99.
Here's a breakdown of the Chatpad, which was first announced earlier this year at Gamescom
The Microsoft Store site does warn there are "limited quantities" of the Xbox Chatpad at the moment, so if you really want one before the holiday shopping season is over, you might want to get it now.
We'll have a full review of the Chatpad soon! In the meantime, check out our review of the competing Nyko Type Pad for Xbox One. Buy the Xbox One Chatpad from Microsoft Store / $34.99 (opens in new tab)
Windows Central Newsletter
Get the best of Windows Central in your inbox, every day!
Yay! Hopefully Amazon ships my pre-order quickly!

got mine from microsoft store today.this keyboard rocks Posted via the Windows Central App for Android

They should've made one with Swype tech it would had made it the fastest way to message while playing...

Finally. Why it took so long is a mystery to me.

I'm just wondering if the Xbox One Chatpad will work with the old Xbox One controllers (without the 3.5mm headphone jack)

It works with both controllers. It includes the 3.5mm jack at the bottom of it for those without the new controllers

So its essentially a chatpad with the expensive headset adaptor incorporated? Thats pretty good value.

it does.i have it working on mine day one controller. Posted via the Windows Central App for Android

Between a headset and smartglass I don't see much need anymore, I did have one for the 360 thou back in the day.

For those who are on guest networks it is useful

Or for those that don't want to find or pull out your phone, unlock it, find the app and wait for the app to load. With the pad, I can just move my hands.

It's about freaking time.

Of course, not available in australia, or probably anywhere outside the US, as per normal for MS it seems. Doesn't even appear as a 'coming soon' listing on the store page for me. Oh well, ebay to get an imported one for me. Nice one MS (again).

I'm guessing they want to see how it sells in the US first, then scale production from there.

Yeah, because they don't already have metrics on how many 360 chat pads sold and couldn't possibly work it out from that.

If thats the case its one of the now many things MS does that hurts them. All of their main competitors launch everywhere at once (apple, sony, etc) and yet MS still does this bullcrap region by region rollout even for devices that completely sell out they are so good/wanted. This seems to have EVERY time they announce somehting that I want. Hell, they STILL don't have cortana for windows 10 in my region claiming it needs localisation, even though when I change me PC's location to the US it works flawlessly. Why can't they get this right, everyone else seems to.

Still not available on the uk store

Good stuff, will make using just the Xbox controller a cinch since it has integrated volume controls. Looking for YouTube videos will be much simpler now as well.

Hmm... I guess I'm wrong on the features of the chatpad. Seems the audio controls are only for chat that's a bummer as I expected to control my TV volume with it.

Its the same as the expensive headset adaptors. The only voluime it controls is what comes out of any headset connected to it. However with a headset you can now use its kinect-like vol up-down voice command and that will affect the volume of the xbox as a whole.

I wish they would make a Bluetooth keyboard case for a Lumia.