Out This Week on Xbox One: Forza Horizon 2 Presents Fast and Furious, Oddworld: New 'n' Tasty, and more!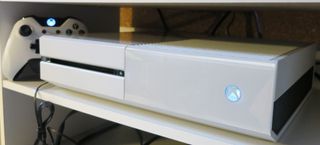 Every week new games are released for the Xbox One. Whether they are indie titles or AAA titles we want to make sure they're on your radar. So get your wallet ready and clear some space on your hard drive, let's take a look at what's coming out this week for Xbox One.
Forza Horizon 2 Presents Fast and Furious
Get behind the wheel of the Fast and Furious series
Forza Horizon 2 is easily the best racing game of the new generation of consoles. Our own Paul Acevedo even chose it as one of his favorite games of 2014. Now, it's about to get better and you don't even have to own the game.
Forza Horizon 2 Presents Fast and Furious is a standalone expansion that allows you to drive some of your favorite cars from the series. Even better is that this expansion is free for a limited time! However, not much else is known about the game or what else it will contain from the Fast and Furious universe.
Forza Horizon 2 Presents Fast and Furious powerslides onto the Xbox One this Tuesday, March 27 for FREE (opens in new tab).
Borderlands: The Handsome Collection
Borderlands goes next-gen
Borderlands: The Handsome Collection brings Borderlands 2 and Borderlands: The Pre-Sequel to the Xbox One. The collection also features all of the DLC from those games as well as a graphics boost up to 1080p, 60fps.
Borderlands is known as one of the best co-op experiences of the last generation, so Gearbox also added four player couch co-op to The Handsome Collection to spice things up a bit. If you've been itching to play some next-gen Borderlands now is your chance, and you can also bring over your save game from last generation consoles.
Borderlands: The Handsome Collections launches Tuesday, March 24.
Order/pre-order from Microsoft for $59.99 (opens in new tab)
Oddworld: New 'n' Tasty
Abe's newest adventure
Oddworld: New 'n' Tasty is a complete remaster of 1997's Oddworld: Abe's Oddysee. Once again, you play as Abe in this sidescrolling platform-puzzler as you try to save all 299 Mudokens at RaptureFarms.
Besides a graphical boost, New 'n' Tasty features more dialogue and responses that the original, as well as new leaderboards. If you were a fan of the original Abe's Oddysee, I'm sure this is worth the purchase just for nostalgia purposes alone.
Oddworld: New 'n' Tasty comes to the Xbox One this Friday, March 27.
Slender: The Arrival
You're not always alone in the woods
Slender: The Arrival is a game that is sure to get a jump out of you. You play as Lauren who is searching for her friend, Kate, after she has gone missing. The only problem is that while you are searching for her The Slender Man is haunting you.
Slender: The Arrival made its way to last gen consoles late last year and was welcomed by mixed reviews. Many praised it for its tense atmosphere and soundtrack, but it was criticised for its rather short campaign.
Slender: The Arrival launches Wednesday, March 25.
Windows Central Newsletter
Get the best of Windows Central in your inbox, every day!
Fast and furious definitely. Might pick up Oddworld also

Seeing as how it's completely free, and only for a limited time, it would be pretty foolish not to download Forza Horizon: Fast and Furious, especially since it also includes 1000GS to earn.

I don't have high expectations of the expansion... Free + Fast and the Furious doesn't sound like a winning combo to me, but I am hoping to be pleasantly surprised... Oddworld brings a flood of warm memories though...

Is the standalone expasion gonna be available for Xbox 360 aswell?

Yes it is here's the link even though it says march 27 not the 24th
http://www.windowscentral.com/forza-horizon-2-get-fast-and-furious-stand... app link: wpcentral:show?article=forza-horizon-2-get-fast-and-furious-stand-alone-expansion-march-27

Abes Odyssey was great, but not sure what's to gain from this remake.

Better graphics so that the kids these days will give it a chance

Strange :/ Fast and furious says it will be released on March 27:/

Will fix! Got my dates mixed up

Might change it to Friday too;) March 27 is on friday

Whats strange is it isn't released on Tuesday

You have Forza coming out Tuesday, March 27. Should be the 24th.

Fast & Furious Forza and new episode of GoT. Going to be a great week

I thought out this week was a new Xbox White. :P

True, but it has been sold out for a while. Hence the "new" in my post. ;)

I'll definitely give the new Fast and Furious iteration of Forza Horizon 2 a try, since it's free. Oddworld is one I might try down the line. I'm still waffling about Borderlands because I find $60 for 2 ports ridiculous. If they'd given us the first game or made it $40, I'd be on-board. I watched Paul's Slender stream yesterday, and it just looks like a dumb game, honestly. It didn't strike me as scary at all, and I'm not a fan of walking simulators.

Can. Not. Wait. That Forza expansion has already claimed my weekend before it's even here.

Might give Borderlands a rent. Haven't played Pre-Sequel yet

I'll be using the F&F expansion to demo the platform and see if I might want to purchase the full Forza Horizon 2 game. It's a great move on their part to make it free for folks like me still undecided on my next racing game.