Out This Week on Xbox One: ScreamRIde, OlliOlli, Zombie Army Trilogy and more!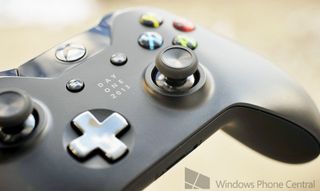 March is here and with it comes some top-notch indie games. This week, ScreamRide will finally hit Xbox One as well as the highly anticipated game OlliOlli. If those don't sound like they're up your alley, we have a couple of other indies heading our way this week as well. So head down below to see for more info.
ScreamRide
the ride of your life
ScreamRide is from esteemed devs of Roller Coaster Tycoon, Frontier Developments. The game features coaster building just like its spiritual predecessor but takes it even further with the ScreamRider and Demolition Expert modes.
ScreamRider has you taking control of your coasters and riding them as fast as you can to get the best time. Demolition Expert mode is a lot like a third person Angry Birds game. You shoot your pods at buildings trying to get the highest score by getting critical hits on the buildings.
ScreamRide launches this Tuesday for Xbox One.
ScreamRide – Xbox One – $39.99 – Xbox Store

(opens in new tab)
White Night
a black and white affair
White Night is a narrative-driven survival horror game set in the jazz/noir era of the 1930s. After surviving a near-fatal crash in the dead of night, you seek aid in a nearby manor. However, once inside the manor you realize that it isn't the place you thought it was.
White Night uses a light mechanic that adds for an even more mysterious atmosphere. For example, when going through a room you see an entirely black screen until you flash your flashlight around which then allows you to see everything else in the room. The game is also said to be very haunting as it goes back to the roots of survival horror games.
White Night brings light to the darkness March 6.
Zombie Army Trilogy
three times the zombies
Zombie Army Trilogy is standalone remastered DLC from the Sniper Elite V2. The trilogy features Nazi Zombie Army, its sequel and, their never released third installment.
You and up to three friends can take on Hitler and his legions of zombies through 15 campaign levels. There are a handful of different types of zombies to aim your sights on. The game also features an endless horde mode that allows you to and your friends to see how long you can survive.
Zombie Army Trilogy launches this Friday, March 6.
OlliOlli
land the perfect jump
OlliOlli is an indie cult hit from the devs at Roll7. The game is a skateboarding game that features minimal controls and two-dimensional gameplay. The game is simply about getting high scores from grinding on rails and obtaining a 'perfect landing' badge from jumps.
The game has numerous of levels that only allow you to proceed to the next after achieving five unique tasks that every level has to offer. The game has been available for PlayStation users for over a year now with the sequel set to launch for them this week as well
OlliOlli skates its way to the Xbox Games Store this Friday, March 6.
Shiftlings
wacky puzzle solving
Control two quirky alien space janitors as you make your way through this colorful puzzle platformer. You must complete tasks while being conjoined to one another. Otherwise, the ship will meet its ultimate doom.
Shiftlings uses conventional and unconventional ways of solving puzzles. For example, some puzzles will have one alien blow up into a balloon while the other guides him by running and jumping his way through the level.
Shiftlings will become available tomorrow, March 3.
Shiftlings – Xbox One – $14.99 – Xbox Store

(opens in new tab)
Get the Windows Central Newsletter
All the latest news, reviews, and guides for Windows and Xbox diehards.
White Night sounds exciting

Yea kind of reminds me of Unfinished Swan but with a twist!

Getting ScreamRide and Zombie Army Trilogy Day One!

Frontier only was involved with the last rct

Frontier made Kinectimals. Gorgeous game. I'd totally buy anything from them.

White Night got my attention!

I'm hoping for some Silent Hill 1 scares

Gnna get scream ride. Rayman Legends is free for Gold members that's a $40 value for free. Olli Olli looks fun but it'll be free soon

Been looking forward to White Night since E3. Love the look of the game.

Bought Sniper Elite 3 for £10, then bought EA Access, then got Rayman as a Games With Gold title. Then more games show up!

My backlog keeps growing, so ill be waiting on any of these. Rayman Legends is by far the best GwG yet too! Amazingly fun and addicting.