Project Tripod, OneDrive, Divvy for YNAB and more are your app highlights for this week!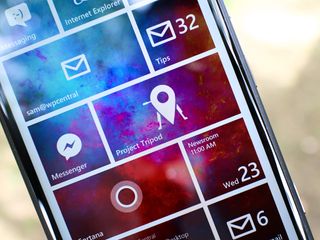 Not too many major apps launch on the weekends, which is why we take the opportunity to go over the new apps that launched this past week. It's the perfect chance to make sure you don't miss out on any cool new Windows Phone apps. This week's app highlights has us looking at various new wares from the Windows Phone Store like Project Tripod, Divvy for YNAB, Microsoft Remote Desktop Preview and more!
New
Project Tripod – This is a clever new app from the AppCampus program that promises to showcase the changes between photos over time. Project Tripod is a new app that's exclusive to Windows Phone. With the app you're able to create perfectly align photos of the same object at different points in time. You can then create timelapses and more with the app. Download Project Tripod from the Windows Phone Store. (Free/Subscription)
Microsoft Remote Desktop Preview – It only took a few years, but Microsoft has finally released a Remote Desktop app for Windows Phone. With Microsoft Remote Desktop Preview and Windows Phone 8.1 you'll be able to control and tap into any PC you want. Download Microsoft Remote Desktop Preview from the Windows Phone Store. (Free)
Diagnostics – Looking to make Windows Phone even better? Send Microsoft detailed diagnostics using the official Diagnostics app for Windows Phone 8.1. The app will allow you to create detailed diagnostics for any errors or bugs you encounter. Download Diagnostics from the Windows Phone Store. (Free)
Divvy for YNAB – You need a budget, in fact everyone really needs a budget. While some of you business majors might get by fine with Excel, there are millions of folks who might need a little extra help. You Need a Budget (YNAB) is a desktop app for PC and Mac that has helped thousands get back on track with their finances. Divvy for YNAB is a beautiful new third-party app for Windows Phone that gives you read-only access to your finances and budgets! Download Divvy for YNAB from the Windows Phone Store. (Free/In-app purchases)
Youmigo – Here's another app joining Windows Phone from the AppCampus program this week. The app is called Youmigo and it's an international culture exchange that connects you with people all over the globe. Use Youmigo to find and connect with people anywhere on this planet. Download Youmigo from the Windows Phone Store. (Free)
TimeMe Tile – Folks on Windows Phone 8.1 are loving the transparent Live tiles and other new features. Want to pin a gigantic Live tile to your Start screen that tells you the time, date, weather and more? Then download TimeMe Tile from the Windows Phone Store. (Free)
Updated
OneDrive – This week OneDrive picked up a gigantic update. Version 1.4 of the app is now live in the Store and brings features like support for large screened phones, the ability to upload multiple photos at once, a new immersive view for viewing photos and much more! Download OneDrive from the Windows Phone Store. (Free)
eBay – It took eBay long enough, but they finally have updated their Windows Phone app. We were promised an update in January that was due to hit last month. Anyways, head to the Store and you'll now find eBay at version 1.5.0.12. The update brings a complete redesign of the app with various new features. Download eBay from the Windows Phone Store. (Free)
Xbox Music – Rocking Windows Phone 8.1? Then you've probably been fairly disappointed with Xbox Music since upgrading and losing the music + video hub. The recent update to Xbox Music makes the transition a little better. Version 2.5.2842.0 of Xbox Music is sitting in the Store and promises general performance improvements, bug fixes, improved integration with Cortana and much more! Download Xbox Music from the Windows Phone Store. (Free)
Baconit – Your favorite Reddit client for Windows Phone picked up a major update this week. Baconit now sits at version 3.0 and brings a new start experience, UI tweaks, performance improvements and much more. Download Baconit from the Windows Phone Store. (Free)
Games
Rabbids Big Bang – While not a new app, Rabbids Big Bang is now available for free in the Windows Phone Store. The physics puzzle game is highly addictive and worth downloading! Grab it from the Windows Phone Store. (Free)
Have any favorite apps or games from this past week? Promote them below!
Get the Windows Central Newsletter
All the latest news, reviews, and guides for Windows and Xbox diehards.
I never knew about Remote Desktop coming to WP! :D I guess I missed the article...

When WhatsApp will updated?windows phone 8.1 is far far better than wp8 but still missing many apps and some features of available apps ,fill that app gape Microsoft

Already on Android and iOS, I own Android devices too, so Its Awesome, but really there is no exlusives on WP now hah

Yeh,but still android and ios has large numbers of games and apps,although now wp8.1 is very much better than wp8,

Anyone getting exception errors when clucking on a notification from WPC? Happens to me every time. And Simple Calendar will not open more than once unless the phone is rebooted.

I'm getting that error every single time

Time me tile needs an update I uninstall it because it showed the wrong time too many times.

I still waiting on Google+ but not holding my breath.

Blame GOOGLE for that and not Microsoft. They are the ones that are REFUSING to support Microsoft's Mobile products.

There's rumors around that G+ is about to be closed down.
Btw, funny reading to see who owns Google...

G+ is a loss making service for google. And fp microsoft its somewhat internet explorer but microsoft has struggled and managed well to keep most of the world population on IE. As most of the applications of enterprises are IE compatible. Other browsers can just be used for surfing that's it.

Me too, and rumors are pointless, ofc it will stay

Is anyone not able to download time me? I can't its forever pending.

I can't wait till the day XBM is worthy of being a "app highlight of the day"........
...............................Upadte❕❕❕
That's it.. Do not use the new XBM app!!!
It's hogging data now!... According to Data Sense WP8.1XBM has wasted 17mb of my cellular data, and consumed 54mb of data while on WiFi... Why? IDK, because it's always constantly searching for music,, I guess... I have cloud music turned off..... Stupid######
.....................
I'm not calling it the XBM app anymore. Sick of tarnishing the XB name... For now on this is the KinMusic app.. Lol... Thank god we can revert back to the somewhat feature stripped native app..

Well, people with Philips HUE lights could try this app. Its free and and from a Dutch developer: http://www.windowsphone.com/nl-nl/store/app/huetro-for-hue/f14faa22-179d...
I did tip WPCentral but they never picked it up. 5 star ranking until now.

I'm unable to update XBMusic, whenever I head to the store it tells me the app is not available for my device (Lumia 820) and my current version is 2.5.1330.0. Any tips? (before asking stupid questions: my phone is turned on, I have an internet connection and I'm using WP 8.1)

Changed my region to US and it worked. Microsoft, fix this retarded crap so everybody else can enjoy the updates. I can't believe they do these things. If you have an app installed, you should be able to update it regardless the region you're using on your phone. Big companies tend to miss these simple common things and it's annoying. edit: The devs behind Xbox Music should be fired, the app sucks so much compared to the one on 8.0.

"Before asking stupid questions"""
LMFAO... Kinda rude way to ask for help DYT... Lol!!

@ Daniel R......
I think this reviewer likes you.. He has you pinned to his start screen... Lol!!!.... Video.
.......................................
http://www.usatoday.com/story/tech/columnist/talkingtech/2014/04/26/five...

The guy in the video has no idea what the word flow keyboard does!

Find it here: https://www.dropbox.com/sh/44ym3n3gc9cr4eg/yljeWqALuy :D just to fasten things up

Microsoft has made video player worst... Not at all opening... Getting crash everytime......

I guess u can report them via diagnosis app.

Sam, Give me that background wallpaper

Find it here: https://www.dropbox.com/sh/44ym3n3gc9cr4eg/yljeWqALuy just to fasten things up :)

Calendar Calleague was updated this past week, now with full edit capabilities thanks to WP 8.1, but even if you don't have 8.1, Calendar Calleague also added support for authenticating to Microsoft, Google, and Facebook for editing/deleting of appointments. On the in-app purchase front, it also added Cortana support w/ voice commands and a new "auto-navigate to your next meeting from the live tile" feature. With the new WP 8.1 Calendar app out, some may wonder if the days are numbered for 3rd party calendar apps, but no other calendar app can dial you in to a conference call, and lets not forget live tile and lock screen limitations for the built-in calendar app.

I'm pretty sure that the OneDrive app version is 4.1

I love the background image in the picture of this article, can somone send me a link of it, or maybe where i can find more.