Rainbow Six Extraction: List of all Operators and abilities
Our greatest hope in the fight against the alien parasite.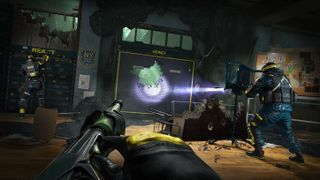 (Image credit: Ubisoft)
Rainbow Six Extraction is a horror-inspired co-op shooter set in the iconic universe of Rainbow Six Siege. Unlike its PvP counterpart, Ubisoft's latest Tom Clancy title pits players against hordes of alien enemies in an interesting PvE experiment. Surviving these hostile encounters will require a great deal of communication, strategy, a solid squad, and stealth.
Thankfully, Ubisoft Montreal have provided loads of flexibility for these treacherous incursions by delivering an impressive suite of unique characters with specialty tools and varying stats. For players looking to coordinate a battle plan before facing off against the deadly Archaeans, here's a breakdown of every Rainbow Six Extraction Operator and their abilities.
Tachanka
Tachanka is a cool, calm, and collected member of REACT with a history of experience with the Russian Spetsnaz. What he lacks in movement speed, he more than makes up for in heavy armor and raw firepower. His mounted light machine gun (LMG) provides the squad with a deadly but stationary combat ability.
Stats: Speed - 1/5 | Armor - 3/5
Ability: Mounted LMG – Deploys a mounted LMG for anyone to use.
Starting Weapon: SASG-12 semi-automatic shotgun
Fuze
Fuze is a demolitions expert with an affinity for using improvised materials to blow things up. Fuze shines when it comes to dispatching alien enemies, even if he's on the slower side. Armed with mountable cluster charges, few walls are thick enough to stop his explosive advance.
Stats: Speed – 1/5 | Armor – 3/5
Ability: Cluster Charge – Deploys remotely detonable charges on walls, releasing cluster grenades on the other side upon activation.
Starting Weapon: 6P41 LMG
Capitáo
Capitáo is a well-respected member of the REACT team with fantastic leadership qualities. Capitáo sports excellent movement speed but limited armor. His versatile crossbow can fire smoke or venom bolts, which can be strategically used to gain the upper hand in the fight against the Archaeans.
Stats: Speed – 3/5 | Armor – 1/5
Ability: TAC MKO Crossbow – Silently shoot bolts, which detonate on impact. Can alternate between smoke screen bolts and venom bolts.
Starting Weapon: PARA-308 assault rifle
Rook
An exceptional marksman, Rook is known to adapt under intense stress successfully. Rook provides outstanding support during potentially overwhelming encounters thanks to his heavy armor plates. He can also drop armor supply caches, providing additional protection to himself and his teammates.
Stats: Speed – 1/5 | Armor – 3/5
Ability: Armor Pack – Drops a pack of armor plates for the team, granting damage resistance. Anyone wearing armor always falls to Downed instead of KO.
Starting Weapon: P90 submachine gun
Jäger
Jäger is an expert helicopter pilot who volunteered to join REACT when it was formed. After seeing the alien parasite's destruction, Jäger wants to be one of the reasons it got defeated. His deployable automated turrets are a considerable asset for any squad looking to get a little breathing room in a firefight.
Stats: Speed – 3/5 | Armor 2/5
Ability: Active Defense – Deploys an automated turret with five rounds. It attacks and intercepts projectiles in the area.
Starting Weapon: M870 shotgun
IQ
IQ is a recon specialist eager to get ahead of the Archaean threat, and will use her technical know-how to assist allies in locating and gathering survival resources. IQ's portable scanner is a valuable tool for teammates who desperately need med-kits or ammunition.
Stats: Speed – 3/5 | Armor – 1/5
Ability: Red MK IV Spectre – Detects REACT Equipment and more through obstacles.
Starting Weapon: AUG A2 assault rifle
Gridlock
Gridlock is incredibly skilled when it comes to robotics and mechanical systems, and her experience with the SASR earned her a position on the REACT team. Use Gridlock's anti-personnel traps to damage and slow alien enemies to better control the battlefield.
Stats: Speed – 1/5 | Armor - 3/5
Ability: Trax Stingers – Throws and deploys traps on the ground. Enemies on the trap take damage and are slowed while over it.
Starting Weapon: F90 Assault Rifle
Nomad
Known for her exceptional endurance, Nomad served years with the Mountain Infantry of GIGR before joining REACT. Understanding that this newfound parasite could infest any climate, Nomad is committed to eliminating the threat. Her repulsion mines should offer excellent pushing power for any squad.
Stats: Speed – 2/5 | Armor – 2/5
Ability: Airjab Launcher – Shoots a repulsion mine, knocking back enemies caught in the blast. Also clears the area of hazards.
Starting Weapon: AK-74M assault rifle
Smoke
Smoke is an expert in chemistry and biology, and his years of experience make him a vital asset for REACT. A product of his own making, Smoke's toxic gas grenades are specifically designed to take down these new alien enemies.
Stats: Speed – 2/5 | Armor – 2/5
Ability: Remote Gas Grenades – Throws remotely detonated Z9 grenades, dealing damage to any enemy in the gas.
Starting Weapon: L85A2 assault rifle
Ela
It's no secret that Ela has a problem with authority. While this can make her unpredictable, there's no denying her value in the fight against the Archaeans. With devastating concussive mines, Ela brings some powerful tools to any incursion.
Stats: Speed – 3/5 | Armor – 1/5
Ability: GRZMOT Mine – Throws sticky proximity mines, stunning enemies caught in the blast. Mines recharge over time.
Starting Weapon: Scorpion EVO 3 machine gun
Sledge
While stealth is typically the route for success in tense REACT missions, sometimes you need a little brute force. That's where Sledge comes in, and his enormous sledgehammer makes quick work of walls and obstacles in the squad's way.
Stats: Speed – 3/5 | Armor - 2/5
Ability: Tactical Hammer – Equips a tactical hammer that can stun enemies and destroy walls to create new paths.
Starting Weapon: M590A1 shotgun
Alibi
With an illustrious history of taking down crime rings with G.I.S, Alibi is a seasoned Rainbow Six operator. Her network infiltration skills will prove critical to REACT's success. Alibi's decoys can help distract enemies and free your squad up for stealthy takedowns.
Stats: Speed – 3/5 | Armor - 1/5
Ability: Prisma – Throws decoys that can attract any enemies in the area. Enemies attacking the decoy will become scanned.
Starting Weapon: Mx4 Storm SMG
Lion
Lion was a crucial figure in containing the original outbreak in New Mexico. His background in recon and experience with the parasite makes him a skilled asset for team REACT. With Lion's impressive drone, you'll never need to worry about the whereabouts of enemies.
Stats: Speed – 2/5 | Armor - 2/5
Ability: EE-One-D Drone – Detects all moving enemies in the area for a short duration. Can be used again after a cooldown.
Starting Weapon: V308 assault rifle
Vigil
The background of this mysterious figure remains unknown. However, REACT recruited this skilled operator for his knowledge of electrical engineering. Equipped with a tactical cloak, Vigil manages to keep enemies wholly unaware of his position.
Stats: Speed – 3/5 | Armor – 1/5
Ability: ERC-8 Disruptor – Disrupts enemies, making him undetectable for a short duration. Can be used again after a cooldown.
Starting Weapon: K1A1 machine gun
Hibana
Hibana has a long resume involving counter-terrorism and risky infiltrations. This expertise made her one of the first members of REACT. Her unique sticky grenade launcher delivers destructive prowess to any incursion.
Stats: Speed – 4/5 | Armor – 1/5
Ability: X-Kairos – Fires explosives that remote detonate and stick to all surfaces. Ignores enemy carapace.
Starting Weapon: TYPE-98 assault rifle
Finka
A medical expert with years of experience with Russian Spetsnaz makes Finka a vital member of the team. Charged by her medical condition, Finka developed her own nanobot-driven adrenaline boost, which will keep herself and squad members in the fight for as long as possible.
Stats: Speed - 2/5 | Armor - 3/5
Ability: Adrenal Surge – Temporarily boosts team and response and survival. Revives any downed teammates and prevents KO.
Starting Weapon: SPEAR .308 assault rifle
Pulse
Pulse has a prolific background in FBI biometrics, and this knowledge made him a high-profile recruitment target for REACT. Pulse recalibrated a cardiac sensor to detect Archaean physiology to counter the alien threat.
Stats: Speed – 3/5 | Armor – 1/5
Ability: Cardiac Sensor – Detect VIPs, MIAs, and Nests through obstacles.
Starting Weapon: M1014 shotgun
Doc
While Doc shines as a medical expert, he's equally skilled in dispatching threats with intimidating firepower. His invaluable STIM pistol delivers bursts of health to allies. He can even revive downed squadmates from a distance.
Stats: Speed – 2/5 | Armor – 3/5
Ability: Health Shots – Fires his Stim Pistol to heal 20 or revive himself of his teammates when downed.
Starting Weapon: SG-CQB shotgun
So many options
With 18 operators to choose from, Rainbow Six Extraction offers a genuinely impressive amount of customization and squad flexibility. Finding a role that suits your playstyle may take a little trial and error, but your experimentation will be heavily rewarded. Rainbow Six Extraction might not be one of the best shooters on Xbox for more casual players, but it's hard not to celebrate the game's fantastic cast of playable characters.
Tense co-op action
Fight the alien outbreak.

Embracing elements of Rainbow Six Siege through a cooperative lens, Rainbow Six Quarantine sees Operators deployed to tackle a deadly alien parasite. It's a new twist on Ubisoft's long-running tactical shooter.
Get the Windows Central Newsletter
All the latest news, reviews, and guides for Windows and Xbox diehards.
Miles Dompier is a Freelance Video Producer for Windows Central, focusing on video content for Windows Central Gaming. In addition to writing or producing news, reviews, and gaming guides, Miles delivers fun, community-focused videos for the Windows Central Gaming YouTube channel. Miles also hosts Xbox Chaturdays every Saturday, which serves as the Windows Central Gaming weekly podcast.