Razer Phone 2 hands-on: A solid Android gaming-phone evolution, not a revolution
The Razer Phone 2 isn't massively different from the first version. And that's OK.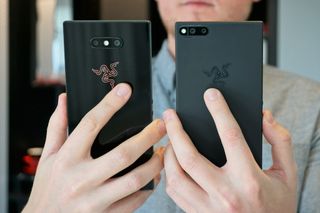 Razer is a brand familiar to many gamers, whether they're on PC, console or as of 2017, mobile. While the company is known for making gaming-focused laptops, the Razer Phone was the company's first foray into the pocket computer and truly portable gaming.
The first Razer Phone was very good from the mindset of a mobile gaming fan. A high refresh rate display paired with top-of-the-line internals and a beastly battery was just what the doctor ordered. But it came with its share of faults.
Fast-forward a year, and Razer is back with the second act. Razer Phone 2 doesn't do much differently than the first one, but that isn't a bad thing. Instead of chasing market trends or jumping on bandwagons, Razer stuck to its guns and simply tried to make its phone better.
Razer Phone 2: Hardware evolution and no notches
The first thing you notice about the Razer Phone, from the front at least, is it looks identical to the first one. Razer hasn't jumped on the latest bandwagon, so one thing that isn't found here is a notched display. It isn't even an extended, 18:9 ratio. It's the same, "regular" 16:9 5.7-inch display as the first Razer Phone, and it's the same 1440p resolution.
What's also returning in the Razer Phone 2 is the incredible 120Hz refresh rate and touch polling with Ultramotion sync. Having spent almost a year using the first Razer Phone, it's easily one of my favorite features, especially since there are plenty of top mobile games supporting it.
The first Razer Phone had a great looking display, but it wasn't very bright and outdoors viewing took a hit. The Razer Phone 2 panel is a full 50 percent brighter, and while I've only seen it indoors under artificial light, there was a noticeable improvement over its predecessor when positioned side by side. The improved brightness will also help with HDR content, and the Razer Phone 2 remains Netflix HDR certified.
Image 1 of 2
The design is similar to its predecessor, with those two giant speakers on the front and a metal chassis. Two big changes are the addition of a glass back, which comes hand-in-hand with wireless charging and Chroma, and it's IP67 water-resistant. Large front speakers and water resistance don't usually go together but Razer made it happen this time around, which is good news for anyone that gets rained on a lot. The speakers seem to be suitably loud, again, with Dolby Atmos support.
Yes, the Razer Phone 2 has Chroma in its logo on the rear. And, yes, it lights up and supports the sort of effects you'd expect. Is it necessary? Not really. Is it awesome? Most definitely. And it has real-world uses, like being able to pulse for notifications when the phone is face down. Razer's new wireless charger also has Chroma.
The important thing is that the Razer Phone 2 improves on the original. Much remains the same, like the core idea behind the display, the form factor, and the 24-bit THX DAC in the headphone dongle, but it's peppered with improvements throughout.
Razer Phone 2: Power and performance
It goes without saying that the Razer Phone 2 packs the hardware you'd expect from a gaming hardware maker. Just as with its Blade laptops, Razer's latest phone crams the highest-end hardware inside.
The key specs are:
Qualcomm Snapdragon 845 CPU with Adreno 630 GPU.
8GB RAM.
64GB internal storage with microSD expansion.
4,000 mAh battery with Quickcharge 4+ and wireless fast charging.
12MP dual rear cameras.
8MP front camera.
Android 8.1
Addressing the software first, no, the Razer Phone 2 doesn't launch with Android Pie, and there's no confirmation on when it can be expected. For some, that'll no doubt be a problem, but as with the first Razer Phone, while it looks stock, there's a lot to be done underneath, most notably to support the display technology.
Moving on to the more impressive parts, at least for gamers and fans of high-end hardware, it's no surprise to see a Snapdragon 845 in the Razer Phone 2. Pretty much everything else is on par with the first phone, though, with the same amount of RAM and storage, and the same capacity battery. Razer could easily have added more internal storage, and you could argue it really should have. But with that would also come an inflated price.
The battery may also be the same capacity as last year's phone, but Razer claims to have made some improvements in efficiency. Claims on the old phone were based on the display being set to 90Hz, while the Razer Phone 2 should deliver the same battery life with the display running at 120Hz.
During my brief time with the Razer Phone 2, I played a little PUBG Mobile and the results are impressive. For starters, it's one of the games that support the display on the Razer Phone fully, and with so much power inside it truly is a joy to play. If you're already playing PUBG on a Razer Phone, the differences are subtle, but if you're coming in fresh, it's like no other mobile gaming experience.
Razer Phone 2: Improved camera promises
One of the major criticisms of the first Razer Phone was the camera. And Razer was listening. The camera at launch was slow and low quality, and while it did improve over time, to this day it's far from a strong shooter.
The Razer Phone 2 has an all-new dual camera setup made of two 12MP sensors. One is a wide-angle, one is a two-time zoom just as before, but the sensors are upgraded, there's OIS this year, and we're promised that Razer is taking the camera seriously.
Whether that pans out, only time will tell.
Razer Phone 2: A good first impression
Despite its imperfections, the Razer Phone was my favorite smartphone of the last 12 months. It's not a "gaming phone," as you'll see from the likes of ASUS with the ROG Phone. It's a Gaming Flagship, a combination of traditional high-end smartphone with features that gamers, Razer's core customer base, will love.
What's impressed me most with the Razer Phone 2 is the company's approach to simply making the existing device better. It would have been really easy to follow the crowd and toss out something similar. But instead of doing that, Razer listened to feedback from its fans and set about making the phone better.
Razer's phone team is committed to its process, and first impressions of the Razer Phone 2 are positive. It looks great, especially from the back, and the display is noticeably brighter. The jury is out on the camera, but Razer heard the criticism, so hopefully it translates into results.
The Razer Phone 2 is an evolution, not a revolution. And that's fine. There was so much packed into the first one, it'd be hard to make a huge leap forward. The Razer Phone isn't here to beat Apple or Samsung; it's here to deliver a smartphone that gamers will enjoy. And on that note, it's going to be hard to ignore. Again.
The Razer Phone will retail for $799 and go on sale in late October. Pre-orders will open October 11.
See at Amazon (opens in new tab)
Windows Central Newsletter
Get the best of Windows Central in in your inbox, every day!
Managing Editor - Tech, Reviews
Richard Devine is a Managing Editor at Windows Central with over a decade of experience. A former Project Manager and long-term tech addict, he joined Mobile Nations in 2011 and has been found on Android Central and iMore as well as Windows Central. Currently, you'll find him steering the site's coverage of all manner of PC hardware and reviews. Find him on Mastodon at mstdn.social/@richdevine
Neato. I love the look of it. And, honestly, I'm really tempted. It's this or the V40 ThinQ.

I love my Razer Phone, but there have quite a few software issues have been introduced, fix, then reintroduced when other issues get fixed (check the forums) but I do freaking love the phone overall. Now only time will tell if I upgrade to this or just wait to see what next year brings.

I think I'm going to go this direction with my next phone. I currently have a galaxy S8+, and I'm not as impressed as I thought I would be.
I prefer the Razer phones aspect ratio too.
I'll just wait to see if the camera is up to par. It doesn't have to be a leader, just good

Feels like yesterday I was reading a review here for the original Razer Phone.

Glad I'm not the only one

No headphone jack is a deal breaker for me. It's a big phone, if the Note 9 can have a headphone jack then there's enough room in the razer as well

There's no headphone jack for the same reason there was no headphone jack 12 months ago. Razer decided to put other stuff in the phone, and it was easier to put the THX DAC into a dongle.

Yeah I know, but I can't help but wonder what wizardry Samsung is employing to cram so much in their phones - make them have super thin or no bezels, waterproof, have an S-pen INSIDE the phone (for the note) and STILL have the 3.5mm headphone. If they wanted to, Razer could fit the headphone jack. They are just copying Apple as far as I'm concerned (like many other Android phone makers). Thank goodness they didn't put the notch (yet) though. For me, it's Samsung or LG for as long as they keep the headphone jack. If they also remove the headphone jack, I'm not getting any other new phones for as long as possible :-(

Phone gaming is a joke, no matter how they market it. This could be a phone FOR gamers, after all, like most gamer oriented products, all it takes is to slap RGB lightning on it and come from gamer oriented brands. This all doesn't mean it's not a good phone, mind you, my commentary is on the shallow promise that is marketing something "for gamers"

Asus rog phone way better then this.

How would you possibly know? I'm pretty certain you haven't touched either the ROG Phone or the Razer Phone 2 yet to make such an informed decision.

Specs... Amoled screen on rog so it will be daydream compatible. Docking station to go to the big screen more storage and the zen phones have been great phones for some time. Sorry I feel razor went more phone this time the gamer focused.

I just wish that the Essential team does what Razer did here. Update the internals, fix a few hardware complaints, but leave the formula and design alone. I don't need a gaming phone, but I will sooner or later need a PH-2.

I'm 6 months into my Razer phone ownership and I still love it. It's blisteringly fast and the Nova launcher is great. The audio is probably one of its defining features. I've not heard any other phone that sounds as good. The battery is also very good, keeping a charge the whole day, even after a few Netflix shows and Bluetoothing audio to my car. Negatives would be the display brightness on really sunny days. The camera is good enough, but I feel my old 950XL had better stability on videos and recorded clearer audio. It's adequate though. Not ready to upgrade for the sake of RGB, and remote charging never bothered me with my 950XL even though I had the charger. Happy to keep the Razer one for at least another 12 months or so.

Happily, the display on the new one is a lot brighter. Genuinely. I still need to take one outdoors though, so that will be the final test!

This may be my next phone! They have fixed all the areas that kept me from buy Phone 1. My Lumia ICon and 950XL may be retired soon. Tired of MS total mismanagement of their mobile effort. I seriously don't think the Surface team will deliver Andromeda and even if they did, my trust in MS and their total F*ckery on the consumer mobile side will keep me from purchasing if I have this phone!

They wised up with the back camera and relocated it to the center...

Glad they aren't jumping on the notch craze, but I'd rather see a headphone jack and a removable battery on a phone for gamers.

Two 12 mp cameras or 12+16? Lol
Windows Central Newsletter
Thank you for signing up to Windows Central. You will receive a verification email shortly.
There was a problem. Please refresh the page and try again.