Review of the Microsoft Band 2 Charging Stand by LoyalStar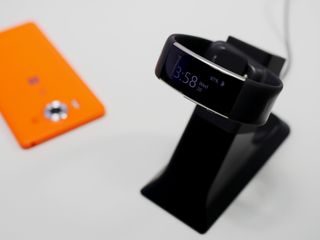 If you own a Microsoft Band 2 then recharging the fitness wearable is likely part of your daily routine. While the Band support fast-charge letting you grab nearly 50 percent battery back in just 30 minutes you still need to toss it on the charger at least once a day.
LoyalStar made stands for the Band 2 that Microsoft was using in their stores for display. Now, the company is selling this charging station right through Microsoft (online and retail) to consumers for a relatively fair $20 price tag.
Here is my quick review and video.
What you need to know
The stand is very high quality
It has a rubber mat to keep the stand planted firmly without sliding
It does not include a separate charging cable
It can be quirky to mount, but in the end it is ingenious
So right off the bat, I should mention that this $20 stand does not include its own Band 2 charger, which itself costs $20 to replace. That means you need to use your existing cable that came with the Band 2 or purchase a secondary one to use exclusively with the stand.
Adding and removing a charger from the Band stand is simple enough so there is no worry about permanently mounting the cable. It takes just seconds to put on and remove the cable from the stand as you just snap it with a magnetic hold and route the cable through the stand. However, if you travel frequently it may be just easier to keep a second cable around.
Mounting the Band 2 is a little awkward due to having to connect the Band 2's charging clasp to the stand and charger. It is just like how you charge now where you have to align it a bit and the magnets guide you. Once the charging clasp is connected you then wedge the other end of the clasp between the stand and divot. It is not hard, but you do have to take a second to mount it using both hands.
Once completed the effect is rewarding. The Band 2 now outwardly points up at eye level. Using the Band 2 glance feature (when charging, turn the display off and then on to show the time and percentage of battery) and the Band 2 now functions as a solid mini-clock and notification station. You can even see the percentage of battery left in one percent increments.
The stand itself is well-designed and high quality. It feels mostly solid with soft-touch rubber for the top half (where the Band is mounted) and the bottom of the stand, which keeps it from sliding on your desk.
The stand has a bit of heft to, which is a good thing and it weighs 4.5 ounces (128 grams). For reference, the Band 2 weighs 2.15 ounces (or 61 grams).
The cable channel that sends the cable to the AC outlet is also straightforward, intelligent and well thought out.
So, is it worth the $20? Yeah, I think so assuming you want something like this for your home or office. You certainly do not need to have one, but it does make charging more convenient when working at your desk and I would rather have one than not. Of course, the ideal situation is to also own a second recharging cable, which adds another $20 to the package.
If you are on a budget, you may want to skip, but if you are a diehard Band 2 user who needs a little boost to remind you to top off your Band 2's battery then the LoyalStar Microsoft Band 2 Charging Stand is a reliable choice.
Windows Central Newsletter
Get the best of Windows Central in in your inbox, every day!
Daniel Rubino is the Editor-in-chief of Windows Central, head reviewer, podcast co-host, and analyst. He has been covering Microsoft since 2007 when this site was called WMExperts (and later Windows Phone Central). His interests include Windows, laptops, next-gen computing, and for some reason, watches. Before all this tech stuff, he worked on a Ph.D. in linguistics, watched people sleep (for medical purposes!), and ran the projectors at movie theaters because it was fun.
I have one and really like it. I find that mounting the Band in the stand is easier if you connect the charging clasp last since it kinda lines up once its seated.

ah, interesting, good tip!

That's what I do with mine as well. It's much easier this way.

I do it both ways...putting the band on the stand I mean! =[

Right on my bedroom desk. Drop it in before I take a morning shower and I'm well charged for the day. It's design is so simple I thought they were made with home 3D printers but it's rock solid construction none the less. Totally worth the $20.

Cool - I'll probably grab one when I finally get a band !!

Yes, the stand is great. I added an extra charger and thus have one in my bag if I forget to charge in the morning (plug it in to my car charger on the way to work).

I picked this up a few weeks ago. Definitely worth the $20.

I'd buy one of it was available in the UK

Same here!!! tried to find on google online stores that sells it but I didnt find.

If I've charged my Band2 on the stand that night, the battery lasts until around the afternoon another day later (a day and a half) and that's usually while I sit at a desk and then I can just charge it at work. Not bad for me, I like it. It's like a little post for my band to rest on when it needs to =D

Throwing my 2 cents in as well. It's nice quality and very much worth the purchase. Even the packaging it came in is beautiful. It comes in a clear plastic, fairly sturdy package that shows the stand in it's full glory. I would love to see a $30-35 version that includes a charge cable as well.

I also plug in the charging end of the Band last. I put mine on the stand each morning while I shower and shave. Gives me plenty of charge until the next morning (or the next afternoon if I forget).

My Band lasts about 2 - 2 1/2 days, So I drop it on my charger when I get home from work and by the time I go to bed it's fully charged...

Yeah, I've only had my Band 2 for a few weeks but it gets more than 2 days on a single charge for me. I have been charging it every other day either before bed or in the morning while getting ready for work.

yup once I turned off email (not as useful as it could be). I now get 2.5 days use out of it:)

Oh god youre wearing a leather bracelet!! Youre turning into Nilay Patel!!

Was lucky enough to have access to a 3D printer so made one of these from Thingverse for mine: https://onedrive.live.com/redir?resid=8D3373EF41E5705D!710527&authkey=!A... Thingverse URL - http://www.thingiverse.com/thing:1109753

I have one of those as well. I like the other design on thingverse though, works better for my large band.

I picked one up after seeing an article on one of the Windows sites. It's really great. I got an extra cable to keep at the office and the stand is next to my bed all set up. I think it's well worth the purchase.

Any recommendations for a Band 1 stand? Posted via the Windows Central App for Android

http://www.shapeways.com/product/S8GP9Z9ZP/microsoft-band-charging-stand...

Wow looks amazing.. Hope they'll have it for MS Store Canada soon.

I love the Band Stand (not its real name). I took my Band with me on a out of town trip this week and it was certainly no hassle to remove the charging cord from the stand and then reinstall when I got home. And incidently, here is proof of how comfortable the Band 2 is. As I went through security at the airport I removed all the usual stuff and put it in the bins and then walked through the whole body scanner. I was called out for a pat down search because there was something on my left arm. I was wearing the Band under a long sleeve shirt. It is so light and comfortable for me that when I couldn't see it, I forgot it was there. I said those exact words to the TSA agent checking me and he said, "that's the way those things should be designed."

I'd like a more elegant solution. This is great, don't get me wrong, but there are so many classy stands for the Apple Watch, and I wish we had a fraction (more than 1) for Band 2.

Anyone use the band 2 with an android device? How's the experience? Posted via the Windows Central App for Android

I have one! I love it! It makes sense!

The maker of the charging stand "Loyalstar" don´t have a website?
Windows Central Newsletter
Thank you for signing up to Windows Central. You will receive a verification email shortly.
There was a problem. Please refresh the page and try again.