Saints Row games get price cuts in this week's Xbox Deals with Gold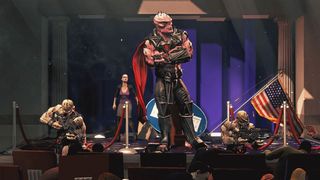 This week's Deals with Gold promotion for digital Xbox One and Xbox 360 games include price cut on many games in the popular Saints Row open world action game series.
Here are this week's price cuts for people who have a paid Xbox Live Gold subscription. The reductions will end on October 26:
Xbox One:
Xbox 360:
Source: Major Nelson
Windows Central Newsletter
Get the best of Windows Central in your inbox, every day!
"Saints Row: Gat Out of Hell for Xbox 360 - down to 111,99$"
Seems not to be a very good deal ;P

After Saints row 2 those other games shouldn't even call Saints row games.

Why not? I liked SaintsRow3

Isn't it maybe $100 too much? :D

SR3 is awesome. My favorite for sure. IV was still enjoyable, but a blatant cash grab by recycling EVERYTHING from 3 and lighting it differently just was cheap!

Never played a Saints Row game. How do they compare to GTA, FarCry, Max Payne?

Very different than Max Payne and FarCry. Compared to GTA, I'd say it holds up as an equal. GTA is still a different animal though. Saints is sort of like a parody of GTA, but not in a bad way at all. I think if you pick up one of the cheaper versions, you'll have some fun if the above mentioned games are ones you like.

1 and 2 were pretty much blatant rip offs, but 3+ are definately their own games and equal to and in some ways far better than GTA. I started on 3 after seeing my brother playing it, and its so much over-the-top fun!! As Axeman says, if you like te other games you listed you WILL enjoy SR, just don't bother with Gat out of Hell.

Thanks you both, will try 3 out. They sound over the top, which I like.

Check to see fi you can get it cheap, or even if someone can let you borrow it. If you enjoy it, Steam has a version for like $60 that includes like 2, 3, 4 and all expansions. I think it's worth it, I'll probably be buying that, especially if they go on sale during the winter sale.

Just going to keep praying we get a proper baseball game next year.

I agree we need one badly we have all major sports except that. If only 2K comes back with a renewed license or MLB get their shit together.

I wonder why it never came out for PC.

Now a bad price. If only I had the time. With black Friday around the corner I think I'm going to hold of for stronger sales. Together it's about $3 off the bundled price. That's not a whole lot.

SR 1, 2 and 3 are now just pennies. I have them on 360 already but have just bought them in this sale for when the backwards compatibiity thing is released so I don't have to use the discs as verification when I want to play.

I grabbed The Swapper and Stealth Inc 2. May grab Tembo. SR doesn't interest me.