Samsung and Microsoft begin rollout of gallery and OneDrive integration
Syncing your photos and videos between your Galaxy Note 10 and OneDrive just got a bit easier.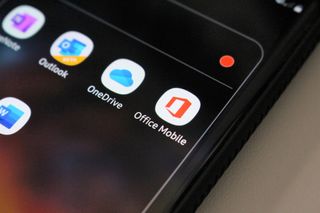 (Image credit: Windows Central)
What you need to know
OneDrive now integrates with the Galaxy Note 10's photo gallery.
The feature is part of a growing partnership between Microsoft and Samsung.
The feature natively integrates the photo gallery with OneDrive, rather than relying on the OneDrive app.
Samsung and Microsoft announced several aspects of a partnership in August, including OneDrive natively integrating with the Galaxy Note 10 photo gallery. Microsoft announced (opens in new tab) that the feature begins to roll out today in Europe, with devices in the U.S. set to receive it soon.
The integration replaces Samsung Cloud in the photos gallery and allows people to sync photos and videos to OneDrive directly from the gallery app. These images and videos can then be viewed in the OneDrive app on iOS, Android, or Windows, as well as on the web. A new photo experience arrives in January for OneDrive online that loads images quickly and has a timeline bar.
Breaking down the Microsoft and Samsung partnership
This integration is another part of Samsung and Microsoft's growing relationship. In addition to Microsoft's strong app effort on Android, the Galaxy Note 10 has several features that pair it well with Windows 10. People can use a Windows 10 device as a monitor for Samsung DeX, and connect their Galaxy Note10 to Windows 10 with the Link to Windows.
Biggest and best
Enhanced Microsoft mobile experiences on flagship Samsung hardware.

This is the closest to a Microsoft-made Android phone you're going to get for now. The device packs the latest and greatest specifications inside a premium build and rocks the latest integrations from Microsoft that improve the Your Phone experience on Windows 10, along with many of Microsoft's apps on Android.
Windows Central Newsletter
Get the best of Windows Central in in your inbox, every day!
News Writer and apps editor
Sean Endicott brings nearly a decade of experience covering Microsoft and Windows news to Windows Central. He joined our team in 2017 as an app reviewer and now heads up our day-to-day news coverage. If you have a news tip or an app to review, hit him up at sean.endicott@futurenet.com (opens in new tab).
once its connected to onedrive account can we see all our old photos saved in onedrive in the gallery app?

Ms needs to duplicate this partnership with huawei

That's not going to happen since it would violate the US Blacklist on Huawei. They had to get an exception just to continue selling Windows Licenses, so a partnership is basically out of the question.

Why doesn't MS just create a photos app for Android like what was available on W10M?

That would be a great idea. For whatever reason, they haven't.

We both know the reason they haven't done it. It's like you said... It's a good idea

Is that same reason why google didn't make apps for the Microsoft store of Windows 10, which has a user base of 900m+ ? do tell me (゚∀゚) btw... the onedrive app has an inbuilt photos section/tab where you can view your photos and all that, its majestic... (゚∀゚). . . . btw you should get some cream for those burns... mister...

Windows 10 is different. You can just go to Photos.Google.com and you have full access to everything there. You can download and upload anything you'd like. So, the website is kind of "fine." Windows Phone was a dumpster fire, and the big tech companies all basically ignored it for the same reasons - they knew they'd be wasting their developers' time doing so. Microsoft kept changing the platform in radical ways, anyways, necessitating rewriting apps and stuff. It was annoying. They put off a lot of developers with the way they handled their mobile platform. Photos for Android/iOS is needed because Microsoft needs an app that is tailored for Viewing/Managing/Editing photos like Google Photos and the Apple Photos app. OneDrive is notoriously bad at this, and a partnership with ONE smartphone OEM doesn't really cut it. This isn't even coming to older Samsung phones getting the OneUI 2.0 update, like the Galaxy S9 and Galaxy Note9 - not even sure about the Galaxy S10 series. This is part of the reason I just got an iPhone and iPad. It just isn't worth the trouble dealing wiht all the extra accounts and battery draining app/service installs on Android when Apple (or Google, frankly) have a more well-rounded experience on their first-party devices.

Bc that would only be a good idea for those who already are a customer, fan, or enthusiast of ms and Ms doesn't care about them. Their m.o. is to hinder the relationships of old in the attempts to attract new thus many consumers and businesses end up going to alternative options.

This is what I would love as a standard for every single smartphone or have Microsoft be able to manage local pictures with OneDrive

Microsoft just needs to make an actual photo service so you have a central, easy to understand location designed specifically for photos. This OneDrive thing is just a kludge.

You mean like they had on Windows Phone? 😜 This is the problem, if they create an app like they had, this would still require people to download and then replace the at least 5 different manufacturer's default apps for photo management out there in Android land. Google's feature set has already matured, so why would people switch?

A single app on Windows phone doesn't really constitute a cloud service.

If you don't use Office, then most people wouldn't touch it even if there was only one app on the phone for this. Google Photos is basically the equivalent of Apple Photos on Android, and most OEMs only have one native Gallery App, so no... there are not 5 or more to replace. The issue is that the native option is simply better. Google Photos is as good as Apple Photos there, and Syncs well. Google also gives Unlimited Storage if you're okay with compression - which won't bother many people (or they can just record their videos as HEVC). The paid storage tiers are all comparable across these vendors/ecosystems. Generally, it is best to go with what is native unless you get a ton and simply don't mind giving up some convenience for the "free" capacity you picked up with a 3rd party subscription (like, Office365). On iOS, I tend to prefer to Sync to iCloud. Apple is pretty good about not monetizing your data, and nothing else works as well. The Apple Photos app also has better editing tools built into it, and you can always "Revert" Edits. It supports RAW+JPEG or RAW+HEIC, as well. The issue with OneDrive is that doing anything with the images on it creates TONS of Library duplication, and it isn't very smart about what it keeps online and offline on your device, etc. Lastly, it's not a photo management/editing app. It's a vanilla cloud storage app... So the UI/UX for working with photos/videos is just inferior in every way. This Gallery integration soft of fixes that, but it is far too limited in scope. This is a bad strategy, considering the ever-rising smartphone prices coupled with Samsung's pretty bad support for them (launching with old versions of Android on Notes and then ending Android update support like 1.5 years later).

Will this be added to Galaxy S10?

I believe they announced it would be coming to the s10 but don't quote me

Maybe Microsoft will let Samsung produce their next phone.

Is this Note only?I thought the Dex features were GS10, too. The article only says Note 10

I hope Dou has it's own MS developed photos app with onedrive sync. No brainer.

Duo will have Google Photos. No reason to use a likely half-baked new photo app from Microsoft when you have the best photo services available.

The Note 10 is the best windows phone

I hope Samsung expands this feature to all phones with the Samsung Gallery app. I'm also curious what photo app will be on the Surface Duo.
Windows Central Newsletter
Thank you for signing up to Windows Central. You will receive a verification email shortly.
There was a problem. Please refresh the page and try again.