Save hundreds on a Supercharged Cybersecurity course and ebook bundle!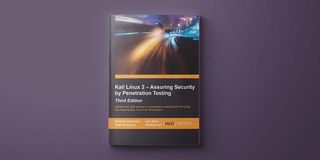 Cybersecurity has never been more important, yet there are new high-profile breaches seemingly on a daily basis. To combat those with malicious intent, penetration testers are employed to find weak spots in defenses.
Learn Kali Linux, Python, and Wireshark 2 penetration testing with this course and ebook bundle!
The cybersecurity profession covers a wide swath of information and education, and getting a jumpstart on a career can be frustrating as you attempt to gather all the necessary resources. Instead of running around, looking for the required materials, why not grab a bundle of ebooks and start learning with 2,724 pages of course material?
Right now, Windows Central Digital Offers has a deal on a 2018 Supercharged Cybersecurity bundle that contains 10 courses and associated ebooks. Instead of paying the regular price of $636, you can get it now for just $30. That's 95 percent off the regular price!
This course and ebook bundle covers Kali Linux, Wireshark 2, and Python penetration testing, along with a whole lot more. The bundle includes the following:
Kali Linux 2 Assuring Security by Penetration Testing
Kali Linux 2: Windows Penetration Testing
Mastering Kali Linux Wireless Pentesting
Learning Python Web Penetration Testing
Expert Metasploit Penetration Testing
Building Virtual Pentesting Labs for Advanced Penetration Testing
Practical Mobile Forensics
Learning Python for Forensics
Digital Forensics with Kali Linux
Network Analysis Using Wireshark 2
Save hundreds on this cybersecurity course and ebook bundle!
If you're ready to get a jumpstart on a career in cybersecurity ― and especially penetration testing ― this bundle should prove invaluable. Considering you can save 95 percent off the regular price, you might want to get started now.
Get the Windows Central Newsletter
All the latest news, reviews, and guides for Windows and Xbox diehards.