Six-month Xbox Game Pass subscriptions now 50% off at Amazon UK
Pick up Xbox Game Pass for six months at 50 percent off, with Amazon UK's "Deal of the Day."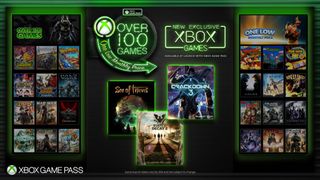 (Image credit: Microsoft)
Microsoft continues to invest into Xbox Game Pass as a key service among its gaming efforts, providing access to a dynamic library of titles for a flat monthly fee. Under the Netflix-style subscription, Xbox One owners can access to over 100 games on the system, with monthly refreshes of new titles. And with all future first-party titles available through the service, it's a great way to experience the best of Xbox for only £7.99 a month (opens in new tab).
Back in March, Amazon UK began distributing six-month codes for the service, providing a small discount over paying monthly installments. A new "Deal of the Day" with the retailer further increases these savings, offering almost 50 percent off its retail value. Priced at £23.99 (opens in new tab) over the original £47.49 standard price, this equates to just £3.99 per month of Xbox Game Pass.
Make sure to swoop up this deal quick – Amazon is only offering this deal on June 7, until midnight UK time. After purchasing through the site, a one-time use key will be displayed, for redemption on Xbox Live. These 25-character codes can be redeemed via Xbox One consoles or the web, using the steps in our guide.
See at Amazon (opens in new tab)
Windows Central Newsletter
Get the best of Windows Central in in your inbox, every day!
Matt Brown was formerly a Windows Central's Senior Editor, Xbox & PC, at Future. Following over seven years of professional consumer technology and gaming coverage, he's focused on the world of Microsoft's gaming efforts. You can follow him on Twitter @mattjbrown.
If Microsoft doesn't announce more than Forza Horizon 4 and possibly the new Ori as the only exclusives coming out this year at their E3 showing, I'm going out as soon as the conference ends and trading in my Xbox One X for a PS4 Pro. As of right now, it looks like Microsoft is more interested in selling services rather than selling games on their game consoles, and I'll no longer be supporting that business module. I hate to do it, but I refuse to be part of a neglected userbase any longer.

but u wont be at the conference tho :/

Most multiplats are better on xb1x, plus BC, FC, XPA (+ free-cross-platform-cloud-sync and store-region-hot-swap). For most games, no point getting'em from PsStore.

@Hirox
Did you read what he posted? He wants MS to make more games for its customers.

Tons on MsStore already including those best sellers (illogical buying these from PsStore and... tbh, only 1 exclusive made it to top10 ps4 best sellers). Tons of MsStore unique features are not on PsStore.

He is talking about MS making games for it's customers. Stop trying to deflect the problems he has with MS. He obviously puts MS's output of games above whatever feature you're trying to hype. Also please don't make statements without providing links/proofs and context.

Android central will be your main resource for ps news and stuff. Take care.

@Baz
It's amazing that whenever someone ask MS to make more games for us gamers/customers there are people who make post like this. Do you guys actually want more games or not? What is the priority? Defending MS or getting more games?

Why people in the US can't buy 6 month chunks

Because Europeans are better.

yet, They are buying American's products lol :P

Most of the stuff I buy comes from a factory in China

Exclusives cannot be created to any decent standard overnight. There will be announcements I'm sure but probably little releasing this year. Have faith, 2019 will have plenty. I personally like game pass as being older with responsibilities I have less time to play than I would like and this allows me to dip in and out at little expense.

It depends on the person. Some people play games in their downtime and some don't (like only play on the weekends) and PS has more games than Xbox in the end.

I get your point,but wasn't the having a regular flow of exclusive was the point of owning a Xbox one from the beginning? I feel like we put a lot pressure and hope on Phil's leadership

Nope. Not another year of nothing as the Xbox division under Spencer focuses on all the wrong things. Right now I have 11 games preordered physically and another 4 or 5 preordered digitally, and they're all third party. People like me are who Microsoft should be bending over backwards to please because we actually spend money on their products.. when they release any, and I'm not suffering another year of first and second party drought as I watch every other console get exclusive content. Microsoft botched the X1 launch, and they've continued to fumble time and again for this entire generation thus far. It isn't the third party's job to keep a console afloat with content. It's Microsoft's job to set a high bar and to dare other developers to match it. I thought that playing the Bruce Lee game on the OG Xbox was suffering through the dark ages for the brand, but somehow they've managed to sink even lower than that. At least they had a Bruce Lee game to release. What was their plan before Spencer showed up? Release nothing? How can they have two years with no games outside of Forza? It boggles my mind, the incompetence. Were they set to give up on the brand before the management shift? Well, this E3 better be a breathtaking display if they want anyone to take them even half seriously anymore as a gaming hardware platform.

I honestly believe that games like Scalebound got cancelled because Spencer took a look at it and realized he couldn't sell services with a story driven game, at least until the backlash.

Could also be that development wasn't going anywhere despite the money being spent

I bought 50 plus games in 2017, still buying a lotta new ones in 2018. And I get to use my XPA on my NBs. I'm not complaining.
Horizon Zero Dawn (played 30% then I moved onto other news games) and Spider-Man are the only 2 interest me. BC, FC, free cross-platform cloud sync and store region hot swap are also why I dropped PsStore around mid 2016 (ps: I have many games from 2016 too).

Honestly, I MUCH prefer Microsoft's exclusives to Sony's. I will always associate Sony with canned animation fests like Siphon Filter. Games like Gears and Forza Horizon blow the doors off of anything Sony puts out, in my opinion, outside of God of War and (hopefully) Spider-Man. I just can't accept relying on third party content almost exclusively for content. Microsoft has to show that they're willing to make a real effort for us gamers that bought their consoles, especially their "premium" X, that for some God awful reason they refuse to allow us, even those of us who are also Gold subscribers, to disable the awful ads and suggestions on our home screens on. It's like a company that just refuses to listen to their userbase out of obstinance.

Microsoft are also offering Game Pass for £1 for a month subscription for a limited time. Pretty cool.

That picture is misleading because few of the titles in it are no longer on game pass. Anyway, I guess MS are still trying to promote game pass. There ha been so many deals at 1 buck.
I wonder how things are financially. I wonder how much money devs makes when they release a game day one on game pass.

Is this redeem codes only for new customers?
Windows Central Newsletter
Thank you for signing up to Windows Central. You will receive a verification email shortly.
There was a problem. Please refresh the page and try again.