SkyDrive Pro available for download; enterprise users rejoice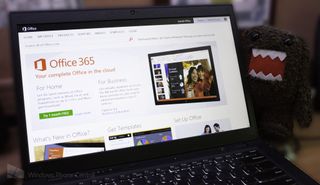 Today the SharePoint Team at Microsoft announced that a standalone SkyDrive Pro client is available to download for Windows machines. The Pro edition of SkyDrive allows users to easily save, sync, share, and collaborate on documents in SharePoint. It is worth noting that the new client, is only compatible with SharePoint 2013 servers and Office 365.
SkyDrive Pro was pre-bundled (although not functional for all users until now) with Office 365 Pro Plus, Office 365 Small Business Premium, and Office Professional Plus 2013. If you have any of the aforementioned Office suites installed on your PC, there is no need to download SkyDrive Pro separately.
To use SkyDrive Pro on your Windows machine, first install the client then navigate to either your SkyDrive Pro Library, SharePoint 2013 software, or Office 365 site document library and select the "SYNC" button to begin the process.
While consumers might not be excited, enterprise users are now able to rejoice in a client that can sync files and take advantage of SharePoint features like collaboration, metadata, workflow, and compliance.
Microsoft is competing against other corporate giants for a piece of the cloud market in both the enterprise and consumer spaces. As many businesses choose to manage their company email via Google Apps while still using full Microsoft Office suites, the company needs to convey the power and ease of integration for using Office 365 with SkyDrive.
SkyDrive Pro's ability to plug into corporate SharePoint servers and Office 365 allows enterprise users to centralize their data and gives administrators tighter control over what users are uploading to the cloud.
If you aren't a business user and haven't yet checked out Microsoft's SkyDrive cloud Service then I would give it a go. Heavy Microsoft users can easily sync all files across their Windows machines including the Surface RT, while still being able to access and view files on their Xbox 360 and Windows Phone.
Do you use SkyDrive to sync your files to the cloud or do you use a competitor's service (Dropbox, Google Drive, etc.) to get the job done?
If you are looking to download the SkyDrive Pro client, click here (opens in new tab)!
Source: Microsoft SharePoint Blog (opens in new tab)
Get the Windows Central Newsletter
All the latest news, reviews, and guides for Windows and Xbox diehards.
Finally. Cloud storage grows up.

Do we know if this now supports client certificate authentication?

My wife has an WP8/PC and I have an iPhone/Mac. SkyDrive has been an excellent solution for uploading photos. We share a free 25GB account and upload any photos we take together directly to SkyDrive.
Cross-platfrom compatibilty is the main reason I went with SkyDrive (and the free 25GB). We have a baby on the way so instead of uploading to different locations we can both upload directly to the SkyDrive account.

how'd u get 25GB for free? I have only 7GB.

25GB was given free to users of SkyDrive before MS changed it to tiered storage

No offense, but be wary that naked baby photos may get your Microsoft Account suspended.

Another reason to consider Office 365 small business pro

SkyDrive is awesome. This statement did not use to be true. I use the free space plus 50gb I pay for yearly, very competitively priced and cheap. I use the service as a "backup" backup running the skydrive client on my storage server to sync but also use it to easily share the files with others since they don't have to logon it makes it easy, great for pics/folders of pics and videos because they can stream too. 2gb limit is only drawback on a single file but only really run into that for windows iso's I have. Excellent integration for windows phone users as well, only decent for win8.

Actually SkyDrive pro has been functional since February when the 2013 version of Office 365 was released. New users had access to the upgraded portal straight away, whereas existing 2010 users need to wait for their upgrade to take advantage of the new features

Sorry for the poor wording. I updated the text and made it a bit clearer now. Thanks, Gary! :)

what is the difference between SkyDrive and SkyDrive Pro, I already have installed SkyDrive in my windows machine, should I also install SkyDrive Pro? SkyDrive Pro installer is ~250MB which is huge size

SkyDrive Pro is for enterprises running Office 365 and SharePoint Online. It is not for general consumers

I hate the SkyDrive Pro name, it just confueses people. SkyDrive Pro is a SharePoint library synchronization solution and has nothing to do with SkyDrive.

Hence the "Pro" part. In essence it is the same as consumer SkyDrive just syncs with SharePoint libraries instead of the SkyDrive web ui consumers use

In essence SkyDrive Pro aka SharePoint Workspace aka Office Groove is a completely different product than SkyDrive aka Windows Live Folders.
A "pro" suffix misleads people into thinking that it's a more expensive version of the same product with more features, while it is not. SkyDrive has more in common with Google Drive than with SharePoint Online.

Correct - SkyDrive has more in common with Drive, whereas SkyDrive Pro has more in common with SharePoint Online.

Skydrive is the dogs bollocks!

I'm a huge Domo fan, expect hidden Domos in the backgrounds of future photos. ;)

Me too!! :) it sucks that they have a limited amount of products for him. I wanna go all out w/ Domo stuff. :/

Just a brief PSA: think, plan and test very carefully before diving in, particularly in a business environment...
SkyDrive Pro seems to sync all files using Office Upload Center (whereas non-Pro normal SkyDrive only uses OUC for Office file types and has an option to disable even that) - and upload center changes the modification timestamp of every file that's synchronised to the time of synchronisation, even though the contents of the file are unchanged. Pro doesn't seem to sync at all without OUC.
If file modification date are potentially important to any of your workflows (e.g. backups, searches, ...), think very hard about whether you can afford to lose all that metadata for every single file you sync with SkyDrive Pro.

Great information!!!!not for me then, thanks

Today is Super day!!!!! LOL..

Yeah I've been using SkyDrive for years and I have 25GB free.. For whatever reason. I guess it's because I've been using it for so long, but I love the integration now that I have a Lumia 920. :)

our IT dept was waiting for this. Now how do i have both my personal skydrive and my work skydrive on my Lumia920???

SkyDrive Pro (or your work SkyDrive as you say) is basically SharePoint, and this is available in the Office app on your L920.
SkyDrive Pro just provides file syncing to your desktop from selected SharePoint Libraries, and allows offline access to files as synced files are stored locally on your machine

We need a standalone SkyDrivePro for Office RT!!!

Can i sync my skydrive to a folder in my Surface RT just like in the desktop skydrive client?

We need a skydrive pro app for Windows phone like ASAP!!!

it is there in office app (WP8, Lumia 920), when i added my university e-mail ID (office 365) it suddenly appeared. Try adding ur sharepoint to office app & see if it adds SkyDrive Pro.

Not exactly an app - in SharePoint Online you get SkyDrive Pro as the.consumer equivalent to SkyDrive - that being you get 7gb of personal storage with SP Online.
Skydrive pro is 2 things in Office 365 - 1 is the SP library sync application, the other being the 7gb personal storage.(confusing as both are called SkyDrive Pro)

I use the lot, in terms of importance to me.. 1.Box.com 2. SkyDrive 3. SkyDrive Pro 4. Dropbox 5. Google Drive. Box.com has features more useful for work with better security. Its also better for collaborating, with comments, tasks, updates etc. I love the SkyDrive web interface, but it still lacks some features that box.com is used for.

We use SharePoint 2013 at our company and we use the SkyDrive Pro client for laptops but would the Skydrive Pro app work on Surface Pro's?