Snag a Surface Pro 4 NFL Type Cover for just $99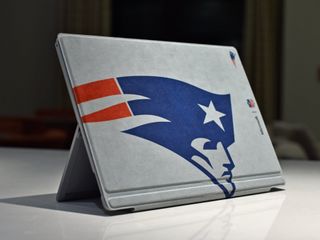 As we inch closer and closer to Super Bowl Sunday, Microsoft is offering up a solid deal on its NFL Type Covers for Surface Pro 4. Right now, you can pick up an NFL Type Cover for just $99 (opens in new tab) at the Microsoft Store (via Neowin). For those keeping track, that's a full $60 discount on its usual $160 price tag.
For your money, you'll be able to choose a Type Cover sporting the logo of your favorite NFL team. All 32 teams are represented, so there should be something for everyone. Given the fact that even the regular Surface Pro 4 Type Cover normally runs $130, this is a solid option if you're even vaguely interested in showing off your team's colors.
As you might expect, there are a couple of caveats to keep in mind. The deal is only available in the U.S. Microsoft Store, and it's only set to last through today, January 23. Still, if you're interested, you can take advantage of the discount at the Microsoft Store now.
See at the Microsoft Store (opens in new tab)
Windows Central Newsletter
Get the best of Windows Central in your inbox, every day!
Dan Thorp-Lancaster is the former Editor-in-Chief of Windows Central. He began working with Windows Central, Android Central, and iMore as a news writer in 2014 and is obsessed with tech of all sorts. You can follow Dan on Twitter @DthorpL and Instagram @heyitsdtl.
This is the point I urge people not to buy the one in the photo ;-)

Right. But hey if you like lots of asterisks on victories and love the philosophy to win at all costs including cheating, buy the one in the photo.

Hasn't that been the American way?

Haha! You sir have broken the secret XD!

Typical hater. What victories require an astrisk, and what "cheats" have the Patriots been caught doing that no one else has?

Deflate gate was a shame. I think Brady and the rest of the team proved that. They have the best coaches in football 🏈 not to mention the greatest QB that ever played the game.

The worst part, not only was deflategate proven that the Patriots did nothing wrong, the Colts actually did and they weren't punished for it. NFL rules state you can't take the balls and test them during the game. I've boycotted the NFL this season (and probably next) simply because Godell is truly what's wrong, not just as a Pats fan either. I think a lot of other teams both got let off easy, or were punished too hard for too many things. Godell is too power hungry and needs to go.

Well from what the deflate gate did, it mainly showed that Godell doesn't like Brady lol. But I could be wrong :D.

Sounds like your team needs to learn to cheat better, and it does. Everyone cheats. To think otherwise is for a Simpleton's mind.

You have no idea how many simpletons I've met. They say they hate the Pat's and only bring up the same bs comment about deflate gate lol. I just reply with "your team probably cheated as well and they never showed anything about it." shuts most of them up but not the ones that want to start an argument lol

I don't have a dog in this race, but I'm calling it now: Patriots wins Superbowl. Trump's relationship with the owner and the fact that the team is named "Patriots" will be why.

While the concept is neat, I find the product design stupid. The only place it's branded is on the bottom, which it will never been visible. Even when the keyboard is closed I would still sit the SP4 on the keyboard side to keep from scratching up the plastic back on the computer itself. Beyond that, it doesn't even have the biometric sensor so I'd be downgrading from my black one.

Falcons by 6. Best receiver in the league. As well as a future MVP QB. Plus their defense stacks up better against the other teams offense.

Who ever wins it's most likely going to be one of the greatest games ever and that's hard if you remember how the Pats / Seahawks game was.

Super Bowl 49 was a great game.

Super Bowl 49 made me almost piss myself until the interception happened lol!

Looks like this $99 deal is back on today - Monday - Jan 30th - as far as I can tell. Cool!!