Sneak peek at the new features coming to the hit game SongArc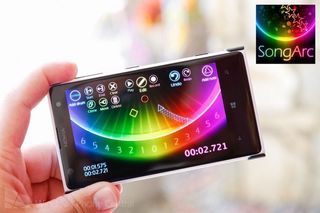 We've been following SongArc since the app entered beta. The music game is exclusive to Windows Phone and highly addicting to those who play just a few games. The app is currently the most popular music game app in the Windows Phone Store and features nearly 3,000 reviews with an average of 5 out of 5 stars for the rating. It's also entering v2.0 in the beta. Here's what you can look forward to with the next big release of SongArc.
Before we jump into the new features coming to SongArc, let's talk about the success the app has seen so far on Windows Phone. It's gathered over 400,000 downloads in just 5 weeks in the Store. It's the sixth best rated game in the US store and kills it for the games category. The SongArc has created Sheets for more than 20,000 songs and collectively has spent seven years playing this game. Pretty wild right?
Here are the new features coming to SongArc and currently being tested in the beta:
Native Windows Phone 8 support, including an extremely crisp 720p and 768p design!
Search - find playable songs by artist or title quickly
Song position indicator - your progress in a song is now shown on the bottom of the screen
Even more premium quality Sheets by the SongArc Team!
Continued support for Windows Phone 7
A brand new Sheet Details screen that does a better job explaining that you need the Sheet and the Song together to play, with other usability enhancements
Better indication and progress feedback on what is happening when the app starts and it is contacting the server
A nicer way to enter sheet description
Those are changes in terms of features, but here are changes that help the SongArc team generate revenue for their currently free game. (Don't forget to grab it while it's still free)
Free to play, coin-based system. Use coins to download Sheets from the store. Get 25 coins every day just by starting the app - or buy them in the Store. You can even double the daily coin bonuses by purchasing the "Doubler"
Guaranteed quality Premium Sheets for just 20 coins
On Windows Phone 7, in-app purchases are happening through PayPal (not working in the beta yet)
Quite a lot of changes coming to SongArc. Here's hoping the beta testers get some good feedback to the team and help squash any bugs they encounter. We'll have a hands-on with the beta shortly. And of course we'll let you know when version 2.0 of the app goes live in the Store for the public.
In the SongArc beta? You'll find the link and details in your inbox. Want the public release of SongArc? Grab it in the Windows Phone Store.
how do i register for the 2.0 beta? I would really like an invitation for 720P!

It says connection failed when trying to connect to server

uh i dont know where to tell you this but, asphalt 8 is available in indonesia. but theres no xbox!

You could first try searching on the site, since that happened earlier today ;)

oops, sorry i thought ive read everything! cant believe i missed some articles

Didn't they have an article about it already? Lol Daniel beat me to the punch.

The HD resolution support is great news. Was very awkward to hear praise about the graphics on the Windows Developer Show, then found it to be blurry and letterboxed when I downloaded it.

Hopefully we'll see 1080p support soon :)

We would need to have a 1080p device for that first... or two :) *hint* *hint*

If this game is not for free anymore...How much is it? $2.99? Is multiplayer mode available in that version?

Wait so even if i have the song on my phone, ill have to get coins to download the sheet for that song? confused

Yes. We don't know / care about where you get the song from, but since it is not through us, we don't get to see any revenue from you buying it. However, storing and delivering the Sheets and creating high quality "Premium" sheets costs us money (along with the development), so this is the point where we are introducing IAP. The game is free to play though - you get a certain amount of coins just by logging in every day, and also for following us in Twitter and Facebook.. You can still play even if you don't want to pay a dime.

Where is the beta link? Id like to join this too :) Can anyone give me the link for the beta app please? Thanks in advance!

Rise Against? Great taste :D personally own that album myself, Savior is probably my favorite song off it.
Windows Central Newsletter
Thank you for signing up to Windows Central. You will receive a verification email shortly.
There was a problem. Please refresh the page and try again.