Stolen CD Projekt Red source files reportedly sold on the dark web
It's not clear what the files will be used for, or who even bought them.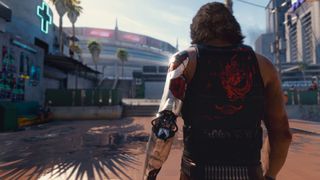 (Image credit: CD Projekt S.A.)
What you need to know
According to the dark web monitoring organization KELA, source files recently stolen from CD Projekt Red have been sold in an auction on the dark web.
The files reportedly include source code from Cyberpunk 2077, The Witcher 3, and Gwent.
Reports indicate the files were sold for $7 million in one package, although the validity of this data is in question.
According to several experts, the suspected culprit of the theft was a group named HelloKitty.
The dark web monitoring organization KELA has announced that source files stolen from Cyberpunk 2077 developer CD Projekt Red in a recent cyber attack have been sold in a dark web auction. Reportedly, the files included source code for Cyberpunk 2077, The Witcher 3, and Gwent. Reports indicate that the files were sold for $7 million in a single package, although the validity of this data is currently unclear.
At the moment, it isn't clear what the files will be used for or who even bought them. Cybersecurity experts, however, may have sniffed out the culprit of the file theft, with several experts identifying a group named "HelloKitty" as the guilty party. We'll likely learn more as more experts investigate the cyber attack in the coming days and weeks.
Overall, it's troubling to think that crucial developer source files can be stolen and sold for millions of dollars in what feels like the blink of an eye. Hopefully this situation doesn't end up hurting CD Projekt Red's developers too much in the long run. The company has gone through extreme scrutiny recently due to intensely harsh working conditions and suspicions of intentional dishonesty about the quality of Cyberpunk 2077's console versions, so we can't imagine this file theft is helping matters.
Cyberpunk 2077 is available now for $60 on Xbox Series X, Xbox Series S, Xbox One consoles, and Windows 10 PCs via Steam as well as CD Projekt Red's own GOG storefront.
Welcome to Night City
(opens in new tab)
A futuristic adventure awaits

Cyberpunk 2077 is the latest project from CD Projekt Red, the developers of the generation-defining The Witcher 3. A futuristic adventure in the neon-soaked streets of Night City awaits!
Brendan Lowry is a Windows Central writer and Oakland University graduate with a burning passion for video games, of which he's been an avid fan since childhood. You'll find him doing reviews, editorials, and general coverage on everything Xbox and PC. Follow him on Twitter.
CDPR probably purchased them. Essentially paid the ransom without admitting they did. Given how they handled the Cyberpunk 2077 launch, seems about right.

Whoever did would never be able to do anything with it without exposing themselves or who they obtained it from. The information is pretty much useless.

Yeah not sure how it's valuable to anyone other than for bragging rights. $7M though? The people who could throw around $7M for nothing more than bragging rights are unlikely to be impressed with having some stolen source code... Back in the '80s, there were mod tools for some games (everything came on floppies then) and these were hacks into heavily copy protected game files to be able to enhance your character. There was really money to be made selling those to eager gamers. Access to source code would make that process MUCH EASIER... but in today's world, I don't see the value. It's a big embarrassment to CDPR, so maybe as spicypadthai said, it was CDPR who bought back the source code (but that doesn't really fit if their goal is to punish the hackers). The only other option I see is someone who wants to understand how CDPR handles some technical aspect in their games to use a similar effect in another game. Maybe a game dev could speak to this (I'm not expert in this area), but I don't think there's anything hugely groundbreaking at a purely technical level in their games (the games themselves are groundbreaking, but that's more about design and content than technical wizardry). It's not like hacking the Unreal Engine source.

These people need brought to justice nothing better to do than steal peoples hard work sorry for my language but they are nothing but scum

I'm not sure I follow the logic. The game is broken and you want to steal a broken game?

Obviously there is only one thing one can do with it. Fix it.

Broken on older consoles* but fine on PC, at least for me. While it's not perfect it's still a good game.

And this is how they killed one of the best, hardest working and to be frank, honest game companies in history. This crime just went to empower more the likes of EA with their crappy practices.

Weren't they paid for this by investors? It's not their money in the game. If anything, they practically became defended by this. They are free to change the code the way they like and investors need to invest in them again and harder if they want their investment returned. And if they fail to provide better improvements to the game than what whomever could put together with the stolen snapshot, it's yet again a proof of incompetence, may it be caused by whatever reason. Also the 7$ million price tag on this in the black market shows an immediate heads-up for investors regarding the price of the project currently. I don't think CDPR should be worried about anything new here due to this other than what they had already been worrying about. Maybe at least by their security infrastructure.
Windows Central Newsletter
Thank you for signing up to Windows Central. You will receive a verification email shortly.
There was a problem. Please refresh the page and try again.