Sunset Overdrive may be coming to PC according to Korean GRAC listing
Could this be the revival of the franchise?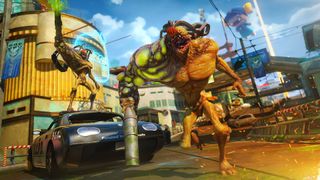 Sunset Overdrive may be coming to PC if a Korean Game Rating and Administration Committee (GRAC) listing is to be believed. This morning, the GRAC pushed through a classification for "Sunset Overdrive PC" which is published by "Microsoft Corporation Korea". A translated version is available below.
Hopefully this means that the game is coming to PC as an Xbox Play Anywhere experience because it's published by Microsoft. Maybe it'll also bring Xbox One X enhancements with it or the announcement of a sequel. Just like any such leak, take it with a grain of salt until we have official confirmation. We're reached out to Microsoft for comment and shall update you as soon as we receive a response.
In Sunset Overdrive, the year is 2027 and Sunset City is under siege. A contaminated energy drink has transformed most of the population into toxic mutants. For many it's the end of the world, but for you it's a dream come true. Your old boss? Dead. Your boring job? Gone. Transform the open world into your tactical playground by grinding, vaulting and wall-running across the city while using a devastating, unconventional arsenal. With hyper-agility, unique weapons, and customizable special abilities, Sunset Overdrive rewrites the rules of traditional shooters and delivers an explosive, irreverent, stylish, and totally unique adventure to Xbox One.
The last we heard was that the Sunset Overdrive franchise "wasn't dead". Hopefully this is the beginning of a greater plan because the game is a sensational experience. In our review, we said "Sunset Overdrive is the most fun we've had with a shooter in a long time. If you took BulletStorm, Crackdown, and Tony Hawk Pro Skater and morphed them into one, you'd end up with Sunset Overdrive. The game simply goes all out from beginning to end. Its punk-rock sass and colorful world makes it so distinct from other games."
Keep an eye on WindowsCentral.com/Gaming for all the latest in Xbox and Windows 10 gaming, accessories, news, and reviews!
Windows Central Newsletter
Get the best of Windows Central in in your inbox, every day!
Asher Madan handles gaming news for Windows Central. Before joining Windows Central in 2017, Asher worked for a number of different gaming outlets. He has a background in medical science and is passionate about all forms of entertainment, cooking, and antiquing.
I hope it doesn't goto the windows store. Hopefully either steam or gog

It'll go to the Windows Store. It's published by Microsoft.

Looks like I won't be getting it. The windows store is the worst. It's just as bad as there games for windows live

no way, games for windows live was way worse. Listen the store can only improve, and this is the way to begin improving when more people use it. They are LESS likely to make it better if no one actually uses the store.

But is it the problem of gamers? It's in MS's interests that they improve their product.
If they want people to use their service they got to work to improve it. It's not upto gamers to use it in the hope that MS improves it.

It won't. If that is actually the only reason you have to not get it, then that is your lose.

There developer said that part 2 is already ready to be published but microsoft refuse to publish it so they're waiting for a third party to do it.

I don't think the game is in development because they've been working on Spider-Man.

On October 23rd 2017 they did tell game informer that all they need is a publisher

They need a publisher so they can make a game, it doesn't mean that they are sitting on the finished game waiting for a publisher. I hope Microsoft grabs this. It seems lik an easy way to get another quality exclusive. I'm a big fan of the first one.

That's my issue with Microsoft. They are so picky wwith a first part title. If it doesn't do well they don't follow it up. This generation alone left us with unfinished story like Ryse, Sunset, Recore, quantum break. Microsoft keeps throwing first party titles on the wallto see what sticks. It's like they are using Halo as a title to beat in terms of sale. Microsoft has a lot of IP at their disposal: mechassault, Rare characters, midtown madness, fable, are just a few and they're not following up on these titles. Meanwhile Nintendo keeps pumping the same games over n over and selling tons of consoles from it. Xbox is losing its image.

Your spot on with this. Unfortunately microsoft screwed up when they announced Xbox one then they screw up and call the Xbox one the all in one entertainment center and meanwhile they are screwing up the fiat party games. At this point its better for them to cut there loses with the Xbox one and move on to the next generation and start fresh. Even my 2 year old pc is way better than the one x

Yeah well Microsoft is also bad at marketing their products as we already know. Also, they don't make good game bundles with their consoles and that boggles my mind. Sony has a gazillion of bundles with their most popular games overlapping in several bundles but Microsoft throws usually one or occasionally two games in one bundle and that's it. Sony has like 5 or more different bundles for HZD and same or more for uncharted 4. Not to mention other games. There's a bundle where you get 3 games and ps+ 3 months cars all in one package. When you combine that with the number of consoles sold then of course their games will sell a lot. Microsoft seems so bad at selling products to customers.

This was a truly great exclusive title. I think it was in a recent AMA, the developers were pretty straightforward in answering questions about both Xbox One X enhancements and a sequel. They basically said "no" to Xbox One X enhancements as their engine was old and it'd be too difficult for their studio. They did basically say that the ideas and everything were ready to go for Sunset Overdrive 2, however. Hopefully, MS is taking over on a PC port, as well as Xbox One X enhancements, while the developer is working on a proper sequel. Spiderman has to be pretty much done by now.

This game is/was amazing. I feel bad it didn't get the sales numbers it deserved.
Its in my top 5 games of all time. It was different, it looked amazing, it "felt" amazing. Cool weapons, simple to navigate, daft story. I enjoyed every second. Badass game.

Yeah, it's one of my favorite games of this generation. It's a shame few people bought it. Imagine if it launched on PS4, we would be now talking about a second game and it would be hyped quite extensively. In some way, Xbox users are at fault for this drought of exclusives, as they didn't buy those available. Sunset Overdrive and Quantum Break are really good and unique titles which sadly may never get a sequel. At least there's hope for SD to be published by someone else as a multiplatform game.

I'd say, put SO and QB in GamePass then start releasing shorter chapters every 3, 4 months (short => lesser cost + fast release) and since it's free for GP subscribers, they will DL and they will keep their sub cause of these (including 1st party games) day1 releases. Better yet, more news times (promotion for GP, for the game, for the ecosystem), more people will talk about the story, about what's gonna happen next, etc.

I still occasionally jump on this for some mindless fun, it's such a fun game but a PC version seems a little redundant now, I'd say work on a sequel but it sounds like they aren't at fault in that regard.

One of the last AAA XB1 exclusives. There is this, halo 5 and the two forza (5 and 6).
I would consider the two forza obsolete now that there is Forza 7. Also there is Halo 5 Forge on PC. Anyway I guess this is good news for people who don't own XB and who don't mind UWP.
Windows Central Newsletter
Thank you for signing up to Windows Central. You will receive a verification email shortly.
There was a problem. Please refresh the page and try again.