Which is the best? Surface Laptop vs. Spectre x360 vs. XPS 13
By Daniel Rubino last updated
We pit the Surface Laptop up against the best-in-class HP Spectre x360 and Dell XPS 13 in terms of raw specifications and features. Which is the best value? Let's find out!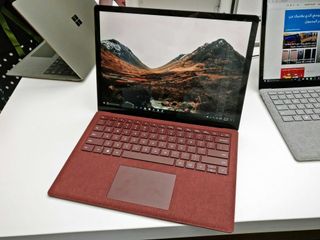 Choosing a laptop in 2017 in the Ultra class – that is very thin, light, yet still utilizing a full dual-core Intel Core processor – is becoming increasingly difficult, which is a good problem to have. In fact, knowing what's coming from other manufacturers, we know it's only going to get harder.
Three Ultrabooks – HP Spectre x360, Dell XPS 13 (9360) and the soon to be released Microsoft Surface Laptop – offer some very desirable traits in a modern, compact Ultrabook.
Which is the best? They all are, which means no matter which you choose you will be quite happy. Nonetheless, there are some significant differences between the three that will help guide your decision.
Here is how all three compare in direct specifications and features.
Note: Dell and HP both offer different screen types whereas Surface Laptop is more limited.
Category
XPS 13
Spectre x360
Surface Laptop
Processor
7th gen Intel Core i3, i5, i7 U-Series
7th gen Intel Core i5, i7 U-Series
7th gen Intel Core i5 or i7 U-Series
Display size
13.3 inches
13.3 inches
13.5 inches
Display resolution
1,920 x 1,080 (166 ppi)
3,840 x 2,160 (331 ppi)
1,920 x 1,080 (166 ppi)
3,200 x 1,800 (276 ppi)
2,256 x 1,504 (201 ppi)
Display type
InfinityEdge touch or non-touch
BrightView LED / IPS LED
PixelSense touchscreen
RAM
4/8/16GB
LPDDR3 1866MHz
8/16GB
LPDDR3 1866MHz
4/8/16GB
LPDDR3 1866MHz
Graphics
Intel HD 620
Intel Iris Plus 640
Intel HD 620
Intel Iris Plus 640
Intel HD 620
Intel Iris Plus 640
Storage
128/256/512GB, 1TB SSD
128/256/512GB SSD
128GB, 256GB, 512GB SSD
Battery
60WHr
46WHr
Unknown
Wireless
Killer 1535
802.11ac
Bluetooth 4.1
Intel 8265
802.11ac
Bluetooth 4.1
Marvell AVASTAR
Dimensions
11.98 x 7.8 x 0.33-0.60 in (304 x 235 x 9 to 15 mm)
12.8 x 9.03 x 0.41 inches (325.12 x 229.36 x 10.41 mm)
12.13 inches x 8.78 in x 0.57 inches (308.1 x 223.27 x 14.48 mm)
Weight
2.7lbs (1.2kg) non-touch
2.9lbs (1.29kg) touch
2.7lbs (1.24kg)
2.76lbs (1.25kg)
Ports
2x USB 3.0
SD card
1x USB-C Thunderbolt 3
3.5mm jack
1x USB-A
2x USB-C Thunderbolt 3
3.5mm jack
1x USB 3.0
Mini DisplayPort
Headset jack
Surface Connect
Pen
No
Yes (4K option only)
Yes (not included)
Price
from $799

(opens in new tab)

from $989

(opens in new tab)

from $999

(opens in new tab)
Pricing matters
If you are on a strict budget, you will have to make some compromises.
Dell has a much lower starting point at just $799 for the XPS 13. Granted, that's just 4GB of RAM, 128GB of storage and a non-touch 1080p display with a Core i3 processor. What's neat though is you are getting that premium build quality and Infinity Edge display making that $799 model look like a $2,000 version. It's also easy to upgrade the RAM and storage later if you need it.
HP has the best all-around value but with a higher starting point. For $1,089 (often on sale at $989) you can grab a Spectre x360 13t with a faster Core i5 processor, 8GB of RAM, and 256GB of storage. That display is also a full-touch 1080p (but no pen support) and the device is a real 2-in-1 offering much more versatility in the long run.
Microsoft's Surface Laptop is priced the highest starting at $999 but that only gets you 4GB of RAM and 128GB of storage. While you can use a pen with the Surface Laptop, the device does not act as a 2-in-1 convertible. The ideal starting point is the 8GB/256GB variant that starts at $1,299, which is about $300 more than the more versatile HP Spectre x360.
All three have outstanding build quality with a combination of metal, carbon fiber, or Alcantara fabric.
Performance should be the same
The HP Spectre x360t, Dell XPS 13 (9360) and Surface Laptop all utilize Intel's 7th generation Core U processors. Those are dual-core and vary in speeds. In theory, all three devices should perform the same, and in our benchmarks, Dell and HP are usually tied. It's not known what the clock-rate is for the Surface Laptop, so we'll have to compare when our review unit arrives.
One interesting change starting in May is the availability of Iris Plus 640 graphics. All three manufactures – HP, Dell, Microsoft – are offering the faster Intel GPU in its Core i7 versions. We haven't tested those GPUs just yet, but they should all bring similar performance.
None of the choices offer discrete NVIDIA graphics, however, due to thermal constraints.
The only consideration here is that HP and Dell offer lower resolution options with Full HD 1080p display. Processors and GPUs pushing fewer pixels results in a zippier experience whereas HP's full 4K option can be a bit slower especially for gaming (but it sure looks good!).
Amazing displays but only one is 4K
When it comes to screens HP, Dell and Microsoft put its best into these devices. That goes even for HP and Dell's lower resolution Full HD displays, which still look outstanding.
If you prefer anti-glare (matte) Dell is your only option at the Full HD 1080p level. It's also the only non-touch option. All the rest are glossy with touch.
All three high-resolution displays (HP's 4K, Dell's QHD+ and Microsoft's PixelSense) offer actual resolutions with non-PenTile designs for those who are concerned.
Pen support
If you are into digital inking or thinking about using it someday, your options are limited.
Dell is completely out as none of the XPS 13's offer inking support. If you want that from Dell, you'll need to go to its XPS 13 2-in-1 (opens in new tab) and grab the Dell Active Pen.
The Surface Laptop does not come with a Surface Pen, but you can buy and use one with it. The experience, however, is expected to be mediocre only because you cannot tilt the display back very far or use it as a tablet.
Only HP's Spectre x360 13t at 4K offers an authentic digital inking experience. That device turns into a tablet and comes with an excellent N-Trig pen (you can even use the Microsoft Surface Pen if you wish).
Odds and ends
There are some other important distinctions between the devices that could sway your decision.
If you use a web camera often then HP's Spectre x360 is your best bet. That device not only has an appropriately placed web camera (top display bezel) but one that is Full HD 1080p. The Surface Laptop sticks to a decent but lower resolution 720p one. Dell still places the camera on the lower display bezel and is off-center due to the restrictions of the Infinity Edge display. It too is just 720p.
For Windows Hello and bio-metric authentication, all three laptops have options, but only HP and Microsoft use facial recognition via infrared, which is the most convenient. Dell offers an optional fingerprint reader, which works quite well.
Battery life is harder to determine as it will partially depend on what display type you get. HP's 4K display will surely be the least efficient whereas Dell's non-touch Full HD option will likely be the best, especially when paired with its larger battery. Microsoft is claiming a bonkers 14.5 hours even with its high-resolution screen, but without an evaluation, it is just a manufacturer estimate now.
For ports, it's a bit clearer. HP is the most future-proofed with two USB Type-C including Thunderbolt 3, which supports external GPUs (eGPU) like the Razer Core. Luckily, the Spectre x360 keeps a single USB Type-A for legacy devices. Dell is the opposite with just one USB Type-C with Thunderbolt 3 (but no eGPU support) and two USB Type-A. The Surface Laptop is the worst with just a single USB Type-A and a mini DisplayPort.
Only the XPS 13 offers a full SD card slot while Surface Laptop and the Spectre x360 don't have any media card abilities without an external reader.
Conclusion: HP is still the best value
There is no clear winner here as each of these laptops are outstanding. The Dell XPS 13 is near legend and one of the smallest devices in this category. It also has the lowest starting price and likely the best battery life of all three.
The Microsoft Surface Laptop brings its unique 3x2 display aspect ratio, Alcantara keyboard deck, and that beautiful Surface design aesthetic. It's also the most expensive with the fewest features.
HP Spectre x360 with 4K display review
The HP Spectre x360 13t, however, brings the most for the least. Of all three, it is the only one that is also a 2-in-1 convertible offering many more usage scenarios including tablet mode. The Spectre also is the only one with a 4K display option with the highest concentration of pixels at 331 ppi, and it puts an N-Trig pen in the box. Finally, the Spectre x360 is the only one that supports eGPUs through its full-powered Thunderbolt 3 USB Type-C port.
See at Best Buy (opens in new tab)
In the end, all three offerings are fantastic, but choose which makes the most send for your budget and needs.
Daniel Rubino is the Executive Editor of Windows Central, head reviewer, podcast co-host, and analyst. He has been covering Microsoft here since 2007, back when this site was called WMExperts (and later Windows Phone Central). His interests include Windows, Microsoft Surface, laptops, next-gen computing, and arguing with people on the internet.
Are you sure there's a Micro SD card for the Surface laptop? That's great news for me!

No, the Surface Laptop does not have a sd or micro sd card slot. See the Surface Laptop's "Tech Specs"

They may have done a sneaky update, but I saw the following phrase: "Only the XPS 13 offers a full SD card slot while Surface Laptop and the Spectre x360 don't have any media card abilities without an external reader." No SD card slot on the Surface Laptop.

Oh the article had been updated.

The Surface Laptop shouldn't even be in this comparison since it doesn't have a Thunderbolt 3 port

And the Dell XPS 13 has like half a TB3 port. So? Not everyone needs or wants that. Shoot, most of you can even explain to me what the TB3 port spec is. Either way, a single port is no reason to ignore the Surface Laptop. XPS 13 can't do pen either, so fair is fair.

To his point though, the x360 seems to be the most future proof and versatile of the 3. I really wanted to like the surface laptop as it was cheaper and newer specs than the surface book, but in the end the TB3 and and ink support sealed the deal for me. Even USB-C would've been a good choice to have. I get the market is in transition, but that's exactly the reason to have it.

There is no "to his point". I clearly state throughout the article the HP Spectre is the best bet and value. The very point of this article is to COMPARE what is out there to point out the pros and cons of each. The lack of features does not mean it should not be included, the differentiating features is exactly the point here. Saying the Surface Laptop "shouldn't even be in this comparison" defeats the purpose of this article, which his to educate people on exactly WHAT those differences are. Finally, the notion that TB3 alone is the sole reason to buy - or not buy - a laptop is not a universal conclusion. Even for my needs TB3 is nice to have, but not a must.

I believe Microsoft consiously "limits" the Surface to specific design capabilities. I think Microsft wants to make money with Surface, but they are not going to chase market share. Microsoft clearly adds a premium to the device. Any OEM can design and build a competitive device and make plenty of money at a 10% lower price than a comparable Surface device. Why only one port? Surface Laptop is not trying to be "future" proof or be a jack of all trades. They want to sell a high end device with excellant build quality and excellant engineering that will last the customer 5 years of useful life. My laptops are good for about 3 years. Last fall, I bought (for $750) a HP envy with a 15.6" 1080p touch screen, i7-7500, 256 SSD, 8 gb RAM, device with lots of ports. I only use the USB typw A port. I have a donggle to hook up my internet. No need to use Wifi at the office. This laptop replaced a Haswell powered Dell. I also use a SP4 especially when I travel. Why the 15.6" Envy? I need the full number key pad to enter all the numbers running my business. My son went to college last fall and bought the Dell XPS 13. We bought a portable DVD/CD drive. He use an Apple in highschool. Why did Microsft wait 7 months or so to introduce the 7th gen iCore? To give the OEMs a headstart. My origianl point stands. Microsoft does not want to step on any OEM toes. So the make a hig end device, limit its use cases and charges more than a comparable high end OEM device. Why? Microsoft wants to lead the WinTel ecosystem beyound the desktop. Sure wish they would have kept the Lumia around. I use my Lumia 950 and it is great. Better than Android. Did something happen to Microsoft Wallet? I have been using it for tap and play. Today, my bankcard was not in Wallet. Then I tried to add it back, which has happend before after an update I assume. But the app does not even have an option to add debit cards. Also I wonder why my laptops seem to degrade over time. Maybe the Windows S is the solution.

Touch and pen is half-assed gimmick on the Surface Laptop as it can't be converted to Tablet form. There's a major difference between having something practical and merely having it for the sake of having it... Thunderbolt 3 port enables you to connect to an external GPU when docked at a desk, and every "high-end" device should have at least 1 in 2017.

eGPUs are currently niche and overpriced for many users. Don't pretend even for a second such tech is going mainstream any time soon. Again, you folks need to ground yourself in the real world and not the power-user nerd'dom we have here. Regardless, the point here was for me to - dun dun dun - spell out exactly what the differences between the Spectre x360 and Surface Laptop are so that people can make, you know, informed decisions. What we have here is just a lot of griping.

And you think in the "real world" many would be looking at $1000+ computers in the first place if they wanted merely the basics? At such high price point, the hardware should be future proof, and having such port aids in that.

A ton of people buy $1000 dollar laptops. Go walk into a MS Store or Apple store when new hardware comes out. People eat these things up.

@MrElectrifyer, yes, there is a brisk market for $1,000+ laptops. That's why Apple sells the MacBook Pro, and sells it well. In contrast, there is not a brisk market for eGPU solutions. That's extremely niche. It's only needed for very specific applications, and many who use those applications either go with a desktop or a gaming laptop. It's a wonderful feature, but it's very niche. Just to use myself as an example, I care much more about the ability to flip the screen around and use it as a tablet. That rules out the Surface Laptop for me. I also have no interest in FHD resolution -- too low for my tastes. So this article is perfect for teaching me which systems match my needs.

I was really waiting to see his TB3 justification. Thought he would have had some compelling arguments.Oh well. :(

How about Lenovo Yoga 910?

I thought that all of the Spectre x360s now come with a pen, is it just a different technology from N-Trig?

I'm fairly certain this is true. The FHD 13" 2017 version I have from Best Buy works w/ my old Surface 3 pen. Dan: You might want to revise this line "Only HP's Spectre x360 13t at 4K offers an authentic digital inking experience" as it kind of sounds like only the 4K model supports the pen.

WTF, no seamless storage expansion on the Spectre x360? Fail. No reason why something bigger than my Surface Pro 2 shouldn't be future proof with storage expansion.

The 15 inch Spectre does have one if your willing to go bigger screen size.

The HP is the only one I would consider, I prefer a 2 in 1 with inking support.

Dan, if you get a second SL to test, please compare Win10S and W10Pro head to head. Standby, boot times, battery life etc.

I would be interested in this as well.

There isn't a clear winner... But there's a clear looser. And that's the Surface Laptop.

I don't think Microsft believes people will be heavly using inking on the Surface laptop. But inking is a core capabiity distinctly absent from Macs. I think Apple and Microsoft signed a never ending cross licensing agreemnet back during Apple's (near?) bankruptcy when Microsft paid Apple $100s of millions in the late 90's (I believe). Did they force Apple to forgo touch on Mac'S? Why in the world in 2017 does a Mac remain touchless? Is it something OSX simply cannot be made to do without breaking alot of the code? iOS is a good mobile OS but not as powerful as Windows. Hence the iPad sales decline. So Microsft will promote inking on every Surface device. Expect a whole lot of inking demonstrations on the Surface Pro tomorrow. Here is Microsofts brand Surface Hub Surface Studio Surface Pro Surface Laptop Lumia (not) Surface Phone (someday)

Duh, I forgot the Surface Book

Yes, Jobs went to MS and got a $150M investment in the late '90s, if memory serves. I think MS got Apple to agree to make IE the default browser on Macs. MS also wanted some goodwill on the monopoly cases they were facing, so by supporting a competitor, this helped that argument both in courts and in public opinion, which had already begun to turn against Microsoft (and that MS still struggles with today, even though now, I would say is the most customer friendly of all the big tech companies). It has become an Apple marketing theme to dismiss the value of touch on a computer. Touch is for phones and tablets. No one wants to touch a computer screen. Or so they have argued over the years. Apple is therefore in a tough situation with touch. I suspect they will eventually add full touch support, with the TouchBar being the start. As an aside, I think the notion of monopoly control of an industry through natural successful growth has been fully demonstrated to be a myth. Entrerpreneurs will always find a way to leapfrog the dinosaur. The dinosaur must evolve and stay relevant, or it will fail. Historically, the only monopolies that have survived have been government supported, where legislation made it impossible for competitors to come along (think AT&T, trains, or power companies -- all enabled and protected by legislation, that's crony capitalism enabled by governments that are too big, not capitalism and free enterprise). So there is an irony in governments attacking successful companies to break them up in the name of stopping monopolies.

Nice artical but why do all these laptops use lpddr3 instead of lpddr4?

The greatest issue since the beggining of time of utlrabooks is the desktop UI that doesn't belong on anything less than 15" screens. Its pixel hunting experience from the get go honestly. All notebook OS providers fail in this field right on their noses. Spending a lot fo time in front of 13" or smaller working in desktop environment strains your eyes seriously. It's a troture you never feel until your eyesight goes to crap but then it's too late.

I am thinking of getting the 15.6 inch Spectre, but Amazon reviews are not really good... Daniel, what do you think about it? This is the model: https://www.amazon.co.uk/HP-15-bl000na-Convertible-Touch-Screen-Dedicated/dp/B01NCNKW8T/ref=sr_1_18?ie=UTF8&qid=1495550486&sr=8-18-spons&keywords=HP%2BSpectre%2Bx360%2B13t&th=1

FYI, in terms of the XPS: "It's also easy to upgrade the RAM and storage later if you need it." You can NOT upgrade ram on the XPS 13 series laptops. They are soldered onboard (I have the 9350). If you order the 4gb, you can only upgrade the SSD (which is pretty easy to do).
Windows Central Newsletter
Get the best of Windows Central in in your inbox, every day!
Thank you for signing up to Windows Central. You will receive a verification email shortly.
There was a problem. Please refresh the page and try again.