Surface Pro 2 and Docking Station back in stock online at the Microsoft Store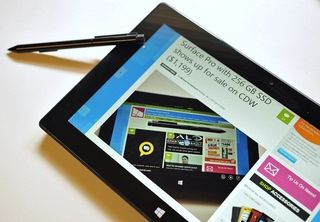 The Surface Pro 2 is an incredible machine. Those who have on love them. The biggest complaint against the Surface Pro 2 is the stock issue. Since launch, those wanting a Surface Pro 2 have had an impossible time getting their hands on one. Those who pre-ordered didn't see them arrive for months at a time. Good news if you're still hunting, the Surface Pro 2 is back in stock at the Microsoft Store.
Head to the Microsoft Store website and you'll see all four models of the Surface Pro 2 in stock right now. Pricing for the Surface Pro 2 starts at $899 for the 64 GB model and goes up to $1,799 for the 512 GB model.
Not only is the Surface Pro 2 in stock, but so is this the Surface Docking Station. It retails for $199 and gives your Surface Pro 2 (and original Surface Pro) some additional functionality. With it you get a display port, audio input/output jack, Ethernet port, 1 USB 3.0 port and three USB 2.0 ports.
Anyone still looking for either the Surface Pro 2 or Surface 2? Order them today!
Source: Surface Pro 2 (opens in new tab), Docking Station (opens in new tab) Via: Twitter
Thanks for the tip Gerard C!
Windows Central Newsletter
Get the best of Windows Central in your inbox, every day!
I might get one, but I really want to know when the Power Cover is coming out!!

Ditto. Need and want the power cover! Maybe when they release the LTE version of the Surface 2 we'll see it.

Have you had hands on with the Power Cover? I went to an event where they were passing one around around and (MS employee name excluded to protect the innocent) had a great comment. "This thing is a weapon!". I wanted a Power Cover to replace my touch cover before actually attaching one to my Pro. Unless you're traveling, like on a long flight or something, that lead block will likely remain tucked away somewhere. It has to weigh close to the same as a Surface alone! I still want one just for the backup juice but, it's not going on the Surface unless I'm hurting for power and over the course of this past year, that hasn't happened yet.

Having also touched one, it's also about the thickness of a Surface Pro. What is most disappointing to me is that, with all of that, they excluded the keyboard backlight for the semi-sensible reason that it would drain the battery when in use. I had touched one prior to the Surface 2 launch, so I am a bit surprised that it's not out yet.

I was really looking forward to picking-up a Power Cover too but you mention that it doesn't have the backlit keyboard?!?! Next version they'll probably include it and give you the option of enabling/disabling backlighting as you need it...sigh...guess I'm waiting for v2...again!!

For the docking station..buy it at Staples. Staples.com has this cool trick where if you refresh the product detail page, a discount for 20 minutes pops up. I got a $46 off on my docking station. That's the maximum you get on it. If at first you see a lower discount, try going incognito mode

Cool! Never noticed that before. Right now it is out of stock at staples.com, but when I paged away a small black rectangle appeared at the bottom right of the browser window saying "Exclusive Offer", which was $24 off the list cost of 199 (had it been in stock). Sadly, no such hidden functionality on the Canadian verison - staples.ca.

I'm wondering when the damn Arc Touch Mouse Surface edition will be availabe in Belgium, still "coming soon" :( Tired of using the one and only single usb port on my Surface 2.

You can order the ARC Touch mouse | Surface Edition. Just click on It. (Ik heb zelf ook de ARC net een paar dagen binnen. Je kunt het 'binnenkort beschikbaar' gewoon negeren. Volgens mij is MS wat laks in het vernieuwen van documenten. Want als je verder de store in gaat zie je dat de ARC 69.99 euro kost en kun je de ARC gewoon bestellen. Komt - voor Nederland in ieder geval- uit Ierland. Na 3 dagen had ik de ARC in huis). Mooi ding hoor.

Bedankt! Ik zal het meteen eens proberen! En ja inderdaad het is echt een pracht van een muis, ik heb zelf al zo een Arc Touch Mouse maar het is geen Surface Edition, maar die gebruik ik op mijn laptop daar heb ik 4 usb poorten op dus stoort het mij niet xd

I think you should go to your own mama, you should ask her if she teached respect to you. Thanks for ruining my birthday anyway ;-).

Don't get upset my friend. People say stuff online. I hope you get the mouse you wanted soon and happy birthday. :)

I'm not upset, and i know people talk like that, not only online ... But there are people who don't like that kind of language, it's like i've done something bad to you ... But hey, forgivines is in the air, thanks for the birthdaywishes!

Gelukt de Arc te bestellen? En, gefeliciteerd natuurlijk met jouw verjaardag.

Jup, het zal wel lukken want ik zie er niet meer staan dat hij pas binnenkort beschikbaar is, nu staat er gewoon dat je deze artikel kunt toevoegen aan jou winkelmandje! Dat is een goed teken, nu alleen nog wat geld op mijn Mastercard stortten en kan ik hem lekker bestellen, heb een prepaid Mastercard daarmee :p En hartelijk dank!

Yes I want to order one.
Wait, Surface Pro 2 is not even available in this country yet!

you can order it from afganistan then.

Say you're a student and you will save %10 on EVERYTHING in the MS store. Instead of getting the 64GB for $899.99, you can get the 128GB for $899.10 ;)

I've actually had that happen before... I don't know how they get away with it, but the employees at my local MS Store just love giving out discounts like that. Even if you're not eligible for them, per se. Again, one would think cooperate would have their heads for it, but evidently not. I've saved so much money thanks to deals, bundles, offers and discounts at the MS Store... It's crazy!

hmm... will be at a MS store in 12 hours.... do they ask for anything specific?

Some times. For example, in regards to the Student Discount, they ask if you're currently attending college/university. However, last time I was there, I answered, "No," and they still gave me the Student Discount... Again, I have no idea why all the employees are so eager to just throw discounts around and why cooperate is breathing down their necks for this, but hey, I'll take it! So yeah, I've saved a fair bit of money due to all of Microsoft's Store wide promotions, bundles, etc., plus I've saved a fair bit because my local Store employees love discounts so much. Go figure.

I really liked the Surface Pro 2, but its weight led me to the Surface 2. I'm very happy it worked out that way. If version 3 of the Pro can get down to the weight of the Surface 2, it really would be the ultimate device.

Still out of stock at the Australian Microsoft Store.

Same in The Netherlands. No Surface 2, no Surface PRO 2, no docking station. It's a bloody shame.

Atleast they should open 2 or 3 microsoft store in India.

If only the docking station was cheaper. I would buy it.

Pay now, Be sorry tomorro. ;-) Enjoy For years to come

You sound like an American. It hasn't worked out so well for us.

$100 cheaper + dual monitor outputs = sold. Until then LOL

is the docking station and power cover compatitible with Surface RT 1?

Docking station only For the PRO's.

Power cover works with every surface device except surface rt.

I keep on using the Surface in store and keep thinking that it's just so small. I love how portable it is but as i write this from my thinkpad, i can't imagine typing on the surface and being efficient with it. Is it just something that takes getting used to?

I thought the same thing till I got the surface pro 2. Typing on touch cover took a little getting use to but once you get the hang of it its just smooth. Love it and not looking back. This replaced my aging laptop and looking at getting the sock station now

Ah, cool, hadn't heard about the sock station, does that mean my Surface Pro will keep my socks organized too??/

I thought the same as well. I use it with the type cover and I couldn't be happier. It's a great laptop replacement.

I had the original Surface and Touch Cover and could not type well at all. I upgraded to the new backlit Type Cover and it is fantastic! I am just as efficient as with a full size laptop. I have fairly large hands to--it really is a wonderful product. Looking toward to the power cover for my Surface Pro!

I build a lot of Excel models at work. With a Type Cover you'll never be as efficient doing things like that as you can be with a full size keyboard, but for typical typing I think you'll find you're just as fast on a Type Cover. It's honestly a pretty fantastic keyboard, particularly version 2.

YESSSS!!! I've been waiting for the docking station for sooo long!!!!

When does the transformer T-100 come back in stock.
Out at MS stores, out at best buy, out at buy.com.. They either didn't make very many or they have a surprise hit on their hands.

The T-100 seem to be selling very well here in Norway. It's only in stock for a few days at a time.

I might get the Nokia 2520 im gonna pay monthly on it??

Is that a question? If so, we don't know, are you?

Didn't really like mine. Ended up selling it on here. I use my laptop laying in bed with my knees propped, and didn't work for me. I might try a Surface 2 + Thinkpad 8 soon.

For those shopping for a Surface Pro 2 you should also look at the Dell Venue Pro 11. It has the same specs and has a mobile keyboard that adds 5 hours of battery life. The tablet also supports stylus + NFC + micro USB charging + miracast + mobile broadband!

I was highly interested but all the reviews have said it's terrible. It's hard to argue with the all-out quality of the Surface, but I sure wish they had a keyboard clamshell like the Venue. Sigh... still trying to decide.

Surely the reason the dock was out of stock so long was because they got wise and made it gigabit right? riiight...... "I am serious. . . and don't call me Shirley."

I'm planning to get one with a dock, but I'd prefer to see more options around multi-monitor support.

what I want is the 8 GB model with 128 GB storage. The RAM is the most important part for me and I don't want to spend a fortune to get it.

Add a second video out and USB 3 on the dock and I'll be interested. Until then: blah!

Good stuff. Got a Surface Pro the other weekend when they were on sale. Really great device, not sure how I was able to ignore this for so long. I can only imagine that second angle and slightly better battery life being really awesome. Really want that power keyboard though for my Pro.

Got my Surface 2 a day before Valentine's.

"Back in stock"? Just a FYI... I work with IT in Sweden, we decided to go with SP2 for some of our users and replace their laptops. The problem is we are still waiting for the first delivery of the dock, they have never been available for us despite contact with MS. Docking is a MUST for office work, sure there are third party docks etc, but MS has to speed things up.

What I want is the wireless adapter for Type Cover.

Got my wireless adapter at Best Buy even before I was able to purchase the SP2. In fact, I bought the docking station via Walmart Online 2 weeks before I was able to buy the SP2. I was just buying parts whenever they came available. I now have everything put together (8RAM/256, type cover w/ adapter, docking station) and it all works pretty darn good. I use primarily as a work computer with personal use on the weekend.

When is it going to be available in India, atleast from a reseller. I think it's high time Microsoft took out a cheaper version of Surface, something like the iPad mini. :)

It remains a mystery why Microsoft can't deliver. For me my surface pro 2 would be way less awesome without the docking station. Did the press find a reason why MS is so slow - except "huge success and demand"?

Had my surface 2 pro for about a month now. Awesome device. More powerful and lighter weight then my old laptop, can be used as a tablet or full computer. Got a docking station from best buy online, don't miss my laptop at all. My biggest bitch was waiting for the 256 GB version to get in stock. Glad I waited. If you're on the fence about it, get it. You won't be disappointed

PROBLEMS WITH THE DOCK: I've owned it since last year and so I'm in a position to evaluate it better than most. 1) it uses the USB bus for everything, meaning that if you connect speakers, mics, and say a few more USB devices, maybe a USB headset it will start showing a message in windows that basically tells you that you're out of USB resources...what? I paid 1200 dollars for this machine plus 200 for the dock and I can't even use all the ports? I'm not even using a hub. 2) video output still doesn't support two monitors for althoug it is DP 1.2, surface lacks an update MSFT has yet to release to enable the feature. Why doesn't the dock do the splitting internally by acting as an MST display port hub and providing you with two outpus? MST hubs are really hard to find, and basically nobody has DP 1.2 monitors that support daisy chaining. 3) because it uses the userface USB port as the device bus, you lose that port. MSFT needs to design it with a proper device bus and not piggy back on the SINGLE usb port of the surface. Off course it doesn't really matter because even if you HAD an extra port, you run out resources.

I'd like the dock for my Surface Pro, but $199 seems a bit high. Hopefully they will discount at some point. I agree with other commenters that I would really like the power cover. Especially with the less than stellar battery life of my original Pro.

The MS store is now showing that that dock is Out Of Stock :(

Realy? It doesn't say out of stock.

Does anyone know if the power supply for the dock is multi-voltage? i.e. accpets 240v in?