Surface Pro 4 gets new Signature Type Cover with Alcantara fabric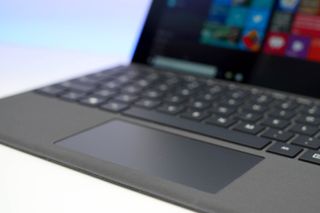 Microsoft has launched a Signature Type Cover for the Surface Pro 4. The keyboard looks similar to the traditional Type Cover, but is covered in two-tone gray mélange Alcantara fabric that matches the color of the Surface Pro 4.
Microsoft says that the fabric is "unlike anything you've ever experienced:"
The Signature Type Cover is now available at the Microsoft Store for $159, $30 more than the standard Type Cover (opens in new tab).
See at Microsoft Store (opens in new tab)
Windows Central Newsletter
Get the best of Windows Central in in your inbox, every day!
Harish Jonnalagadda is a Senior Editor overseeing Asia for Android Central, Windows Central's sister site. When not reviewing phones, he's testing PC hardware, including video cards, motherboards, gaming accessories, and keyboards.
I like the concept of the Surface pro, and am considering buying the next generation but I am not sure if the keyboard is good enough. I have now a Lenovo ThinkPad T440p.

if you want a Surface but with a better keyboard checkout the HP elite x2 1012, it have a more rigid keyboard and with a 1.5mm of travel distance.

If you don't like the keyboard, you can stick your IBM model M on it when you are ata desk. When traveling, use the pen or onscreen keyboard, its a tablet after all.

I really like the current keyboard on my SP4. Takes a tiny bit of getting used to coming from my old Mac, and it doesn't feel like any other keyboard. But it's so so so much better than the last keyboard, and I find the trackpad big enough, which was my biggest concern. Just to add a bit of positive attitude to this thread.
I was also very concerned about the keyboard when I bought it, but it has met my expectations and I don't regret it at all.
And I have my mechanical keyboard I can plug in if I feel adventurous :D Posted via the Windows Central App for Android

i used to have a T410s, and now a T450s. I have no issues with the feel of the keys. The dealbreaker for me was the keyboard layout. The Fn- key locks (i.e., like caps lock rather than shift key) and is not customizable. Also, I use my F# keys a lot AND the Page Up/Page Down keys as well, and you have to press the Fn key every time you switch between using F# and PU/PD. If it wasn't for that, I'd be sold. Feel is plenty good "enough".

Not exactly true -- on the SP4 keyboard, the Fn key CAN lock and unlock, ala Caps Lock, but you can also use it like the shift key (and the Fn key on the SP3 keyboard) and hit Fn-<F1-F12> and it'll just do the function key and not lock or unlock. It works both ways, which to me is the best of both worlds.

Did MS totally ditch the idea of having different sleeves for the surface? Like the DJ one.

I believe they called them 'blades'. And, yes, that is disappointing that they haven't done anything with them since then. That seemed to have a lot of potential.

Everything related to Surface Pro 4 has this kind of genius song to fill the commercial From Windows Central App for Windows 10

lol. I literally was laughing out loud. I'm a huge MS fan but this commercial was all Apple's Jony Ive double speak. Complete with british accents. I bet its a wonderful keyboard fabric but the commercial is laying it on thick. Reminds me of when Apple talks about the "grains" of their "aloo-minium".

Oooooo nice, like the look of that !!!

I like the signature edition cover, but the add has a kind of comical feeling to it. It's Johny Ive'esque, a bit over the top, almost makes it feel as if the whole ad is fake, for the sake of a bit of risk and fun. The background melody reminds me of Rhianna's-stay song which makes the ad even more interesting.

Great... felt material. Convenient for absorbing things from the surface of a coffee shop or restuarant table :-(

It's not felt or suede as such and has been used for headphone and tablet covers.......not sure how durable and cleanable it is though. http://www.alcantara.com/en/consumer_electronics/28/index.do However......I'm getting one :)

Yeah, it's a pretty bad choice for a bottom material. Hotel desks, airplane tray tables (FULL of germs). It'ts like a sponge for germs. I always try to keep the magenetic mode snapped so it's at least not restinig on the table. Nasty and a bad design, IMO.

I want one made of alpaca hair, washed twice in the Swiss alps

I second your request for an Alpaca one.

Just had an email about this and I have been meaning to get a new S4 keyboard but glad I didn't as I love this and will be buying soon. Thanks for designing this keyboard - a bit of quality here that matches the Surface style and quality. Happy face!

I guess Jony Ive wasn't free to do the ad. :D

But does it come with a pen loop?

The normal Surface Pro 4 Type Covers already lack those.

Well, the Surface Pro 4 AND the Surface Pro 3 get the type cover. 155€ is the normal price that Microsoft charges for of the type cover 4 here. So I'm assuming the European price for this will be between 170-180€. Which is overpriced as hell. It's nice but it's not THAT nice.
And it will probably not be available in many countries just like the Teal and Red type covers 4 aren't. Posted via the Windows Central App for Android

180€, though the Type Cover 4 is 100€ here now, while this new one costs as much as the iPad Pro cover.

Where's "here" btw? 185€ is the price Microsoft charges for the fingerprint enabled type cover. So if this one is 180€, well...as I said. Overpriced as hell.

the entire Surface line is only available in a handful of countries... MS doesn't know how to go international. Their main focus is the US (and apparently now India, because of Nadella)

I'm aware of that. I was however talking about countries where the Surface line is available, but not the ENTIRE line of products. For example, over here we have all the Surface products except the Surface Book and the Teal and Red type cover 4's. Why? No one really knows. "because reasons" I guess.

No fingerprinit reader? Oh well, would have bought it if so.

Yeah it's very disappointing that you can only get black w/ a fingerprint reader.

Seconded, as I passed on the fingerprint reader one due to it only coming in black. I'd upgrade to this silver alcantara one if it had the reader.

No fingerprinit reader? Oh well, would have bought it if so.

Isn't the Surface Pro 4 Windows Hello capable? I thought it had that Intel 3D RealSense camera? Isn't that an acceptable substitute for a fingerprint reader?

Finally a durable keyboard because the previous ones faded really quickly & made my SURFACE feel old. Will there be color variants of this Alcantara keyboards ?

Looks really nice. Color goes great with the surface. Still like my teal cover, but if it ever gets broken.... Posted via the Windows Central App for Android

It's beautiful.... Really want it for my SP3 but I dunno if it will be compatible with surface pro 5.... From Windows Central App for Windows 10

I'm looking to purchase a SP4 in the near futher (soon :P) and was wondering if current SP owners could share their insights on the durability of these types of keyboards? Do they hold up over time? Does the finish/do the letters hold up to daily use?

I've worked full-time, 40 hours a week off my SP1 to SP3 (now with an SP4 Type Cover,) and the keyboards have mostly held up fine. I haven't had the lettering wear off at all on any keys on any of the four keyboards, though I do get a bit of discoloration on the lower left palm rest area, by the track pad. My SP3 Type Cover also had a section of keys stop responding, though MS replaced the keyboard under warranty with a new one. The SP4 keyboard is fantastic, IMO, as good as any laptop keyboard I've ever used; I wouldn't say that about its predecessors. In comparison, my light-use, but four year old ThinkPad T410's keyboard has about 10 keys where the lettering has worn completely off.

Thank you for the feedback. Good to know that things have improved with the SP4 :)

No fingerprint reader? Pass.

My thoughts exactly Posted via the Windows Central App for Android

1 year warranty? Loks like a prime candidate for Amex extended warranty coverage...

MS you drunk, go home. Stop copying Apple!

This is very apple-esque. Good for them though, Microsoft needs this type of marketing. Obviously this accessory will be overpriced but it will target the people that have the money to spend on things that "look pretty" same people that will spend 200 bucks on a watch band. In saying all this I really like it and want one. lol

I just bought two at my local MS store (one for me and a co-worker)....it IS really nice. Makes my old one seem so cheap now. :)

Looks sweet, but why aren't they putting that finger print reader on everything? My red keyboard on my surface pro 3 is getting long in the tooth, this would be great to replace it, but I want Windows Hello too. +950 XL DS NAM CV Windows 10 Mobile

Next, signature backplates for the 950 and XL in the same material? Sent from Microsoft Band

Just got this. It really does feel different. Posted via the Windows Central App for Android

If Anyone is looking for a good price on this, I just found it in the BT Shop in the UK for £90.04 + £3.49 Shipping!!!!
https://www.shop.bt.com/products/microsoft-surface-pro-4-keyboard-grey-a...
Windows Central Newsletter
Thank you for signing up to Windows Central. You will receive a verification email shortly.
There was a problem. Please refresh the page and try again.