Surface Pro 8: How to upgrade the SSD (and which one to get)
Upgrading your Surface Pro 8's internal storage to a larger, faster drive is easy if you know what you're doing.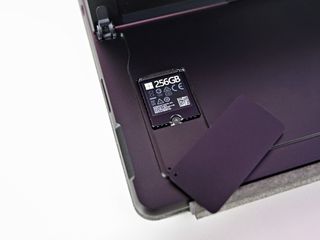 (Image credit: Daniel Rubino / Windows Central)
Perhaps one of the most significant and welcomed changes to Surface Pro 8 — besides Thunderbolt 4 and a 120Hz display — is the arrival of a removable SSD. While designed primarily for security concerns, regular consumers can take matters into their hands to upgrade the SSD to a larger size and even gain some speed. It's a fantastic feature since you can save yourself hundreds of dollars if you plan your Surface Pro 8 purchase and SSD upgrade.
But what about the details around such a procedure? What tools do you need? Should you re-paste the thermal enclosure for the SSD? And how do you get Windows 11 onto the new SSD?
All these questions and more are answered in this new guide on how (and why) you want to upgrade your Surface Pro 8's SSD. And if you have a Surface Pro X, we have a separate, but similar guide for that one too.
Time estimate for actual upgrade: < 20 minutes.
Why upgrade your Surface Pro 8 SSD?
Before we begin, let us discuss why you want to upgrade the internal storage to Surface Pro 8.
There are two reasons to consider, with the first being the most obvious:
You want more internal storage.
You want a (slightly) faster SSD.
The first reason is self-evident. You bought a Surface Pro 8 with 128 or 256GB of storage, and you want more. Maybe you want 512GB or even 1TB.
Indeed, you could buy the 128GB Surface Pro 8 ($1,099) and, for less than $200, get to 1TB if you upgrade it yourself. If you want Microsoft to preconfigure your 1TB option, you need to drop $2,199. It even works if you want that entry-level i7/16GB/256GB model ($1,599). Tossing in a third-party 1TB SSD costs you $1,800 versus $2,199 from Microsoft.
A faster SSD is less of a reason to upgrade and should be seen as a side benefit. Typically, doubling or even quadrupling your storage also improves the read and write performance due to the parallel nature of how flash storage is accomplished. Surface Pro 8's default SSD is, at best, mid-range by today's standards. Popping in more storage could yield +500MB/s improve sequential read scores, which does make everything feel just a smidge snappier.
Which SSD to buy?
Picking which SSD to get for Surface Pro 8 is the tricky part. It's different from buying a standard laptop SSD as Surface Pro 8 (and Pro X) use M.2 2230 PCIe SSD, which are much smaller. The market for such chips is also much tinier, hence why I can't just point you to Amazon and tell you to buy a specific model.
The easiest to recommend is a Toshiba/Kioxia BG4 M.2 2230 PCIe SSD. It gets excellent performance, and it just works. But, Toshiba does not direct-sell to consumers. Instead, it is an OEM part that must be purchased through business channels like Dell or on eBay if you are savvy. The key is to use the product SKU to find the version you want:
KBG40ZNS256G TOSHIBA BG4 256G PCI-E NVME 2230 SSD (CLASS 35)
KBG40ZNS512G TOSHIBA BG4 512G PCI-E NVME 2230 SSD (CLASS 35)
KBG40ZNS1T02 TOSHIBA BG4 1TB PCI-E NVME 2230 SSD (CLASS 35)
Assuming you want to increase the storage and get faster speeds, you will want to search for KBG40ZNS256G (256GB) (opens in new tab), KBG40ZNS512G (512GB) (opens in new tab) or KBG40ZNS1T02 (1TB) (opens in new tab). Pricing at the time of writing is around $30 for 256GB, $99 for 512GB and $200 for 1TB.
The good news is the 1TB option decreased from $300 at the end of 2020 to a more affordable $200 in October 2021. The bad news is that most sellers are from China or Hong Kong, so it could take many weeks to get your purchase.
But there is now another option in 2021 that wasn't available previously: Western Digital (WD).
This part gets even trickier. You could get a Western Digital 1TB drive costing between $117 and $170, making it even a better deal than the $200 Toshiba. Plus, many sellers are based in the U.S., meaning you can get the SSD in days instead of weeks.
For this guide, I bought a "new" WD 1TB CH SN530 drive on eBay (opens in new tab) for $170. I had it in my hands in three days after ordering.
The "CH" denotes something unique about these, which is they are often used in the Xbox Series X|S. That's why so many of them are listed as "refurbished" or "pre-owned."
But there's a catch with these drives — available storage — which some eBay sellers are upfront about, e.g.:
The speculation here is that allocated space is used for Xbox Series X|S storage, and it can't be recovered.
A typical 1TB SSD usually has 952GB of available storage with around 913GB available after Windows 11 is installed versus the 823GB you'll have (with Windows 11) in one of these Western Digital drives. That's a loss of about 90GB.
On the flip side, if you're jumping from 128GB (available is less than 100GB) to 823GB, you're still getting a massive upgrade. Plus, you can save around $80 versus the Toshiba chip and often get it delivered faster. I can also vouch that the SSD performance is like Toshiba's, making a choice even more difficult.
Whichever route you go, you get a considerable storage upgrade and slightly faster speeds while saving money. The question is whether you need every GB and want to save even more money. The choice is yours.
Tools
There are only a few instruments needed to swap out the Surface Pro 8 SSD, but they are crucial:
Thermal paste, a prying tool, and rubbing alcohol are not obligatory as it depends on how detailed you want to be with the replacement. Microsoft ships its SSD in a metal enclosure for protection, functioning additionally as a heat sink. It uses a small amount of thermal paste sandwiched between the drive and the casing. SSDs typically do not produce that much heat (compared to a CPU or GPU), so the benefit is likely minimal.
Some people mount the M.2 SSD directly, but it may rattle due to the thinness without the enclosure. Users can add a shim to stop the rattle or put the new SSD into the old enclosure with (or without) adding the thermal paste.
For this tutorial, I will re-use the metal sleeve and re-paste the thermal compound.
Making a Windows 11 Recovery Drive
Since the replacement SSD does not have an OS, you will need to reinstall Windows 11 after the swap. The easiest way is to load Microsoft's official Surface Pro 8 recovery files to a USB drive, as this gives you all the necessary drivers for Surface Pro 8. Doing so restores Surface Pro 8 to its factory state.
The process is simple. We're going to wipe and configure the USB drive to be bootable and then copy over the Surface Pro 8 + Windows 11 recovery files to it. Here's how:
Plug your 16GB+ USB drive plugged into the Surface Pro 8.
Search for Recovery Drive and launch the application.
Uncheck Back up system files to the recovery drive as it is not needed.
Continue with the prompts to format and wipe the drive. This process configures the USB to be used as a bootable recovery drive for Windows 11.
Download the 6.4GB of Surface Pro 8 Recovery Files

(opens in new tab)

by entering in your Surface Pro 8 serial number (you can find that serial in the Surface app on your device or printed behind the kickstand.)
Unzip and extract all the Surface Pro 8 Recovery Files to the USB drive copying over any duplicates.
Put the thumb drive to the side for now, as it will be used after swapping the SSD.
Surface Pro 8: Swapping the SSD
Now that we have the substitute SSD and necessary tools, we can replace the Surface Pro 8's storage. Ensure you have backed up any files, photos, videos, or documents before removing the old SSD.
Power down Surface Pro 8 (Hold the power button down.)
Open the rear SIM/SSD panel found under the kickstand using a SIM tool.
Use the T3 Torx screwdriver to remove the single screw holding in the SSD.
Gently lift the SSD up at a slight angle and pull the SSD towards you (wiggle it back and forth.)
If you do not plan to re-use the SSD metal enclosure, you could slide in the new SSD and secure it with the holding screw. Once completed, move on to the next section on reinstalling Windows 11.
If you want to re-use the SSD enclosure (and re-paste it), continue to these steps:
Using a thin prying tool or X-ACTO knife, gently tease apart the enclosure starting from each side. It's very thin metal.
Remove the old SSD.
Remove old thermal paste from the inner enclosure using rubbing alcohol and Q-Tips.
Remove the label/sticker from the new SSD (if there is one.)
Add a tiny drop of thermal paste to the top of the SSD (1/2 a pea.)
Gently smooth the paste around the entire black area of the SSD.
Put the SSD back into the enclosure and close it, lightly pressing the sides to crimp it in place.
Reinsert SSD enclosure into Surface Pro 8, securing it with the single set screw.
Replace rear enclosure door.
Do not add a lot of thermal paste as it is not strictly needed. Nor do you need expensive thermal paste, as this is not a high-performance CPU. You want a very thin layer when spread out, as too much paste defeats the purpose.
Once completed, you should save the old SSD. Since that SSD is just your old OS and files, it'll boot right back up, were you to reinsert it back into Surface Pro 8. If you send in your Surface Pro 8 for a Microsoft warranty claim because it breaks, you'll want to put back the original drive and keep your after-market purchase as you may not get it returned.
Surface Pro 8: Reinstalling Windows 11
Now that the new SSD is in place, you need to reinstall Windows 11. It is recommended to have Surface Pro 8 plugged in for AC power during this process (don't power it on yet until step 2 below):
Insert the USB thumb drive into Surface Pro 8's Type-C port (either one.)
Press and hold power and volume down (-) buttons at the same time.
When the Surface logo appears on screen release only the power button.
Continue to hold the volume down (-) key for 10 seconds until the recovery menu appears.
From the blue Windows recovery menu choose your language.
On the next screen, select Recover from a drive.
Follow the rest of the prompts to reinstall Windows 11.
Reinstalling Windows 11 should take about ten minutes. Windows 11 now grabs the latest cumulative updates and drivers during the install. It'll be just like when you first turned on Surface Pro 8 with the entire "out-of-box experience."
Surface Pro 8 SSD Upgrade: Benchmarks
Upgrading the Surface Pro 8 with a 1TB SSD brought two enhancements. Storage size increased from ~197GB to 823GB, which is the main point of this upgrade. Additionally, storage performance increased, which is expected.
For context, read performance is what you experience when running Windows 11 and launching apps — basically, everyday OS operations. Write speed is when you write to disk to create large files, install apps/games, and transfer data, so you don't experience it as much.
My results may vary slightly from yours due to the randomization of input/output operations, but sequential read jumped from 2,390MB/s to 2,895MB/s — a net gain of 505MB per second. Sequential write also had a modest improvement going from 1,609MB/s to 1,993 MB/s — an increase of nearly 400 MB per second.
While sequential speeds did see a significant bump, random read and write did not, although they did slightly improve.
The improved performance is not earth-shattering, but the SSDs in Surface devices are never great, to begin with (Surface Laptop Studio being the single exception). So, any bit here helps.
The best part of this update is the value. If you can spare just shy of $200 for the drive and tools, you'll have made your Surface Pro 8 much more valuable as your primary PC. Good luck!
Windows Central Newsletter
Get the best of Windows Central in your inbox, every day!
Daniel Rubino is the Editor-in-chief of Windows Central, head reviewer, podcast co-host, and analyst. He has been covering Microsoft since 2007 when this site was called WMExperts (and later Windows Phone Central). His interests include Windows, laptops, next-gen computing, and for some reason, watches. Before all this tech stuff, he worked on a Ph.D. in linguistics, watched people sleep (for medical purposes!), and ran the projectors at movie theaters because it was fun.
Thanks for the write up and benchmarks. Definitely a no brainer to buy base storage model and do the SSD upgrade.

Welcome! And definitely. This is an easy recommendation and makes your Pro 8 way more future-proofed.

Hi Dan, Does the the upgrade have any implications for Intel Evo? I understand from the Microsoft website that only "i5 and i7 options with storage 256GB and above [are] built on the Intel® Evo™ platform." I am assuming that means that the "basic" 128GB model misses one or more of the Key Experience Indicators. Would upgrading a 128GB SP8 to a larger drive enable EVO or is that a gross over simplification? Does EVO involve specific configuration by the manufacturer to enable all of the features? I apologise if these are dumb questions, but I really like the idea of having a Surface Pro that can immediately wake from sleep and I am trying to work out if I will get that experience from the base model or whether I need to pay the extra to get the 256GB model.

This is great! I deliberately bought the lowest storage available on the i7 because I knew the SSD was upgradeable. I was prepared to spend weeks researching drives but this guide just made it so much easier. Thanks Dan!

My pain is your gain lol. Glad you appreciate it, lot of work went into the research and testing.

Wow. Great guide Dan. So very detailed. I think even my 6 year old daughter could do this upgrade. Much appreciated. Just purchased a 1TB Kioxia BG4 drive to put into my 256gb Surface Pro 8 when it arrives November 5th here in Australia. On a side note, I have seen one guide (not as good as this) on YouTube that used a thermal sticker on the drive instead of reusing the enclosure. What are your thought on that? I'm just not sure I want to undo the metal enclosure if I need to send it back for warranty. In my experience, Microsoft repair network in Australia can be a bit touchy if they notice there has been any tampering of a device.

Thanks! Re: the enclosure/thermal sticker, I think that's fine, too. At least you'll have some thermal compensation as SSDs can get warm. re: Warranty and the metal enclosure, it's very thin/soft metal. When you put the drive back in it and squeeze it together I think it's very hard to tell it's been tampered with. So I think either way you'll be OK.

Thanks Dan. Appreciate the time taken to reply.

This is an awesome and easy to follow guide. I wish there will be more M.2 2230 SSDs around, at least sooner though due to current shortages, this will be hard to come by. I hope there will be a guide for replacing Surface Laptop Sutdio SSD, but somebody have done it and unfortunately it is alot more tricky to do so. SLS is clearly not designed for user servicing in mind.

Yeah, re: Laptop Studio that is much more tricky and not something on my to-do list (yet). If we see enough demand for it, I'll look into it, but that gets tricky with the rubber feet, etc.

Yeah, it's doable but definitely need alot of care especially the hidden screw under a plastic film. I love to see a guide for it and I think some others as well considering SLS or for those who already have it.

So my question is - does Surface Pro 8 have 2 or 4 GT lanes?

@Daniel Rubino -- any chance we will see a similar article for the Surface Laptop Studio (SLS)? My understanding is that you can use standard form factor M2s on that model. I believe it was MobileTech YouTube channel that mentioned that the SLS has a lot of screws and a lot of rubber seals but once you get to the M2 drive it is pretty much a drop-in replacement. They did not give a demonstration, just spoke about the upgradability. The Pro8 upgrade seems straightforward but a pain. I am hoping Toshiba or others have a drop-in replacement in the future. While yes, this is user-upgradable, this is very much dependent on how comfortable a user is with the steps detailed in your article. Perhaps it's just me, but user upgradable for me means to remove a few screws, pop out the old drive and replace it with a new drive and then replace screws (OS recovery aside). This seems a lot more involved for some people than it seems the marketing purports it to be. When we had MS Stores in local malls, this could have been a drop-off and get it replaced while you go shopping thing. This does not seem hard except if you are not technical.

"SLS has a lot of screws and a lot of rubber seals but once you get to the M2 drive it is pretty much a drop-in replacement."

That's my understanding. I'll start to look into it, but it feels like it's going to be something that's done less frequently due to the added complexity.

"The Pro8 upgrade seems straightforward but a pain"

It's not! I put a lot of detail here, but honestly, it's the prep (ordering a T3 screwdriver, getting the right SSD, etc). But once prepped the whole process is seriously like 20 minutes and very simple. If you just used a MS ordered 1TB SSD it is basically drop-in, but I don't think MS direct sells those to consumers, just enterprise.

Linus Tech Tips made the upgrade, but they broke the device, since they missed a screw. Granted, they are not the best at this kind of tasks (contrary to ifixit for instance), but still it's a bit scary.... Hopefully someone makes a guide. Personally I am interested in the SLS base model, but since there is no SD card (my surface book 2 has 256GB but a 512 microsd in a SD adapter that sits flush) it's either spend a ton more money or upgrade the SSD.

I had an Toshiba BG4 1TB lying around from the last time I did this with a 7+ LTE. It worked well, but I sold it (the LTE models always seemed a bit flakey to me). I got a Surface Pro 8, i7, 16GB, 512GB. Graphite this time though. I really like the color and for some stupid reason, the 1TB, i7, 32GB RAM version doesn't come in graphite. Or is it even in stock now. So, anyway, I decided to put the 1TB in (pro tip here: The Caldigit Tuff Nano 1TB external drive has a Toshiba 2230 1TB chip in it, $230 - just take it apart and get the chip out). Not sure if its in stock now though, I bought it back in February. Being the paranoid type, I decided to heat-protect it (I mean, Microsoft designed it that way for a reason, right?) So, I take the old casing off and put it on the 1TB. with thermal paste and all. The trick for me was that after you take the casing off, you should crimp the black cover it into shape before putting in together. If you don't crimp those sides tight to the casing, it will be hard to put in the Surface Pro's bay.

Nice article, thanks. I bought the WD drive and had no luck. I have a lot of experience imaging computers. I tried from official MS media, my own recovery drive and Acronis. It would crash with that drive no matter what. I don't expect much from the Hong Kong seller but who knows. All good with original drive. An embarrassing amount of time trying to make it work. Will lick my wounds and try to find another drive. https://www.windowscentral.com/e?link=https2F2Frov... Just thinking it is a bad drive? Let me know if you have had success with this drive. Thanks.

Same problem here-and the vendor warned me but I wanted to try. The vendor also said some of the drives work and some do not.

The WD recommendation would not work on a recent purchase Surface Pro 8. To make matters worse, when I tried to put the old drive back, it wanted bitlocker codes that despite MS saying so, did not exist in my account. So if you are going to try this upgrade, TURN THE BITLOCKER OFF first. That way, if the upgrade fails, you can fall back to the old drive. The vendor on ebay even warned that they had been having problems with trying the particular WD drives in the surface pro 8. It was stuck in a loop of sorts during install. Am trying the tough nano drive next.

This is a great tip. The WD drive also gave me an infinite restart loop at 64% complete. Popping my old drive back in was not too bad, because of your suggestion, although I had to install the Microsoft Authenticator app on my phone to unlock my SP8 because it detected that something was up. Advice to others: set up Authenticator beforehand and make sure it works. Plus it's easier to setup when your computer is not a brick.

Hey thanks, was a walk in the park with your guide. A Dell M2 PCIe NVMe Gen 3x4 Class 35 2230 - 1 TB, done the job lovely

Hi, Daniel.
Thank you so much for this guide.
I´m from Brazil and my only access to an SSD that isn't riddicuosly expensive is through China.
Could you please, help me, and tell if this one is compatible with Surface 8?
https://pt.aliexpress.com/item/1005002008448271.html

Thank you for this guide!
Interesingly, my local retailer had the Kioxia ssd in stock (Digitec in Switzerland), the most difficult thing to find was the T3-Screwdriver.

Hi Daniel, perfect guide, thanks. I followed your guide and went with the SN530. Only issue since installing is random restarts (does not seem due to over heating as the system can be idle). Any other users experience the same issue with their SP8 on Windows 11?

So this and a few other articles say to backup and restore the OS with the new drive as a new computer. Why not take the easy route and clone the drive to the new SSD, then swap? Is there a reason this does not work with Win11 like it does with Win10?

I too would like to know the answer to this, if anyone has tried and done this before? I've got a linux laptop and I almost always just DD (or CloneZilla) the drives then extend the partition.

I found the WD part on ebay, but the seller warned me it may not work on the SP8: "This is a SN530 CH so it is PCIe 4.0 x2 SSD which works to around the same speed as PCIe 3.0 x4 counterpart. However, it seems that some of these drives have different firmwares and some of them crash constantly when installed in a SP8. The windows installation will complete without any issues but once it's booted it will literally crash non-stop. To avoid this issue you're better off looking at other brands like Toshiba/Kioxia or Samsung."

Hey Community, just a headsup. The 1TB option has gone up to $450....

Hi All. Just received my Pro 8 w/LTE. When I go to the Surface recovery Image download site; chose Pro 8 and enter my SN nothing happens? Any updates to this for the Pro 8 LTE?

Thank you so much for this guide. I have finally bought my SP8 with a 128GB SSD and just upgraded it with a 1TB drive. This guide made it so easy and worked perfectly.