Surface Pro could be getting a docking station soon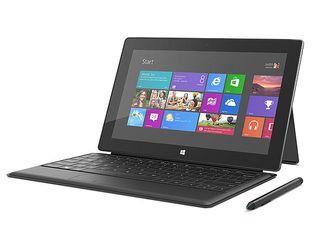 Microsoft is in the midst of a companywide re-organization to become a "devices and services" entity. One of those new divisions is the Devices and Studios, which is responsible for the Surface, Xbox, and more within Microsoft. It's currently led by Julie Larson-Green, but will see Stephen Elop take the reins when Nokia's Devices and Services division joins that section of Microsoft.
The Devices and Studios division in Microsoft has a few more tricks up its sleeve for the Surface RT and Surface Pro. We've had hints of a battery extension for the Surface Pro in the past, but now Paul Thurrott has a few more details on what we can expect with future accessories.
Neowin recently revealed that Microsoft is working on a docking station for the Surface family of devices. Paul Thurrot expanded on their original reveal with more details about what we can expect with the rumored docking station.
The device will be for the Surface Pro and upcoming Surface Pro 2. It won't work with Surface RT or Surface 2. Why? Compare the bottom of your Surface RT and Surface Pro. You'll see some pins on the Pro that don't exist on the RT variant.
The docking station will be fairly large. The Surface Pro will slide in at an angle, being held in place by arms located on that side that pull out to release the tablet. What are you getting with this big docking station?
Video out via a mini Display Port and networking compliments of a 1 Gbps Ethernet port. You'll get some more USB love from a USB 3.0 port on side with three USB 2.0 ports on the back. You'll also find a dedicated microphone and headphone/speaker ports.
Neither Paul nor Neowin have any word on pricing or availability, but suspect that it'll launch with the Surface Pro 2 later this year.
Would you get a docking station for your Surface Pro? It would go well with the rumored "power cover".
Source: WinSuperSite, Neowin
This would be huge for further enterprise adoption!

It will. But you can already get all this with existing USB3 docking stations from various OEMs.

The video out of the USB docks is horrible. Its laggy and I find it distracting, even for browsing. I find it annoying to have three cables at odd angles to plug in. So yes, I am getting one for sure, but for the Pro 2 as I just sold my Pro on eBay.

So.. keep your Surface Pro or get a Surface Pro 2?

Wife will be keeping her Surface Pro. I will be getting Surface Pro 2! :)

For the battery life alone the Surface Pro 2 will just completely smash the Pro 1. Then you add the battery cover and everyone's in heaven.

Upgrading to Surface Pro 2, and buying dock + charge cover!

I like that plan. I might just do that!

Me too! Just sold the old pro on eBay.

Can't wait to see what it looks like.

I'd like it mainly for the extra USB and dedicated mic port, I''ve tried to use mine for recording from my PA but the single 3.5mm port doesn't work that way

The dock will change things even for the average user.

I use the targus USB 3 docking station with video for my surfac pro. Works good.

Same. Agree. Works great.

Also agree, we have all of our medical clients on this docking station and it works very well.

Good more and more Windows accessories and products about time can't wait till we see the all the improvements from Windows Blue!

You mean a charging docking station? I'm confuse as to the meaning of a "docking station" for the Surface...which already has that thing on the back to hold it.

Docking station and kick stand is completely different

Ok. Then what exactly is the purpose of this "docking station"?

A video makes for a better explanation. A good example would be dell's dock.
Dell is probably so mad right now.

Ah! I see. Thanks! Well...I guess it's useful. If you spent the outrageous amount they ask for the Surface Pro, it's because you most certainly use it also as a laptop.
And so I think it makes sense to have this. Not worried it won't work on RT now. 'cause you know...the RT meant to be a tablet and shouldn't be views as anything else =P

If the surface is suposed to replace desktops and laptops for work it needs a fast way to connect to ethernet, more monitors and full sized keyboard and mouse etc. Look at this, one cable and you are done... http://www.youtube.com/watch?v=dH6raQzCV3w
This is superwesome and im looking to set this up at work when we get the SP2.

I'm also confused. Would like some further explanation as to the purpose of a docking station, which seems general and rather nebulous.

http://en.wikipedia.org/wiki/Docking_station

An example would be dell's dock for the latitude 10. It has several usb ports, an ethernet port and hdmi output. You connect a monitor ( I use a 32" tv), attach a usb keyboard and mouse ( I use a wireless keyboard/mouse combo), and you can connect via ethernet (for enterprise). Dell probably though out this formfactor for the cheapskate BYOD enterprise segment. You bring your windows 8 tablet, they only supply the dock and peripherals while you bring your own device. This works since windows 8 has the ability to separate your personal files from works related files and your office IT can remotely wipe your device (only work related, not your personal files) Effective, but sneaky. But as I found out, works great at home too.

A docking station allows you to connect all your periherals (monitor, scanner, keyboard, mouse, speakers, etc) to it and then simply plug your notebook or tablet in with one connection. Basically allows you to use it like a desktop computer by making one connection. I couldn't live without it (use Dell Latitudes myself).

Is there any rumors on pricing or has anyone got a rough idea? I'm thinking on getting either Surface RT(1st gen or 2nd gen) or Surface pro (2nd gen) for college.

RT if ALL you need is Office, email and web browsing (and Windows Store apps). If there is ANY chance you need or want regular Windows Desktop apps, get a Surface Pro 2. I know someone who had an RT because it was good enough for college, but now wishes they had spent the extra $ on a Pro to be able to run regular desktop software. The RT is nice and light for carrying around all day though...

If by "for college" you mean for study purposes, then the RT is more than sufficient. It has Office included and you can still have music and videos on it, along with all the Apps and games from the Windows Store (it's basically a tablet version of your WP8).
If you intend to have normal desktop programs that require CDs or DVDs, then the Pro is your only option.
To put it simple: The Pro is a laptop, the RT is a tablet.

The thing holding me back from RT is the fact that you can't install Nook Study on it. I get alot of text books that way and I feel MS really needs to figure this one out if they're targeting college students with RT.

Me want more info on the second version of the RT.

IMHO, I think the RT should be done. What separates the surface from other tablets is the fact you can have the complete OS in that form and not have a PC. The confusion from people between the two also seems to be a hindrance to sells.

We dont all want the extra bulk, nor the extra $450.

That is a good point. The surface pro is my first tablet so I can't really compare to others and it was a gift from my wife.

Introduce your wife to mine...

Lol, see got some Sony tablet at the same time. I'm all Microsoft and she has Android. A divided house.

Or the ability to run legacy apps for that matter.

Much prefer both RT and the slimmer device. I have little use for Pro OS. I'm ok with the future.

Are people really this stupid? If they are confused they can't go up to a salesman and ask? Do we really need the apple model where you have one device that is updated annually to keep things simple for consumers?

The thing is, you're not supposed to have full Windows on a tablet. The Pro is a laptop with a detachable keyboard. The RT is the only "real" Microsoft tablet because it runs the way tablets do, with the advantage of having Office which iPad and alikes don't have ;)
If you buy an iPad, you can't run normal programs you would run on a MacBook. Same for the Surface RT.

But why? Why aren't you "supposed" to have full Windows on a tablet? Especially now that Windows 8 is so touch-centric? So tablets aren't supposed to run full programs, but you'll make an exception for Office because its an advantage over Mac? Double standard much? I just don't get this attitude. Unless you were just kidding, then carry on.

Not a double standard, Surface RT ships with Office pre-installed. The iPad and the Surface Pro don't!!!

Agree, but what I wanted in a tablet is different than others I guess. I wanted a complete OS on the go. It is great for me being in the military because it is easier to carry than a laptop on liberty and all I need is my Pro, charging cable and hard drive. I bought the pro because I didn't want the iPad or any other tablet because they are limited. Having office preinstalled shouldn't be a difference maker either. I understand the convinces of the RT but for me the Pro was a no brainer.

all thats known so far is that it will have a tegra 4 soc. that was pretty much confirmed by nvodia. everything else is speculatoon. hefully they will use the same display as the pro.

I love the rt. I got both at TechEd and the pro has short battery life, runs hot, uncomfortable to use as a tablet. The rt runs for days on a charge, light, thin and a great device. It has replaced my wife's laptop. It is missing a few things from being 'perfect', but they are fixing these things. 1. Full Outlook (fixed in 8.1)
2. Publisher
3. Quicken

Agreed. What I'd like to see for the RT is a car charger.


Doh! One of the reasons I bought a Dell Latitude 10 was for the dock so I could hook it up to my TV. If I had known the Surface Pro would be getting a dock, I would have waited...

I have the same setup with a wireless mouse/keyboard combo so the 32" TV/Monitor can be 5 meters away to avoid eye strain. I'm gonna get a miracast dongle as soon as someone confirms it works great with 8.1, The netgear push2tv feedback as of now is mixed so I'll hold off until either a better option comes along or everyone says that it works as it should. If it works, I just might get an 8" tablet as well that's WiDi and Miracast capable. Windows 8 just gets better and better the more I use it. ;)

I would love the ability to add a 1394 port

The dock and powered keyboard is cool and very useful based on actual experience. My acer w510 has an attachable battery keyboard and it changes my tablet to a laptop with 18 hours of battery life @ continuous usage. My latitude 10 works great with a dock attached to a 32" LED monitor and wireless mouse/keyboard combo and you can't believe the things I can do with that setup. My concern though is not usability but OEM backlash. Microsoft says that OEMs have a lot of ways to differentiate among themselves, but what happens when Microsoft implements all of them on their hardware? Right now surface is different because of the vapor MG and touchcover and other OEMs have their docks and battery/keyboards. Will surface be my only choice of a windows tablet in the future? or will they price Surface again too high to appease OEMs?

esata would be great for those of us with huge storage needs.

Need more for the RT, no way am I getting the behemoth Pro.

It all comes down to price, it will be a convenience but not necessary. MS mini HDMI adapter $39.99. Startech brand $7.99.

Got the Pro currently which is fantastic for hooking to an external monitor and wireless keyboard / mouse combination. A dock would be better for more expansion. I'll be first inline!

Can't they release an adapter to attach to RT and Sf2 so it can get the love it deserves?

No, they can't because the keyboard connection is slightly different. The centre pins on the keyboard connector on the Surface Pro are wired to take an electrical current, the RT doesn't do that and doesn't need it either as it gets 8-10 hours from its battery compared to 4-5 hours from the Pro.

Unless the dock has at least 2 video out, it will be a big disappointment for me and a fail in terms of my organization rollout.

If so.. You can solve that with the USB3 port I think.

Agreed. The Targus USB 3.0 dock we use for our clients has multiple video-out options. =)

This is what I've been waiting for! Second gen of surface

I just REALLY want to see Microsoft release a couple variances of an ultrabook, something like the X1 Carbon just... better!

A proper docking station and battery Type Cover change the game completely. Rock on.

Its about time, but a TRUE dock will include dual video outputs, DVI, HDMI and/or Displayport. Without it, then corporate america will turn a blind eye to a SURFACE since it would be more difficult to incorporate into a day to day fill-time desktop replacement.
IMO

Agreed. The Targus USB 3.0 dock we use for our clients has multiple video-out options. =)

Right, put some graphics hardware in the dock and give us 3 monitor outs from dock. Instabuy!

Which do u guys think is better? Getting a Windows 8 desktop with a Surface RT or getting a Surface Pro 2 and an assload of HD monitors to connect to? I am in the middle of learning how to be a developer and I have Visual Studio 2012 Ultimate and I realize that both options are pretty damn well expensive. What should I do?
Windows Central Newsletter
Get the best of Windows Central in in your inbox, every day!
Thank you for signing up to Windows Central. You will receive a verification email shortly.
There was a problem. Please refresh the page and try again.