Surface USB-C dongle arrives June 29 for $79.99
The dongle will launch first for business customers.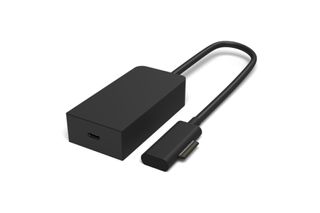 The wait is almost over for Microsoft's USB-C dongle for Surface devices. Speaking with The Verge, Microsoft has confirmed that the dongle will be available initially for commercial customers starting June 29 for $79.99.
The dongle will serve as a way to add a USB-C port to devices that lack one, like the Surface Pro and Surface Laptop. You'll be able to connect the dongle to the standard Surface charging port for use with either USB-C accessories or for charing. However, there are some caveats, as Microsoft explains (opens in new tab):
It isn't clear exactly when the dongle will make its way to the retail stores, but commercial customers should be able to get their hands on the connectors starting June 29 through business channels.
Why Microsoft's Surface Pro doesn't have a USB Type-C port
Given Microsoft originally announced the adapter more than a year ago, it's about time it starts trickling out to consumers. As for the future, it's likely we could see USB-C ports included on future iterations of the Surface Laptop and Surface Pro. Currently, the Surface Book 2 is the only Surface with a built-in USB-C port.
Windows Central Newsletter
Get the best of Windows Central in in your inbox, every day!
Dan Thorp-Lancaster is the former Editor-in-Chief of Windows Central. He began working with Windows Central, Android Central, and iMore as a news writer in 2014 and is obsessed with tech of all sorts. You can follow Dan on Twitter @DthorpL and Instagram @heyitsdtl.
80 bucks for a dongle?? 😶. I guess they really don't want to sell many.

Except it's not really a dongle. They call it a dongle. But it's unlike any other dongles. It basically is a charger in another form. What's expensive is the power supply and the data bandwidth of the Surface Connect port.

I understand that but it's almost a hundred bucks and if someone is just going to use it for charging then... they're better off really getting the actual AC charger. Plus it looks like it only has one single type-c port and if that is the case then it really doesn't work as an adaptor for accessories at that price.

It's for USB-C docks, so Surface users can use docks other than the mediocre Surface Dock. That's why you need charging and video lanes.

There's a punchline somewhere isn't there? Isn't there?

And there is still no reference to what USB revision this supports. At $80 for a product Microsoft won't even reveal the capabilities for, that is unacceptable.

Wouldn't they put out that information when it's actually released?

I would doubt it. They avoid telling consumers what their USB ports are capable of at all costs. They don't want you to know how bad the situation with their hardware really is.

And the size 😂 lol if it's that big 😂

You have to consider what this intended to do. The Surface Connector supports charging, USB2/3, ethernet, video, audio. It is what all the ports that are on the back of the dock are supported by. USB-C with thunderbolt, supports all those same things. That is how all those functions get out of my Dell XPS13 to the ports on its USB-C dock. One cable, and it charges the Dell as well. That 'Dongle" is expected to translate all those signals that are present on the Surface Connector, to USB-C so that potentially I could use my Dell USB-C dock on my Surface. That's the intent. I'd have been happier had they just replaced the DisplayPort on the Surface with USB-C. Would have been way more useful.

I get that it has a lot of capabilities, but that does not justify the size. Is Your Dell such a brick? I guess no. Asus Transformer Pro 3 has USB-C with thb3 too and is big as SP. I know that, have been considering it when buying the latest SP. And the price is just awfully apple-ish. I think for that price and size it should be a dock (more ports) with USB-C.

Keep in mind this dongle will most certainly not support TB3, and maybe not USB 10Gbps even. Don't hold your breath for Microsoft to let us know anytime soon either.

Or you could just buy a USB A to C adapter for a few bucks. I so don't get the point of this.

Can't charge with that though. This does power and data so you can use Type-C docks with it. It's not just to attach a mouse or whatever.

A USB-A to USB-C adapter won't let a Surface user use a third-party dock, or potentially, a future Surface-branded dock with USB-C instead of Surface Connect.

Wishful thinking but is this thunderbolt?

I want to know the same thing, specifically Thunderbolt3 graphics dock.

I think that is implied. "Display output and data throughput capabilities are dependent on the USB-C docking solution used." That at least says it supports video, which doesn't happen with USB-C alone. I imagine capability will be published at some point.

type c does not imply display capability, but the Surface Connector does that. So maybe this thing has more ports like the docking station? They did mention this as a docking solution and they did not explicitly say that the display run through type-c.

Actually, no it does not mean thb3. Consider Lumia 950 XL. It has video & data output but no thb3.

Will see what the final specs look like. I assume it has a Surface port on the side of it, but if it doesn't, why the large size? Hope Dan will review one.

Newsflash: According to Msft site it isn't compatible with SP3 or SP4

Oh that would be so good! 😂

You can't be serious, really?

Yes, see for yourself on Msft website

Would have made infinitely more sense to have it as a power cable with a USB-C port, like a replacement for the original power supply, only having a usb-c port on it is just downright stupid.

But why? Charging via USB-C can't be worth the price tag and huge accessory. They're releasing it to business customers, but it seems like and external GPU is the only use for it. Unfortunately it takes up the charging port, so your gaming session will last a few minutes.

Too big, too late, too expensive

I use my SP4 at remote dark sites to capture astrophotography photos. I haven't had an occasion where I've been out long enough that I've completely drained my battery, but doubt I'd be able to stay out all night with it running like that. There are definitely other options to plug in and power a PC, but being able to use a portable charger with 30W output over USB-C would be perfect. If I were going to be somewhere I could always plug in, I'd just take my wall charger with me, but there are certainly uses for something like this. Sadly, it doesn't work with my model, 1724.

Expected a dongle, got a brick. No excuse for this abomination. How much space do the USB-C parts on a phone occupy? Should be the same volume here and sit magnetically attached to the side.

Why would Surface users need a dongle? Well, they wouldn't for USB-A peripherals, because all Surface devices to date have USB-A. And if I'm not mistaken, most if not all Surface devices have miniDisplayPort jacks and support MiraCast. This isn't rocket science: This is for Surface users who don't want to use the Surface Dock, which is mediocre and kind of flaky, but want other options. And I am willing to bet this will help migrate legacy Surface users to a new Surface-branded dock with USB-C. All the hate is for nothing, and based on nothing. Really, guys, get a life.
Windows Central Newsletter
Thank you for signing up to Windows Central. You will receive a verification email shortly.
There was a problem. Please refresh the page and try again.