Tesco Mobile Offering Lumia Windows Phones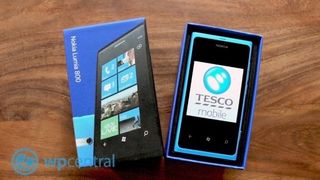 Tesco's in the past were perhaps a little confused about Windows Phone. That is all set to change as they are now kindly offering the Nokia Lumia 710 and the Lumia 800 for use on their pay monthly tariffs. The Lumia 800 is being offered free of charge provided you are willing to commit to a two-year contract at £22.50 per month, available here (opens in new tab).
The Lumia 800 is not alone in its fight for the hearts and minds of the UK's grocery buying punters, the 710 is here too. The Lumia 710 sports the same internals as the Lumia 800 but is a little more budget friendly due to its construction techniques. Tesco are offering that on a similar 24 month contract for £20.00 a month.
If you are someone that prefers to have his or her phone without the contract shackles, Tesco offer the Lumia 800 to purchase on Pay as you go for a hefty £359.97. I will note that you can buy the device cheaper on sites such as Expansys.
Tesco mobile stocking Windows Phones is great news for the platform. Lumia handsets have proven to be popular with the phone buying public. From a recent article, it would seem that the Lumia brand has in fact overtaken Windows Phone in terms of brand awareness.
An interesting theme is emerging in that retailers are not stocking HTC, Samsung or ZTE devices. I think this has to do with the scale of advertising the Lumia devices have received. Nokia have solid relations with retailers and they seem to be capable of leveraging that advantage to push Windows Phone to places it has not been before. I wonder if Microsoft's other partners had been more active in pushing Windows Phone earlier, instead of their Android offerings would we have seen more traction today?
Tesco as a company have a good relationship with Microsoft, so one has to wonder why it's taken them so long to get to Windows Phone. After all, they have been offering a Tescos shopping app in the marketplace almost from the start.
So, will any of you be popping in to your local Tesco's to buy some milk and a Lumia in the near future? Do you think the recent Hollyoaks tie up is getting retailers excited about taking on Windows Phones? Why do you think Tesco are offering this now with Windows Phone 8 around the proverbial corner? I am always keen to hear your thoughts in the comments!
Source : Tesco (opens in new tab)
why would anyone get the 710 over 800 if they both are free? doesnt make any sense

Well £480 and £528 over 24 months isn't 'free', but with 2 quid difference per month I don't think anyone should get the 710 over the 800 :P

Being a Lumia 800 owner myself, I'm not sure why. But that £2.50 a month less combined with a urgent love for hardware buttons, integrated into a package that has a replaceable battery might sway some? :)

i suppose there is a £2.50 difference for a start. but the main reason is that with the 800 you only get 100 mins (vs 250 for the 710) but you do get more data with the 800 (1gb vs 500mb for the 710)
i'd still get the 800 over the 710 though

Bit late in the day to stock wp7 imo. Wp8 is only a few months away. Let's hope it sells tho so they stick with wp, the more carriers the better.

Its NEVER too late! More Windows Phone, please?! =D

So if your contract is just up, you'd rather use a fugly android phone instead a beautiful windows phone for the next few months? I'd take a lumia for free even if it was a 610.

I'm happy to see Windows phone in more places than next. Even with advent of a WP8, suspect WP7 devices aren't going away so soon...

What would most people go with (not knowing about app compatibility) older and cheaper or newer and more expensive. Also the average person doesn't know wp8 is even coming out. Or even what a windows phone is. More people search the term Lumia than windows phone. Also I don't even think the average iPhone users knows what version OS their phone ia running.

The Lumia brand is definitely gaining traction working in CPW I get asked about Lumia on a daily basis. WP7 questions emerge maybe once a month if that... So its no surprise to see the Lumia being picked up over other WP7 handsets plus the Radar & Titan whilst fine handsets were totally overshadowed by their android cousins... Nokia do not have that issue. Will be great when if we get the Pureview Lumia :-) I can see that selling well.

I'm assuming Tesco over there is like WalMart in the US? =s Pardon my Yankee ignorance, I wanna learn... =]

"The British" WalMart if you will is actually called ASDA. Its actually owned by WalMart and is essentially the UK's Version. But Tesco in terms of its offering is similar, yes. Hope you found that interesting lol!

So.. Like Target then. I compare WalMart to Target.

I guess so. There all retailers in similar areas.

Not exactly. Tesco primarily sell groceries and some bigger stores have included the general stuff that Target might sell. Target don't sell groceries where I'm from, only chocolate & soft drinks. According to Wikipedia they are called "Fresh & Easy" in the US. Apparently Walmart sell groceries too, so I have no idea if it's similar :P

Yeah that's why I said similar. They all have their primary offerings and do other things sort of on the side

Yeah, I was replying to zunukoo comparing it to Target, that I thought wasn't quite accurate.

(And your message came through while I was typing my reply)

Yes, Tesco is a bit like Wal-Mart. I say a bit because...
1. They major on selling food items, but have a large format store called "Tesco Extra" which has a huge general merchandise assortment (non food)
2. They are big. Biggest UK retailer but international like Wal-Mart is.
3. They are not totally like Wal-Mart because their first priority in there marketing to the consumer is not price. Asda has a pedigree, long established of "Always Low Prices" (long before Wal-Mart bought it which dates back to their long time close relationship with farmers and butchers)
4. Tesco have no Makro/wholesaler format stores. Wal-Mart has Sams Club (Sam Walton, the founder of Wal-Mart opened his first store 50 years ago) Yes I work for Asda (interest now declared) :D Asda is still a UK retailer with a US parent company that lets us continue to be British, and lets us continue to be the lowest price shop (15 years winner of The Grocer basket price checks) which is good for most of the UK in the current climate. Hopefully we'll see us and our US stores getting Windows phones out there to provide some competition on price!

Are these plans considered competitive over there? This sounds so expensive. I'm paying EUR 7.50 per month for 1GB/1000 Mins and lotsa texts. And no silly 24 month contract, i can quit anytime.

AwesomeAndy, £22.50 a month is not the cheapest and the included mins and data are pretty limited.

I think the Lumia 800 is (or was until recently) available for £15 p/m on a 24 month contract from Phones 4U, so it's not all that cheap.
Windows Central Newsletter
Thank you for signing up to Windows Central. You will receive a verification email shortly.
There was a problem. Please refresh the page and try again.