Toib, eHarmony, BitTorrent Sync and more are your app highlights for the week!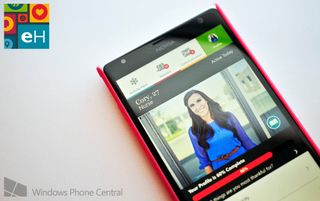 As Windows Phone grows in popularity it'll become harder and harder to keep track of all the new apps joining the platform. Which is why we like to take a moment on the weekends to look back at the past week of activity in the Windows Phone Store and highlight some of our favorites. We'll look at new apps and games now available in the Store. We'll also look at apps that picked up nice updates. And finally we'll let you know of any new betas you should sign up for. Let's check out the app highlights for this week!
New
Toib – We still don't have an official YouTube app on Windows Phone that users deserve. That's not too bad since we have some stellar third-party clients. Toib is a brand new YouTube app for Windows Phone that we're smitten with. It might lack advanced features found in other apps, but this is just the initial version and future updates will make it even better. We're big fans of the simple, beautiful design. Performance is great as well. Download Toib from the Windows Phone Store. (Trial/$0.99)
BitTorrent Sync – Looking for a replacement for Microsoft's old Live Mesh product? Then you're going to want to check out BitTorrent Sync, now available on Windows Phone. BitTorrent Sync is a way to save and access your files from any device you own, without storing your data on some third-party server. Your files sync directly to your devices without a middleman. You can also send files to friends. There is no limit on file size, which is great if you're sending a very large file to a client. Best of all? This is all free. No subscriptions. No hidden fees. Just free. Download BitTorrent Sync from the Windows Phone Store. (Free)
eHarmony – Are you reading this alone right now? Then it's time to find that special someone to spend time with. Popular dating site eHarmony now has an app on Windows Phone. Don't worry about this being a half-ass version app either. We checked out eHarmony on Windows Phone and walked away pretty impressed. It does appear to be a fully featured app. You can find support for all major website functions in the app. Create a profile, find matches, view photos of matches and more. Download eHarmony from the Windows Phone Store. (Free/Upgrade options)
Twickets – Living in the UK and want to get tickets for the next hot event in town? Then you probably use Twickets from time to time. Which is a good thing that there's now an official app out on Windows Phone. UK-based ticket exchange service Twickets has produced an app to let you get tickets for football matches, comedy clubs, musicals, cinema and more. You can sort by category, date and/or region. Download Twickets from the Windows Phone Store. (Free)
Podcast Critter – Not exactly a new app, but Podcast Critter is one we haven't covered before. We recommend checking out some of the great podcast apps in the Windows Phone Store if you aren't happy with the native podcast support in Windows Phone 8. Podcast Critter is an excellent little podcast app that is packed full of features. You can add podcasts by searching, browsing, RSS URLs, or even OMPL data. Episodes can be downloaded automatically or streamed. If you want a podcast app with a ton of features check this one out. Download Podcast Critter from the Windows Phone Store. (Trial/$0.99)
Updated
Track Runner – There are tons of activity trackers in the Windows Phone Store. Track Runner is one that's exclusive to Windows Phone and offers some next-level GPS tracking. Just check out some of the reviews of the app and you'll see plenty of happy users. A recent update to Track Runner adds the ability to live track your run and let friends/family cheer you on. You can now even track the mileage of a pair of your shoes to see how long they last. There's also new elevation and weather data in the app. All this and they still managed to fix bugs and give the app a redesign. Ready for the cherry on top? Track Runner is now free. No catches or gotchas, just free. Download Track Runner from the Windows Phone Store. (Free)
Camera360 – We're actually becoming bigger and bigger fans of Camera360 on Windows Phone with each and every update. The app hit version 2.0 earlier this week and brings a few changes to the mix. You have new textures and light leaks. You can also adjust the strength of the effect on the editing page. And finally, if you want you can pin Camera360 to the Start screen. Download Camera360 from the Windows Phone Store. (Free)
Evernote – OneNote has been getting all the attention lately, but Evernote is still a great note taking platform. The Windows Phone app was updated to version 4.3 this week with a ton of new featuers. Look forward to digitizing Post-It notes, the ability to automatically assign notebooks, tags and reminders to different colors of Post-It notes and much more. Download Evernote from the Window Phone Store. (Free)
Beta
Boxcryptor – Looking for a way to automatically encrypt your data that you upload to the numerous cloud storage providers out there? Then you're going to want to sign up for the beta of Boxcryptor, coming soon to Windows Phone. The app works with providers like Dropbox, OneDrive, Google Drive, Box, SugarSync and many more. You'll be able to keep your information and files secure even when you upload them to the various third-party servers out there. Head to the beta sign up page and become a Boxcryptor for Windows Phone beta tester.
Games
Hexic – Looking for a free way to gain even more Achievements on Xbox Live? Then download Hexic on Windows Phone and Windows 8. The new (and free) game just became available yesterday. Fans of puzzle games shouldn't miss out on this one. Download it from the Windows Phone Store or Windows Store. (Free)
Have any other apps or games from the week you really liked? Sound off and promote them below!
Get the Windows Central Newsletter
All the latest news, reviews, and guides for Windows and Xbox diehards.