Best Budget and Personal Finance Apps for Windows 10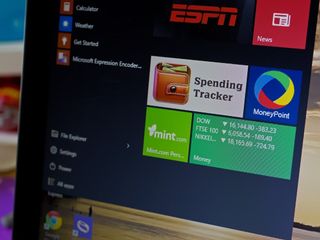 The Windows 10 Store is packed full of useful apps to get you through the daily grind, including a host of apps designed to address your financial interests.
Whether it is something as simple as checking on the latest stock quotes to managing your bank accounts, these Windows apps can come in handy to keep your head above the fiscal water line. In a continuing effort to introduce new and old to the Windows 10 Store, this roundup focuses on a few of the top rated financial apps offered in the Store.
As with all of our roundups, we cannot cover all the top titles in the Stores. If we have missed your favorite financial app in the Windows 10 Store, feel free to toss out your recommendation in the comments below.
Mint.com
The Mint.com app is available from both the Windows Phone and Windows 10 Store. It is a financial app that pulls in all your financial accounts under one roof to allow you to manage all your finances without having to bounce from app to app or website to website.
Some of the key features of Mint.com include:
Support to see all your personal accounts such as checking, savings and credit card accounts
Support for Start Screen/Menu live updates for your account balances
Create and track budgets
Track your spending
Get bill alerts and bill reminders in the form of email, text alerts and toast notifications on upcoming bills, fees, low balances or unusual activity
You will need to create a Mint.com account (free) and the app can be pass code protected. Once a Mint.com account is created, you can authorize access to your various financial accounts and Mint.com will synchronize all the information between those accounts and your Mint.com account.
Should you lose your Windows Phone or Windows computer, you can log into your Mint.com account and de-authorize that device to prevent unauthorized access.
Oddly, you cannot pay bills from the Mint.com app. There is, however, a Mint Bills service, which uses the same account credentials, available to pay bills from. There is not a Windows or Windows Phone app for Mint Bills.
Regardless, if you need to manage or track multiple financial accounts the Mint.com service is worth looking into. The Windows Phone app helps your monitor your financial resources on the go and the Windows version makes it convenient to view all your account from one location.
MoneyPoint
Similar to Mint.com, MoneyPoint is a financial app that is available from the Windows 10 Store (no Windows Phone version). The app helps you maintain your accounts, transactions, schedules, payees and budgets under one roof. You have the ability to record, categorize, reconcile and track all your day to day transactions.
In many respects, MoneyPoint is more like Quicken than Mint.com in that it doesn't tap into your individual accounts. Instead, it relies on your input. This has its advantages in that you do not have to have a data connection to use MoneyPoint and all your data is stored locally.
Additional features of MoneyPoint include:
Maintain, track and reconcile multiple accounts including bank accounts, credit cards, investments and more
Password protection to keep your financial information secure
Schedule to remind you of upcoming bills and payments
Bulk transaction update
Report generator that includes reports for Income/Expense, Cash Flow, Account Performance, 50-Day Projection and more
Reports can be exported to Excel
Create and manage budgets
Tile and Toast notifications
Data import support for Excel and CSV files
In just tinkering with MoneyPoint for a very short time, it comes across as a capable Windows app to help you manage your accounts. The ledger styled account view is simple to navigate around and there is a host of reports available to help you decipher your financial status.
Download MoneyPoint from the Windows 10 Store (Free) (opens in new tab)
MSN Money
MSN Money started out as one of the many Bing apps (Sports, Travel, Weather, etc.) some time ago and is available from both the Windows Phone and Windows 10 Store. Described as finance simplified, MSN Money shares the simple but effective layout this suite of apps makes work.
Key features of MSN Money include:
Track the major financial indexes such as the New York Stock Exchange, NASDAQ, Down Jones, NIKKEI and S&P 500
Get stock quotes, charts and detailed company profile to help manage and plot your investments
Track your favorite stocks through the Watchlist feature (basically a favorites page)
Track more than twenty worldwide markets
View currency exchange rates for US Dollar to Euro, US Dollar to Japanese Yen, US Dollar to Canadian Dollar, US Dollar to British Pound and more
Track commodity markets for prices on gold, silver, crude oil, natural gas, cotton, sugar, wheat, corn and more
Mortgage Calculator to determine your monthly mortgage payments and graph your payment schedule
Currency Convertor tool
Live Tile Support
Along with all the financial data MSN Money delivers to your Windows computer or Windows Phone, you will also receive the latest financial news.
The layout with the Windows version of MSN Money is very similar to the other MSN apps in the Windows 10 Store. You have the navigation bar running down the left side of the screen with the hamburger button in the top left corner that will expand the menu. From here, you can easily navigate between all the pages of the app and access the settings. The Windows Phone version's layout takes advantage of the panoramic design where you can scroll to the side to access the various pages.
All in all, MSN Money comes across as a solid financial app. You can log into the app with your Microsoft Live ID and the settings/preferences will be synchronized between the Windows Phone and Windows versions.
Spending Tracker
Tracking your expenses and income is just as an important aspect of financial management as monitoring your investments, the financial news and your bank account balance. Spending Tracker is an app that hopes to help you chart where your money is going, where it is coming from and maybe help you identify areas of expense cutting savings.
The app is available from both the Windows 10 and Windows Phone Store. The base app is free with an option to upgrade to a Pro Version ($3.99).
Key features of Spending Tracker include:
Flexible time periods that include weekly, monthly and annual formats
Overview of your current spending progress
Expense and income entry can be accomplished quickly and easily
Budget Mode allows you to set a fixed budget amount
Editable spending and income categories
Report generator to show you where you money is going
Additionally, if you upgrade to the Pro Version you will be able to repeat transactions daily, weekly or monthly, back up your data via DropBox and export transactions to a CSV file.
Spending Tracker offers a clean layout with a hamburger button nestled in the upper left corner to pull up navigational menus. The app has plenty of charts and graphs to visualize your spending habits and entry is straightforward. The Store reviews are positive and in dabbling with Spending Tracker for a short time, it comes across as a financial app worth considering if you need help discovering where your money is going.
George is the Reviews Editor at Windows Central, concentrating on Windows 10 PC and Mobile apps. He's been a supporter of the platform since the days of Windows CE and uses his current Windows 10 Mobile phone daily to keep up with life and enjoy a game during down time.
Been using moneylover... But the list is great! Thanks!

Came here to say the same. I'd say moneylover is right behind mint.

I'm just not comfortable with third party app having user names & passwords to financial accounts. What a treasure trove for hackers. No thank you.

That's been my fear as well.

Agreed. I actually downloaded Mint weeks ago and wimped out during setup.

I kind agree with @meg2u. Greetings from Portugal

I stumbled onto Spend Tracker...what a life changing app this has become. Splendid app. Worth every shilling.

How's the security with these apps though? I've been leery of pulling the trigger.

Prism!! It has a live tile that alerts you when you have payments due and you can make those payments from directly within the app.

I'm well capable of counting my 2cents at the end of every week without an app thank you very much lol

MSN Money is far superior to Bloomberg (Android and BB10) in almost every way. Never really liked the personal finance apps like Mint since you have to manually enter details. My bank offers microsite that automatically does it for you as long as it's one of their debit, credit cards, or banking products. Posted via the Windows Central App for Android on my BlackBerry Passport

With Mint you don't, it retrieves all the details from your financial account and then categorizes them by itself. Only thing you need to do is add a budget or edit the categories of they appear wrong. That's why you see security being a concern - which is why stopped using it too...

That's terrible. I'd never allow Mint or another third party to have access to my banking details. All you need is another Ashley Madison style hack! Posted via the Windows Central App for Android on my BlackBerry Passport

Moneypoint looks fetching. I'm goin' in.

I wish financial institutions would offer separate, limited-use (e.g., read-only) credentials to plug into such apps. As it is, I just can't bring myself to hand over the keys to the kingdom. The potential downside, even though remote, is simply too great.

Unless Mint has changed, the service is terrible. It seemed like every couple months I'd have to reverify accounts with passwords & security questions, etc. Total pain in the butt. I quit using it & removed the app (not the apps fault, I know as I had the Droid app also- its something with the Mint service)

Money wallet.. But my purchase certificate is corrupted and now I cannot download or buy the app.. Guys help plz.

This one is my favorite - pretty good and simple to use: https://www.microsoft.com/en-us/store/apps/digital-wallet/9nblggh2jz7m Even though it's still in development... #DigitalWallet

Mint for my phone never updates my information. I have to log in on the website before any changes are down on my phone

Thought this was a list about brokerage firms actually bothering with WP. No. It isn't. That's a shame - I hope w10 mobile is taken seriously. Would also like to see Hsbc and Santander back, and coutts, come to WP.

Waiting for td to add suretap support as(hoping my ativ will make rogers list before w10 rtm or a capacitive highend by other oem for rogers)

I've been using mint since Chase abandoned us...

Using Selffina and its awesome so far.

What about something called Microsoft excel... Posted via the Windows Central App for Android

Garbage. Most folks who use PCs are professionals who use them to do real work via spreadsheets, word processors, and presentation tools. That's just for starters. Then there are the heavy-duty applications for photo, audio, and video editing. Don't forget engineering design, modeling, analysis and simulation. Oh, wait, we omitted publishing, accounting/tax-preparation, and project planning. There are other vertical-market applications too numerous to list: a single such example involves the medical field: diagnostic tools, equipment-control, record-keeping, insurance case analysis, and many others. We don't have the space to get into software-development tools. I could go on and on and on. Get the idea? These garbage "apps" from the Windows "store" are useless, and Microsoft's arrogant and stubborn focus on them dilutes the operating system that the Windows environment once promised professional people. They have no place on workstations, desktop systems and professional-grade laptops. Really, what the hell *is* Microsoft's strategy nowadays? Why can't they make a real operating system anymore?

TOSHL still the best so far

Am i the only one who thinks its ridiculous that Mint is on the list being that the update in July crippled the app and caused it not to update?

I'm looking forward to the new Quicken which should also have a mobile companion.

Ehmmm... where is Bloomberg?

You're not missing much. I have the Android and Native BB10 versions of Bloomberg. I still prefer MSN Money. Posted via the Windows Central App for Android on my BlackBerry Passport

Money Lover is the best!!!
Windows Central Newsletter
Get the best of Windows Central in in your inbox, every day!
Thank you for signing up to Windows Central. You will receive a verification email shortly.
There was a problem. Please refresh the page and try again.