Transformers, Sniper Elite III, and Valiant Hearts come to Xbox One and 360 this week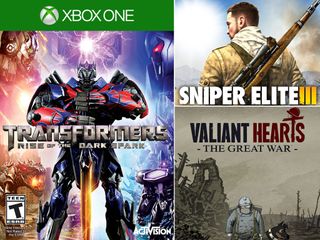 Last week the Xbox One picked up a fair helping of new games. At retail, we got the realistic martial arts simulation EA Sports UFC. And to download came the affordable twin-stick shooter Sixty Second Shooter Prime and the surprise release of cult-horror hit Outlast (both ID@Xbox releases). You'd think the new releases would slow down for a bit after that terrific threesome, but you'd be wrong!
This week at retail, Activision brings the movie tie-in/cross-over Transformers: Rise of the Dark Spark. Rebellion will publish tactical sniping game Sniper Elite III on Friday in the UK, with a US release following on July 1st. And to download we've got the World War I-era adventure Valiant Hearts from Ubisoft. All three games are coming to both Xbox One and Xbox 360. Need help deciding what to pick up? Check out our new trailers and impressions after the break!
Transformers: Rise of the Dark Spark
Rise of the Dark Spark is an unusual movie tie-in game. Not only does it feature characters from Michael Bay's new Transformers: Age of Extinction film, it actually crosses the film universe over with the universe from the transformers: War for Cybertron game series. So fans of both the films and the classic 1980s-style Transformers will get to see their favorite characters in one exciting game.
The latest trailer for Rise of the Dark Spark highlights the game's Escalation mode. Up to four online players can participate in this cooperative game type. The goal is to survive against endless waves of Ai enemies, earning as much experience as you can along the way. Players will earn currency from kills, which can be spent on new base defenses and upgrades such as turrets, decoys, and barricades.
The new Escalation mode seems to draw inspiration from the same mode in the first game (War for Cybertron) instead of the implementation of the second game (Fall of Cybertron). That means that players can not only choose between the heroic Autobots and malevolent Decepticons, they can also choose from a huge arsenal of over 40 characters for Escalation. Some of those include mainstays like Optimus Prime, Bumblebee, Grimlock, Megatron, Soundwave, and Starscream, and many more.
Rise of the Dark Spark includes a story-based campaign as well. Players will see the story unfold through both the Autobots' and Decepticons' perspectives as they try to stop the threat to both Transformers universes caused by the Dark Spark.
It's not too late to preorder Rise of the Dark Spark and get some cool bonuses like DLC characters and digital comics. Check out our previous story for more preorder and gameplay details. Transformers: Rise of the Dark Spark arrives on Tuesday, June 25.
Transformers: Rise of the Dark Spark – Xbox One – $59.99 – Amazon Link
Transformers: Rise of the Dark Spark – Xbox 360 – $49.99 – Amazon Link
Sniper Elite III
Sniper Elite III is a tactical sniping game set during the second World War. The third game in the cult favorite series takes place in North Africa, a fresh setting for World War II-era games. Players will take on the role of series hero Karl Fairburne as he battles Germany's infamous Afrika Corps. Allied intelligence indicates that the Nazis are developing a super weapon that could turn the tide of the war, making it imperative for Karl and his allies to stop them.
I wasn't kidding when I called this game tactical. Rebellion's new interactive trailer focuses on the many different ways a player can approach a level set within the German occupied town of Siwa...
The straightforward approach of attacking the city gate head on will pit players against a large team of enemy soldiers. This will necessitate a strategy of hiding in tall grasses, killing enemies at close range, and hiding their bodies to prevent discovery. To make the stealthy approach more manageable, players can tag enemies. This allows you to track their movement even after they leave your field of vision.
Our hero might opt to head for the enemy anti-aircraft installation positioned above the ridege line. The enemy unit at the top of the ridge line is led by a keen-eyed officer who can spot unwary attackers. Taking him out first will allow you to approach his underlings with less fear of detection. The loud bang of your sniper rifle would set everyone on alert though. Luckily, nearby Ally plane attacks present an opportunity to mask the noise of your sniper rifle as you take him out.
Finally, a hidden entrance to the west would allow Karl to sneak right into the center of town. He'll need to sneak around the outskirts as he searches for the entrance. A choke point near the path's end is manned by well-armed guards and a truck. But our protagonist can set up nearby explosives that will destroy the whole group if timed correctly.
Once players make it into the city, they'll still need to search for the intel required by the Allies while completing secondary objectives as well. Sniper Elite III's campaign supports full online co-op for two players, so there's no need to go it alone! Or you can engage in a variety of competitive and cooperative game types outside of the campaign. Gather more intel from our E3 preview, and don't forget to preorder for the free "Hunt the Grey Wolf" DLC mission!
Sniper Elite II will arrive on Friday, June 27 in Europe and Tuesday, July 1 in North America.
Sniper Elite III – Xbox One – $49.99 – Amazon Link
Sniper Elite III Collector's Edition – Xbox One – $69.99 – Amazon Link
Sniper Elite III – Xbox 360 – $39.99 – Amazon Link
Valiant Hearts
If World War II's not your bag, might I suggest you dial things back to the first World War? Valiant Hearts is a puzzle adventure game set within the Great War. The gameplay involves plenty of character interaction, stealth, and puzzle solving. Adventure games always have a strong focus on story, but Valiant Hearts promises to represent the emotional side of World War I as well.
Ubisoft's new developer diary expands on the creators' attempts to accurately represent actual history within the game. The team studied all of the historical reports, footage, and photographs they could find in order to capture the essence of the actual conflict. Much of their historical documentation came from a partnership with CC&C (France) and IDEACOM INTERNATIONAL (Canada), "two of the most prestigious production agencies specialized in historical productions."
Throughout the game, players will unlock a variety of "Historical Facts." These factoids expand upon the background that informs the game's narrative, such as explaining how many prisoners of war the British and Germans took during the war. Each Fact also includes an authentic World War I-era photograph, with its colors retouched to match the game's color palette. Ubisoft Montpellier hopes that gamers will gain a greater understanding of the War as they play.
Valiant Hearts will be available to download for $14.99 this Wednesday on Xbox One, Xbox 360, PC, and Playstation consoles. Learn more about the game from our previous stories.
More ID@Xbox releases coming
We don't have a trailer or screens for it unfortunately, but Majesco's arcade-style sports game R.B.I. Baseball 14 will launch on Xbox One and Playstation 4 this week as well! Get it for $19.99 on Tuesday, June 24. The Xbox 360 version released back in April.
Meanwhile, there's a very good chance that Another World: 20th Anniversary Edition will arrive on Xbox One this week too. The Playstation 4 version is due on Tuesday the 24th, but publisher The Digital Lounge hasn't revealed the specific Xbox One launch date yet.
Get the Windows Central Newsletter
All the latest news, reviews, and guides for Windows and Xbox diehards.
Paul Acevedo is the Games Editor at Windows Central. A lifelong gamer, he has written about videogames for over 15 years and reviewed over 350 games for our site. Follow him on Twitter @PaulRAcevedo. Don't hate. Appreciate!