How to watch HaloFest live tonight on phone, tablet, PC and TV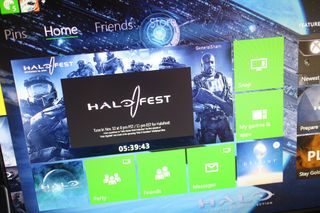 HaloFest is happening tonight. Microsoft and 343 Industries are kicking off the launch of the Master Chief Collection for Xbox One with HaloFest. They're also going to use the opportunity to give you your first look at the Halo 5: Guardians, present the world premier of the digital series Halo: Nightfall and exclusive interviews from the folks behind Halo. Here's how you're going to watch it across phone, tablet, PC and TV.
Xbox One
The easiest way to watch HaloFest? Xbox One of course. On your dashboard, you should see a promo card for HaloFest. Just click that to launch the Xbox Live Events app. There you'll see a timer counting down the remaining time until HaloFest starts. Once it starts you'll be able to watch live on your Xbox One.
Xbox.com
Not near your Xbox One tonight, but still want to watch? No worries, just head to the Xbox.com website to catch HaloFest in your browser of choice.
Windows Phone
In the Windows Phone Store, you'll find an app called Live Video Player from Microsoft. This is the app the Xbox team has used in the past to stream live events to Windows Phone. We aren't seeing Microsoft promote it this time around as a way to watch HaloFest on Windows Phone, so it may not work! But download just in case. Don't worry, we have a back up involving Twitch if you want to watch HaloFest on your Windows Phone.
Twitch
Microsoft and 343 Industries will also be streaming HaloFest on the official Xbox Twitch account. This ensures you're able to watch on Windows Phone using an app like Livegaming (an unofficial Twitch app).
Microsoft Stores
Select Microsoft Stores will also be streaming HaloFest. So if you head to your local Microsoft Store for Halo launch festivities you won't have to miss HaloFest while you're in line!
The HaloFest broadcast starts tonight (November 10) at 8 p.m. PT.
How are you going to watch HaloFest tonight? I'll be watching on my Xbox One.
Windows Central Newsletter
Get the best of Windows Central in in your inbox, every day!
They aren't going to tell us how to get it on iOS and why it will be better for them than their own Windows OS's? I'm confused.

On iOS use the official Twitch app to watch

8stream is much better than livegaming fyi. It's a universal app and gets regular feature updates

Cool! I wasn't aware of 8stream. Will check it out.

Thanks, it actually seems better

Looking forward to seeing how halo looks in 2014!!! Give me a reason to buy an XB1 Microsoft.

Uhm...... 8 pm PT = 12 pm EST?

Aka when I plan to awake from my power nap to then go to Gamestop for the release. XD

What happened to the Live Video app link?

Nah. I'm at the Microsoft store in cincy waiting for the "party" at 10.

Anybody see the MCC commercial!? So much win xD

I'll be watching on Xbox.com because my Xbox will be busy playing Halo MCC already ;-)

It's available on Xbox 360 too.

Is it absolutely broken for anyone else on the Xbox One? I got stuck in a repeating 1 min loop.

Its great I picked twitch its running great!

A (very good) windows(8.1) App of Twitch is also Availible
Windows Central Newsletter
Thank you for signing up to Windows Central. You will receive a verification email shortly.
There was a problem. Please refresh the page and try again.