This Week in Xbox One News - Background music, button remapping coming soon, Mass Effect Andromeda updates, Halo 5 vehicle designs & more! (October 5th, 2015)
This week we're looking at comments on background music for Xbox One, Xbox controller button remapping, Mass Effect Andromeda updates, Halo 5 vehicle designs and more!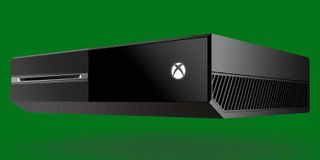 Welcome to our weekly ICYMI for Xbox news!
We'll still be posting major Xbox announcements in the main feed. However, I'll be collecting some of the more nuanced news, rumors and talking points into one handy post every weekend! You can also rely on this weekly column to keep up to date with all the latest game releases too.
So without further ado, here's the latest edition of This Week in Xbox One News.
Phil Spencer comments on Xbox One background music functionality, Xbox Live disruption
It's been a busy week for Xbox news. Microsoft unveiled a ton of holiday bundles (opens in new tab). We got a slick new trailer for Halo 5 Guardians and the Xbox division snapped up Havok, a popular physics middleware developer.
It hasn't all been good news, though. Xbox Live suffered some considerable disruptions this past week, neutering Xbox Ones around the globe and blocking access to services like Groove Music.
Phil Spencer fielded questions on Twitter about the outage, noting that the disruption hurts consumer's trust of the Xbox platform.
Prominent Microsoft watcher Tom Warren complained about the way Xbox Live is required to use non-Xbox services like Netflix, Phil Spencer agreed that the functionality could be improved.
I suspect a lot of these issues are to do with the fact the Xbox One used to be a connected console. Since removing the requirements of Kinect and a permanent internet connection, various systems and features have been retrofitted, such as freeing up system resources previously reserved for Kinect. With the new dashboard update, Microsoft should be able to address some of these archaic problems more easily.
The Xboss also discussed the upcoming background music implementation, which rides high on the list of requested features.
Microsoft has previously noted that the upcoming dashboard update would lay the groundwork for background music, so the wait will likely be over sooner rather than later.
Button remapping is coming to all Xbox One controllers, not just the Elite Controller
One of the signature features of the Xbox One Elite Controller is the fact it has additional buttons, and will ship with a Windows 10 app allowing for button remapping. A concerned fan asked platform chief, Mike Ybarra, why button remapping would be limited to a 'premium' device. Ybarra replied that the feature would be coming to all Xbox One controllers, not just the Xbox One Elite Controller.
I'll be particularly happy to use this feature with Mad Max, which has some pretty awkward control schemes. Button remapping will also go a step towards maximizing accessibility for users who suffer from certain disabilities. Stay tuned for updates.
Check out these updated Halo 5 vehicle designs
Image 1 of 4
Every Halo iterates on the game world's designs and Halo Waypoint offered a look at the way some of the iconic Covenant vehicles have evolved for Halo 5.
As the Halo universe expands, so does the depth of its lore. While we're not at official vehicle schematics like Star Wars yet, we certainly seem to be heading in that direction!
Halo 5 Guardians TV Trailer
Speaking of Halo - if you haven't checked it out already, here's the Halo 5 Guardians TV trailer, originally slated for a debut during an ad break for The Walking Dead this week. The trailer leaked prematurely, forcing Microsoft to launch it on their YouTube channel. The trailer confirms that the previous teaser was simply propaganda, ONI (the Office of Naval Intelligence) are concerned that the Master Chief has gone rogue, and are sending in Spartan Locke and his team to bring him in.
Halo 5 certainly looks like it's shaping up nicely, and it launches on October 27th as a Xbox One exclusive.
Pre-order Halo 5: Guardians Limited Edition for Xbox One at the Microsoft Store (opens in new tab) ($99.99)
Pre-order Halo 5: Guardians Limited Collector's Edition for Xbox One for Xbox One at the Microsoft Store (opens in new tab) ($249.99)
Pre-order the Xbox One Limited Edition Halo 5: Guardians Bundle at the Microsoft Store (opens in new tab) ($499)
Pre-order the Xbox One Limited Edition Halo 5: Guardians Wireless Controller at the Microsoft Store (opens in new tab) ($69.99)
Pre-order the Xbox One Limited Edition Halo 5: Guardians – The Master Chief Wireless Controller at the Microsoft Store (opens in new tab) ($69.99)
Mass Effect Andromeda improved since E3 reveal, new info landing during the winter
The Bioware team spend a fairly significant amount of time teasing fans on Twitter about the upcoming space epic Mass Effect Andromeda. As its name suggests, the next Mass Effect takes place in the Andromeda galaxy, placing you in a team of explorers tasked with expanding our knowledge of the universe. Planetary landings are said to return, along with vehicular exploration akin to Mass Effect 1.
Bioware's Chris Wynn took to Twitter recently to say that more recent builds are an improvement over what we saw at E3 (embedded above). He also reiterated that the E3 teaser was indeed in-engine, and wasn't a conceptual pre-render as some had suspected.
Studio director Yannick Roy also hinted that new information on Mass Effect Andromeda would arrive around winter time. Morsels of Mass Effect Andromeda info would be a welcome Christmas gift in this household.
Square Enix cancels Deus Ex Mankind Divided's controversial pre-order program
Pre-order incentives are a sensitive topic at the best of times, but Square Enix managed to pour gasoline on the issue with their convoluted pre-order program for Deus Ex Mankind Divided.
The "Augment Your Pre-order" program allowed gamers to select which pre-order incentives they'd receive, rewarding more DLC if higher numbers of pre-orders were achieved. The backlash was considerable, as gamers felt they were being encouraged to persuade other fans to pre-order the game on Square Enix's behalf. The final reward would've pushed the game's launch date ahead by 4 days.
Square Enix realised the error of their ways, and has decided to open up all the game's DLC incentives to anyone who pre-orders or buys the Day One edition. The game will now launch on February 23rd, 2016. Fans who have already pre-ordered will receive the benefits outlined above instead.
Read the full statement over here.
Fallout 4 details Charisma, game development in new videos
Fallout 4 is coming to irradiate our Xbox Ones and PCs on November 11th, and the hype train is showing no signs of stalling. Bethesda are preparing prospective wasteland wanderers with a series of videos designed to educate us on the game's updated systems.
In the latest S.P.E.C.I.A.L. series video (embedded above), Bethesda describes how players with high Charisma stats can manipulate other characters in the game, and even stave off the effects of addictive substances.
Bethesda also discussed Fallout 4's development at length in an interview which took place around their E3 presentation. Parts of the dev team who have completed their tasks have since moved on to play testing, with one emphasising that he's been playing for 400 hours and still hasn't seen everything in the game. Lead developer Todd Howard remarked that Fallout 4 is so huge, that even he hasn't seen everything the game has to offer:
Be sure to check those videos out here and here.
ICYMI - Some of Windows Central's biggest Xbox articles of the week
New Xbox One game releases for the week ending October 4th, 2015
Polychromatic (opens in new tab) - Shooter / Action Adventure - Brushfire Games
"Polychromatic is a physics-based arcade shooter with a pop of color. Take on waves of enemies in multiple game modes while competing for a top spot in the leaderboards against your friends or the entire Xbox Live community."
The Escapists: The Walking Dead (opens in new tab) - Strategy & Simulation - Team 17 Digital Ltd.
"Merging the award-winning, smash-hit, indie game The Escapists with the worldwide phenomenon that is The Walking Dead, comes The Escapists: The Walking Dead. In this unique game, recreated entirely in the charming 8-bit pixel art style of The Escapists, you play as Rick Grimes as he takes on hordes of zombies let loose upon the world."
Orbit (opens in new tab) - Shooter - 4Bit Games
"Warning: ORBIT is a local multiplayer only game. No single player or online is available. Anyway it's a totally nuts game, grab some friends and try it on! Maneuver your ship between planets at breakneck speeds and take gravity into account as you crush your competitors with an epic spaceship arsenal."
Standpoint (opens in new tab) - Platformer - Unruly Attractions
"A labyrinth fades into view; a space you control but that holds you. Completely lost with nowhere else you could be. Standpoint is a first-person puzzle platformer where the player possesses the ability to change the orientation of the world."
Toto Temple Deluxe (opens in new tab) - Family / Platformer - Juicy Beast Studio
"Toto Temple Deluxe is a fast-paced, local-multiplayer king-of-the-hill style game in which players must steal an egg-laying goat from their friends and try to keep it on their own head for as long as possible. You know, normal stuff. Infinitely dash in any direction to swiftly move around and powerfully headbutt the goat carrier to steal its four-legged booty."
EA SPORTS™ NBA LIVE 16 (opens in new tab) - Sports & Recreation - EA Sports
"Rooted in self-expression, NBA LIVE 16 takes player customization to another level. Whether it's how you look or play, your entire journey is all about you. Put yourself in the action with an all-new, easy-to-use HD face scanning app, GameFaceHD and outfit your player with the freshest gear before you even hit the court."
NBA 2K16 (opens in new tab) - Sports & Recreation - 2K Games
"The NBA 2K franchise is back with the most true-to-life NBA experience to date with NBA 2K16. Featuring an all-new MyCAREER experience written, directed and produced by acclaimed filmmaker Spike Lee. Guide your MyPLAYER through the complete NBA journey, take control of an entire NBA franchise, or hone your skills online competing against gamers from around the world."
Tony Hawk's® Pro Skater™ 5 (opens in new tab) - Sports & Recreation - Activision
"Drop in & out of parks & rip with your friends! Tony Hawk's® Pro Skater™ 5 offers a fresh take on combo-driven skateboarding, the most advanced online multiplayer experience, and a state-of-the-art skatepark builder. Ride, build, and repeat!"
And that's a wrap!
I've barely touched my Xbox One this week, but I've been playing an awesome indie shooter called Guns, Gore and Cannoli which I'm hoping to write about some time in the near future.
What have you guys been playing this week? Any thoughts on this week's news? Let me know below!
Get the Windows Central Newsletter
All the latest news, reviews, and guides for Windows and Xbox diehards.
Jez Corden a Managing Editor at Windows Central, focusing primarily on all things Xbox and gaming. Jez is known for breaking exclusive news and analysis as relates to the Microsoft ecosystem while being powered by caffeine. Follow on Twitter @JezCorden and listen to his Xbox Two podcast, all about, you guessed it, Xbox!
Great news about the remapping buttons. I wonder why Phil didn't mention turning the xbox one to offline mode allows the use of apps like Netflix without the need for xbox live?

Perhaps he meant that it should be like that by default, mebbe.

How do you set it to offline mode? Thanks

How do you set it to offline mode? Thanks

Through the Settings -> Network options.

I want to be able to control my PC with an Xbox One controller.

Background music = Spotify ?

Background music = playing Groove Music in the background rather than snapped.

Can't wait for that. It MIGHT be enough of a perk to make me consider dropping Spotify Premium for Groove. I do need to see if Groove's library has improved lately though.

I can check some bands for ye if you like :)

Yeah, then we just need the One to either store music locally or read music from a phone over USB.

Need for speed beta. It's not bad, haven't played since "most wanted" on ps2, so... Yeah. Have a few suggestions for them, and they haven't really left a way to give feedback.

I've heard 'mixed' things about the NFS beta, how does it compare to Forza?

There is an official forum for it in the EA Answers HQ. Discussing the game outside of there may breach your NDA.

Background music is something I have been waiting for but I never actually expected it to happen. Hopefully it works up to my expectations.

It'll come, they've said numerous times. Not sure whether it'll work the same way it does on the 360 though.

I hope Mass Effect Andromeda captures me like the original ME Trilogy did with memorable characters.

Pretty sure it will, Bioware has that stuff down. I expect a similar expansion in scope like, the jump from Dragon Age 2 to Inquisition was absolutely huge.

I hope so like ME to ME2 I was like wow.

I agree! Good, story driven content is a little lacking on the Xbox One right now--at least from what I've seen. My favourite Xbox 360 games (besides Forza 3 and 4) were the Mass Effect games, the Fable series and Red Dead Redemption. All of those were good story driven titles. I miss that.

Cannot wait to pick up my Elite bundle! Posted via the Windows Central App for Android

The worst thing about the XBL outage is that it reached all the way to EB Expo in Sydney which made Halo 5 unplayable for a few hours (they were using prerelease code on devkit consoles).

Love these ICYMI articles

With all these 1Tb SSD bundles coming out, what would keep Microsoft from releasing an external drive themed for the Xbone

They are SSHDs, not SSDs. Also, it's one bundle. Alsoer, what does that thing have to do with their interest in releasing an external drive?

Fallout 4 and Halo 5 mean I don't need anymore games for some time. Great games!