What's the best Seagate SSD for PC gaming?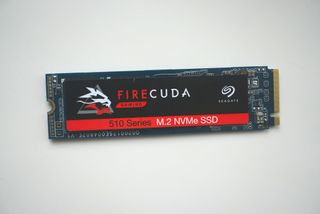 What's the best Seagate SSD for PC gaming?
Best answer: The best Seagate solid-state drive (SSD) for gaming would be the FireCuda 510. This M.2 SSD family boasts some solid read and write speeds, as well as industry-leading endurance for long-lasting storage.Seagate's gaming SSD: Seagate FireCuda 510

(opens in new tab)

(From $243 at Amazon)
Game on with Seagate's FireCuda 510
What makes the FireCuda 510 from Seagate so good for gaming is the read and write speeds. Compared to the company's BarraCuda SSD series and mechanical drives, the speedy FireCuda 510 M.2 drives are super-fast with a read and write speed of up to 3,450 MB/s and 3,200 MB/s, respectively. Seagate also worked some magic with these drives, resulting in a 1,300 and 2,600 terabytes written (TBW) endurance score for the 1TB and 2TB models, also respectively.
This means you'll be able to write around 1.3 petabytes (PB) of data on the 1TB (and 2.6PB on the 2TB) drive before you experience some performance issues. These numbers mean nothing on their own, but looking at the Samsung EVO Plus SSD, which only has around 600 TBW for the 1TB model, it's clear to see these Seagate M.2 SSDs are serious business. Though we found the FireCuda 510 SSD to fall short in sequential write speeds, it did perform well overall.
Image 1 of 2
Read speeds are more important for gaming, especially when you want to knock off valuable seconds off load times. Couple all these features with the five-year warranty from Seagate and you've got an amazing SSD for playing PC games and just about any other task you'd want to tackle.
Super-fast Storage
(opens in new tab)
Great value storage with strong performance

Seagate made an exceptional SSD. The FireCuda 510 is everything a PC owner needs with amazing read and write speeds, solid reliability, and high levels of endurance — all at an aggressively low price.