What's new with Notepad in the Windows 10 October 2018 Update
Notepad is getting updated with Windows 10 version 1809. These are the new improvements.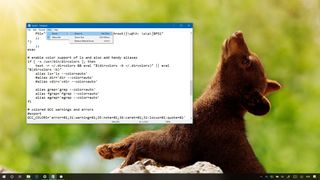 Alongside the extensive list of tweaks and several new features coming with the Windows 10 October 2018 Update (version 1809), Microsoft is also updating the good old Notepad app.
While you won't find a modern interface in this updated version (like in those apps from the Microsoft Store), the note-taking app is getting some highly requested additions that should improve the overall experience, including support for wraparound while using find and replace, support for Unix and Linux line endings (LF) and Macintosh line endings (CR), and zoom.
In this Windows 10 guide, we highlight the most worthy improvements shipping with the Notepad app for the October 2018 Update.
Notepad's new improvements
Here are all the new changes included with Notepad starting with version 1809.
End of Line (EOL) support
Previously, Notepad only supported Windows Carriage Return (CR) and Line Feed (LF) (CRLF) End of Line for text documents. As a result, the note-taking app couldn't display the text of files crafted on macOS, Linux, and Unix with the correct format.
However, starting with Windows 10 October 2018 Update, Notepad is getting an update that finally introduces support for Unix and Linux line endings (LF) and Macintosh line endings (CR) to display contents with the correct format.
The change doesn't mean you'll be able to create files using the new support, as Notepad will continue to default to the End of Line supported in Windows 10, but you'll now be able to view, modify, and print contents created with other OSes.
Wraparound find and replace
In the past, you've only been able to search or replace text using one word. In this new update, Notepad is adding a "wraparound" option that allows you to search a phrase when using the find or replace dialog box.
Additionally, the app can now remember the values you typed in the box and the options you checked, and it'll populate the next time you open the dialog box automatically. Even further, you can select some text in the document, and when you open the find or replace dialog, the text will automatically be added to the text box.
Search with Bing
If you need to research a word or phrase (for example, a command line), it's now possible to select the text, and find more information using the "Search with Bing" option in the Edit menu.
Alternatively, you can also select the text and use the Ctrl + E keyboard shortcut to quickly get a Bing answer using Microsoft Edge.
Text zooming
Before the October 2018 Update, the only way to make the content of a text file bigger was to change the font size within the format settings. In the new update, the note-taking app is incorporating new zoom options.
Using the View menu, you'll now notice a new Zoom option that allows you to quickly zoom content in and out, including an option to restore the default zoom level.
To avoid extra steps, you can also zoom using the new keyboard shortcuts:
Ctrl + plus key — Zooms in making the text larger.
Ctrl + minus key — Zooms out making the text smaller.
Ctrl + mouse wheel — Zooms in or out depending if you're scrolling forward or backward.
Ctrl + zero — Restores the default zoom level.
Other Notepad changes
Along with the new improvements, Notepad also introduces some small but useful changes, including the ability to use the Ctrl + backspace key to delete the previous word you typed.
There is a new status bar, which comes enabled by default, and displays the line ending that the text file is using, line and column number with or without word-wrapping enabled, and current zoom level.
In addition, there have been improvements in performance when opening large text files. When saving a file, the line and column number will stop resetting to 1, and the app will correctly display the lines that don't fit on the display.
Wrapping things up
Although nowadays most people use word processing apps and services, such as Microsoft Word and Google Docs, there are still a large number of users who prefer Notepad for editing configuration files, creating scripts, reviewing code, and more. And now, thanks to the new additions, users can be a little more productive, even when working with text files created with other note-taking application in macOS, Linux, and Unix.
What do you think about the Notepad changes included with the Windows 10 October 2018 Update? Tell us in the comments.
More Windows 10 resources
For more helpful articles, coverage, and answers to common questions about Windows 10, visit the following resources:
Windows 10 help, tips, and tricks
Windows Central Newsletter
Get the best of Windows Central in in your inbox, every day!
Mauro Huculak is technical writer for WindowsCentral.com. His primary focus is to write comprehensive how-tos to help users get the most out of Windows 10 and its many related technologies. He has an IT background with professional certifications from Microsoft, Cisco, and CompTIA, and he's a recognized member of the Microsoft MVP community.
Just needs a dark mode now

Unfortunately it also broke find and replace. It's now limited to 127 characters now. So a task I'd do at work every week for, 20 some odd years can no longer be done using notepad. Here's the feedback I left when it first got changed in the insider build https://aka.ms/AA2rxob

If you have word then you could use that as workaround. That still can do longer lengths.
Or use powershell if it can be automated.

Do you not think finding 127 chars to replace, is outside the bounds of normal usage though? :)

Time to learn how to code my dude. You can automate that process and get it done in seconds.

I want to search with Google though. Why isn't there a registry key for this?

Still doesn't come close to Notepad++. I'm not bashing MS Notepad, in fact, I use to for basic tasks, but Notepad++ is way more advanced.

I used to, until Visual Studio Code > Notepad ++ ;)

I wish they added dark mode as well.

Notepad2 is still way better
Windows Central Newsletter
Thank you for signing up to Windows Central. You will receive a verification email shortly.
There was a problem. Please refresh the page and try again.