Why Amazon Music on Windows 10 can (and can't) replace your current music player
The Microsoft Store used to have a dearth of music streaming services; it now has multiple impressive apps to choose from.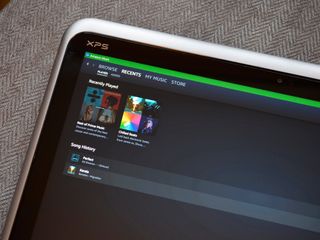 Users have gained another option for streaming music to their Windows 10 devices with the release of Amazon Music in the Microsoft Store. The app works with both Amazon Music Unlimited and Prime Music, giving customers many pricing options depending on how much music they want to listen to.
The app is available for Windows 10 for free but using the services requires a subscription. There are multiple pricing plans which are broken down in further detail in the review.
See in Microsoft Store (opens in new tab)
Features
Amazon Music is both a streaming music service and a way to listen to songs you already own. You can login with your Amazon account and keep track of your playlists, browse music, and manage your library. The app also has an impressive lyrics feature that scrolls through text as the song plays. Because of this unique combinatin of both streaming music and playing local content, it's a very welcome replacement to anyone looking for a replacement for Groove Music.
I was nervous to try out Amazon Music because Amazon Video doesn't look great on the Xbox One in my opinion. It works and gives me access to the content I want to watch but the layout and navigation to find videos doesn't compare with other services. Fortunately, Amazon Music has a much easier interface to navigate and makes it easy to find music by genre, playlist, and stations. You can also purchase new music through Amazon.
The app performs well and has nice little touches such as a mini music player, but when it comes to committing to a music streaming service, you can't just look at an app on one platform, you have to look at the whole picture.
Amazon Music as a service
If you're going to subscribe to one of Amazon's music services, it's a given that you'll want to use it on other devices. Amazon's services are available on iOS, Android, and now Windows 10. They also obviously work well with Amazon's own Alexa-powered devices such as the Echo and Echo Dot as well as Fire TV. In fact, owning an Echo device gives you the option to get Amazon Unlimited music for only $3.99 per month, though that's restricted to just one Echo devices. Amazon's music services are notably not available on the Xbox One so if you want to stream music while gaming, you'll want to look elswhere.
How to set up a smart home using Windows 10 and Amazon Echo
But one of the biggest draws of Amazon Music is that you may already have access to ad-free music because of content you already pay for. Last year, I shared the keys to getting the most out of your Amazon Prime membership for our sibling site, Thrifter, and was surprised by how much you get with a membership.
If you already have Amazon Prime for watching videos or getting fast delivery, you can get Prime Music for free. That subscription "only" gets you access to over two million songs. Prime members also have an option to upgrade to Amazon Music Unlimited for $7.99 per month or to a family plan for up to six people for $14.99 per month or $149 per year. Amazon Music Unlimited gets you access to over ten million songs which creates a robust library.
If you aren't a prime member, you can get Amazon Music Unlimited for $9.99 per month, or get a family plan for $14.99 per month.
Whether you're a Prime member already or are considering becoming one, the inclusion of Amazon Music could be a deciding factor. The price we all pay for subscriptions adds up over time and if you love streaming music you're likely going to pay to do it for a long time, so saving each month makes a big difference.
I admit I'm not as music savvy as some of my friends but Amazon's collection of music is impressive and has songs ranging from the latest hits to older favorites. I imagine that for a lot of music lovers, they won't miss out on any of their favorite content if they switched over to one of Amazon's services.
A few holdups
Amazon Music Unlimted and Prime Music are very attractive options but they have just a few holdups that could prevent you from switching over or signing up. First, if you need to play music while gaming on your Xbox One, you're out of luck. Second, you may have a large set of playlists on another streaming service such as Spotify that you don't want to go through the hassle of rebuilding.
Finally, if sharing music with friends and playing pre-made playlists is a big part of your music experience, you'll have to look at what your friends use. Amazon Music has a ton of playlists and a share feature but similarly to the Xbox vs Playstation your decision is often shaped by what your friends have.
Overall thoughts
Amazon Music is another welcome addition to the Microsoft Store and is also an impressive music service. If you're an Amazon Prime member, you can get Prime Music at no additional cost or jump to Amazon Music Unlimited for a cheaper price than many of Amazon's compeitors.
There are some things holding it back but they mostly apply to people with specific hardware or that are already on another music service such as Spotify.
Amazon has a vast library of music and the ability to purchase content or stick to streaming. The app itself is also easy to use and navigate, making it easy to use the service without any learning curve.
Pros
Vast library of music
Multiple price tiers available
Works with Amazon Alexa-powered devices
Cons
Cheapest plan only covers one Amazon Echo
Not available on Xbox One
See in Microsoft Store (opens in new tab)
Windows Central Newsletter
Get the best of Windows Central in your inbox, every day!
News Writer and apps editor
Sean Endicott brings nearly a decade of experience covering Microsoft and Windows news to Windows Central. He joined our team in 2017 as an app reviewer and now heads up our day-to-day news coverage. If you have a news tip or an app to review, hit him up at sean.endicott@futurenet.com (opens in new tab).
Have this feeling available on Windows for a while?

about a week or in the store

But you could download it from their store for much longer, right?

I don't think so, you might be thinking of the old Amazon media player that was available for years. You would always get asked if you wanted to download when you urchased MP3's at Amazon.

That is what this is. Just packaged for the store.

Amazon Music is good but as someone that prefers streaming, Spotify is just the better choice for me. As an addition to Prime, it works well but I wouldn't cancel my Spotify for it.

I went with Amazon Unlimited over Spotify and have been pretty happy. What do you like about Spotify over Amazon?

they at least have a mobile app. I tried installing the Amazon Music appx on my phone but I haven't had the time to troubleshoot the errors I get.

Much larger music catalogue in Spotify. I would go with Google Music Pplay before paying for the Unlimited service. If Spotify offered cloud integration the service would be perfect (for me).

With Amazon Music, are you able to set up profiles and save music locally so you can listen offline?

Yes in regards to saving offline. I have not looked at profiles as my wife an I have our own accounts - they were .99 for 3 months over the holiday.

I have a feeling those two cons in the list don't really add up to 2 for most people . Good review

Em-m... It's no longer available. At least in Ukraine.

How hard could it be to add an Xbox layout too? I would try this, but the Xbox is how I listen to music primarily at home.

It isn't UWP, so it probably is not possible. Can XBox run Centennial apps?

Can we just get MS to give Amazon the code for Media Center and use that for the Amazon interface?

If you use the Amazon Music PC App and own any Echo devices Amazon will keep interrupting your $9.99/month music down streaming with requests to upgrade to the family plan for $14.99 per month. When I first started with the Unlimited service I was able to play music to all my Echo devices by setting up a Multi-Room Music Group. After a few weeks I was no longer allowed to unless I upgraded to the family plan. I returned the three Echo devices I purchased as I believe I was misled by Amazon. I now am using Apple AirPlay to stream music to multiple devices at a lower cost than Amazon Family Music.

Not avail on Cortana Invoke. Tried it on wifes pc but our private offline music collection was too big.

Not available in my country. So NO THANKS.

I'm Prime so if they had a phone app I could cancel Spotify. Oh well.

What bitrate for mp3 is available? Is flac available? How about a genre list. I listen to many different genres, including Celtic and folk. Are they covered?

Been using it for a year. Haven't come back to Spotify.

Oh this isn't out in Canada yet, Amazon you are weird. Guess I'll switch my region to the US to download it.

Not available as a Windows 10 app.

This looks just like the normal Windows 10 App that I've been using for months, now if it were UWP that would be news worthy! Also it says in your decription above you can play music I already own. This is not the case unless you mean Amazon Music I already own, which I would have thought would be obvious.

It's not compatible with Cortana so that helps put it behind Spotify. I use Cortana a lot with Spotify and groove.

I cannot. Why? Tidal offers lossless streaming. At least at home i can clearly hear the difference from mp3 256Kbit to a tidal stream.

There's a workaround on the Xbox. You can play Amazon music on the Edge web browser. You can even go full screen and the lyrics will scroll as the song plays. It's not perfect but I use it when I'm cleaning the house. Unfortunately you cannot run edge in the background to have your Amazon music playing while you're playing a game.

Some serious holes in the Amazon range. Didnt notice this with Spotify.