Surface Go uses Intel over Qualcomm because it's the 'best of the least' (for now)
Microsoft is using Intel for Surface Go mostly because it has little choice.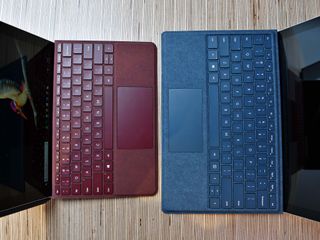 Microsoft's announcement of the new 10-inch Surface Go was not entirely surprising with the earlier leaks having spoiled the reveal, but the question of processor maybe was. Microsoft and Qualcomm have been working closely on new Windows 10 on ARM devices including the forthcoming Snapdragon 850 announced only weeks ago.
So, why is Microsoft using Intel over Qualcomm for its teeny mobile Surface? Here are a few reasons why it makes sense.
1. Timing is everything
Companies develop products with some knowledge of what processor makers are working on, but some of that is fluid, and it's all based on timing.
Microsoft is aiming for an August 2 release for Surface Go in 25 markets. That's not a random date but planned for the back-to-school push. Surface Go is heavily focused on winning in the education market and doing that it needs to be released when people are getting ready to go back to school.
The Qualcomm Snapdragon 835 is a sweet taste of what Windows 10 on ARM is capable of, but it's not ready for the masses. Moreover, the year-old chip is already being replaced by the tweaked Snapdragon 850, which is expected "later this year."
If Microsoft released Surface Go with a Snapdragon 835 in August many would have pointed out that the Snapdragon 850 – which is around 30 percent faster – is right around the corner. Now what? Do you sell the Surface Go with Snapdragon 835 and switch later to the 850 and hope no one notices – or cares? Or do you wait for the Snapdragon 850 and miss back to school and the important holiday season for 2018?
Microsoft has been caught in this processor mid-cycle situation before. The Surface Pro (2017) and Surface Laptop was announced just as Intel's 8th generation Ultra-Low Voltage (ULV) chips were about to launch. Microsoft went with Intel's 7th generation, and those PCs have been there ever since.
2. ARM is not ready for schools and business
Windows 10 on ARM is a marathon, not a sprint. PC watchers should expect a slow, steady build-up of the new architecture from manufactures and retail over the next 24 months. Just don't assume that a new processor architecture will significantly displace the one we've all known for the last 20 years in a single quarter – or even ten.
The biggest issue with Windows 10 on ARM is app compatibility and performance. Microsoft "solved" the ability to run classic desktop apps not recompiled for ARM64, but the execution is not nearly as smooth as natively compiled ARM apps (which is excellent).
That performance issue can be solved with more powerful ARM chips and more developers embracing ARM64, but that's going to take time. Microsoft doesn't have that time if it wants an August 2018 launch.
Schools and businesses depend more on legacy apps more than any consumers and at mass scale. At least with the Intel Pentium 4415Y processor in the Surface Go there are no "buts" when it comes to capability.
3. It's not the pricing
So far, we have only seen more premium Windows 10 on ARM PCs hit the market coming in between $799 and $1,000. That has left a noticeable impression that these next-gen devices are more expensive than similar Intel ones. However, that's not the case.
HP is selling the same device – Envy x2 – with an Intel i5-7Y54 and one with a Qualcomm Snapdragon 835.
The one with ARM is $150 cheaper than the Intel version. It's more like $250 when you factor in the ARM variant ships with a Windows 10 Pro license, while the Intel version only has Windows 10 Home. And Lenovo is selling mostly the same device (reference design) for $899 bringing the total difference to $350.
What people are confusing is what's included. HP and Lenovo are bundling the smartpen, folio cover and keyboard, doubling the storage, using a larger display, better DDR4 RAM, faster storage (eUFS), and Cat-9 LTE in the box.
Surface Go starts at $399 because it has slow eMMC 64GB storage, no LTE, no pen, no keyboard, slower RAM, and a smaller display. Add in some of that to the $549 model, and you'll hit $750 and still not have LTE, which is probably at least another $100, and you're still paying for a smaller display.
More to the point? The Intel Pentium 4415Y is binned at $161 per chip. Estimates for the Qualcomm Snapdragon 835 is just over $60. It's probably crazy to expect Intel is discounting the Pentium by 60 percent to match Qualcomm.
Between a rock and a hard place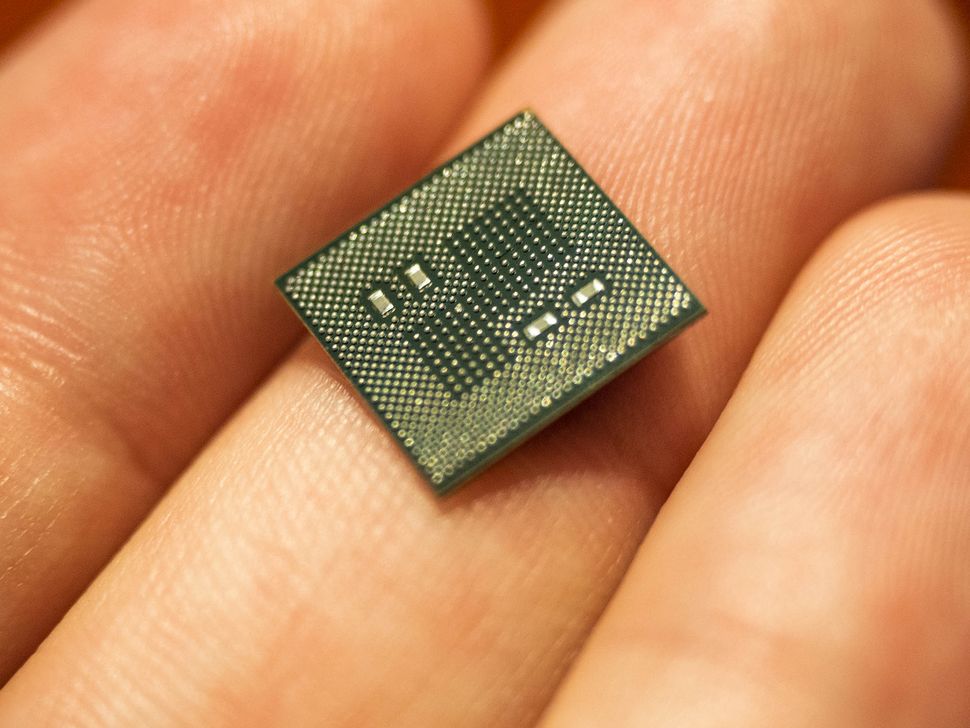 While some may want to spin Microsoft using Intel over Qualcomm as a slight against ARM, it's more about using the best of the least.
The Intel Pentium 4415Y with a battery estimate of nine hours is OK for this price range. But that chip was introduced in mid-2017, is only dual-core, and it will likely throttle quickly under heavy loads.
It's possibly the best chip for the Surface Go, but not the best chip.
Turning to ARM and that architecture is just too new to push to the masses. Schools and enterprise don't want great performance for one type of app, and slow performance for their proprietary legacy one. There's also that whole Snapdragon 850 looming on the horizon, not to mention rumors of a more powerful Snapdragon 1000 due in 2019.
The Surface Go speaks more about Microsoft being at the mercy of chip manufacturers. Microsoft needs to time its products to CPU release schedules as best as it can, while not missing key markets either, e.g., back to school. Microsoft can only use what is available and – as Intel likes to prove with its budget line – those choices are not ideal.
Maybe, in a few years, Microsoft will have its own processor architecture like "E2". By taking control of their chip destiny, Microsoft could follow Apple in hardware design. That wouldn't be bad at all. But for now, it's Intel (too old) and ARM (too new).
See at Microsoft Store (opens in new tab)
Related reading
Windows Central Podcast 97: Surface Go Go Go!
Windows Central Newsletter
Get the best of Windows Central in your inbox, every day!
Daniel Rubino is the Editor-in-chief of Windows Central, head reviewer, podcast co-host, and analyst. He has been covering Microsoft since 2007 when this site was called WMExperts (and later Windows Phone Central). His interests include Windows, laptops, next-gen computing, and for some reason, watches. Before all this tech stuff, he worked on a Ph.D. in linguistics, watched people sleep (for medical purposes!), and ran the projectors at movie theaters because it was fun.
Intel really needs to retire the pentium brand because it just has connotations of being bad even if it's essentially an m3 with some things turned off. I can all but guarantee the conversation about the go would be different if it were using the exact same chip with Core branding. That said I would be shocked if they don't switch to ARM by the time they develop the second gen model.

Core i1! Intel are missing a branding trick.

yeah I always thought about that, get rid of atom, celerom and Pentium... and simplify the line with a i1 (to i9)

Intel just really needs an answer to ARM, period. By the time they hit 10nm, ARM will be on 7nm heading right for 5nm. We wouldn't be in this situation if Intel's low-end, budget/mobile solutions were actually amazing. They're far from it and Pentium proves it.

What we really need are ARMv8 performance chips that can match the compute power of Intel's and AMD's high-end chips. Then we can finally say goodbye to x86. x86 arch has hit the end of the road.

By the time Intel hits 10 nm, AMD will hit 5 nm

You are so on the bullseye! What a huge mistake to use that horrible, outdated brand in 2018 - Pentium. Imidiately I think of the Weird Al Janković. Any product with Pentium brand associated to it is going to flop. People, when they hear the sound "PENTIUM" they will run so fast to Apple or Android, cartoon style. Horrible idea. But then, it's Microsoft. They often kill their own products regardless if it's awesome or not.

My biggest concern for this device is real world usage battery life. My SP4 with M3 does not have the greastest battery life so if this is anything like it then it will be a pass for me. Had they been able to outfit with 850 likely would have been a pre-order purchase for me.

I found the quoted 9 hours worrying. Usually manufacturers say "12 hours!" and it's like 7 or 8, which is fine. Saying 9 hours may mean more like 5, which is, well, if you're going against some iPad markets is not great. I hope I'm wrong.

I doubt you will be wrong. I would not be surprised to see sub 4:30 hrs. We will see soon enough though....

If this is for kids/education, how are they supposed to get through the entire school day?

Exactly.... That being said I don't want my kids glued to a computer device the whole time they are at school. Worst is when you sit down for a session, come back for another later in the day and realize you have less than 40% batt and things are draining fast. Not sure how everyone else finds the screen visibility with the SP 4, but I pretty much always have to run mine at full brightness (exception being when using in dark environment) to enjoy using the device.

Let's hope their internal battery test result came wrong, like all the time. I mean what exactly did they had in mind to give just 9 hours of battery life on paper? I guess may be they thought that this is good enough for a specific price point.

Apple says 10 hours for the iPad, so the SGO is not really that far off at all! https://www.apple.com/ca/ipad/compare/#mn_p

Can we also say this may have had a role also in the delaying of Andromeda? They still would need heavy in house testing of a capable, mass produced chipset. If Intel is by far the best choice for the Go, why would Andromeda differ?

It is a 27 Wh battery on S. Go. With max TDP of 6W for the Pentium 4415/dual core and small 10" screen FHD+. Imma say it drains 3-5 watt per hour. So it's around 27/4 or 3 = 5.5 hours - 8.5 hours at best. That's not as power efficient as ARM e.g. iPads running at 2-3W/30Wh batteries (10 hours).

If I was Microsoft I would put more Battery in the Type Cover under the keyboard. True, it adds a bit more weight and thickness to the Type Cover but not to the tablet itself, and results in 3-5 more hours of battery life....

They had the power cover (keyboard with battery) for older surface models and it's availability was also limited.

And would completely put the balance out. You cannot do everything when you have to maintain the balance of the device and keep the hinge working.

To be fair, weight in the keyboard is not going to affect the balance, in fact it would anchor the product more as that is a flat surface to the ground.

Exactly, windows 10 on ARM is not ready for PCs. It would be great on windows phones with continuum though, since some advanced users already managed to install on a lumia! If only they had not stupidly killed every development over there. We would have given even feedback as mobile insiders. Moreover, if they knew they would have returned to mobile and small screens in other ways, they definitely should have released at least a new windows phone with snapdragon 835. Just not to kill developers motivation, not to mention other crucial reasons. Where the hell did Lumia engineers go? Clearly, I don't mean lumia 535 ones :)

$499 bundle with Keyboard and Pen would have really helped. Then if you need to replace them, sure, $99 each. But an education or workplace bundle would help really differentiate this from the iPad.

Oh, I think there will be education discounts/bundles/deals etc. for large institutions, I'm not worried about that. That's usually on a per-deal basis though.

Even for the general public, the device is most usable with a keyboard at minimum. So would be nice to be able to buy and then not have to add another $99+ instantly on it. Including a keyboard or pen into bundles at a lower price from the regular store would make it feel priced better - you add on everything here and are hitting Surface Pro bundle prices.

Exactly, I might have got one, but $650 for the better model with a keyboard is too steep for what this device is. I would pay the $550 if it included a keyboard.

I mean, the same argument was given for Surface 3, which was $100 more expensive. Went on to be one of the best selling Surfaces to date.

Dan any rumblings of a sgopro?

Why would I need a keyboard, I would use the pen. If I would need a keyboard, I would connect a wireless desktop one.

The keyboard also acts as a cover.

Convenience.
Having a keyboard and trackpad.
Easier to use on a lap than separate desktop kb/m.
Doubles as a cover.

Everything just seems slightly off for the Surface GO. Why not hold it for 12 months until ARM is ready prime time. The m3 Surface Pro 4 is just bearable this Pentium is going to struggle. It might even put people off buy Surface again after buying this device. It just seems a poor choice in every market and against every competitor. Chromebooks are cheaper, have better battery life and run better on lesser hardware than Windows 10. The iPad is cheaper, is a much better tablet experience, has a flourishing app ecosystem. Windows laptops are cheaper, come with a keyboard and will be as good as this for enterprise. It really feels like this was rushed to market for some reason. I hope I'm wrong but I feel this could be the next Yoga book, its cool but no one really wants to use one everyday. To be fair I'll still probably end up getting one because I like Surface.

"Why not hold it for 12 months until ARM is ready prime time. "

Every year you don't have a killer device in education you surrender to Google. Microsoft is actually doing well in education now, or rather, seeing gains. This

will

help them even if it's not the perfect answer.

I get that but this isn't a killer device that is going to take it to Google, its a stop gap at best. Surface devices are halo devices that are supposed to set the example of what a Windows device should be and this isn't that.

Stop gap - and even Windows 10 S - is exactly that. The real transformation for Windows, as far as we know, is Polaris/WCOS + ARM (or maybe even E2). But, that's maybe late 2019/2020. But yeah, Surface Go + S-Mode + Pentium = best attempt now to get something in this market.

Funny as low powered Intel based Chromebooks don't get this knock against them. Sugace Go is a competitive product for its pricepoint

Because as usual the tech press is always fawning all over scroogle even though a chromebook is nothing but an overpriced ad delivery system in a browser on a piece of cheap hardware.

You've clearly never used a modern, quality Chromebook.

What good is a quality modern chromebook in a school district. They are locked down tighter than Fort Knox, and they Office docs is 60% of the power of Office 365. Fun fact every kid in my district has access to free office 365. So why in the world are we locked into CraptasticChromes. They are worthless. I can't run a dedicated program and Every website that is worth while for education has links to other websites. There is nothing more frustrating when you have to constantly redirect a kid to stay on task. Exp when there is a giant hey click on me clues web button/link. Its frustrating. Give me an X86 PC and I can easily lock 90% of my kids into one program, and use full blown Powerpoint to teach valid education content. Given my choice I would gladly use an X86 PC over a Chromebook, but my district id fascinated with throwing money at a one trick pony.

Oddly no Max Turbo frequency or Turboboost listed for the Pentium Gold... does this mean it never goes above the Base Frequency of 1.6GHz? https://ark.intel.com/products/122697/Intel-Pentium-Processor-4415Y-2M-C...

No Turbo, as far as I know. That's one of the differences between it and Core. It's something we should be able to see with Intel XTU.

So weird. The "Silver Pentiums" show they do boost: https://ark.intel.com/products/series/128993/Intel-Pentium-Silver-Proces... This processor appears to be a different series: https://ark.intel.com/products/series/89613/Intel-Pentium-Processor-4000... There are 'gold' processors here: https://ark.intel.com/products/series/129958/Intel-Pentium-Gold-Processo... Not sure why they are calling the one in the Surface Gold!

Silver and Gold Pentiums are wildly different CPUs, which is not what one expects.

On the plus side, this might mean that the quoted battery life estimates are perhaps less variable than usual. We might actually get 8-9 hours!

maaaybe That certainly does help and is a good point as the stepping tech is what really throws things off; OTOH video loop tests are "easy" on the processor. It'll be fun to test.

Is there going to be a comparison of the Surface Go and Surface 3? To see if their are any substantial differences.

Sure, that's the plan. I'm not worried about that. Atom was so bad it's not hard to beat in 2018.

Though keep in mind the Surface Go is not 2018 hardware.

The rest of Surface Go is very much 2018 hardware re: design/features for a budget device. There have never been 10-inch PCs with Windows Hello, Dolby dual front-facing speakers, full kickstand, micro SD, LTE with an optically-bonded color calibrated display, with a pen at 4,096 pressure levels, at this price point. Don't confuse what is budget for 2018 with premium 2018. This device was not possible 3 years ago at $399.

Well Dan I'm willing to wait for that comparison being an article or short video. I think it's a fond device to own.

Maybe not exactly possible, 3 years ago, but 1 year ago Acer came very close to this with it's Switch (3) line. It's still being sold today at $399 with keyboard and pen included. Windows Hello for instance was a feature on the Surface Pro 3, but my work's IT dept. won't allow it's use and requires passwords. Dolby speakers? What are they? Full kickstand? As apposed to a half kickstand? Can you really see 4k pressure levels on a 10" screen?

Just to clarify one part of your comment, is that, the Surface Pro 4 was the one that, came first with Windows Hello face recognition. Later the Pro 3 got Windows Hello via the keyboard with finger print.

Yes, I do have a Surface Pro 4 at work, but my IT dept had to put a SP3 image on it because it takes them a while to catch up with new HW. They still only allow passwords for login.

A good thing it can full charge in 2 hours over the surface Connector
may charge even faster with the right USB-C cable

Fast charge helps, but frequently charging something is not nearly as good an experience as infrequent charging.

The whole CPU discussion is interesting, but only because timing was the most important part of the release of the Surface Go. The proof of that is in that amazing roll out for the Go that Microsoft announced. This was mentioned in your podcast, but it is really a key component of this device and one that hasn't gotten as much attention. The rapid and widespread deployment Microsoft is using with the Surface Go hasn't happened before that I can remember. I am impressed that Microsoft has learned how to ramp up production like this when you consider that huge markets like India and China are both getting this device by the fall. For the US education market where Microsoft has momentum in gains against Google and where Apple is an afterthought because of their lack of management software, getting a new product in their sales teams hands was critical. For the rest of the world where Microsoft is number one in education by large margins in most places, the Go is also important, but may also be a bigger consumer play as well, particularly in countries where lower price points are more compelling.

Good point. Hadn't thought about that. This is priced and targeted as a mass production device which would mean they must have worked hard on both manufacturing and supply lines. It'll be interesting to see if this goes according to plan.

Hey, and from that, I'm happy that Thailand is on the first 25 countries! I see a lot of Surface users in Starbucks here 😘😘

Microsoft really needs it's own ARM like processor. It would be superior compared to Qualcomm, and would be on level with Apple's own chip. Then Microsoft didn't need to wait for Qualcomm, and it could be used in products like the Surface Go, Surface Hub, HoloLens and Surface Phone.
And what if we could get a Surface (pro, book, laptop, studio) with a ARM and an Intel chip? ARM would run the less demanding apps and the OS and the Intel chip would run the more demanding stuff.... Argh... That would probably be super expensive, but they could slowly push the industry towards ARM. 😃😀 I would buy it

Yes, but Microsoft is working on its own silicon beyond ARM---https://www.geekwire.com/2018/top-microsoft-chip-researcher-shifts-myste...

I've been thinking about this kind of things. Like can we put Scorpio engine in the Surface Book/ Studio, so it is used for demanding tasks. This concept is okay with gGPU and iGPU.

I don't agree with your first point about Snapdragon 850 not being ready yet.
Snapdragon 845 is essentially a close brother to 850. It could've been used for surface go.

How can you disagree that the SD850 isn't ready and then suggest that they should have used the SD845? If the SD850 actually was ready then wouldn't you be suggesting that they use the SD850?

This sounds like a decent option for me at work... legacy apps, and I spend more time remoting in (NOT using RDP, so an intel cpu would be beneficial for me) with mild photo edition on the side (try stitching 19 25MB raw files for a panorama on an atom cpu.... it took my HP envy note 7 almost 4 hours on it's dinky atom) Granted, will wait for LTE.

Hah, let us know how long premium needed. Good reference it will be.

x86 is dead. People who don't get that are behind the tech curve. Even Intel will abandon x86 in a few years for a new ISA. Intel Stratix FPGA is *ARM-based*! Mercedes Benz just did a deal with NVIDIA for self-driving cars employing Xavier an *ARM CPU-based* SoC! Right now ARM out ships x86 annually 18 billion to 800 million in volume. In 2 years w/ IoT explosion ARM will be 50 billion. X86 going down not up in volume! See Adobe PhotoShop on IPad? That is Apple getting complete rid of x86.

x86 or x64 is the only platform supported for developers to work on containers like Docker, Kubernetes and Openshift, there are thousands of developers that will not choose an ARM device since it doesn't support these container technology.

That will change. Like Photoshop on the iPad, it is only a matter of time before more professional apps also become available.

I will believe it when I see it. Same as with the bigger ARM chips.

Oh yeah? So if x86 is dead, how come the fastest ARM core in the planet can't even compete with a mid range Intel core from 5 years ago? Can your phone run Crysis 3?

ARM Qualcomm powered Chromebook always-connected prototype spotted--https://www.xda-developers.com/qualcomm-snapdragon-845-chromebook-protot...

Anyone that doesn't understand yet Microsoft is completely getting rid of x86 (just like Apple) in the next few years, please see this article (Microsoft making its *own* silicon with super wizard, Doug Burger)---https://www.geekwire.com/2018/top-microsoft-chip-researcher-shifts-myste...

So if shapple is dropping Intel;
Why do their top tier Mac books and workstations still use a Core i7? Hell, if they were so keen on ARM, why did they not switch to it when they dropped the PowerPC arch in 2006? could it be because no matter how much you want not to believe it; The x86 arch is still miles ahead in computing performance?

Why is everyone complaining about the price? Think about it, very many people have paid more than $499 for their phone and did not get 8gb RAM and 128gb storage, yet they expect a keyboard and pen tossed in! smh.

Those who complain should hang themselves in shame. Some are living to just commenting.

You should hang yourself with an electrified extension cord with the insulation peeled off of it.

I agree on all points, of why Intel was prefered instead of ARM, but also adding this:
Intel® Virtualization Technology (VT-x) . The Surface Go Enterprise model will come with Windows 10 Pro, meaning that to install Docker, Linux (via VirtualBox), Minishift, etc you will need this Virtualization technology and Windows 10 Professional.
I had this issue with my Dell Inspiron 5500U, since it came with Windows Home I couldn't install Docker on it.

A ARM version (850) in the future would be great for people that will use it in a more casual way, specially because of battery life and always on (one of the few advantages that the iPad have). It could even be cheaper competing better with the iPad.

Dan, on your upcoming review of this device please check and report on the type, model and performance of NVMe SSD used in the 120 and 256 GB storage versions. Thanks

This is exactly why the WoA devices are overpriced. If the best of the least is $399, then lower performance devices need to be cheaper. This Surface device is also premium, that isn't an excuse. Not having a $299 WoA option is rediculous. Microsoft is blowing it, especially after seeing the price difference between the 835 and the Pentium.

ARM right now is only for Chrome-books! Believe me folks, we are still 5 years away for ARM and Windows PC's. Especially, a combo that can run what we need to run. Intel knew what ARM wasn't... as to why they never worried about an immediate threat of ARM. ARM is Mickey Mouse compared to Intel. ARM is indeed coming, but what still hold true today is.... Intel can do it now, ARM can not!!!

I pre-ordered the 128GB model. We will see how it goes. If it can get me through a work day of basically just random note taking with a good pen experience then it is a win for me.

I had a thought that the Celeron 3160 Quad Core would have performed better then the Pentium. Two cores in Pentium with Hyperthreading doesn't impress me and no turbo mode either. Think I would rather have 4 cores to work with.

By the time they hit 3nm, Qualcomm is already in 1nm

You're all so full of **** it's unbelievable. The reason they used an Intel chip is because arm sucks.
ARM is for embedded/ mobile application and is not powerful enough to run a PC operating system. Microsoft is not going to recompile it's entire os to run on ARM for one more stupid trash tablet that will be replaced before it makes it off the assembly line. Windows 10 is an x86 operating system. No matter how much compiling they do; no Windows program is going to run correctly on an arm processor. And those saying X86 is dead,
Can your Chromebook or your phone run Crysis 3?
😂

Windows 10 on ARM has huge issues with application-specific USB driver compatibility. Plug and play devices that use standardized drivers work fine, but other products that might be marketed as "compatible with Windows 10" don't work at all on ARM.