Why you should opt-out of the Windows Insider Program after the April 2018 Update releases
You should remove your PC from the Windows Insider Program after the April 2018 Update releases — here's why, and the steps to do it.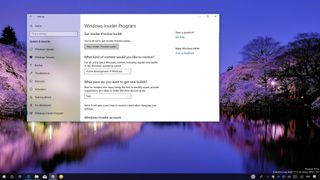 As Microsoft finalizes the Windows 10 April 2018 Update (version 1803) for its official launch in spring 2018, now is a good time to consider opting out of the Windows Insider Program.
The program has been designed to allow developers and enthusiasts to test upcoming features and improvements to Windows 10. Although the most recent preview builds have introduced a lot of changes and have been getting more stable, as version 1803 gets finalized and Microsoft moves to the next big update, new builds usually don't include significant changes, and they can be buggy and unstable.
Related: Our in-depth Windows 10 April 2018 Update review
If you're not ready for that or want to enjoy the new version for a while, you can gracefully opt-out from the Insider Program without having to reinstall the OS or losing your settings, apps, and files. This is possible because at the end of a feature update development, both preview releases and public releases of Windows 10 are the same versions.
In this Windows 10 guide, we walk you through the steps to leave the Windows Insider Program without having to reinstall anything. Even if you forgot and end up installing a new build from a different version after the official release.
How to safely opt-out of the Windows Insider Program
Assuming that you're not using the Skip Ahead option, if you no longer want to participate in the program, do the following:
Open Settings.
Click on Update & Security.
Click on Windows Insider Program.
Click the Stop Insider Preview builds option.
Select the Keep giving me builds until the next Windows release option.
Click the Confirm button.
Click the Restart Now button.
After completing these steps, previews will continue to download and install on your computer, but only until the new version of Windows 10 is finalized. Once the new feature update becomes available, your device will opt-out, and it'll continue to receive patches and security updates every month.
You can use these steps to opt-out at any time, as long as you do this before Microsoft releases a new preview build for the next version of Windows 10 (Redstone 5). If you keep your computer enrolled, and new builds become available, your computer will install them automatically, and you won't be able to use these instructions to stay in the stable version.
How to opt-out after installing a build from a different version
If you stayed enrolled in the program and a new build, part of the next development of Windows 10, installs on your computer, you can still opt-out without losing settings, apps, and files by going back to the previous version and then opting out of the program.
To roll back to the previous version of Windows 10 and remove your device from the Windows Insider Program, do the following:
Open Settings.
Click on Update & security.
Click on Recovery.
Under "Go back to the previous version of Windows 10," click the Get started button.
Select a reason you're removing the current build and click the Next button.
Click the No, thanks button.
Click the Next button.
Click the Next button again.
Click the Go back to earlier build button.
After rolling back, open Settings again.
Click on Update & Security.
Click the Stop Insider Preview Builds button.
Select the Keep giving me builds until the next Windows release option.
Click the Confirm button.
Click the Restart Now button.
Once you complete these steps, your device will stop getting previews after the Windows 10 April 2018 Update becomes available, and it'll continue to receive quality updates every month to fix bugs, improve performance, and patch any security vulnerabilities.
The only caveat is that you can only use the following instructions during the first 10 days since the first build for the next version was applied to your PC. This is because after the first 10 days, Windows 10 automatically removes the Windows.old folder that contains your previous installation files, and when this happens, the option to roll back disappears.
In the rare case that you don't see the option to go back to the previous version, the only way to opt-out of the program is to do a clean installation of Windows 10 with the latest update.
After a few builds, when Microsoft starts incorporating new features and previews are more stable, you can always enroll your device into the Windows Insider Program again.
Are you planning to opt-out and enjoy the new feature update for a while or are you staying enrolled? Let us know in the comments.
More Windows 10 resources
For more helpful articles, coverage, and answers to common questions about Windows 10, visit the following resources:
Windows 10 help, tips, and tricks
Get the Windows Central Newsletter
All the latest news, reviews, and guides for Windows and Xbox diehards.
Mauro Huculak is technical writer for WindowsCentral.com. His primary focus is to write comprehensive how-tos to help users get the most out of Windows 10 and its many related technologies. He has an IT background with professional certifications from Microsoft, Cisco, and CompTIA, and he's a recognized member of the Microsoft MVP community.
Hell no! Skip ahead #ftw 😁

Just switch from Skip Ahead to Release Preview and you're good to go......

Yeah, no. You'll end up receiving an updated build in Release Preview when RS5 hits RP in October, lol.

But if you're already in skip ahead build You would just stop getting build altogether.

Why fight just switch..... To skip ahead 😁

What does "Roll me back to the last Windows release" option do? Does it delete files and settings?

It shouldn't it'll delete relevant settings for the build you're on since they're not relevant anymore. If it does delete files and settings it will warn you before proceeding though MS is pretty good about that with Windows 10.

If you opt out from Skip Ahead you will not get back in if you change your mind later. There are just too many folks who want in for the number of seats that come free when Skippy is re-opened periodically to refill the few seats that do get vacated.

That's not necessarily true. I was using Fast Ring for months. When the first RS5 build came out, I was able to switch back to Skip Ahead. And that was on a new laptop that hadn't even been on Skip Ahead before.

you can by change some registry in windows registry and you are ready to go

You realize the Go Back option has never worked, right? It always just "Sorry, you can't go back to an earlier build" ... I've reimaged my surface twice because of this. And yes, the folder for it was still on the drive and no cleanup had been attempted to reclaim that disk space.

Same here. Both on a Surface Pro 3 and the newest one. Beyond frustrating.

I think you guys need to rethink this post. For one, you never have the counter post to "ok, for those that got out, Now is the time to get back in." Also, isn't this the whole point of Fast, Slow, and Skip Ahead? Shouldn't people who want to be Insiders understand the risks? What would Dona Sarkar say about the prospect of losing insiders, with their feedback and telemetry, right as she starts testing new features?

Agreed. I've always thought these articles are a bit odd. People become Insiders because they want to test new features. If they change their minds st some point, it's not difficult to opt out.

After every big update you guys are saying we need to leave the preview program then when a new big update comes out you say we need to join it so please make up your mind

yeah it can get a little complicated
I'll try to simplify it. It's more of a cautionary move
As 17134. get ready to be released fast ring and soon after slow ring will merge with skip ahead build. RS5 still in early development if you want the most stable experience/ consistently you wanna stay 17134. for now. but if it's a secondary device or you don't mind being on the edge to see what next then sure it fine to stay in fast/ slow ring

This article doesn't make sense, many on windows insider program already know what it is about, you're expected to use WIP releases at your own risk and know it would be buggy. This is just saying same thing we already know but telling people they should opt out after April 2018 update, which is Ludacris , we have heard this before , change name of article to how to opt out of Insider Program

More to the point - I don't get offered these options - I'm on the fast ring for RS4 in the UK and if I choose to leave the insider program there's nothing about continuing to receive updates... just change level, pause for a few days, roll back or leave.

Skip ahead only not ever opting out

I'm on Release Preview ring but don't have that "Keep giving me builds..." option.

Me too. I'm assuming it is because I am currently on the release version, so it won't give me any more builds, I'll just stay on the current build. I wish they would address this in the article though.

You are totally wrong. Insider buils targets people who want to test features while they are being developed in order to send feedbacks and bug reports. That said, if you're not prepared to run unstable builds then you don't deserve to be Insider. If your purpose is to test features for your own only, RTM is for you, not insider.
And your argument about the first buils are unstable and the last are stable, in theory it's what we can expect, in practice one of the last build before 1803 was the worst because it caused many devices to loop infinitely over the boot, the only solution was to rollback.
So be prepared to have unstable builds from the first one to the very last. If you don't like this idea, leave Insider now forever.

I'm on Release Preview, and staying there. I've got the new build 17134.5. I like the early app updates. I run Fast ring on VirtualBox, so no harm is done if anything goes wrong

Hey genius! RS5 has already more than a FEW builds incorporating features and is quite stable. Why wait so long to write this? Should have been done either before or right after RS5 beta had started.

If you want to receive Insider builds, there's no reason to opt out. Stupid article.

Stable? The same can't be said about the miracast support. Pretty damn pissed about that as Microst made me look like right moron after showcasing it worked to the relative for whom I was setting up the mini PC. It's now locked under the guise of "the feature capabilities are being assessed". That's the thing about W10, features and functions are simply removed or locked or added and it makes you look like a proper schizo. I know for a fact several features weren't there on my PC suchas enabling the start screen in ful screen. Hence having to use tablet mode. Then it magically is enabled 😶. Since most people's short term is well rather short, they don't pick up on these small differences.

I'm staying in the program. For me, there's no reason to leave and then rejoin later. Testing new features, finding bugs, and submitting feedback is what I signed up to do, and I'm not going to stop doing that just because a build was became RTM.