Windows 10 build 10147: Everything you need to know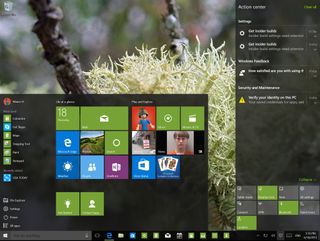 Yesterday, Windows 10 build 10147 leaked onto the web. The leaked preview was first spotted in the Chinese website PC Beta, and until we got our hands on the new build, there was no word of what to expect.
Now that we can play with Windows 10 build 10147, we can say that this is a pretty exciting preview. It unveils a number of tweaks and improvements over the previous leak (build 10134) and over the official Windows 10 build 10130, which Microsoft has recently pushed to the Slow ring of updates. However, none of the changes is major, and there aren't any significant new features.
This build looks and feels even more complete, and stable compared to previous releases. Microsoft is finally rebranding its new browser to 'Microsoft Edge', the taskbar and desktop get new refinements, the Start menu includes new tweaks and a lot more.
The new leaked build of Windows 10 is unlikely to release to Windows Insiders, which is a shame. However, it's a new preview that gives us a closer look at what Microsoft is working on for the next version of the operating system.
Below, you will find everything you need to know about Windows 10 build 10147:
Windows 10 build 10147
Start menu
Like always, we'll begin with the changes around the Start experience. In Windows 10 build 10147, users will notice that the "New" label that appears next to the "All Apps" button is no longer blue. It now takes the color of the Windows color scheme, and "All Apps" and "File Explorer" get new icons in the Start menu.
Note that some Windows apps, such as the Mail and Music app are also getting new icons.
For those Windows Insiders happy to see the 3D flip animation gone from the Start menu in previous builds, we regret to inform you that the 3D flip animation for Live Tiles is back.
Taskbar
The taskbar has received a few minor changes as well. In the leaked version of Windows 10, there is a new arrow icon to "show and hide icons".
The "date and time" has also been updated with transparency, and it also takes the color scheme from the operating system.
Jump lists have been updated. Now you'll see that some options, such as 'Close window', 'Pin to taskbar button', and the button to launch an app are grouped at the bottom with a different background color than the rest of the menu.
Another noticeable change is found in the icons pinned on the taskbar. We can now see white icons representing the app without a background. We can see these icons on a few apps such as Mail and Calendar, but it appears we will will see similar icons on almost all future Windows apps.
Tablet mode
While Tablet mode in build 10147 remains the same, we can see a few noticeable changes. In this new build, users will see that Microsoft is adding the Power and 'All Apps' buttons above the Start menu.
Action Center
The Action Center in Windows 10 has been refined as well. We can see a lighter dark background and more transparency. In my opinion, it reminds me of the notification center in Mac OS X. There is also a third row of quick-access buttons, and you'll notice a few new icons too. For example, thee are new icons for Tablet mode, Note, Quiet hours, and Connect.
Cortana
In Windows 10 build 10147, Cortana receives a few new improvements. If you haven't enabled the personal assistant, the next time you click onto the search box in the Start menu, you'll notice a Try Cortana button right above the Start button. This action will bring up the initial setup of Cortana, which also has been updated in favor of the light-gray background (if you remember, previously the background was black).
Furthermore, the left-pane menu of Cortana seems to have been simplified. Now you only see the button to send feedback, open settings, home, and the hamburger menu button.
Note that if you don't have a microphone connected to your computer, you'll get a setup your microphone guide like the image below.
Desktop
In the desktop, pretty much everything stays the same with the difference that Microsoft has changed the icons for 'Display Settings' and 'Personalize' in the context menu.
Additionally, Microsoft has also replaced all the icons from Quick access in File Explorer in favor of folder-like icons. Now by default users will see pins for Desktop, Documents, Downloads, Pictures, Music, and Videos.
In Control Panel, Windows 10 build 10147 includes new icons, and it appears that Microsoft is moving away from the Windows 7 like style to the modern flat Windows 10 design. You'll notice this in the icons, menus, and hovering items in the Control Panel.
Settings
In this leaked version of Microsoft's operating system, there aren't significant changes found in the Settings app. Users can expect to see a new animation effect moving between settings.
Built-in apps
We have already talked about some of the changes included in some Windows apps above, but there is more. Windows 10 build 10147 includes the new Phone Companion app that Microsoft previously announced. The app is designed to help users connect their Windows 10 PCs with mobile phones no matter if it's an Android, iPhone, or Windows Phone.
Perhaps the most important piece of information here is the title bar. As you can see from the image below the bar takes the same Windows 10 scheme color.
Note that the app seems not to be working at the time of this writing.
Then we have the updated Contact Support app for Windows 10. While the app seems to be working in previous builds, I can confirm that you can now chat or call Microsoft technical support right from your computer. Also, note that the title bar is blue suggesting that Windows apps can either take the color scheme from Windows 10 or developers can set their color to match the design of the app.
Microsoft Edge
Finally, in build 10147, we can see that Microsoft is finally rebranding its web browser to 'Microsoft Edge'.
The build also shows that Edge is version 19.10147.00, and there are various changes to the new web browser. For example, there is a new icon for 'Hub', which is where you'll find access to your Favorites, Reading list, History, and Downloads.
Perhaps the biggest change in the version of Microsoft Edge is the addition letting users choose between a "Light" or "Dark" theme.
The 'Open with' setting now includes a new 'Start page' option where you can set it to open a specific page (or pages) when opening a new tab.
In the 'Advanced' section of the Edge settings, now you can find the option to "Show the home button" and now you can control whether the browser save passwords or not.
Furthermore, now you can even manage all your Internet passwords by clicking "Manage my saved passwords".
In build 10147, the option to change the default search engine is enabled, but you cannot change the default engine just yet.
You can now drag and drop tabs out of the browser to open a new window, and you'll get warning when you're about to close multiple tabs, just like in Internet Explorer.
And there is a new roll animation when opening the settings menu as well.
Wrapping things up
Overall the performance of Windows 10 build 10147 seems to have improved significantly. This build of the OS is more responsive, and it looks more complete than previous releases. However, I can only speak for myself, I know that there will be many testers out there with different hardware configurations and having different opinions.
Once again, this is not an official release of Windows 10, as such it's not recommended to download and install the build. However, if you can't wait for the next official release, you can try to find it online and try it at your own risk.
How do you feel about the new changes in Windows 10 build 10147? Tell us in the comments below.
Get the Windows Central Newsletter
All the latest news, reviews, and guides for Windows and Xbox diehards.
Mauro Huculak is technical writer for WindowsCentral.com. His primary focus is to write comprehensive how-tos to help users get the most out of Windows 10 and its many related technologies. He has an IT background with professional certifications from Microsoft, Cisco, and CompTIA, and he's a recognized member of the Microsoft MVP community.