Windows 10 build 14291 for PC: Everything you need to know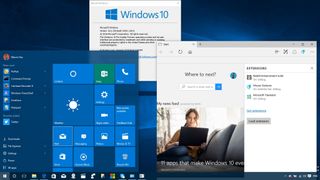 Microsoft is now rolling out another preview of Windows 10 for PC and Mobile through the Fast ring. This time, the software giant is making available Windows 10 build 14291, and the latest release includes a number of new features, changes, and improvements over previous builds.
While build 14291 for PC is not big on changes, it's still a significant update as Microsoft is finally introducing extension support for the Edge browser. In addition, the company also delivers the new Feedback Hub app, Maps and Alarms & Clocks apps get updated, and there are a few new tweaks in the Settings app and Start menu.
Note that many of the changes are also available in Windows 10 Mobile, but this article focuses primarily on the new changes in Windows 10 for PC.
Windows 10 build 14291
Microsoft Edge
In Windows 10 build 14291, the software giant is bumping the version number to 34.14291, and bringing some exciting features, including extension support, "Pinned Tabs", and "Paste and Go" options.
Extensions
After a long wait, Microsoft finally ships extension support for the Edge web browser. Initially, the company is only making three basic extensions available, including Microsoft Translator, Reddit, and Mouse Gestures.
Microsoft Translator: Translates web pages for over 50 languages when you stumble upon foreign language content.
Reddit: Enhances the browsing experience with more control, custom dashboard, and redesigned user-interface for users who frequently visit the popular site Reddit.com.
Mouse Gestures: While Microsoft hasn't yet optimize Edge for touchscreen devices, you can use the Mouse Gestures extension to use touch gestures on any touch-enabled computer.
Eventually, extensions will be available through the Windows Store, but during the development period, users will have to download and sideload them manually.
Here's how to install extensions on Microsoft Edge:
Double-click the extension file to extract all the files.
On Edge, click the three-dotted menu button and select Extensions.
Click Load extension.
Select the folder with extension files and click Select folder to complete the installation.
If the extension loads successfully it will be listed in the Extensions section, as you can see in the screenshot below.
You can hover over the extension name and click the gear button to access its settings, and you can also right-click it to remove or show the button in the address bar.
Although Microsoft has only made available three extensions for Edge, the company has designed the support similar to what Google does with Chrome, which should make it easier for developers to port their browser add-ons to Edge. The company says that later this year, customers will find even more extensions, such as AdBlock, Adblock Plus, Amazon, LastPass, Evernote, and others.
Moreover, these extensions will be available in the Store for much simpler installation and to make sure they are screened for security.
Pinned Tabs
On the new preview, users can pin their favorite tabs. Similar to other browsers, you can right-click a tab and select Pin tab from the context menu and tabs will remain pinned even after restarting the browser. To remove a pinned tab, just right-click a tab and click Unpin tab.
Paste and Go
Users will also find that they can now copy a URL to the clipboard, right-click the address bar, and select Paste and Go option to paste the URL and immediately navigate to the page without the extra step. This is not a significant change, but it's available in other browsers, and customers have been requesting it for some time.
Start menu
The Start menu on the latest build of Windows 10 doesn't ship with significant changes, but you will notice that the Settings button now includes context menu support to access pinned and recent settings locations, identical to the File Explorer button.
Settings app
Microsoft also quietly keeps updating and testing new tweaks in the Settings app. On Windows 10 build 14291, the software giant is improving some of the Storage and Wi-Fi settings.
Storage
On System > Storage > This PC (C:) > Temporary Files, you will notice that Microsoft has updated the settings to delete files that are only wasting space in the hard drive. Starting with build 14291, users can select and click Remove files to delete temporary files, content in the Downloads folder, recycle bin, and even remove the previous version of Windows.
Wi-Fi
On Network & internet > Wi-Fi, Microsoft is bringing all the Wi-Fi Sense and Paid Wi-Fi services, which were previously located in a separate section.
This change should make it easier for users to decide whether or not to share Wi-Fi information with contacts on Outlook.com, Skype, and Facebook. Or get quickly connected by using paid hotspots where available.
Windows Apps
Windows 10 build 14291 also includes updates for some of the built-in apps, including Feedback Hub, Maps, and Alarms & Clock.
Feedback Hub app
Microsoft has now merged the Windows Feedback and Insider Hub into a single app, which it's called the Feedback Hub.
The new app includes all the features previously available on both apps, but Microsoft is also adding a few "new things."
The first thing you will notice is the search box located front and center, which you can use to add a feedback quickly or upvote already submitted feedback.
The "What's new" section is the place you will find all the latest Microsoft announcements and quests -- all in a single feed.
The new version also removes the screenshot capture feature. Instead, the app now offers an upload screenshot option, so you can take a screenshot manually (Windows key + Print screen) and send it alongside your feedback.
Alarms & Clock app
The Alarms & Clock app remain virtually the same, but now starting build 14291 users will notice an updated user-interface when adding a new alarm with a new time picker and context menus to pick different options, such as alarm name, sound, and snooze time.
Maps app
The latest preview of Windows 10 also includes an updated version of the Maps app. The new version brings a completely updated and consistent user-interface, plus new improvements and features.
The most important feature added to the new Maps app is the ability to view multiple searches in a single map view -- layered on top of each other.
The menu elements have been relocated to the top area, instead of the side, which allows store searches as tabs during the current session and it helps to navigate better the app. (Mobile devices include the menu elements at the bottom to make it easier when using a device with one hand.)
The new update for Maps also supports turn-by-turn directions with Cortana voice, but currently, it's only available in English (United States), English (United Kingdom), Simplified Chinese (China), French (France), Italian (Italy), German (German) and Spanish (Spain).
Among other features, you will now get search on 3D cities, access to your favorites saved places offline, better search results for nearby places (only in select markets), and Microsoft made it easier to follow public transit route, know exactly when to get off the bus, and continue with turn-by-turn directions.
Extras
As part of the new release, the software maker is also pushing two Japanese input enhancements, including Japanese one-handed kana touch keyboard, which makes typing in Japanese similar to a mobile device.
Image credit Microsoft
And there is also a new Japanese Lined-mode text input canvas experience, which should make typing in Japanese more natural and intuitive.
Image credit Microsoft
Wrapping things up
Taking everything into account, Windows 10 build 14291 is a small but significant release, especially now that Insiders can finally get their hands with extensions for Microsoft Edge. However, we're still months away from the first release of Redstone, as such we're expecting to see more in the near future.
Along with the changes, improvements, and features build 14291 also ships with a number of fixes and known issues you should be aware before installing.
Windows 10 resources
For more tips, coverage, and answers on Windows 10, you can visit the following resources:
Windows 10 help, tips, and tricks
What do you think about the new improvements and extension support for Microsoft Edge? Tell us what you think and the extension you would like to see coming to the browser.
Get the Windows Central Newsletter
All the latest news, reviews, and guides for Windows and Xbox diehards.
Mauro Huculak is technical writer for WindowsCentral.com. His primary focus is to write comprehensive how-tos to help users get the most out of Windows 10 and its many related technologies. He has an IT background with professional certifications from Microsoft, Cisco, and CompTIA, and he's a recognized member of the Microsoft MVP community.