Windows 10 build 15042 for desktop and 15043 for Mobile now rolling out to Insiders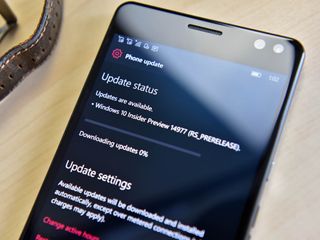 After taking a week to polish builds for Insiders, Microsoft is today rolling out build 15042 and 15043 for PC and Mobile to those in the Fast ring. Today's builds include mostly under the hood changes and fixes, as this last stretch of development focuses on polish rather than new features.
It's worth noting that this build will not be rolling out on 32-bit machines due to a blocking bug. Insiders on 32-bit machines will get the next Insider build instead.
What's new for PC?
New Cortana animation in OOBE (PC): We know how much you love animations, so we wanted to share with you our updated Cortana persona that you'll see when you land on the Cortana page in OOBE:
Cortana intro Cortana speaking Cortana Outro
Prompt to enable Flash in Microsoft Edge (PC): Back in Build 15002, we introduced click-to-run Flash by default in Microsoft Edge, for better security and performance across the Web. In today's build, we've added a new dialog in the URL bar to make it clearer when Flash content has been blocked. Just click the puzzle icon to allow Flash once or every time you return to the same site.
Improved reading experience with Microsoft Edge: You loved the new Edge reading experience and gave us a TON of feedback. Here are some we implemented:
When reading a locally saved EPUB book in Microsoft Edge on PC, a book icon will now be used in the place of the previous generic in the tab bar.
If you switch pages while an EPUB book is being read aloud in Microsoft Edge, the reader will now jump to that new location in the book.
If you've changed the read aloud settings when reading an EPUB in Microsoft Edge, those settings will now be preserved for subsequently opened books.
What's new for Mobile?
Microsoft does not list new features for Windows 10 Mobile.
You can check out the full changelog, including known issues at this link!
Get the Windows Central Newsletter
All the latest news, reviews, and guides for Windows and Xbox diehards.