Windows 10 build 15042 for desktop and 15043 for Mobile now rolling out to Insiders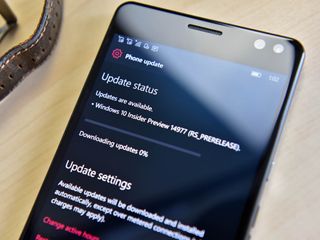 After taking a week to polish builds for Insiders, Microsoft is today rolling out build 15042 and 15043 for PC and Mobile to those in the Fast ring. Today's builds include mostly under the hood changes and fixes, as this last stretch of development focuses on polish rather than new features.
It's worth noting that this build will not be rolling out on 32-bit machines due to a blocking bug. Insiders on 32-bit machines will get the next Insider build instead.
What's new for PC?
New Cortana animation in OOBE (PC): We know how much you love animations, so we wanted to share with you our updated Cortana persona that you'll see when you land on the Cortana page in OOBE:
Cortana intro Cortana speaking Cortana Outro
Prompt to enable Flash in Microsoft Edge (PC): Back in Build 15002, we introduced click-to-run Flash by default in Microsoft Edge, for better security and performance across the Web. In today's build, we've added a new dialog in the URL bar to make it clearer when Flash content has been blocked. Just click the puzzle icon to allow Flash once or every time you return to the same site.
Improved reading experience with Microsoft Edge: You loved the new Edge reading experience and gave us a TON of feedback. Here are some we implemented:
When reading a locally saved EPUB book in Microsoft Edge on PC, a book icon will now be used in the place of the previous generic in the tab bar.
If you switch pages while an EPUB book is being read aloud in Microsoft Edge, the reader will now jump to that new location in the book.
If you've changed the read aloud settings when reading an EPUB in Microsoft Edge, those settings will now be preserved for subsequently opened books.
What's new for Mobile?
Microsoft does not list new features for Windows 10 Mobile.
You can check out the full changelog, including known issues at this link!
Windows Central Newsletter
Get the best of Windows Central in in your inbox, every day!
Zac Bowden is a Senior Editor at Windows Central. Bringing you exclusive coverage into the world of Windows on PCs, tablets, phones, and more. Also an avid collector of rare Microsoft prototype devices! Keep in touch on Twitter: @zacbowden.
Hope them fix the "stream to" issues

Microsoft's Mobile First Strategy,Explained...... Mobile build is a number ahead of the PC...!!! The most hyped continuum improvements coming soon...!!!

Quick somebody call a whaaaambulance

Yes, because nobody should question sh1thead Nutella for screwing over Windows mobile in the marketplace.

Which phone is that? Looks nice!

Could be the Idol.. that most people in the world didn't get a chance to see.

The guy who down voted.. pls send me an Idol 4S to India.

Its HP elite x3
Idol 4s has metal top

Why is someone else's photo on my profile?

"What's new for Mobile? Microsoft does not list new features for Windows 10 Mobile." LOL

I was wondering if anyone would point this out. Hilarious. It's probably just stability & bug fixes anyway. That or they're just changing the build numbers LOL.

Bug fix... Notifications pop up faster, Bluetooth and light now work, quick access tabs work and are now faster... Seemed to be unstable and broken in the last build.

what about Facebook messenger app for win10 mobile no audio/video call really need audio & video call for 1gb ram device not sure if we win10 mobile users can ever get audio/video call

I'm having music pause when notifications come in. Anyone else? On Bluetooth anyway

No this happens and i have to shut down groove, reopen, then it resumes where it left off. I am doing this update tonight

I can tell you one big feature my 1520 received. Ruining of the touch input. Press the screen once and it presses it multiple times in completely different places on the screen. Worst build ive ever used obviously. Almost felt like my original 1520.

Soon as i download this build I did a hard reset and factory settings Everything's better smooth also 1520 user Θ_Θ

Got new build 15043 on NOKIA 1320 ALSO...EXCITED

Its also downloading on nokia 1320

It might be your phone. Happened to my 1520. Got so bad after a while, across multiple builds, I had to stop using it. Research the issue on line. It, sadly, isn't the software. ☹

Click on the link in the article for list of the new features for the windows 10 mobile.

If u do follow the link dez a list of fixes, well atleast this time there are more fixes than issues

My 950 xl really needs a new build, last one was a big pain, lots of rebuts, lag, jus unlock the phone with the iris scan made the phone freeze. No new features, that's a shame.

Be ready for the down vote shower!! This is the only windows blog where I see people don't like new features!!!

Don't get me wrong, I love new features, but what I love most is OS that performs well and this build brings some polish and bug fixes, I'm happy

You mean Fast Insider. I had some issues but a new build was surely needed. Also when you really have issues and want to stay in the Fast Insider ring, do a factory reset. I did and it made a big difference. Daniel experienced the same.

I don't think we've had a new production build this year, or so it feels. Would be nice to get something.

What's up with this downvoting ? 😂😂 this guy literally just said "downloading"

Who is the dude on the right in your avatar? Not the dude on the left, the dude on the right...

Downloading = down voting. Uploading = up voting 😁 ok got it.

Damn, I'm stuck on a train to Edinburgh. Will get it Sunday. Sounds like very little for mobile.

It's faster, system menu and pull down menu are faster, Bluetooth and touch work better, seem smoother with each window opening and closing.

Should get BT settings back for mobile I hope. I'm installing now.

How good are these builds now? Are they polished enough for daily use?

Yep... on the 950 or XL should be good except few glitches here and there.

the last 2 mobile have been S*&T. i have never seen such issues with an insider build since before win 10 was released..

I went up to fast on the last build and wish I wouldn't have. It's been more unstable than I'd like.

I haven't had but a few issues it took two attempts to install but well worth smoother a few hangs but by resolved.so fitbit is back. Happy camper

Lumia Icon install went well and using it as daily driver. Battery life is not bad.

The last one wasn't but this one is

Last couple builds were bleh. Poor battery life, BT issues, group text issues. Went back to production a week ago, need my Bluetooth. Trying out this build. Sucker for narcissism.

Grove not working,film and tv app not working on lumia 535 showing error 0x8000ffff ,on build 14015

The only good thing you are doing to MS is that they'll remove Lumia 535 from any further w10m updates!!! Same happened to all those x20 devices where everyone complained for the "loading" screen and they removed them from the list of upgradable phones. Better do a factory reset and install all apps afresh.. should be much better.

"The icon for Windows Insider Program under Settings > Update & security is shown as a square." DEAL BREAKER!!! NOT INSTALLING THIS BUILD I SHANT HAVE A SQUARE ICON!!!!!!!!!!!!!!! /s

Up-Vote for using SHANT in a sentence!

If this irons out the bugs from the last build alone it'll be worth it. Downloading now

So no major bugs on mobile? Time to jump in the fast ring?

Lots of bugs have been fixed.
They've posted it on the blog

Do it. Like jumping in a swimming pool after a few chilly nights to grab that gold coin on the bottom. Or is it the reflection of the sun on ice? Fingers crossed, cannonball.

from Africa well only get it next year hehe

There is a list of bugs fixed (for mobile) on the given link

ALWAYS take off the belt before doing an update ALWAYS!
i always get the latest updates, love 'em, thanks for putting out these articles so i know when they arrive. bluetooth settings bug was a bit annoying last build but not too bad, keep 'em coming!

duplicate post, can't delete... when posting from win10 wincentral app the paper airplane does not acknowledge or give you a visual indication it has worked or posted so I hit it twice and it posted twice.

I uninstalled reinstalled and got a whole new version that at least works of the windcentral app

Wasn't the last build 14031 released on Feb 8th?

Me too. How does one get around this? Anybody? Bueller?

Try, one click, pray, shot of vodka, look, pray, see nothing, shot of vodka, look, nothing, pray, shot of vodka, hey it went! Oh wait, did it? I don't care, shot of vodka. Rinse and repeat.

Dreaded 0x80070273 error when updating...

Wish wallet was fixed, waiting on that before I jump on fast ring

Really? This is as close to final release as it can get!

Could it make my camera as before...?
Because my camera sucks with last build..

My phone is stuck on 15031 build and tries to download 15043, then throws up a "problem downloading some updates...will try later" message. (0x80070273) Any ideas how to get this to load?

I'm getting the same thing even after a soft reset

Please post a fix (obviously), anybody that finds one.

Guys, try Microsoft support? You can write or call them.

Try removing the sd if you have one then retry.

No but there's been bugs like the BT issue, and people in the fast ring cried a river over it so that definitely won't pass through to slow

Cried? Bluetooth was essentially broken until this build!

Right, the BT bug forced me to use my 950 instead of my 950XL.
Thank god for that BOGO so I could have a spare phone on production :) Production does kinda suck in some ways, however.. so I'll try this on my 950XL and see what happens.

That's why those builds were not promoted to the slow ring.

BT settings issue was clearly highlighted as a known issue before they released last build.

I,m not falling for this again staying at production....

Production isn't mich better, tbh

Production isn't mich better, tbh

I reckon this build then one more for insiders, the one after that will be the release build. Just my theory so don't quote me!

"We fixed an issue where the keyboard might dismiss after a second when opening a new tab in Microsoft Edge and quickly starting to type." Finally! 🙃

Well that's good because that's actually in the production build right now. I have a phone on production and fast and the bug has been in production for a while

Anyone got the mobile build installed yet, does it have the blue light/night light feature yet?

They aren't adding it to mobile imminently. Don't expect it to be in RS2 Creators Update, it would be nice if it was but remember its not a huge deal either

With the loss of apps, not adding a great feature kind of is a big deal for me.

It was a huge deal for me. I do some reading on my phone every night before bed, it's the only device I have that doesn't support blue light removal at this point. So I guess that takes away any appeal this build had for me :(

Likewise. I cannot look at any screens at night unless it has a blue light filter of some type. Used f.lux for years on my PC and iPhone (jailbroken) before I switched. Also doesn't help that the Lumia OLED screens are ridiculously bright even at the lowest brightness.

For those wondering about why there are no new features, My theory is that they are focusing on W10 so they can just use it on xARM. Just my thoughts

MS announced that Creators Update was feature complete recently, all new builds should just be bug catching and polishing up now

Not listed, but I got a tweet from Caitlin Hart saying that the sender name bug in Windows 10 Mail/Outlook Mail app is finally fixed.

Rebooted Icon and stuck at the "Nokia" screen.

My ICON still throws up the 80070273 error and won't install the new build. (I'm stuck on 15031, sigh.)

I haven't been able to get an insider update since around New Years on my ICON. I've been stuck on 14926. I just went to check just to see if this one update would go through and, lo and behold, its downloading! Strangely its 14965, but hey, its progress! its seems to be stuck at 77%, so I'm not breaking out the champagne just yet...

Same thing on a Lumia 930... Niiiiiiiiiice!

Why have you stolen my avatar? Or is this a new bug in Win Central app (mobile)?

Hmmm... now I have no avatar LOL
Wonder whether this is the new build or the WC app?!

Has anyone checked to see if Night Light has been added to Windows 10 Mobile? I have not installed the last couple builds but the last one I did, it was still missing. Hoping they add it since I like to read on my phone before sleep. :)

Nope, no need to check, isn't there

Oops. Just noticed someone else asked about Night Light. Durr. My bad!

A Mail and Calendar bug fix was mentioned in the Mobile fix section of the linked page. Hoping the calendar live tile was finally fixed to properly update at the start of each new day, regardless of events.

So far so good on my 950xl. Don't want to jinx it but seems to be running much smoother and battery is draining much slower.

I'm on a lumia 950 xl. This build does run a little smoother and I can finally add devices via Bluetooth. But have you notice the camera app locking up for a spit second when closing and switch to difference apps?

Nope I didn't.....til you just mentioned it. Happened soon as I tried it too. It doesn't happen every time but I tried it 5 or 6 times and at least twice it froze for a few seconds

My battery has been better since 2-3 builds ago. I'm looking forward to this build fixing the Bluetooth bug and hopefully less random restarts. I get those at least 4-5 times a day... kinda annoying

Not sure about the battery draining, will see after full charge but right now seems draining faster than charging and I am using my laptop to charge and I am using the phone at the same time.

I also have a 950xl, have your sms's been getting to you ok, had to keep rebooting mine to get a damn new text. Matters worse have you ever had your phone stuck for 72 hours pulling an update? I swear Microsoft has a strong bunch of patient enthusiasts.

Had this problem after the previous build (950XL dual SIM), now it seems to have been solved. However this kind of error, even for insiders, should have been fixed immediately - sms is one of two main functions of a phone, FFS.

I just want tap to pay!!!! Been on slow ring for I don't even know how long. At least I have a second phone dedicated to fast ring.

Just Installed on my Lumia Icon, Bluetooth works. No night light option like the desktop. Seems stable. Will check other functions soon.

No desktop watermark or expiry date! Next build should have the version number 1704

This is the RS2 release! All watermarks are gone and the codename indicates as such...also 32bit builds are now installing correctly as per the blog. MANY fixes in tow and a large number I experienced personally. Aside from Edge and WIndows Central now not allowing comments to be entered (box is un-editable)...

This is still version 1607, there will be one more insider build with version number 1704 (if it's that close, maybe even 1703), then the final release shortly after. Just my opinion

Can anyone confirm that this update has 4.69Gb on mobile? That's what it shows on my Lumia 950XL. That a huge update

That's nothing, have you ever seen how much Android can take up?

This is a must to fix the Bluetooth pairing issue, let's hope no detrimental new problems surface

If this fixes some or most of the bugs in the last build I'm going slow ring 😊

Won't really be required given we're a release or two from final RS2 bits... Maybe go Slow then?

I ended up doing hard reset and did not restore (fresh start) and then I wad able to get around this issue and was able to get 15031 build and this build.

Download and installation ran on Lumia 735 but the phone is frozen on the Microsoft splash screen after it restarted. Soft resets still freeze at splash screen. The phone is now a paperweight.

It happened to me the last build, you need to do a hard reset using key combo, or with the WDRT.

That happened to my 735 four or five builds back. Did a hard reset and not had that problem again but sure is a pain restoring everything. This current build is much better than the last, at least so far. Might move to slow ring soon.

Install was smooth on Surface Pro4 and mobile 950XL. Only bug so far is an install bug error on store update for Mail and Calendar. All else seems faster and cleaner. Glad settings are fixed.

OK, finally installed on 950XL but still an error on the PC.

Blutooth is working Lumia Icon!

Please fix Bluetooth on Mobile, please, please, please!

Bluetooth menus work on my 950XL again... but I cannot pair up any devices at all...Disappointing.

Correction, I connected a headset just fine... it's the Aukey headphones that were advertised on this site that won't connect to my 950XL even after this update. (won't connect to my 1520).. so, it looks like Bluetooth is fixed with this update!!

okay.... a reboot of the phone.. and the Aukeys and everything works... So I've paired an earpiece w/ mic... and my aukey headphones. good stuff.

Edge will not load in continuum. Can someone else confirm?

Thank you. I'll try a hard reset.

Yes same problem on 950xl

Mobile: VPN still not fixed Mobile: Edge videos flicking like strobe, and address bar issues not fixed. Mobile: Updates still to big to install on 8gb devices, resulting in removal of all apps. They really need to remove all junk after install. Mobile: SD card still won't decrypt from 4 builds ago. Mobile: Notifications not coming thru. Mobile: Life tiles appear to be better but not 100% fixed. Mobile: SMS threading still not working Mobile: Alarms not fixed, Ie not put in time order. Only a plus note, I'm sure they've fixed a broken emoji 😁

I literally have none of those issues. I'd suggest resetting and updating again.

We have reset.. So you have an encrpyted SD card that was encrypted 4 builds ago, which you've decrypted this build, amazing since there is no option to encrypt, let alone decrypt. You have VPN that does not randomly disconnect, please let me know which so I can swap to it.

How in the world to you get past the 80070273 in 15031 to get this build to download on my 929?

I turned off data/wifi. Rechecked for updates, it will fail, turn back on data and repeat. Should hopefully work.

Well, nice try anyway. Didn't work. Thanks for trying, though. Man, 15031 was a killer.

Hard reset. Set phone as clean install. Enroll to fast ring. Profit.

My X3 is not feeling good after this update... the phone is frozen at the "hp" logo.... Ok, everything is ok after a hard reset, now it's in the "Almost Done" phase. :)

Hard reset and fresh start if hard reset and restore does not work.

Please hurry up and release the next update because seriously my L950xl has been acting too buggy for far too long now. First was the black screen bug caused by WhatsApp calling, now the phone constantly restarts by just looking at it.

Installed update w/o issues (first time this year). They've fixed at least 3 probs of mine...ya!!!! This must be a release candidate as there's no "pre-release" number on the bottom right hand side of the desktop!!!

Yes this is likely a release candidate, but still shows as version 1607. I imagine the next build will be 1704

Thank you MSFT I now have been able to reestablish BT contact with my charge 2. Now if you'll enable GATT so notifications will be enabled that will be the best. THANK YOU

GATT server was enabled. It's up to Fitbit to update their app now.

Shame that this build doesn't carry the required enhancements to the bluetooth stack to allow Fitbit to implement notifications.

It DID. Many builds before. Now we are waiting for Fitbit.

Yes we all know that GATT server was enable a few builds back, it's the state of the Bluetooth stack that's the sticking point now. Fitbit themselves have confirmed as much here https://community.fitbit.com/t5/Windows-10-App/Fitbit-for-Windows-Track-...

Fitbit has the feature in a closed beta atm - it'll be released when the Creators Update hits production

Nope, Fitbit haven't deployed the new App for the closed beta yet.

PC won't upgrade from 15031. Hangs during reboot. May have to go back to 15025 and try again.
All three phones including the 1020, updated fine.

How is it running on the 1020?

Runs fine. Albeit a little slow. At least it updated, when the 640 had issues a few builds back.

I had some issues first try waited a bit restarted update all went well 2nd time. Wonderful sight see Fitbit re enabled on my 950 screen

When does a new update comes for the slow ring?It's months ago a had a new build.

Installed fine on test 640. Begins install on my test old Thinkpad T series w SSD but after final restart it freezes during Win Logo spinning circle. Force reboot. No go. Force again. No go. Force again. Reverts back to 15031. 3x. Insanity. Oh well.

Followed the three reg edit steps and install went fine after that.

Heading to device recovery tool. Ouch.

Better luck next time, for me.

my 1520 is hanging on the nokia logo after reboot from installation. any one else getting this error?

Yeah , I just waited and it resolved itself

No, sorry my 1520 updated to15043 with no problems, yet!!

tried to soft reset a couple of times but still stuck. I don't want to use the hard reset just yet. But seems like that's the next step. Will keep you updated.

well hard reset is in effect, spinning wheels are going. Lets see how it works.

Anyone else get a notification on their phone that says "Learn about Gestures Beta"?

I did. But then it was not in the notifications to click on.

hard reset worked so far, recovering from backup is working. So I hope no more problems. Word of advise do a back up before installing this update in the event you get into troubles just like I did.

https://mspoweruser.com/heres-whats-new-fixed-and-broken-in-windows-10-b... Here in MSPU they have shown what's fixed and what's still broken..

Nothing is broken according to the user above who replied to me

It looks like our computer was one of the "small percentage of PCs" that failed to update. Just finished with the Command Prompt (Admin) inputs that they listed. Rescanned for updates and now downloading again. They say it should work this time. I hope so. Time to try the phone.

Add mine to the list. How did you get it to complete? What cmd prompts admin? Thanks.

Follow the links on the website. It will take you to a Microsoft help site.

Worked like a champ. Thanks.

I can't seem to get to 14965 on slow ring to be able to get this. Well on slow ring really but I can't remember if I had to move the date ahead and all that jazz.

The Bluetooth menu finally doesn't crash out on mobile. But im sure they screwed up a bunch of other stuff...

Works perfectly on my iPhone 7

Just went from 'stock' Windows 10 Mobile to this insider - its ALOT faster. Happy woth update.

"stock" as in production ring?

Microsoft does not list new features for Windows 10 Mobile. Lmao. I can't stop laughing.

Just realized that I now have a device to test fast ring builds on since I upgrade to the X3

I have been using this build for almost 24 hours now and the bugs are showing through again. The back arrow on the home row at the bottom stops working correctly. My contacts suddenly disappeared, along with my sms messages. The time freezes and doesn't change after a while. The lock screen will not turn off. Ever. It stays on even when it is locked. My messages no longer consistently come in. When I reboot, it must be done twice or it will only stay on the HP letters forever. This build fixed many issues, but on the Elite x3, it's no where near ready. I've left feedback in the hub, but honestly, that whole app is a joke. I'm sticking with Windows of course, but this build is NOT READY right now for daily drivers. Do not use unless you are truly into beta testing. You will get frustrated. Rolling back to production now.

my X3 is bricked. I have tried reset, and windows device recovery tool. Nothing works.

Happen to me too. I had to use WDRT. Press power and up volume, once it vibrates let go of power button only. Will see a electric shock icon. Then WDRT will see it, and update to production. Then after all the install, join fast ring and install. Worked for me. Painful but the handset is so much better than last build. Worth trying.

Just stays at the HP logo forever.

Previous build was a piece of ****. Hope this one will do better

Hi, JISTO. Although I appreciate your candor and frankness, your reply would be MORE helpful if you gave an example. For example, peripheral devices were easier recognized by the previous build (v1607) than this latest rollout to Insiders."

I am on slow ring and have not received any update after 14986. Is that the most recent update for the slow ring?

so any more feature update? I expect they will update the action center and have a brightness bar as shown in the promotion videos.

Installed without a hitch here, PC running 15031 on a VM Ware machine

Just waiting for Mobile payment to start working again.

Does anyone received the clourful outlook mail on fastring. Not me!!

Had it last fast ring, lost it on this one. Weird.

Is this build stable enough as a daily driver for my Surface Pro 4 and 950 Xl?

Thanks. I'll give it a go!

Damn , I'm on .15025 and can't get past that. Did lots of things like, date change , switch slow/fast, change locale , language , reboots ... Still nothing

Hate to tell you, but doing a hard reset (or two) is probably the only way out of it. Don't forget to backup!

Hate to tell you, but doing a hard reset (or two) is probably the only way out of it. Don't forget to backup!

PLEASE fix this Major security bug
http://www.express.co.uk/life-style/science-technology/767198/windows-10...

Anyone can enter to the photos app by pressing camera button on lock screen without entering pin code .go through that article you will figure it out.

Careful with this update. I haven't been able to use Microsoft Edge on mobile build since this update. It is also impacting mobile web apps too. Issue had been reported via Feedback app by others too, so might want to skip this build if you can't do without a web browser on your device.

No issue with Edge according to user above.

Anyone else having issues with Quite Hours rules NOT activating automatically?

Anyone have an issue with the wired connection in Gadgets constantly saying connected when nothing is plugged in?
Wanting to try Dynamic lock, but the phone connects with the PC, and then disconnects.

Smooth and perfect on PC and 950

640 much better experience than the previous build. Everything works fine

This build is Much netter than the previous one. For the first time I can stream content from my BlackBerry to my surface. Chrome has no flickering context menu, settings - devices is working. This build is pretty snappy and responsive.
Thumbs up for this build!

Great build and very stable. Anyone can try it. Fix list tells its seriousness. Just a few things left. Like some app icons not there in notification settings page. Empty squares i mean. And notification settings page is quite slow.

Other changes, improvements, and fixes for Mobile We fixed the issue causing the Settings app to crash when navigating to Settings > Devices and you should be able to pair a Bluetooth device without any issue. The Bluetooth quick action from Action Center should also now work again. This issue could have also resulted in decreased Flashlight quick action reliability. Using Continuum to connect to a display wirelessly should also work as expected. We fixed an issue resulting in screen rotation sometimes unexpectedly not working on the last Insider flight. We fixed an issue where live tiles were not updating some apps such as Outlook Mail and Calendar. We fixed an issue where under Settings > Update & security > Phone update Insiders might see the text "Some Settings are managed by your organization" even though the phone wasn't being managed by an organization. We fixed an issue from recent flights where you couldn't paste or drag a folder from the PC to your phone We fixed an issue where tapping the link for a website with an associated app would crash Microsoft Edge and not open the associated app. We fixed an issue where downloads from Microsoft Edge directly to an SD card might unexpectedly use space on the local phone storage as well. We fixed an issue where the keyboard might dismiss after a second when opening a new tab in Microsoft Edge and quickly starting to type. We've fixed an issue that could result in your personal typing dictionary being unexpectedly deleted and having to train the keyboard from scratch. We fixed an issue where, during the download of a phone update, after disconnecting then reconnecting to Wi-Fi due to low reception you might get an error saying the download needs a better connection to continue, despite currently being connected to a good Wi-Fi connection. We've improved the video playback experience when using Continuum for phone wirelessly over Miracast. The icon for Windows Insider Program under Settings > Update & security should be no longer a square.

My Acer Laptop doesn't want to know - freezes half way through update!

Phone seems fine but computer blew up when tried to update. Rebooted to install and it came back a little bit later with my bitlocker drive showing unformatted! Can unlock it but it just tells me to format it.

My imitation of the latest update:
Loading... Resuming...
Really? After all this time we still have to deal with this crap?

Nice update, work good on my 950 ☺

Same here. 950 working like a champ on build 15031. Thank heavens the BT issue is fixed! Sure, NFC worked, but still. Edge seems to be loading faster.

15031? Wasn't that the build that broke BT?

Updates to a dead platform huh....Windows for mobile that is.

Not as dead as you might think my friend!!!!!

That was my frustration talking....but how dead is dead? Viber just ended support that is one of the last nails on the coffin. This is heartbreaking....i don't see us bouncing back. What's the hope? Surface phone? Can it bring about a revolution that iPhone brought with the first one? I don't doubt MS' ability to create a mind boggling device but any device drastically more advanced than the current generation iphones and high end android devices would be way ahead of time, therefore will fail. So if they made a phone similar to current smart devices why would anyone want it? We already have them.
I am no expert or trade analyst but that's what I think.

Yes, if they make new device form factor with full windows 10 on ARM it will be so expensive and again fail to get developers attention. They are too late in the smartphone world dominated by ios and android. So many people are familiar with ios and android if Microsoft tries to make pocket pc (surface phone) which is different than a smartphone i doubt very few people will buy it. Supporting wm 10 is the only option left for them right now.

Panasonic released new tough smartphone of windows mobile

Build works great on 950/xl

No more L930 reboots due to Edge, Flash light shortcut is working, as Bt new devices too, a litle battery draining for now

Looks like the update will be released with version number 1703 rather than 1704. I think it will RTM maybe next week

I went from release preview to fast ring on this update for my 950. Update went without a hitch. Seems solid enough as a daily driver now for me. Your mileage may vary.

Fixed my main issues with the last update. Only issue is still with the outlook mail app. It doesn't show attachments from @mail.mil accounts. Can anyone recommend a good email app to use until MS fixes their email app?

Got my 950XL singing and dancing again. All features broken in last build are back. Some battery drain on first use but it seems to have settled down after it got itself sorted out. Feels crisp and responsive. Nice.

This build couldn't come a moment too soon! I was about to wipe and restore with a release build right before 15043 became available. The last build was extremely rough

Almost did the same thing.

hmm this build would not load onto my computer which is a 64 bit CPU device. will try again. My Computewr auto booted back to it's older version.

Follow the instructions for the three admin prompts. Did that, and it installed fine.

My 929 (yes, I'm on Verizon, so this is the best I can do) would not download this build...the dreaded 80070273 error has me stuck on 15031. I'm moving to the MDRT for a complete rebuild. This is going to be my primary phone...should I stick with the 393 build or jump up to 15043 and then drop down to Slow Ring. Thoughts? Thanks.

Just do hard reset and don't restore, do fresh start. This is what I had to do on my Lumia icon.

Guess I'm going that route. My Icon will not update either...

I did the deal and went Slow ring to 15024. So far, everything is great.

I am a Windows fan through and through. But this is Unbelievable! Phone numbers are still not recognized as links in Mail and Calendar app. Why is this so challenging for MS to do?

installed the updated version on my pc. seams better still issues with commenting on windowscentral with edge. hope you guys can resolve that before it is released.

I've switched my surface pro 4 from "release preview" ring to "fast" ring over 24 hours ago and it still can't find the update to build 15042. Any suggestions?

"Windows 10 Insider Preview 15042 (rs2_release) - Error 0x800703ed"
No information avaialble regarding this, error on pc.

They will release production build for pc in upcoming weeks

I got a 1520.....may try it soon

Mobile data stats missing from data status again.

Anyone have success with dynamic lock?

I'm not sure it works the way we or at least I imagined it would. I thought as long as my phone was connected to the pc via Bluetooth then it would mean I wouldn't need to enter my pin to unlock the pc each time I logged on. What I think actually happens is that if you walk out of Bluetooth range with your phone then the pc will lock but not unlock again when you return back in range. It seems to be a one way kinda deal of that makes sense?

I cannot get mine to lock when I walk away. Or even when I turn Bluetooth off.

I hope they change new animated "Busy Cursor" that look a like new Cortana OOBE! Looks great!☺

Does anyone else have the regular keyboard come up to enter Pin at start up instead of the numbers only keyboard?

In AAWP Universal, Steve tested Lumia 950 XL on early Redstone 2 builds compared with HP X3 on Redstone 1. He said that Redstone 2 is 20-25% faster due to onecore optimizations.
I tested two 950 XL's side by side from this update with 14393.726. Out of 12 apps opened, only 2 opened faster by a millisecond on the Redstone 1.
Windows 10 will continue getting faster.
I think Redstone 1 is not on the level of ios 10 or android 6. Speed tests comparing them would be fair from CU.

If u have updated to 15031, then definitely update to 15043 for good results. Nice build.

I had just purchased a Seagate 5400 rpm 32mb cache 4 TB HDD to use externally/USB for storing video it was working fine in build 15031. With build 15042 now deployed, it wont recognize the HDD, I can see it in Device manager but not in Disc management or file explorer, does anyone know of a fix?? (I tried all the basic power management, USB type fixes) Any help or advice is greatly appreciated, Thank You!

Downloading on NOKIA 1320 ALSO

Thanks to dth advisor app

I have a 650. I was on preview and now I went on to the fast ring. The battery goes fast. Maybe I have to do a hard reset. But do I loose than my language packages?

No I think you can get it all back, cloud baby, cloud.

On 2 devices (650+950) download and Installation went through, but after restart both stuck on Windows logo, after some time glance Screen appears. On L650 made a hard reset over Hardware Buttons to get it work.
On L950 I wait....

Any one with a 535 dat goes blank.

Turn on double tap to wakeup it will fix this issue

I think MSFT should consider hiring some developers from Google.
Android seems to get new features faster and with much ease.
It literally takes ages to correctly implement some basic simple features in W10 mobile

I really just want the 3D scanner accompanying paint, and I'll be happy. Rest is quite alright :)

Groove music is not working in this build

Here is the build review in case you want to see https://youtu.be/0ptfUdWIDlw

This build wrecked my 950. My phone can't boot up now. Off to WDRT :-/

So I am not the only one...

Yes it get stuck on windows logo hard reset solved it for me

Stuck on Windows logo for ~2h40m so I did the force restart. Now stuck again on Windows logo for last 15m. Sigh.

Do hard reset by pressing volume down key ! This will appear and then vol up and vol down and power button. The restart process will begin

I waited till they released this to the slow version but I have suffered the same fate. Stuck on the windows logo. Looks like a Hard reset for me too.

They have released new fast ring build today. Don't go to slow ring you will face same problem

if stuck after restart... i take out sdcard and force reboot a couple time. then leave it. after while im in. mine on 640xl DS.

Anyone found the feedback hub doesn't work, how we supposed to leave feedback

Update bricked my Icon so I needed to restore to 8.0, 8.1, 10 etc.....
No more insider builds for me ☹

Do hard reset and fresh start, don't restore. No need to go back to 8.x.

Guys am i the only one who face a problem, where display sometimes turns off and phone restart automatically ??

My Lumia icon is running ok so far and don't want to jinx it. I think you need to do hard reset and do fresh start instead of restore.

Hmm, will take it to my consideration, thanks alot

Dear All please suggest, I am using Lumia 720 with Windows 8.1 , I tried several times buy my phone not picking any windows 10 update. I have downloaded windows inside as well.

How van i go back to RP ring.. It shows only fast and slow

Black screen issue fix :- turn on double tap to wakeup

I can't get it on my Lumia 430 😪😪 it keeps saying my phone is up to date

Why the update size is 4.69 gb for win10 mobile?can anyone explain pls?

i have encountered with a problem that my phone lumia 535 goes with black screen while power is on.what's the matter?i have to restart it again and again.please fix it.i have latest build 15043.

So much for polish!!! THis is the worst. I am constantly bombarded with "Email settings out-of-date" for every email account and Groove Music does not even work!! Rolling back again...

I gave up on fast ring with the 15031, made my 650 too unstable, back to production ring till MS gets their act together.
Windows Central Newsletter
Thank you for signing up to Windows Central. You will receive a verification email shortly.
There was a problem. Please refresh the page and try again.