Windows 10 build 15046 (and earlier) for PC: Everything you need to know
Are you still wondering what's been going on with the Windows 10 Creators Update previews in February? Here we dive into the new features and improvements for the most recent builds.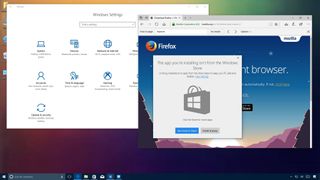 Microsoft is now rolling out Windows 10 build 15046 for PCs enrolled in the Fast ring starting yesterday. This release is a minor update, but it includes a few new features and improvements, including "Pick up where you left off" in Cortana, and the ability to block non-Store apps on Windows 10.
Also, during the month of February, the company made available Windows 10 build 15042, 15031, and 15025, which are also small updates, but they all bring something to the OS, including system improvements, changes on Microsoft Edge, new settings options, and more.
In this guide, we'll have a close look at what's been going on in the past four Windows 10 Insider preview builds for the Creators Update.
Windows 10 Creators Update recent additions
Cortana & Action Center
On Windows 10 build 15046, after much testing, you'll see Cortana in the Taskbar dressing its final color. However, users won't see any difference as it's simply back to its original color due to feedback from the community.
Perhaps the most exciting addition is the ability to pick up where you left off across devices using Cortana. On build 15046, you can start working on a file or an app, or you can start reading an article online using Microsoft Edge on your tablet, and you can resume your work on another computer by simply opening Cortana, and clicking the activity under "Pick up where you left off."
Cortana only shows your top three activities, but you can click the See more link to see today and last week activities you can resume. In previous builds, this new feature only showed web site links in the Action Center.
Note: Pick up where you left off in Cortana is currently only available for Windows 10 users in the United States.
Settings
The Settings app also adds a few new changes, including a new icon for Gaming that aligns with the rest of the icons. The "Mixed Reality" section is no longer available; Night Light gets a few tweaks, you can now block non-Store apps on Windows 10, and much more.
Display
On Settings > System > Display, the Night Light feature have received a few tweaks with build 15025 and build 15042.
In the Night Light feature that reduces the blue light on your monitor, the range has been extended, and you can set the color temperature up to 1200K, which is very red, and the on/off animation now takes 2 minutes.
Apps & features
On Settings > Apps the Apps & features page is getting a new option the let you control the type of apps that can be installed on your computer.
Starting with build 15042, you can choose to install only apps from the Windows Store, which helps to keep your device protected and running at peak performance.
You can also select the option to be warned before installing an app that isn't from the Store, but you can still install apps from anywhere. In some cases, when a warning pops up, you'll see a link to get the similar app in the Store if available.
Finally, you have the option to install any app you want from anywhere without warning. These choices are optional, which means that default behavior is to allow apps from anywhere.
Accounts
On Settings > Accounts, the Sign-in options page includes Dynamic Lock, which is a new security feature that lets you link your phone to lock your device when you step away.
For the feature to work, you must first pair your phone to your PC using Bluetooth and then turn on the "Allow Windows to detect when you're away and automatically lock the device" toggle switch in the Sign-in options page. Once the Dynamic Lock is enabled, when your phone isn't near your computer, Windows 10 will wait 30 seconds, and it'll turn off the screen and lock your computer.
Dynamic Lock appeared in previous builds, but Microsoft made it official in build 15031.
Gaming
On Settings > Gaming, all the sections have their corresponding icons. You'll also find that the Game bar settings page has been updated to make easier to create shortcuts to open Game bar, take screenshots, and more.
Easy of Access
On Settings > Easy of Access, in the Narrator page, you can download and install Braille support on Windows 10.
After the components have been installed, you'll find a new Braille section, where you can turn on/off the feature, add a new braille display, change language and table type.
Windows Update
On Settings > Update & security, the Windows Update page doesn't include significant improvements over previous builds, but now you'll get a new experience changing the Active Hours settings.
Inside Advanced options, you can still pause an update for up to 35 days, but the ability to configure the update branch and skip driver updates have been removed.
Windows Defender
On Settings > Windows Defender, starting with Windows 10 build 15042, you'll no longer find the settings to control Windows Defender Antivirus. Instead, you'll find a button to change the antivirus settings using Windows Defender Security Center.
System
Under the hood, Microsoft is also introducing "compact overlay" with build 15031, which is a new mode that allows developers to add a picture-in-picture experience for Windows Store apps.
This new feature is meant to help you to continue to do other things, such as having a Skype call or watching a video while you're working on a document or checking your emails, for example.
Currently, only Movies & TV has the feature, but Skype Preview and other apps will get an update to support the option soon.
On Windows 10 build 15031, Microsoft also introduced a new share icon that is easier to identify. Apps with sharing capabilities that use the glyph font in Segoe MDL2 assets should get this new icon automatically.
Windows Defender Security Center
The Windows 10 Creators Update also introduces the "Windows Defender Security Center," which is the new hub not only to manage the default anti-malware protection, but to control your device security, performance, and more.
Starting with Windows 10 build 15046, you'll find a new App & browser control section, which allows you to configure the SmartScreen to protect your computer from malicious apps and sites, and web content within Windows Store apps.
And you can change all the available options in the settings page for the Windows Defender Security Center.
Alongside with these new improvements, the Windows Defender Antivirus icons in the notification area have been updated to make it easier to identify your protection status. Clicking the icon now opens the Windows Defender Security Center, instead of the old dashboard.
Microsoft Edge
On Windows 10 build 15046, Microsoft Edge jumps to version 40.15046, and while it doesn't introduce new features in the latest update, we can see a few improvements included with build 15042.
In previous Insider preview builds, the web browser introduced the ability to block Flash content by default to improve security, performance, and battery life. Starting with build 15042, Edge now shows a dialog that makes it clear that Flash content has been blocked.
If you want to unblock the content, just click the puzzle icon in the address bar and allow Flash once or every time you go back to the same website.
Microsoft Edge also can read e-books you purchase from the Store or saved locally on your computer. In the latest preview, there are a few changes, including a new book icon in the tab bar when reading locally saved epub books on your PC.
Switching pages while using the read aloud feature, the reader will now jump to the new location. And read aloud settings will be preserved when reopening books.
Last but not least, there is also a new button to open the Hub section.
Other improvements
Based on feedback, on Windows 10 build 15046, Microsoft is also improving the Windows 10 translation for non-English languages. You will see some of these changes in the updated out-of-box-experience, on newer settings, and throughout the OS.
Windows 10 build 15031 introduces a new update for the out-of-box experience that detects and skips Cortana if no audio output is detected.
Finally, using a Precision touchpad, on build 15031 and later, Windows 10 improves gesture recognition for three-finger swipes.
Wrapping things up
Although the new features and improvements released during the month of February are not particularly significant changes, they are welcome additions that make the Windows 10 Creators Update a little more complete.
Overall these are solid previews, but it's still not recommended to install any of these releases on your primary machine, as there are still bugs and things not working correctly. For example, for some reason, Microsoft Edge keeps launching by itself on my installation, and it took me a few tries to get connected using Cortana.
Remember that Microsoft has already locked all the features planned for the new desktop version of Windows 10. This means that any follow-up build we receive will only include new changes and bug fixes, as the company is currently focused on making the Creators Update stable for the expected April rollout.
More Windows 10 resources
For more help articles, coverage, and answers to common questions about Windows 10 visit the following resources:
Windows 10 help, tips, and tricks
Windows Central Newsletter
Get the best of Windows Central in your inbox, every day!
Mauro Huculak is technical writer for WindowsCentral.com. His primary focus is to write comprehensive how-tos to help users get the most out of Windows 10 and its many related technologies. He has an IT background with professional certifications from Microsoft, Cisco, and CompTIA, and he's a recognized member of the Microsoft MVP community.
Do a video in picture in picture like feature plz.

Immediate #fail you show Firefox. It should be #edge in the screenshots.

it was to show the blocking option of win32

#Firefoxhasfeelingsaswell

the rest of photos in the article show Microsoft Edge.

Isn't that Edge, just on the page to download Firefox, showing the alert when trying to install a non-Store app? By the way, I love Edge and use it as my primary browser (Opera second), but I use Firefox almost exclusively to view Windows Central, because I love it's ability to use the WindowsCentral RSS feed for a dynamic bookmark listing all of the articles in the past day or two. Also, on all of the computers I use (several), this site has two posting problem unique to Edge: 1) if I hit Enter to add a new paragraph in a comment, the cursor bounces back to the top of the comment box instead of going down to the next line like it should (maybe an incentive to keep to shorter comments without interal pargarahpsinternal paragraphs?) 2) when finished and hit the pink Comment button, the comment remains on the screen filled with the HTML codes like it crashed, appearing like it failed to post (it actually does post, just looks like it didn't) These issues only happen with Edge. It's ironic that Edge works on virtually every site for me EXCEPT Windows Central. Do you not have these problems?

On fast builds I cant even type a comment in edge. I use anything else that will work. Lol #first. I was being a little bit of a joker. A good non store app to promote could have been itunes or chrome or how to block steam from your kids lol.

@swizzlerz -- ah different build for me. I'm on Insider for mobile, but production releases for my computers (almost all or connected to company Domains). I wonder if the problems I have with Edge on Windows Central will be fixed in the Creator's Update. Because I only have problems with Edge on WC, I assume at least part of the problem is WC.

Yes its been non stop reports to feedback. Fix wc and twitter. Well twitter is better now. Not wc.

I have Windows 10 but don't use Edge

Is it really called "Easy of Access?" I'm still downloading 15046. On all prior builds it says "Ease of Access" so I assume this is a double typo in the article.

The author of this article made a typo. It is still called "Ease of Access"

"Obama to run for president in France"😱

This should be deleted. Don't bring that bull here.

@Montpbm. Actually Heidi Elyas was referring to one of the screenshots in the article ergo the speech marks :).

Oh ok I'm sorry, my bad Heidi lol. :) well my comment needs to deleted. Pretend I didn't say anything. :)

:) have asked for a cleanup on aisle 9.

Why remove the ability to skip driver updates?
:(. I absolutely loathe the drivers pushed by WU as in most cases they are the cause of many issues.

Not sure either, but this will going to be an issue in the future when Creators Updates get released and some machines experience driver related problem. Drivers should be always optional to install unless user wants to. Sometimes Windows Update cause conflict on currently installed drivers and WU keeps insisting it causing Update errors.

I know what you mean, this is the install process on my laptop. This process may look long winded but it takes me several minutes, an ssd speeds so many things up lol. 1) Clean install 2) Not connect to the internet at login 3) Open up group policy and configure updates to notify to download and install 4) Open up control panel, change device installation settings from Yes to No (Don't want to download OEM apps and icons) 5) Reboot, install troubleshooter and firewall + AV 6) Configure firewall and update, run troubleshooter, hide Intel and AMD Windows Update drivers 7) Install said drivers from relevant installers (I use LeshCat's Drivers) 8) Run windows update. This is to avoid the driver conflicts with intel and amd drivers... the WU ones are completely broken.

Dynamic lock is still not working for me.

Do you use a Windows phone (running W10M) or Android phone (running Android 4.4+)???

We have a Lumia 635, 640 and 650. All are paired, but none work with DL. Only one phone's BT is on at a time. I can transfer files, but the DL doesn't work. Phone shows as Not Connected until I actually need BT. Even left the house, and it still did not log out.

You do knew it only locks your pc/laptop and doesn't unlock it again when back in range? I think it should be both ways personally. Dynamic Lock definitely works for me though. A few times I've walked away from my Surface Pro 2 with my phone and came back a few seconds later to find it locked

Yeah, at least for Windows and Android this should be also make smartphones unlock PC via Windows Hello on W10M and Cortana app on Android. Though Samsung Galaxy is already going to support it, I think W10M should at least take advantage of integration more universally.

The dynamic lock works, as far as I know, by just looking if your phone is connected. If you are loosing connection by getting out of bluetooth range, or switch bluetooth off, your pc locks. Having the pc automatically unlock this way would be odd, as it would unlock when you simply get in Bluetooth range again without you being at hand. For unlocking I rather would use Windows Hello; maybe the pc could "wake up" if your phone is connected with a certain signal strength but not unlock itself.

Agreed, but surely there must be a way of programmatically determining distance over a bluetooth connection? For instance, measure signal strength or ping time or something. That way it could auto-unlock when within 10 ft (or whatever) rather than 100 ft.

Must be getting close to the final version because the latest update has removed the notation at the bottom right corner that says it is a pre release and the version number.

that was removed since the last build

I haven't received the Movies & TV update yet... 🤔😕

it's because you have a strange name. Windows Update doesn't like it.

If you're hoping to get the pic-in-pic feature, that won't happen until later... Thanks,

Now another article on Mobile will ice the cake :)

Is the warning about installing apps not from the store leading to only the pro version being able to install these apps

I use f.lux for dimming the display on my laptop. I wish the night light feature comes to W10M too.

Is hand-off feature US only?

Pick up where you left off is only available in the US for now. Thanks,

in the "one feature only i care about" category, will the surface dial finally work onscreen on the surface book? Or are we still waiting for a firmware update? I was under the impression that the firmware was ready but we were waiting on the creators update to activate it. And by we, i just mean me. alone :(

It's not going to happen. It's a hardware limitation AFAIK. You can use it off-screen though

I've confirmed that the screen supports the function, just waiting for them to activate it.

I can guess its only for 64 os.

How effective is the GAME MODE?
On a low-medium end PC, like 6GB RAM, 2GB graphic card. Does it provide significant improvement??

I wish they would finally give better filter options in the store. It is extremely inconvenient to find Apps that are build for Windows 10, or are available on all platforms (true UWP) etc. Also sucks that the skip driver update option is gone. I constantly have to re-install my audio and touchpad drivers as each windows update overwrites them with the generic drivers.

Did anybody test Cortana and sync between devices? I've not seen any comments on this for the RS2. For instance, when asking Cortana to text someone on my PC (RS1) "she" sends the text to my phone (also RS1), which can take a while. I use Skype Preview for text sync (which is much faster), so it makes little sense to have Cortana do the slow and roundabout transfer-text-to-phone-to-send. Are there updates to this and other cross-device syncing in RS2? (If so, why hasn't this been reported?)

What about the Windows 10 Creators Update for Mobile? Will we get any feature for Mobile in which Microsoft Edge will be able to read eBooks?

GIVE US NEON NEON NEON NEON NEON NEON NEON

I don't know if it was the Windows update or ios but now my iPhone will not conect via Bluetooh.

Had the same issue. Rebooted the iPad, and it paired up fine.

Three problems are really bother me. 1. Edge loses Favorites. Imported from ie and all looks ok. Close and reopen Edge, many Favorites got lost.
2. Waking up from standby causes a reboot.
3. System shuts down itself when waking up from hibernation.

Any chance to see the dynamic lock feature coming to MS Band as earlier annnounced?

I am getting this error: Windows 10 Insider Preview 15046 (rs2_release) - Error 0x80070002. How to get around this?