Latest Windows 11 Beta and Dev builds causing Start menu, taskbar to disappear for many. Here's how to fix it [Updated]
Microsoft's latest beta build causing a headache as a "known issue" has gone even more rampant.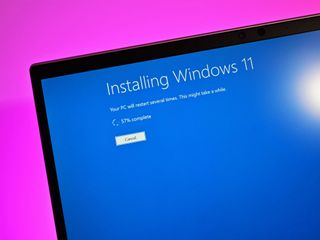 (Image credit: Daniel Rubino / Windows Central)
What you need to know
Windows 11 build 22000.176 in the Beta Channel has a serious "known" bug.
The bug causing the Start menu and taskmanager to disappear upon rebooting.
While the issue is known, it seems to be very widespread.
One fix is to disable the syncing of time and date in Control Panel. Here's how to do it.
Update #2 September 3: A new report suggests a pop-up for Microsoft Teams may have caused the problem, not the Insider builds themselves.
Update #1 September 2: Microsoft has published its own fix, which requires modification of the registry. The info is re-posted below.
There are known issues, and then there's one helluva known issue. Turns out, today's Windows 11 Beta Channel release (build 22000.176) is wreaking havoc on many more PCs than previously.
The issue is simple. You restart your PC and are greeted with a barren desktop. No Start menu, no taskbar. You can still run apps from the Taskmanager, and if you're fluent in CMD can get a lot done. But for most users, this is nothing short of a nightmare.
The issue is listed in the release notes, and states:
While this is a known issue, going by Reddit tonight, it's a widespread one, not just a few random computers. In one thread, there are over 200 comments so far from people all hit with the same problem. Indeed, our own top-tier Core i9 desktop PC has suffered the same fate (but not our other three laptops).
The workaround from Microsoft seems simple enough: roll back the update either through the OS or through Windows Recovery. But users, including ourselves, find that either uninstalling the latest updates or going back to an earlier Restore Point does not fix the problem.
As a result, many people are stuck tonight.
Official solution is here
Microsoft updated its own blog with the following information:
Use CTRL-ALT-DEL and choose to open Task Manager.
Choose "More details" at the bottom of Task Manager to expand Task Manager.
Go to "File" and choose "Run new task".
Type "cmd" in the "Open" field.
Paste the following: reg delete HKCU\SOFTWARE\Microsoft\Windows\CurrentVersion\IrisService /f && shutdown -r -t 0
Hit enter, and then your PC should reboot. After rebooting, everything should be back to normal.
Others are reporting that an official update is coming through Windows Update, but we have not seen it yet on our devices.
Temp solution? Don't sync the Time and Date.
Note: The methods below are now outdated. You can still do them, but using the above method is easier and what Microsoft recommends.
The easiest way to do get your PC back is by disabling the system clock from synching to the internet.
Here's how:
Press Ctrl-Alt-Del
Select TaskManager
Select More details
Select File > Run new task
Type control.exe
In Control Panel, navigate to Clock and Region
Choose Set the time and date
Under Internet Time go to Change settings and uncheck Synchronize with an Internet time server
Go back to Date and Time tab and select Change date and timezone
Set the calendar to a few days ahead of the current date and hit OK
Restart the PC
After rebooting, if everything is working, it appears you can set the time and date back manually and still be OK after another reboot. If not, you now know how to fix it!
Thanks, Daniel C. and MofLevi, for this tip!
Another method is found below, although you don't need to do both. This method creates a new user account and starts anew.
Here's how to do it:
Press Ctrl-Alt-Del
Select TaskManager
Select More details
Select File > Run new task
Type in CMD with Create this task with administrative privileges enabled
At the command prompt, type: net user username password /ADD replacing "username" and "password" with your choice, e.g., net user Bill 12345 /ADD. Hit Enter.
We then need to give that account administrative level access. At the command prompt, type: net localgroup administrators username /ADD replacing "username" with the account name chosen in step 6 above and hitting Enter.
Press Ctrl-Alt-Del again
Choose Switch users and log into the new account
Following these steps will re-launch the out-of-box experience and get you back into Windows 11 with the Start menu and taskbar. However, it's a new account, so all your old apps will need to be re-setup.
Your old, original account is still present, and nothing has changed. Once Microsoft pushed out an update, you can go back to the original account and delete this newly created temp, local account.
Let us know if it has worked for you, or if you have found another solution in comments!
Thanks for the tip, Paul K.!
Windows Central Newsletter
Get the best of Windows Central in in your inbox, every day!
Daniel Rubino is the Editor-in-chief of Windows Central, head reviewer, podcast co-host, and analyst. He has been covering Microsoft since 2007 when this site was called WMExperts (and later Windows Phone Central). His interests include Windows, laptops, next-gen computing, and for some reason, watches. Before all this tech stuff, he worked on a Ph.D. in linguistics, watched people sleep (for medical purposes!), and ran the projectors at movie theaters because it was fun.
they sent out email that its time to switch to Beta to receive more stable release. we get it is BETA but a known bug for Start Menu to be released in BETA... meh

Yeah, it's a pretty aggressive bug.

Do we leave the date set ahead after reboot or can we set to correct?

That I don't know ... haven't tried it yet! lol Update: OK, I set the correct time/date and rebooted ... all good so far 👍

I changed the date and was able to get the Taskbar back working. I then opened update and another update was there downloading and installing. After that was done I changed the date back and all was fine. I wouldn't change the date until you've received the update or used Microsoft's change to the registry.

If you'd rather run it with your original user try this: 1. CTRL-Alt-Del and start Taskmanager
2. File -- Run new Task -- control
3. The Control Panel opens and go to "Date and Time"
4. Move the Date to one day ahead.
5. Reboot
6. Everything worked for me again. Not sure how the Date and Time thing connects to the Explorer, but hey.. it's Microsoft.
Hope that helps.

Yup, verified that worked here and updated the article with a how-to on that. Thanks.

what an amazing find to fix it. Start Menu wont work coz your date and time and syncing.. LOL

It's happened to my Surface 6 pro and had to restore my system backup through Aomei backupper then paused windows update

This bug is pretty nasty and looks like I got unlucky this time. Pretty much my Insider builds on the past were fairly stable. Though I know the very risks running Insider builds. But yeah, gotta apply this on my another PC. Apparently 2 of my machine with Insider build affected by this. I had to rename my NTUSER.dat on my laptop with Insider build to test and taking a while to rebuild that. Unlucky that the this solution arrived late, as I might saved some time with this official fix. Will try this on another machine instead. But it is interesting that some server side issue actually affected client machines on shell after reboot. Microsoft really needs to be careful and hopefully develop preventative measures that this won't happen this on any production builds.

I mounted the Win11 ISO (VMware) and run setup.exe from a command line, kept everything and once it finished I was back in business. Of course, I found this article half way through. I searched everywhere but here... shame on me.

Daniel, I paused updates immediately tonight, as soon as I read the Reddit posts about the big bug in 176. But the lame update had already been downloaded to my computer and was awaiting a restart to install during off-peak hours. So, now I have updates paused for 7 days. What next? Will a patched update next week supplant today's bad one from installing? Is there anything I should do to prepare for resumption of updates on September 9? I'm on the beta channel, not dev.

TBH, not every PC is experiencing this, so you may want to just take the chance. Bookmark this page and you can just follow the fixes on your phone. The fix takes like < 2 minutes, it's super easy to do.

Thanks for the speedy work to share out a solution! You guys really came thru for everyone!

Cheers. Wrecked my evening, but glad others are getting the help! 😂

UPDATE 7:10PM PDT: Recently, Windows Insiders in both the Dev and Beta Channels began reporting that Start and Taskbar were unresponsive and Settings and other areas of the OS wouldn't load. We quickly discovered an issue with a server-side deployment that went out to Insiders and canceled that deployment. If you were impacted by this issue, you can use the following steps to get back into a working state on your PC.
Step 1: Use CTRL-ALT-DEL and choose to open Task Manager.
Step 2: Choose "More details" at the bottom of Task Manager to expand Task Manager.
Step 3: Go to "File" and choose "Run new task".
Step 4: Type "cmd" in the "Open" field.
Step 5: Paste the following: reg delete HKCU\SOFTWARE\Microsoft\Windows\CurrentVersion\IrisService /f && shutdown -r -t 0
Step 6: Hit enter, and then your PC should reboot. After rebooting, everything should be back to normal.

Thanks for reposting an hour later what is already in the article?

He needed to feel good about himself

Isn't it much easier to use the new Settings app to stop sync with internet time? Why go through all this?

With the bug you can't get to the settings app unless you do one of the workarounds

Oh right. I haven't experienced it yet. So didn't know that wasn't possible.

I wanna try something, I will disable the sync setting for time and date before update from .168 build to .176. 🧐🤔

Thank you, had this happen on my gaming laptop, and the official fix fixed it, so thank you! :)

Thank you! Yup, that command worked! Thought I was going to have to re-install. +1 for you!

Ditto - the official fix from MSFT worked - thank you! (Makes one wonder if they are going to make their deadline for a stable release...)

Happened to me last night. I just shut down and called it a night. Thanks for posting a fix!

Oof that is indeed one helluva known bug. At least now, we have fix... Which really should be for users in the fast channel not beta... Lol.

So I went in to see if I could try to get it working before this news came up and I lost the ability to sign in lol, pin can't be setup and unable to turn on camera for windows hello... :p

I found a workaround that did not work previously works now:
Open Task Manager with Ctrl + Shift + Esc
Scroll down the processes until you find windows explorer
Right click on it, and select restart
Within seconds it works
Windows Central Newsletter
Thank you for signing up to Windows Central. You will receive a verification email shortly.
There was a problem. Please refresh the page and try again.