Windows 11's first cumulative update makes AMD CPU issues worse, but a fix is coming
AMD CPUs are slowed down even more by the first cumulative update to Windows 11.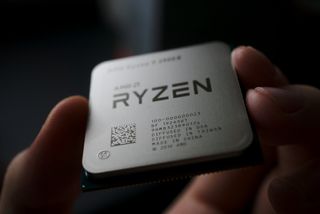 (Image credit: Rich Edmonds / Windows Central)
What you need to know
The first cumulative update for Windows 11 appears to make an issue with AMD processors worse.
AMD and Microsoft previously identified two issues related to AMD processors, one of which is worsened by the recent Windows update.
Fixes for these issues will reportedly roll out on October 19 and October 21, 2021.
Update October 15, 2021 at 2:15 p.m. ET: The latest Windows 11 Release Preview and Beta Channel build has addressed the L3 caching issue.
Shortly after the launch of Windows 11, two issues were discovered that affected the performance of AMD processors. One problem caused a performance drop of 10-15%. Those issues got even worse following the first cumulative update to Windows 11, according to a report by TechPowerUp. People with affected AMD systems may want to wait to upgrade to Windows 11 as fixes for these issues are expected later this month.
One of the previously discovered issues can cause L3 cache latency to increase dramatically. The other issue involves AMD's preferred core technology, which shifts threads to the fastest core on a processor. TechPowerUp's findings relate to the first issue.
"In our own testing, a Ryzen 7 2700X "Pinnacle Ridge" processor, which typically posts an L3 cache latency of 10 ns, was tested to show a latency of 17 ns," said TechPowerUp. "This was made much worse with the October 12 "patch Tuesday" update, driving up the latency to 31.9 ns."
AMD reportedly shared a statement on social media, which has since appeared on Reddit, about fixes for these issues. A patch for the preferred core bug will come in an AMD driver update on October 21, 2021, according to the post. A Windows Update said to be on the way for October 19, 2021 will address the L3 cache latency issue.
News Writer and apps editor
Sean Endicott brings nearly a decade of experience covering Microsoft and Windows news to Windows Central. He joined our team in 2017 as an app reviewer and now heads up our day-to-day news coverage. If you have a news tip or an app to review, hit him up at sean.endicott@futurenet.com (opens in new tab).
So a latency so small that nearly everyone won't notice a difference. Got it.

Actually it does affect day to day peformance. Especially with heavy workloads. Some will notice the difference and others won't.

I'm not updating to Windows 11 anytime soon.

Same here. This is literally the first release of Windows since 95 that I couldn't give a rat's arse about. I truly had more enthusiasm for Windows NT 3.5 and Windows Me than this rubbish. Not only can I not run it without shoehorning it onto my PC, but it just looks like a dumbed-down Chrome OS knock-off.

I've installed the latest cumulative update on a system with a Ryzen 7 5800X and I haven't noticed any perceptible difference so far. In general use, the system certainly didn't feel slower than with Windows 10 either before or after this update. I've only played a couple of games - one from 2005 and one from 1026 - and not since the Windows update. There were a couple of periods in one where things got jittery but it was fairly short-lived and I have no idea whether it is related to these issues. I can vouch for the fact that these issues are not going to appreciably affect everyone

Was the game from 1026 dice or dominoes? :P

Oopsy! Maybe I'm dyslexic and didn't even know it. I meant 2016. For the record, the games are F.E.A.R. and Obduction. I'm not sure whether their ages or specific implementations would mean that they would not be affected by this issue.

eSports games tend to be more CPU bound than AAA single player games, etc. This is why many of them have low GPU requirements, and will run well as long as you have a decent CPU. People will often run a game like Overwatch on low settings to get 240-300 FPS - so the GPU isn't exactly being mega-taxed, but the CPU certainly is. At that point, the issues become far more apparent. On the flip side: Overwatch can be run at Medium-High Settings at 60 FPS with no issues with a Laptop GTX 1050... with a 7th Gen i7-7700HQ, at least... As long as the CPU is fine, it runs well. It's when you start running at high framerates (what most eSports players do - I use a 240Hz display on my gaming rig) that the CPU bottleneck in this upgrade rears its ugly head. For people doing "basic" stuff and playing GPU-bound games, the losses are far less. This is why AMD noticed the outliers in eSports games: Overwatch, DOTA 2, League of Legends, etc. If you're a content creator, then this can also affect applications like Video Editors, as well. Probably for music production, as well. For AMD PCs, this OS is only good for people who use their machine like a Chromebook, right now. Wait until the update later this month, and hope it works well.

That was friendly mean and cute

I have an Intel machine. Since the update every time I open Edge or Explorer (and several other programs) my fan comes on constantly because of the high memory usage.

I am going to wait several months before I consider installing W11 on my actual PC. As I no longer have any confidence in Microsoft anymore to actually ship a bugfree public release build or not actually make things worse as evident by first cumulative update released W11. Combined with all the past issues created by cumulative updates. I no longer trust Microsoft to not damage my current windows install or do something funky to the boot files rendering dual booting W10 and W11 impractical. Congratulations bean counters, you have now damaged Microsoft's reputation irreparably.

No company ever makes a first bug free release. Sure, some releases are worse than others, but bug free? Never.

Bugs are one thing. A practical performance throttle because they didn't even do basic testing for these CPUs is a next-level concern.

@iN8ter this basic testing is usually done by Programmatic Testers and QA division - the two Microsoft axed during the rounds of mass firings just to boost the stock price in the short term. Ever since then we have gotten worse and worse cumulative updates. I guess unless Microsoft's stock price takes a massive hit from the lack of basic testing they will not re-hire the programmatic testers and QA division. God Damned Bean Counters.

Just to remind people, prior to Windows 10 it used to take 6-10 months to get fixes. (service packs barf) We're going to have a performance tweak on a 3+ year old CPU available within weeks of launch of Windows 11 Not sure what the story is... I don't see any difference on my 3900x

You obviously never run any resource intensive tasks on your system then as this issue is very noticeable when the system is under load

I Wonder hiw this Kind Of issue can't be discovered via Insider Program. There are thousand or millions testers With amd cpu. How this Kind Of issue can happen ???

Part of the problem may be that many Insiders would be using secondary machines for testing new builds, so much of the use they see may not be completely representative of what their eventual use would be.

Most Insiders aren't in the program to test anything, so they aren't going to report any issues that aren't fairly obvious and user facing. L3 Cache Latency destroying performance in eSports games by up to 15% (actually more, since the update made it WORSE) and broken Preferred Core issues for AMD CPUs is going to go under the radar. Unless it's something like a feature these people like in Windows 10 disappearing in Windows 11, they aren't going to see or report it - most won't even understand the issue enough to troubleshoot it, or know where to start. Performance issues will be chalked up to "Beta Release Problems" and no one is going to be playing Competitive Overwatch/DOTA 2/League of Legends/etc. on a Beta Windows 11 Build. This is why the feedback for Insider Program centers largely around surface issues. - Taskbar can't be moved.
- Crying about the Start Menu
- Wasted space when I turn off recommendations.
- Harder to change default browser.
- Can't Shift Click to open new instance.
- Yucky Multiple Context Menus.
- Opinions on Rounded Corners, Toolbar Changes, Context Menus, etc.
- Can't view date in Taskbar of other displays. This is why Microsoft needs their own QA with their own battery of tests being run on a variety of systems. They could have run these tests and found + fixed this issues several months before Windows 11 was released. The insider program is a failure, IMHO. Microsoft thought they could recruit the "community" to do a job comparable to an actual QA department, but this is not possible. The types of people who are capable of - on their own - creating and running these types of tests on an OS build to derive useful feedback aren't willing to do it for free. They already have a job.

Yup, your 2nd paragraph nails it. Majority of Insider testers will nor or just dont have that time to really do a proper testing just like a proper QA tester, which is an actual paid job and takes alot of time to do. This is simply not that attractive for individual to do during their free time, especially submitting it where there is no guarantee that their efforts will be actioned soon enough. The "rewards" of their efforts are uncertain, so the huge motivation to do so isn't always there. The possibility of those kind of individuals are low and maybe you find it more from retired QA festers and will just do it for fun, but don't expect from a person with a job or young people that still studies at school or university. I believe they still have QA tester, but likely alot lower in number now and probably doing it more automated. I read somewhere before if I remember correctly that their devs is actually doing the testing themselves, not sure if that's true or I accurately interpret it. But the problem with that is devs will burden another workload instead of focusing on actual dev. It seems like a cost cutting measure back in the day of laying off the majority of their QA team around the time of Windows 8.x era, just before Windows 10 release date. But sadly this is under Microsoft's management, not sure how we can demand them to bring those big QA team back. Seems futile for us I guess sadly.

You do realise that the vast majority of people in the insider program are not going to spend the time looking at performance issues, the people making the complaints you listed are also providing technical feedback via telemetry.

"WinTel" is a coined phrase for a reason. This goes to show just how much they actually tested the AMD CPUs. Also displays why the Windows Insider Program is beyond worthless. Microsoft needs a shut it down and hire an actual QA staff.

"QA staff." The do nothing guys before MSFT got rid of all of them.
The level of software release misses before QA staff were let go was never better than now using Insiders. So, why should they bring them back?

Rhetorical Questions asked as if they prove a point when you're doing nothing but digging a deeper hole. Bless...

My Cinebench performance went from a score of about 10500 down to 8600 after windows 11.
It felt fine using win11 only because general functionality uses so little. However editing videos, photos and other tasks will be affected.

MS Win11 fix for AMD performance problem coming Oct. 19 and and updated AMD CPPC driver coming Oct. 21 according to this WCCFTech article:
https://wccftech.com/amd-ryzen-cpus-l3-latency-performance-fix-to-be-res...
Windows Central Newsletter
Thank you for signing up to Windows Central. You will receive a verification email shortly.
There was a problem. Please refresh the page and try again.