Windows Central Podcast 57: Why buy the Alcatel Idol 4 Pro?
This week on the Windows Central Podcast: Buying a new Windows Phone in 2017, Spectre x2 review and more!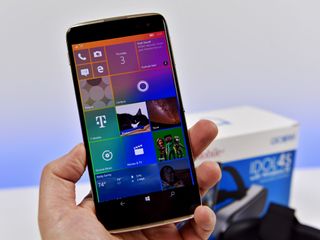 This past week, Alcatel finally put up pre-orders for its Idol 4 Pro Windows 10 Mobile handset in the UK, and our very own Zac Bowden is buying one. But should you? Also this week, we talk about Windows 10 Mobile's future, our Spectre x2 review, new builds and more!
Help us make this show the best Microsoft podcast in the world. Tell your friends, share it on social media using the hashtag #wcpodcast, and give us a five-star rating wherever you download your podcasts! Thank you so much for listening!
We've got two options for you, either the video podcast or the audio podcast, both featuring the same content.
Show Notes
Subscribe to the podcast
Hosts
Make this show great by participating!
Send in your comments, questions, and feedback to:
Zac Bowden is a Senior Editor at Windows Central. Bringing you exclusive coverage into the world of Windows 10 on PCs, tablets, phones, and more. Also an avid collector of rare Microsoft prototype devices! Keep in touch on Twitter: @zacbowden.
You realise that you just said "Don't tell people what to do" followed buy telling someone what to do three times. Hypocrite! :p

The Idol 4s is a good phone, I bought it at full price,I'm still loving it.at least for the time being .

It is a real nice phone, probably the best hardware (except for the camera) that Windows phone has had in a long time. Just hard to recommend to people except for the die hards.

Great phone, premium feel but wau too slippery ;)

X3 is a more premium feel as far as I'm concerned.

Yes, X3 is also much more expensive. Idol4S/Pro is mid-level

Everything about the phone itself is premium, especially the speakers. Unfortunately Microsoft can't be bothered to make their platform stable enough deserving of the hardware.

Apparently they are working with HP to make it better, but only for enterprise unfortunately.

https://www.forbes.com/sites/ewanspence/2017/07/16/microsoft-windows10-m...
Whoever said that Windows 10 mobile was dead ?

I think you missed the 'at least' component of you response. Otherwise you are stating you have half a brain.

Lord...here comes the scholar.

Hah i wish, more of a pedantic ******.

Very interresting... Thanks for sharing.

Love Windows To Do App!!!

I just wanted to add that I am a Alcatel dtek60 user and a Lumia 950 user. The Alcatel dtek60 has a fantastic build quality. Granted I'm using the BlackBerry version of Android but the physical device is wonderful and just as well put together as any top tier device. my 2c

The issue with the Idol 4s/pro is the fact that Windows 10 Mobile runs on it. If you are a insider preview user on the fast release, the latest build(15203) will make the few apps that's in the app store no longer function. This is why you shouldn't buy this phone or any other Windows 10 mobile phone. The hardawre itself is beautiful unfortunately the operating system running it is basically an afterthought.

Firstly the latest fast ring is 15230, so you're a bit behind.
Secondly if you are having problems then post to the forum and explain what apps don't work for you, maybe someone can help

Yeah the build number is a typo. I actually typed 15230, but this build is to too slow to keep up with my typing, I overlooked correcting it and just didn't bother fixing it after I submitted the post. As for ur suggestion, I spent half the night looking for a solution without resetting my phone through forums and even Microsoft themselves. Came to a conclusion that I don't have 5 hours to waste hard resetting the phone and then resyncing all of my apps on top of resigning into all of my non-Microsoft accounts (yes it takes this long because I've done this multiple times in the past year). I will need to wait for an update fix if they decide to offer one. At least most of these apps that I need have web version.

Sounds a bit of an odd problem.
Are others with the Idol 4s getting the same issue?

WTF can't we image our phones yet? This backup crap that we have sucks, most apps don't even utilize any saved data so the only thing carried over is a lock screen.

Yes, why? To carry an outdated, overprized device around that you can use for making calls while you have to use an Android phone for your daily needed apps?

Because it still beats the faffing about that you need to do to get your android phone to talk to your windows laptop.

Such promise, And left to die in the *******. windows 10 mobile. The only thing this phone would be needing besides needed apps is NFC....deal breaker there!

No buy Alcatel 4 pro bcoz it is not better than lumia phone...it's design should not good attractive... Lumia 950 is much better than all windows mobiles in the market. Microsoft surface phone can not beat lumia 950.

"no buy phone because Lumia 950 better" Kimosabi. L950 run like deer through forest. Fly like eagle on One Cloud, work for many moons.

You just confirmed my suspicions, You need to lay off the drugs you are doing 24/7 in your basement....

Both if the animals that you've mentioned tend to get shot at by hunters.

I Agree "Microsoft surface phone can not beat lumia 950" bcoz surface phone is a fantasy. In a few year WinCentral will show a secret pic of the avoid windows surface phone. I believe that windows phone OS is a super great but is a Zoombi, is dead but still working maybe forever... Alcatel 4 pro was a great option last year now is the only 2 option on the market (HP is the first one). Sad, I know but Microsoft do not believe in here own OS, Microsoft is a software maker brand... and I do not understand why avoid the massive market of software (on cell phone) In my personal opinion is a very big mistake but just the time give us the answer.

I am also beginning to believe that the surface phone fantasy is becoming reality....

i wonder how many people used the 'Interop registry tool' to go from lets say, a Lumia 535 to a 950XL to receive further updates.

What do to with hardware. I think daniel u forgot the definition of mobile. A mobile will complete when there was a superb OS with superb hardware. It like a soul and body. They both are interdependent each other. Windows dnt want to make there W10M OS better only giving bug fixing and give lollipop to insider in every build. If OS is not so stable then what to do with hardware.
2017 if microsoft release some beautiful hardware and upgrade its OS then we can see what to do.
Otherwise as microsoft shutdown W8.1M support like that way after 6 months they announce same for W10M then it's a waste of money. So it's better to wait dnt to buy any windows phone as microsoft is talking about windows 10 on mobile and if this OS support in brand new phone which they release.

http://allaboutwindowsphone.com/features/item/22325_Why_you_SHOULD_buy_t...

Haha...i would rather choose a pile of cow dunk instead of a windows 10 mobile!!!
Windows Central Newsletter
Get the best of Windows Central in in your inbox, every day!
Thank you for signing up to Windows Central. You will receive a verification email shortly.
There was a problem. Please refresh the page and try again.