Windows Phone Summary of the Week: September 5-11, 2011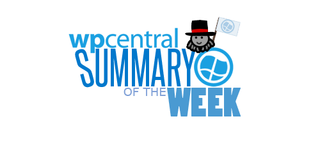 Kicking off this week's summary is WPCentral's Back to Work/School sale where you can save 10% on all mobile accessories (opens in new tab)! Our Dave Blake returns with this weeks top picks from our Windows Phone forum, while Paul Acevedo interviews Ska Studios (opens in new tab), makers of Z0MB1ES. Check out the summary after the break.
A strange highlight to begin with is Microsoft's denyal at claims (opens in new tab) that the company is 'watching' users via the camera. Nokia are holding a contest (opens in new tab) for the new version of their well known ring tone (ends within 24 hours). While Google is still preventing Microsoft from launching a full-featured YouTube app on their platform, the search engine has added support for Windows Phone (opens in new tab) with their HTML5 mobile version of YouTube.
Acer has come out from the shadows, commenting on Google's Motorola acquisition that Microsoft is the real winner (opens in new tab). Investors have urged RIM to consider selling itself or patents, could BlackBerry be the next to fall? For our readers however, there is positive thinking at Redmond with Microsoft predicting more marketshare than analysts have guessed. Zune terms and conditions have been altered (opens in new tab) (for Euope customers it seems) that has reduced the limit of devices from 6 to 4 per Zune Pass.
Justin Angel, former Microsoft Silverlight Program Manager, has downloaded a large proportion of the Marketplace and analysed the apps. The software giant has carried on operation 'squeeze-revenue-out-of-Android-OEMs' with both Acer and Viewsonic agreeing to patent deals. Research2Guidance has posted some interesting data on the amount of downloads per-app (opens in new tab) between platforms.
Something that will be warming to hear for Symbian users, Microsoft is scheduled to share a number of apps (opens in new tab) including Lync, OneNote and SkyDrive. We take a quick look at some new visual promotion Microsoft is doing on YouTube with their 'Me Series' of short films (opens in new tab) that shows the life of WP users. Microsoft Taiwan launches interactive site (opens in new tab) for Mango contest where entrants can win a Mango handset. We have the opportunity to give Windows Phone a push with voting for the platform (opens in new tab) to win the IDEA 2011: People's Choice Award. Oh, and SkyDrive is set to receive an 'unlimited storage' makeover (opens in new tab). We've also caught wind of Mango potentially coming next week (opens in new tab).
Pocket God is this week's Xbox Live Deal of the Week, so feel free to throw them around, feed them to sharks and more at a discounted cost. Minesweeper has been updated (opens in new tab) (not via the Marketplace) to reduce some of the pesky mines that made gameplay too challenging for majority of players. Collapse! is coming to Xbox Live next week and we have an exclusive look at the map of chapter 30 in Gravity Guy.
Some speculation has arisen surrounding Windows Phone apps being ran on Windows 8. Samsung releases Mobile Print app for the platform along with version 2.2 of their Now app. An orientation screen lock for Windows Phone comes to light, possibly a feature in a later build? If you haven't been keeping up with the AVG situation with Windows Phone, they released an app for the platform that was reported to be spyware. Microsoft responded by pulling the app (opens in new tab) from the Marketplace and began investigation, while AVG dealt with strong criticism.
HTC has released Attentive Phone (opens in new tab) that integrates into the settings of the OS, which can be downloaded from the Marketplace. BSkyB has landed on Windows Phone with releasing a superb SkyNews app that sports live streaming of the TV channel. Perfect Scan has upped its game by including support for Google Docs and Dropbox. AppFlow version 2 has been released with some exciting features included.
Moving swiftly onto hardware we have a scary hands-on video with the Acer W4 at IFA 2011. We've had a number of Mango ROM releases this week including for the unbranded HTC Mozart (opens in new tab) and the Verizon HTC Trophy (opens in new tab). A Samsung refresh of the Omnia 7 (opens in new tab) has passed through FCC with a front-facing camera while the LG E906 receives GCF certification (opens in new tab).
Like Pokemon? Of course you do. We've come across some nice Pokemon wallpapers (opens in new tab) that can be cropped and set as your phone lock screen wallpaper - they look pretty neat with the minimalistic design. Need a laugh? Whenever we need to giggle Japan seems to be the ones who provide the entertainment, they truly are an aspiring country and their WP7 advertising (opens in new tab) is no different.
For developers! We have two free UK-based Windows Phone developer camps coming up (one in London and the other in Manchester). PCWorld takes a an insightful look at why Indie developers are choosing Microsoft's platform (opens in new tab) for development. PhoneGap is now supporting Windows Phone with cross-platform HTML5 app development using web technologies.
Highlights
Gaming
Software
Hardware
Fun
Developers
Rich Edmonds is Senior Editor of PC hardware at Windows Central, covering everything related to PC components and NAS. He's been involved in technology for more than a decade and knows a thing or two about the magic inside a PC chassis. You can follow him over on Twitter at @RichEdmonds.
Windows Central Newsletter
Thank you for signing up to Windows Central. You will receive a verification email shortly.
There was a problem. Please refresh the page and try again.