WMExperts Podcast Episode 59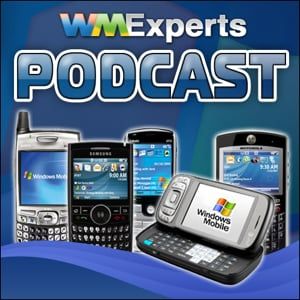 Dieter and Malatesta discuss the latest in the Windows Mobile world.
Download it directly with this link
Listen to it here with the flash player above.
Hardware
Samsung onslaught
Wrapping up Samsung's refreshed Omnia line
Samsung Omnia II and Omnia Pro Priced (In Europe, anyway. Omnia Pro -- the one with the keyboar -- d$499 Euro, ~$799 US; Omnia II $549 Euro, ~$770 US.
Samsung Omnia II to launch (in Austria) with WinMo 6.5 in September, Microsoft says
HTC Stuff
Toshiba TG01
Also ...
Windows Mobile on a satellite phone, but it'll cost you
Software
A look at the next generation of TouchFLO 3D
Skyfire updated, still can't play Hulu videos
Windows Mobile 6.5 seen on Motorola Q9h
Google Voice invites are out -- Phil still wants his! ;)
Adobe Flash 10 beta coming in October
'Phone Creeper' is Creepy
Microsoft news ...
Your Project Pink/WinMo 7 rumor du jour
Zune HD + OLED screen = us drooling
Other news
Verizon unlocks the Samsung Saga and HTC Touch Pro ... Still need the official Omnia
ROM to make good on its promise ...
Will TouchFLO 3D get some Sense?
Credits
Thanks to the WMExperts Store for sponsoring the podcast. Thanks also to these great artists for the music and to CCMixter.org for offering a great database of Creative Commons music!
Dieter, where have u been man??
used to visit this site 5-6 times a day
now i just visit once a day

Malatesta: I seem to remember from a previous article that you sync OTA through hosted Exchange. I was under the impression that My Phone won't sync with Exchange accounts. How are you using My Phone in conjunction with EAS, or have you switched to local AS? Except for the fact that My Phone doesn't support categories in Task (not unlike OWA), I really like My Phone. But I'm about to switch over to hosted Exchange, so it would be interesting to know how you're getting the two services to work together.

Correct. I used OTA Exchange for a long time but have taken time off to use other push/email options for testing purposes. I may go back in the future. Having said that I have not tried using both Exchange and MyPhone at the same time. Maybe will do later.

Hey what gives..I can't download it.. My Zune Software says it can't access the server the podcast feed is requesting..same thing happens when i try to download it directly from the webpage.

@@#$ feedburner. Will update the direct link -- it works in some areas but not all. :(

I've been waiting for the Snap via Sprint. I agree that the keyboard is dysfunctional on the Sprint and Vz from the original design. That said, I picked up a Treo Pro which is highly underrated. It's fast enough, has a front keyboard, touchscreen and some HTC features that are needed on a Windows Mobiles Pro. Palm should consider making a Treo Pro and upgrade the processor, memory, and make the keyboard a little bigger and smiley like design like the old Treos. Palm call it the Treo Pro II!!!!! Snap is a little overrated, I tried and returned it
Windows Central Newsletter
Get the best of Windows Central in in your inbox, every day!
Thank you for signing up to Windows Central. You will receive a verification email shortly.
There was a problem. Please refresh the page and try again.