Windows Phone and Windows 8 gaming news incoming from Casual Connect USA this week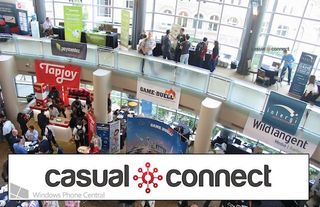 Ready for more mobile gaming event coverage, loyal readers? Casual Connect is upon us again. Last year we traveled to Casual Connect Seattle, where we brought you a tour of Microsoft headquarters, studio visits and hands on footage with the makers of Skulls of the Shogun and Ascend: Hand of Kul, and lots more exciting Windows Phone gaming news.
This year's domestic event has been dubbed Casual Connect USA and takes place in San Francisco, the same city we visited for GDC 2013. Casual Connect is the premiere industry event dedicated to casual games. These include mobile and tablet games, so we expect to learn lots of juicy Windows Phone 8 and Windows 8 news at the show.
Head past the break for our mobile Windows news predictions and a sneak peek at the developers we'll be interviewing at Casual Connect USA!
Mobile Windows platform predictions
Microsoft themselves won't have much presence at Casual Connect USA – last year they delivered an informative Wordament presentation, but this year we don't expect to hear much from our platform's publisher.
After Windows Phone and Windows 8 basically skipped E3 2013 (except for Halo: Spartan Assault), it looks like Microsoft spent their entire mobile gaming PR budget at GDC. Oh well, plenty of game developers will represent Windows Phone and Windows 8 – that's what counts.
The mobile Windows game makers of Casual Connect USA
Royal Revolt
Here's who we plan to hit up for hands on footage, news, and interviews. Expect lots of articles on these creators' games and apps during the event and into next week.
Academic Relations Consulting: using mobile Windows platforms in education!
Advanced Mobile Applications: creators of Hills of Glory 3D for Windows 8
Artifex Mundi: makers of Abyss: the Wraiths of Eden and more hidden object games for Windows Phone 8 and Windows 8
Avenquest Software: creating an app for Windows Phone 8
The Coding Jar: creators of Fling Theory for Windows Phone 8 and Windows 8
Flare Games: makers of Royal Revolt for Windows Phone 8 and Windows 8
Game Insight: creators of My Country and Rule the Kingdom for Windows Phone 8 and Windows 8
Handy Games: makers of Aces of the Luftwaffe and Epic Battle Dude for Windows Phone 8
MindSnack: developing multiple games for Windows 8
TegTap: makers of Solar Warfare, an upcoming 3D space shooter for Windows Phone 8 and Windows 8
Voxel Agents: creating Puzzle Agents for Windows Phone 8
And more!
Do you enjoy any of these creators' games and apps, guys?
Casual games, hardcore coverage
Solar Warfare
Casual Connect USA starts Tuesday morning, July 30 and ends the evening of Thursday, August 1. I'll be there the entire time, representing Windows Phone Central and Mobile Nations.
Follow me on Twitter @PaulRAcevedo so you don't miss a bit of mobile Windows news from the show! And if you're a member of the gaming industry in attendance at Casual Connect, send me a tweet so we can meet up!
People who are Twitterly challenged will find our Casual Connect USA articles at WPCentral.com/games or via the Casual-Connect-USA-2013 tag. We'll have a full wrap-up article next week!
Windows Central Newsletter
Get the best of Windows Central in your inbox, every day!
Paul Acevedo is the Games Editor at Windows Central. A lifelong gamer, he has written about videogames for over 15 years and reviewed over 350 games for our site. Follow him on Twitter @PaulRAcevedo. Don't hate. Appreciate!
Go Microsoft! Go Paul ! Woot !

Yaaay! Paul does it again!

You guys are too kind. :)

Hope to here some exciting news

Paul, any news about Countre Jour be released for Windows 8/RT??

I asked Chillingo about it recently but did not receive a reply. Will try again soon, but they're not here at Casual Connect.

Solar Warfare looks NICE.

Can you also keep an eye out for Project Spark people, if possible?

Oh, I'd be all over Project Spark if it was here. I just don't expect any Xbox One games at the event, but we shall see!

But it's also a W8 game so.. :)

Heh, that's what I get for rushing. Totally forgot about the other platforms.

Hey Paul what happen to uno with friends & family feud...ok I know ff was never announced but it better well better come to WP or I'm buying a iPod just for it.

Trying to follow up on Uno & Friends with Gameloft. Our contact is apparently super busy right now, unfortunately.

Hey Paul, this may have already been answered but I'd just like to ask. What happened to EA releasing Dead Space?

I hope Microsoft is really taking Windows Phone and mobile gaming seriously.

Hey Paul. Sorry if this is off topic but, what happened to Sonic 4 Episode 2? It has been a year since it was suppose to come out on WP.

What's the game in the last photo?

Where is Imangi Studios? Where is Temple Run 2 and Temple Run OZ? Where is Subway Surfer? Where is gameloft? Where is electronic arts? We need big names in WP... Small names won't serve the purpose!

fun run , grand thieft auto and disney games too

And King.com games. I miss playing Candy Crush Saga so much that I always carry the old iPhone with me.

MS really needs to bring Age of Empires to touch gaming.

Age of Empires actually has been announced, but it's apparently not coming until 2014. And it's also coming to iOS and Android.

I think the major apps even though available still not get priority updates on WP. Even the new app/game launches (which could be potential big/major apps/games in future) do not get released to WP in sync to Android/iOS. Moreover, both Samsung Galaxy S4 and Lumia 920 cost almost the same here in India i.e. around 35k. Why the hell, I would like to spend my precious money on WP platform which lacks all this stuff. Currently, i own Lumia 920 with a hope that MS would start delevering. But seeing the current scene it seems that MS is taking its existing user base for granted. They are just lazy. Its quite possible that users like me would soon loose trust on MS for WP platform and make a switch to Android. Even a cheap chinese Android phone is able to get lot many apps than a costly Windows Phone. Wake up MS!!!

I think MS trusts too much in their brand name. In reality however many people don't touch Windows Phone devices because they run an MS operating system and have "Windows" in their name. Believe it or not.

Hi ,

I am trying the attach the word file while replying the gmail but its attaching to the new window(means compose window) instead of reply mail.Is there amy possibility attach the file for the reply mail.

Regards
Venky


I don't quite understand you because of your English, but you should ask that question in the forums, not in the comments of an article about gaming. It is irrelevant to the article.

Paul is in da house. On a positive note: yay, more games. :D On a negative note: more games to kill Lumias :/

Sorry for bothering you guys but if you agree with my suggestion please vote for it.
I think almost every WP gamer wil agree!http://windowsphone.uservoice.com/forums/101801-feature-suggestions/suggestions/4163745-windows-phone-xbox-live-more-something-like-gamece

Anyword if any of them are going to xbox games or just normal games

Probably not Xbox games this year, but we'll see.

That name sounds so sexual

Paul, I need Scrabble on my 920. The freaking NOOK has Scrabble, for Gods sake. What gives?

EA does at least support WP to some extent, so hopefully they get to it eventually. That said, there are about a million Scrabble alternatives, so maybe that's why they're in less of a rush to port it.

Yeah, I've played them. Trouble is, almost all of my family members are sheep and use crApple products. My mom, aunts, uncles, and cousins use iPad. My dad uses nook. My wife uses Kindle fire HD. (thankfully she has a 920 also) They all enjoy playing multiple games of scrabble with each other, leaving little old me with the likes of alphajax(a decent alternative, but again, the family plays scrabble), words with friends (totally unplayable on WP), and words by post (not bad, and really the only way to play because of cross-platform capability) but again, they play Scrabble. Isn't Scrabble in like the top 10 apps not available on WP? EA has put just about everything BUT Scrabble in the marketplace. I'm admittedly an achievement whore, and would love this as an Xbox live game, but I will take it any way I can get it at this point! Other than becoming a sheep of course.

There was suposed to be a game called Horn coming to Windows 8 but I have not seen any news on it in a long time it is out on Android and iStuff. It looked like a cool game

Another one for Dead Space Paul :). Emailed them myself but no response! Looking forward to seeing the coverage of the event anyways,enjoy it!

Is anyone having trouble downloading Fruit ninja? Or is it just me?

Now fruit ninja is completely gone off the store. Crossing my fingers for an updated re-port.