Windows Phone at Casual Connect Seattle Wrap-up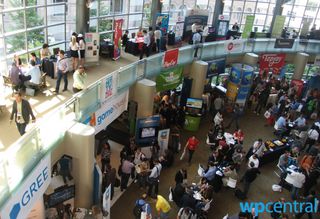 It's a bit late in coming, but at last we have an official wrap-up of our time spent at Casual Connect Seattle this year. Unlike the Electronic Entertainment Expo (E3), which is a console-focused event, Casual Connect centers around casual games – a 'genre' or subset found mostly on smartphones, tablets, and PCs. As such, we ventured forth in hopes of scoring some juicy Windows Phone games coverage as well as gauging the casual gaming industry's feelings towards Microsoft's smartphone platform in general.
Head past the break to see what we learned, plus links to all of our exclusive Casual Connect coverage!
Windows Phone at Casual Connect
First off, Casual Connect is a developer-oriented conference, unlike E3 which is aimed primarily at the press and by proxy, the gamers at home. As such, company booths did not feature as many playable devices compared to E3. Still, many Windows Phone developers had booths on hand in Seattle, including PopCap, Alawar, Big Fish, and Game House. Microsoft and Gameloft did not have booths but did send representatives to attend and/or deliver presentations.
Now, the slightly disappointing news: none of the developers with booths actually had Windows Phones or signage set up. You could find playable iPhones, tablets, and PCs easily enough, but our favorite mobile OS was nowhere to be seen. This is somewhat understandable given that each developer publishes far more iOS and PC games than Windows Phone and they only had a small amount of space with which to share their games with attendees.
More disappointing to my eyes was Microsoft's lack of a booth at the event. Sure, the Wordament team delivered a fine presentation, but that was the extent of Microsoft's public participation. I did catch a few of their staff talking up Windows Phone here and there, but it almost felt like I was doing just as much evangelizing as those guys. Seriously, every time I introduced myself throughout the event and its parties, an iOS or Android developer would ask me to extoll Windows Phone 8's virtues and benefits over WP7.
If Microsoft just pitched in for a booth like so many smaller companies did, they could have more readily advertised the platform and addressed event-goers' concerns. After all, Casual Connect is developer-focused, so what better place to pick up new developers?
BlackBerry's table was less than impressive, but at least they tried, the poor doomed buggers!
Casual Connect Conversation
Windows Phone aside, Casual Connect did have a unifying conversation that nearly every presentation, panel, and developer seemed to tie into: the freemium or free-to-play (F2P) business. If you ask casual game developers where the future of gaming is going, nearly every single one will answer F2P. It may seem alien to devout Microsoft supporters like us since Microsoft has not historically been open to free-to-play games. In fact, only this year will the Xbox 360 finally receive a F2P game, Happy Wars.
One concept that came up over and over again is that of 'games as a service.' Basically, the makers of freemium games intend for players to spend money on the game not just once, but repeatedly over time. The hope of course is that they'll take in more money that way than a single up-front purchase. But they don't just want to drain gamers' wallets in a vampiric fashion. Instead, 'games as a service' means that freemium developers need to provide a steady stream of new content to attract players' interests.
To provide a Windows Phone-specific example, our version of Bug Village hasn't received a single content update, unlike the iOS and Android versions. That means there's nothing new for players to spend money on (not to mention the lack of multiplayer features that games of this type thrive on). Thus, from a 'games as a service' standpoint, WP7 Bug Village is doing it wrong.
We can't put all the blame on Glu Mobile and the developer though. The current Microsoft certification structure highly discourages the publishing of regular title updates. It's both costly and time consuming, unlike the update systems you'd find on iOS, Android, Steam, and the like. For free-to-play games on Xbox 360 and Windows Phone to truly take off, Microsoft will need to relax their certification procedures or implement special new ones for these types of games. Happy Wars' official description actually promises regular item updates, so hopefully Microsoft will be doing just that in the future.
Our Windows Phone Stories
Karaoke and dancing up a storm at the WildTangent party at the Seattle Aquarium
I said earlier that nobody was going out of their way to show their Windows Phone wares during the event. That's partially true, but several publishers did agree to private demonstrations and interviews with Windows Phone Central. We even made a costly trip or two to visit some studios in the areas surrounding Seattle, just to make sure we had great content to share with you.
Without further ado, here are our Casual Connect Seattle 2012 posts, categorized by subject. Nearly every single article features exclusive interviews, videos, and photographs, so don't miss them!
Microsoft
Big Fish Games
Game House
Alawar Entertainment
Xbox Live: The makers of Farm Frenzy have plans for Windows Phone 8
PopCap
Casual Connect video interview: ben Ahroni, producer of Zuma's Revenge
Skulls of the Shogun
Windows Phone Central visits Skulls of the Shogun studio
Wordament
GREE
A chat with Japan's largest gaming network GREE about Windows Phone
Ascend: New Gods
Predictions for the future
After the event ended, I felt much like this gentleman sleeping through WildTangent's party
While I can't claim that Casual Connect Seattle was a big success for Windows Phone this year, clearly we still managed to dig up news and updates for several fantastic upcoming games. Next year's Casual Connect should be a whole different story though. Windows Phone 8 will be out well before then, and it should have a significant impact on developer adoption of the platform.
A large number of developers we spoke to this year work exclusively with the Unity Game Engine; it truly is the most popular game engine for mobile developers (and quite popular for console, PC, and web development too). Sadly WP7's closed architecture and reliance on XNA prevented an easy Unity port, greatly limiting the ease and quality of porting iOS games to the platform.
As I spoke to those developers, all I could think of was how Microsoft needed to make sure Windows Phone 8 doesn't miss out on Unity as well. Thankfully they were secretly doing just that at the time… Less than a month after Casual Connect Seattle wrapped, Unity announced their support for WP8 and Windows 8. That means most of the barriers that kept developers away from WP7 (user base size notwithstanding) will be removed from WP8.
At next year's Casual Connect we'll witness a lot more excitement from developers about Windows Phone 8, and if the platform sells well enough, we may even see a playable unit on display at a booth or two. Windows Phone Central will be there, so stay tuned, gamers!
Get the Windows Central Newsletter
All the latest news, reviews, and guides for Windows and Xbox diehards.
Paul Acevedo is the Games Editor at Windows Central. A lifelong gamer, he has written about videogames for over 15 years and reviewed over 350 games for our site. Follow him on Twitter @PaulRAcevedo. Don't hate. Appreciate!