Nokia Lumia and the Windows Phone 8 event in New York - Everything you need to know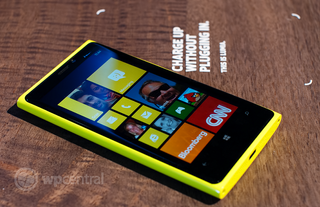 Introducing the Nokia Lumia 920 with PureView Technology
It was a sizeable day for Nokia, Microsoft, ourselves and consumers yesterday as we saw Nokia take to the stage and unveil the Lumia 820 and Lumia 920 Windows Phones. Windows Phone Central was there at the front of the event, and as Bill O'Reilly likes to scream - "We're doing it live!" (NSFW), so we blogged it live.
Be sure to check out our live blog for the complete walkthrough of the event, with photos and humour to boot. We had many predicitions going into the event, but what was presented still stunned the team to a degree.
Should you find yourself in the position where you missed out on the action, fear not as Windows Phone Central has you covered. Here's everything you need to know from the event as well as what we'll be summarising in this article:
Nokia
Nokia get the gloves on to show new touch screen tech for Lumia 920 and 820 devices
Microsoft
No Windows Phone 8 release dates revealed, saved for Build 2012?
Miscellaneous
The main headlines of the day were of course the announcements for both the Lumia 820 and Lumia 920. Nokia published two videos on its YouTube channel (as well as Nokia Conversations) that show off a number of features of both Windows Phones. If you're in the dark when it comes to the latest hardware from Nokia, these videos will be the best place to start before reading on into either.
The new Nokia flagship Lumia 920
The Lumia 920
Jo Harlow, Executive Vice President at Nokia, announced the Lumia 920 first after some news about the Nokia Asha line of products was relayed. While specifications were a little vague, we at least got to see what the Lumia 900 successor looked like. Sporting a polycarbonate body, PureView camera and PureMotion HD+ screen technologies, it's enough to excite anyone who's interested in a richer smartphone experience.
Featuring a curved 4.5" LCD display, which is a reported 25% brighter than current competitive screen available on the market today, and a resolution of 1280x768, owners will be drawn to simply gaze at the display to view the beauty of Metro Windows Phone at work. But what about the PureView technology? We'll go into more detail shortly, but it basically means image stabilisation and improved optics / processing. All good stuff if you enjoy snapping some shots while on the go.
Nokia paints PureView as more of a technology and almost a movement in smartphone photography. It's more about improving how the smartphone camera works, as opposed to attaching a huge sensor and pumping up the megapixels as was the case with the 41MP PureView 808. Implementing said technology into the Lumia 920, Nokia has been able to achieve some jaw dropping results.
The Lumia 920's camera in action
The 920's PureView Technology
The company announced the Lumia 920 with an 8.7MP PureView camera, accompanied by image stabilisation – Nokia refers to this as 'floating lens technology'. The sudden fall in megapixel count from the PureView 808 may have stunned a few, but all doubts were dealt with when the Lumia 920 camera was demoed. From what we've seen from Nokia so far, the image quality is seriously impressive.
If the above wasn't enough, the Lumia 920 will also sport an f2.0 aperture lens, as well as a BSI sensor similar to what we've seen in the HTC Radar, which enables for better light capture. Nokia's Kevin Shields took to the stage to further explain how the company managed to achieve the results through image stabilisation and what it actually means.
Here's a quick competitor comparison. Photo taken with competitor smartphone:
Same photo, but taken with the Lumia 920:
It's a clear difference, and we're extremely excited to get our dirty hands on the Windows Phone to take the camera for a spin.
Nokia gave us a quick walkthrough of the Lumia 920 camera at the event, showing off image stabilisation by taking a photo while moving the device at some speed. But the PureView technology implemented in the Lumia 920 wouldn't be impressive without challenging other smartphones in real tests, right? That's exactly what Nokia did at the event yesterday.
A cubby hole in a brick wall was the centre of attention for many where Nokia challenged participants to use their smartphone to simply view through the hole and snap a shot. The team would then do the same with a Lumia 920 and the results would then be compared.
The object was a vase in a dark corner, which was neigh impossible to see with the naked eye, let alone a smartphone camera. The Lumia 920 seemed to destroy each and every device, even other Windows Phones. We attempted to challenge Nokia with a Lumia 900, but were turned down unfortunately.
Our thoughts and impressions of the Lumia 920's PureView camera are that if the technology will work in the real world with consumers as it has thus far through marketing we could well be onto a winner here. Only time will tell, but we have a good feeling.
PureMotion HD+
All this talk about the camera technology, what about the PureMotion HD+ Display? Billed as the fastest, brightest and most sensitive to touch, the Lumia 920 display is also a selling point of the Windows Phone. Taking its ClearBlack technology, which enabled the Lumia 800 and 900 to be used in the sun without being unable to view the screen, to the next level Nokia has stepped up the bar for screen quality.
With a pixel count of 1280x768 and 15:9 aspect ratio, the PureMotion HD+ display on the Lumia 920 ensures there's no blur while viewing multimedia and performing actions where blurred displays can occur (games, videos, scrolling, etc.) The 'HD+' part of the name refers to the fact the display will sport 7% more pixels than a 720p display and 60% more than DVGA.
The PureMotion HD+ display also offers the most sensitive touch, enabling gloves to remain on cold hands while using the Windows Phone, and women will be able to use the tips of long nails instead of awkwardly using fingers.
The 'super sensitive touch' technology is not limited to the Lumia 920, as the Lumia 820 will also be sporting the feature. Nokia's Kevin Shields threw on a pair of skiing gloves to show the audience how the Lumia 900 was still usable.
Last, but by no means least, is the Wireless Charging functionality in both the Lumia 920 and Lumia 820. Both Windows Phones will be able to charge via USB cable (as we're all accustomed to) or by simply resting on top of a supported charging 'mat' among other accessories that offer wireless charging.
The Lumia 820 in all its glory
The Lumia 820
Speaking of Lumia 820. Nokia also unveiled the Lumia 920's younger sibling yesterday. The Lumia 820 sports a 4.3" AMOLED display (with ClearBlack), an 8MP rear shooter (with Carl Zeiss Optics), MicroSD slot, 1GB RAM and a 1650mAh battery. The interesting entry on the specification sheet is the inclusion of a MicroSD slot, which the Lumia 920 does not have.
The Lumia 820 is no slouch. It boasts changeable wireless charging and protective shells in a number of colours, perfect to match an individual's mood of the day. NFC is also on-board (as is the case with the Lumia 920). The choice will be a tough one between the two Nokia Windows Phones, but the company has provided enough in both handsets to provide a rich user experience.
Nokia Services and Geolocation
Hardware wasn't the only surprise Nokia brought with them to yesterday's event. Nokia Maps was in the spotlight, the company is adding augmented reality features, which are currently present in the Nokia City Lens app. As well as sporting true offline capability, Nokia Maps will be able to effectively display POI (points of interest) to the user while on the move.
Jo Harlow explains the integration Nokia is creating between apps:
Indoor maps are also on the way. We've seen this being utilised in Bing with shopping malls and centres, but Nokia looks to be taking it further with maps for bus terminals and train stations to help passengers make changes and reach correct platforms in time.
If improving their own services and apps weren't enough, Nokia will also be bringing more exclusive apps to Lumia Windows Phones. Angry Birds Roost will be Nokia-only for the first three months after release on the platform. YouSendIt will be another three month exclusive, which will enable users to execute NFC file transfers.
Michelin will allow the retrieval of specific information at NFC-enabled restaurants, while yet another three month exclusive Bloomberg will be arriving on the platform. Groupon, which is said to include Windows Phone 8 Wallet integration, will be a six month Nokia-only app and will take full advantage of augmented reality.
That sums up the Nokia section of the conference. A lot to take in and we're sure there's still more to come before Windows Phone 8 launches.
Microsoft were present in force
Steve Ballmer shows up
Steve Ballmer and Joe Belfiore were both at the Nokia event yesterday, and Belfiore took us through a sneak peek of Windows Phone 8 lenses. The lenses app will pull up already installed apps that have deep camera integration, which will enable users to quickly switch between different services and functions.
It will make the camera easier to use and more feature rich, acting as a hub for multiple kinds of photography and effects to be easily accessible. As well as the lenses app itself, the camera UI has been redesigned. Belfiore moved on to show off screenshot functionality in Windows Phone 8. Pressing the start and power button simultaneously will result in a screenshot being saved to a Camera Roll folder.
Comparison website Recombu managed to capture the following demonstration:
The Windows Phone 8 SDK
In other Microsoft news, the Windows Phone 8 SDK preview will be heading to limited personnel – specifically those with apps already published on the Marketplace. ETA – September 12th. Unfortunately, if you were eagerly awaiting the announcement of Windows Phone 8, you'll be disappointed as Microsoft failed to deliver any dates or progress updates.
We believe the company is looking at the upcoming Build 2012 event to unveil its next version of Windows Phone. We'll be heading along, so be sure to tune in for all the juicy details. But that was all from Microsoft at yesterday's manic presentation.
Alas, we love and leave you now with a gallery of photos from the event itself.
We'd like to thank you all for tuning in and being superb sports. We're now set on course for HTC's event, then Build 2012, and beyond. It's an exciting closure to 2012 for Windows Phone, that's for sure.
Windows Central Newsletter
Get the best of Windows Central in in your inbox, every day!
Rich Edmonds was formerly a Senior Editor of PC hardware at Windows Central, covering everything related to PC components and NAS. He's been involved in technology for more than a decade and knows a thing or two about the magic inside a PC chassis. You can follow him on Twitter at @RichEdmonds.
I'm liking both the Nokia 920 and the Samsung Ativ. Great to see WP8 getting so much attention lately. Cannot wait to upgrade!!!

Ativ S... NL920... 90 second presentation vs 30 minute. NL920 FTW!!

Either way, to me they are both great phones and both are an upgrade to my dated HD7.

Ativ has bigger screen with more storage (/w 32gb sdcard) but lumia's camera and unique design is compelling enough to make ativ feel placid.

Don't forget the wireless charging and amazing build quality...

Ativ S has a bigger screen but it's pentile and lower resolution. The L920 screen is just astounding.

Don't forget the app support from Nokia.

Lumia 920 is the high end. Samsung ATIV S is now the mid end phone :)

Yeah, I wasn't fond of the LUMIA 920 at first, but it's definitely grown on me. I even like that yellow. The design is not bad either.

Wish they announced the pricing, release date, and carrier list. I hope the 920 comes on AT&T.

Its coming to AT&T for sure... Ehem mark your calendar for October 15-Nov 8 weeks Ehem..

If lumia comes in pentaband model (with both att&tmo compatibility) unlocked with no contract, i will go for simple mobile $40 unlimited. My current titan does not support tmo so i need to pay extra $5 for straight talk.

Both Lumia 920 and 820 are pentaband
Bands:
GSM 850
GSM 900
GSM 1800
GSM 1900
WCDMA Band V (850)
WCDMA Band VIII (900)
WCDMA Band II (1900)
WCDMA Band I (2100)
LTE 800
LTE 900
LTE 1800
LTE 2100
LTE 2600 Data speed - Upload:
HSUPA Cat 6 - 5.76 Mbit/s
LTE Cat 3 - 50 Mbit/s Data speed - Download:
EGPRS MSC 12 - 236.8 kbit/s
HSDPA Cat 24 - 42.2 Mbit/s
LTE Cat 3 - 100 Mbit/s

that is the only place it's going the rest of us get the 820

Yea at&t should be first as there the carrier that invested the most on the lumia line. I hope t mobile is next. Really likeing the 920 on red

Except for all the Lumina advertising TMo did that I never saw AT&T do... Too bad Nokia probably has no plans to make the 920 fully dual ATT-TMo compatible.

Anyone know where to find the full video of the event?

Nevermind, seems to be back up now. http://www.nokia.com/global/about-nokia/webcast/live/

is it only me but when i try to access the link, it says Request is missing required parameter.

I may have missed it, but whats the memory of the 920?

Its nice that it has 32GB but I needed that microSD card.

820 has microsd slot. Just saying.

It's pretty bad that we have to compromise just to get more storage

Nokia told that it was already hard enough to fill all those connection in the unibody that is the 920 that they did not want to compromise the look of the phone for a SD card and that most people never fill their phones. Form before function.

God this phone looks awesome, plus I'm looking forward to seeing a lot more Yelp augemented reality apps, that would be really cool. Since microsoft/bing partnered with yelp. I can't really express how awesome that camera looks though, yes, finally i can take decent night shots with just my phone camera.

Wish I can leave yelp review right away from phone... Currently both map hub and yelp app do not have reviewing ability

Signed up at phones4u. Getting the 920 the day it comes out. I'm already with them on my 800. Over 12 months left on contract but they'll buy you out. Can't wait.

Interested in this "buy you out" thing from Phones4U, got 18 months left on my contract so I was resigned to sitting back and waiting at least until Nov next year when the usual upgrade time comes (6 months left).
Whats the deal with being brought out of contract then?

920 without a microSD, I'm still upset about it. Give me the option to do at least 48GB in the 920 then I'll throw money at you.

Agreed. This is the sole reason I will not buy a 920. I'll consider an 820, but am leaning towards HTC. Hope they have a lil more to reveal (like pricing & availability!!!).

Same here would love the 920 but need that sd slot... 920 should have had a HDMI and sd slot on the right side of the phone

Don't know how they did it but with the new colors the 920 is absolutely gorgeous and better looking than any other phone today IMO. Day one purchase.

+1
For me, on AT&T in glossy white. :-D

Shoot idk the 820 looks like a slouch next to the 920 lol. Hell the 820 feels like a consolation prize.

As far as I knew, Microsoft was releasing Windows 8 on 10/26 and the Phone would be released on 10/28...since that's around or close to Build, its not inaccurate but hardly unknown. =[

Nice little piece being reported now that substantially more news stories and Google searches were done for the Lumia 920 than the new Motorola Droid HD. I mean by a lot! At wmpoweruser.com

I believe it, I was just out to dinner with some friends, and I was talking about it. One of my friends who doesn't even own a smartphone herself was like, "Are you talking about the Nokia L-something 920? With OIS?" I was dumbstruck...it was great.

I just talked to someone, android fan, talking about how that pureview video was all fake, etc...

You should have told him when the 920 comes out bring is retard green robot and see who is fake.

The way the prototype hardware being used was blown up was just usual tabloid journalism, but I do wonder if there is a deliberate marketting strategy here too?
Now the second the Lumia 920 comes out every tech blogger is going to want to "reveal the lie" and test out its supposedly awesome camera performance to show its not really as good as they claim.
That's a lot of really good PR if every review comes back to confirm it is as good as the photo's show and does indeed blow away the competition!

1 video was on prototype hardware, 1 video (chick on a bike) was on completely different equipment (not a phone) to 'simulate ois'. Everyone is up arms over the second, faked, video.

Lucky that Nokia didn't go the Android route too, I'm not envious of the offerings on the other side, more ram + more cores really gets old fast.
The one and only feature they had which would have interested me was the larger battery, that's rather depressing, competition like that is just perfect for Apple and their one feature a year additions to shine.

Sometimes I feel like Nokia should just concentrate on only 1 phone. Put 100% efforts into 1 device and put all innovations behind it. Trim the fat where it needs to be trimmed and serve me the best dish you have.

That the apple model, I switched from iPhone for that very reason. Android is a complete mess. Thank god Nokia didn't go down that route. I love my Lumia 800, didn't buy the Lumia 900 because of the flat screen. I'm definitely getting the Lumia 920.

People are saying the release date is like October 26th or whatever. I hope it comes out WAY sooner than that! Like first week of October.

To anyone that was actually there, did Nokia have any of the 920's in the gray/silver color on display?

Everything except price and a date. MS and Nokia being a little too tight lipped about things.(is... Surface and 920)

I was mad at first about the L920 not having a micro SD slot but with image stabilisation I would never need to erase all the bad shakey pictures anymore to get more space.
/yes i know i should erase them right away but I forget sometimes


Sounds interesting. 32gb should be enough. All my pictures I have upload directly to Skydrive so it shouldn't be an issue. Still playing the waiting game.

RELEASE THE DAM THING!

sorry, had to get that out....

I'm looking forward to what else they can muster up. A 920 with a keyboard and stylus would be my holy grail!

Why would you need them to provide a stylus? With the new screen you can any stylus you want. I have several from my old DS. You could use a pencil, your keys or a twig if you like :P

It needs to slide into the phone for storage.

If you guys take a look at the PureMotion HD+ video, pause it at 0:56, you'll see that the video shown is not Lumia 920. Its logo is centered and much less space wasted at the bottom. New Lumia? :-) Me likeeee

Yeah, looks like a pre-production / artists impression. It does look better, but the bottom gutter is kinda necessary for thumb-reachability

But what about the tablets?... I thought we could expect at least some announcement Anyway, I want the 920 in the size of my 800, but I guess it's gonna be huge screens from now on

The yellow is starting to grow on me. Is it waterproof?

If the 920 comes to T-Mobile, I'd be a happy camper...but most likely, we're getting the 820...I'd love for T-Mobile to surprise me though..

Surprise you're not getting what you want. :-P

I'll go with the one that has an equalizer for my tunes - the ATIV S, or Lumia 920. It matters that much to me,...

Nokia already has my support and money! Two beautiful devices.

Don't forget about HTC (SEP 19) just sayin

Probably nothing new from HTC. Just the One X version of WP.

The Titan did come close for me as a phone choice, so far they are the only other phone manufacturer to bring something that wasn't just a generic phone (at the time its screen was super sized, and the 16MP camera on the second edition was a nice feature).
It would be good for windows phone if they do release something other then a recycled droid phone, if they don't bring anything unique then I can see Nokia having a free run at the windows phone market for another year.

All I want I seamless transition either by the companion app or something other that syncs everything with my Nokia Windows 8 Tablet, Windows Computer and Xbox 360. I like a smooth Ecosystem.

Mmm i like alot the 920 but i want to see what htc have in plans, i have the titan and is very nice phone also i like big screen. The ativ have a big screen but samsung phone feel to cheap and the music quality is not that good for what i had experienced.

Come on Nokia, You could have gotten a micro SD slot on top just like the two slots I have on my Lumia 800 (sim card and charging port side by side). Since now it looks like charging port will be standard in the bottom of the phone why not put a micro SD slot on top??. I have a feeling we will see a 64g option available as well. Take my money and release the damn phone will you. Red or Gray?? hmmmm

They probably didn't have enough room on the system board to put the connection and the processors/controllers for it... probably 30 of the phone is the camera, amazing how they put that good of a camera in that thin of a phone with no bump at all :D

No, they've already said that they could, but didn't want to compromise the purity of the design *sigh*

64gig I assume is a novelty. Makes people feel good to know it exists. The majority will purchase the 16 or 32gig. Guarantee that no will ever use above or beyond 16gig if they know how to use SkyDrive.

...so micro sd not necessary.

Please Nokia / Microsoft no more waiting 2 months. 2 weeks max and start pre-orders as soon as the event ends. This is the only way ahead if we want to compete with Android & apple.

Forget +1000
Make that x1000

Forget x1000
Make that x99999

Forget x99999
Make that x99999+1

I wonder what graphics chip they use on this Snapdragon S4. Might be the Adreno 225.

I want to see Ben the PC guy do a smoke by windows phone with the 920 camera.

No that wouldn't even be fair, the 920 is like hollow point rounds.

I really did think, the announcement of Angry Birds Roost, is just to save him from video-out error. Secondary Protocol :D

Since the 920 has such an AMAZING camera, all we need now is Instagram...maybe?? Please???

Instagram should jump on the Lens app capability, would make WP8 instagram client almost the best immediately, and with the gorgeous photo quality of the L920 the iPhone pics can kiss their sweet hegemony goodbye

All I know is it sucks to be a Tmo customer.

Im for sure getting the lumia 920 I just wish they had one in blue like the 900

I can't wait to get my Nokia 920. Its my dream phone!!
Windows Central Newsletter
Thank you for signing up to Windows Central. You will receive a verification email shortly.
There was a problem. Please refresh the page and try again.