Countdown to 2014 Xbox 360 sale: Marvelous deals, last chance to get Marvel vs. Capcom games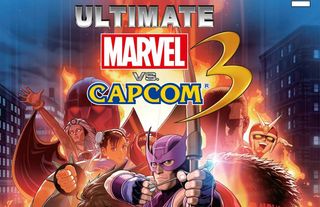 Every year since time immemorial, Microsoft has put a ton of downloadable Xbox 360 content on sale around Christmastime. The sale returns once again this year as the Countdown to 2014. Running from today through December 31, the Countdown consists both of daily and weekly sales. The first batch of weekly deals runs through the 23rd.
Head past the break for a full list of today's Countdown sales and the weekly deals.
Of special note this year is the inclusion of the Marvel vs. Capcom titles in the Countdown. You see, Capcom's license to the Marvel vs. Capcom brand expires this year. As a result, all downloadable Marvel vs. Capcom games and content will be delisted on December 26. Unlike Windows Phone and Windows 8 games, they can be redownloaded after the delisting. The good news is Ultimate Marvel vs. Capcom 3, its DLC, and the previous XBLA installments are all on sale for super cheap until December 23rd. Get them now before they're gone forever!
First up: the two sales that will last all week long. Then we get to the daily deals for today and tomorrow. All prices listed are for the United States. Prices will vary in other regions.
Marvel vs. Capcom Sale – December 17-23
Open to all Xbox Live users. Games and downloadable content will be delisted on Thursday, December 26.
Marvel vs. Capcom 2
DLC for Ultimate Marvel vs. Capcom 3:
Marvel vs. Capcom 2 is considered by many to be one of the best fighting games ever made. It first appeared in arcades and then the Sega Dreamcast console back in 2000. The XBLA version adds online multiplayer but is otherwise a low-frills port.
Players battle each other with a team of two characters. The game features a whopping 56 fighters, with 28 coming from Capcom games and 28 from Marvel comics. The graphics are made up of 2D sprites and 3D backgrounds. The music is utterly horrible, but on the Xbox 360 you can listen to a custom soundtrack instead! We miss that feature on the Xbox One.
Ultimate Marvel vs. Capcom 3
Ultimate Marvel vs. Capcom 3 is an improved version of Marvel vs. Capcom. It launched as a retail title and is now available via Games on Demand.
In this game, players select a team of three characters and then fight in 1-on-1 battles. As with the second game, you can "tag out" characters during the match. The graphics are entirely 3D, but the gameplay remains 2D and relatively similar (but more complex) to Marvel vs. Capcom 2.
The Ultimate version adds 12 new characters that weren't present in the original Marvel vs. Capcom 3, for a total of 48 characters (50 if you buy the two additional DLC characters). The new characters are: Doctor Strange, Ghost Rider, Hawkeye, Iron Fist, Nova, and Rocket Raccoon on the Marvel side; and Firebrand, Frank West, Nemesis T-Type, Phoenix Wright, Strider Hiryu, and Virgil on the Capcom side.
Ultimate is the final version of Marvel vs. Capcom unless Capcom ever renews the license and produces a new game. Get it via Games on Demand for a ridiculously low price – even with both DLC characters and the full costume pack it only rings up at $12.56!
Even after the game gets delisted, you'll still be able to buy existing copies of the retail version. However, the DLC will be gone for good. If you love Marvel or fighting games, don't miss the chance to own this massive crossover fighter.
Countdown to 2014 Sales: Week of December 17-23
Open to all Xbox Live members.
Castle of Illusion
Xbox Live Arcade
Games on Demand
Xbox Live Deal of the Week – December 17-23
Open to Xbox Live Gold members only.
Countdown to 2014 Daily Deal: Tuesday, December 17, 2013
Open to all Xbox Live members.
If you play Borderlands 2, you definitely need the second Vault Hunter Upgrade. It raises the level cap and adds other nice bonuses.
Countdown to 2014 Daily Deal: Wednesday, December 18, 2013
One of Wednesday's sales has been revealed in advance; there could be more. Open to all Xbox Live members.
Terraria is still due out on Windows Phone 8 at some point. Why not enjoy the XBLA version while you wait? Fans of Minecraft will enjoy its mixture of exploration, survival, and building – all in a 2D world.
More sales every day!
That's all the sales we know of for now. There will be new daily deals each day from now until the end of the year. A new batch of weekly sales should come along on December 24 as well.
See any games you'll be buying, dear readers? Or have you moved on to the Xbox One with no plans to look back? Let us know in the comments below.
Windows Central Newsletter
Get the best of Windows Central in in your inbox, every day!
Paul Acevedo is the Games Editor at Windows Central. A lifelong gamer, he has written about videogames for over 15 years and reviewed over 350 games for our site. Follow him on Twitter @PaulRAcevedo. Don't hate. Appreciate!
When is Terraria coming to WP8?
cool deals if i owned a 360.

Tony Hawk's Tony Hawk's Tony Hawk's Tony Hawk's OMg!!! I played this game so much back in the days on my Dreamcast!! I might get the HD version!!!

Ha, me too. Tony Hawk's Pro Skater 2 was boss. Also, Marvel vs. Capcom 2 on Dreamcast.

So yeah, I just bought Borderlands 2 GotY at Best Buy a week ago because it was only $40. They then do this to me. I guess it doesn't metter because I used a gift card to Best Buy on the game (and couldn't find anything else to buy), but it's still annoys me slgihtly. The rest is ho-hum garbage, except Infinite, which I'm not even sure if I'd ever get around to playing. I'm just hoping that we get to something good Thursday, once the Steam stuff kicks in.

Dont be annoyed. Getting the GOTY edition is still the better deal. Even with the sale getting everything on XBL that comes included with the GOTY edition comes out to about 43$ while GOTY is only 40$.(Actual Game-8$ Season Pass-20$ Pycho character pack-5$ And Mechromancer-10$). Buying the GOTY edition is still a better deal, but you should have still picked up the vault hunter upgrade pack 2 and the halloween dlc for 50% off.

I got the Walking Dead episodic series last Christmas cuz it was so cheap (I don't watch the show) and ended up really enjoying its storyline and play style. All episodes were enjoyable. I'll probably pickup BI for that cheap, wow!

Thanks. I see a few games that I plan on downloading.

Infinite here I come, I was waiting for your price to go down. Thanks MS

Shoot, Marvel vs Capcom Origins is not on sale, still $14.99. I already have MvC2.

Yeah, odd how Origins isn't part of the sale.

I went ahead and bought it. Was hoping it was a mistake and they would adjust the pricing but it doesn't look like it will happen, and I didn't want to miss out on owning it.

I hear you. Origins is a fine collection of two classic games. Will be a shame when it's gone.

It's on sale on the psn network. That's weird

Thanks for letting us know. Appreciate it!

Thanks wpcentral, this article adds another game to my list of delisted games on my 360.

my friend kust said that theyre gonna stop selling mvc because capcom isnt gonna renew license with disney?

lol i should read the article before commenting.
Windows Central Newsletter
Thank you for signing up to Windows Central. You will receive a verification email shortly.
There was a problem. Please refresh the page and try again.