Xbox Game Pass JRPG, Eiyuden Chronicles reveals new character in September update
By Alexander Cope published
A new hero will be joining the fight in the retro-inspired Xbox Game Pass JRPG, Eiyuden Chronicles: Hundred Heroes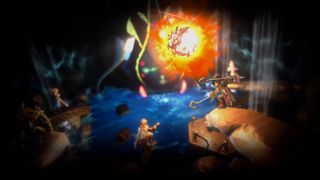 (Image credit: Rabbit and Bear Studios)
What you need to know
Eiyuden Chronicles: Hundred Heroes is a Kickstarter-funded JRPG developed by Rabbit & Bear Studios and published by 505 Games.
It will be coming soon to PC, PlayStation, Xbox platforms, and Xbox Game Pass in 2023.
A new party member has just been revealed in an update on the Kickstarter page via Lordsofgaming.
In 2020, game developer Rabbit & Bear Studios launched a successful Kickstarter campaign for a JRPG called Eiyuden Chronicles; Hundred Heroes. This project promises to harken back to the 1990's era of JRPGs with a turn-based battle system, 2D character designs rendered against a 3D backdrop, and an epic story written by Yoshitaka Murayama, the scriptwriter for the Suikoken 1 and 2.
Speaking of Suikoken, one of Eiyuden Chronicle's advertised gameplay features is that it will allow players to recruit over 100 characters to your party. Today, Rabbit & Bear Studios and publisher 505 Games announced the identity of one of those potential recruits on the Kickstarter page via Lordsofgaming.
This finely dressed, feathery gentlemen is Squash. He belongs to a race of humanoid birdfolk called Ornitha and likes to hawk shiny accessories to passersby. It is currently unknown if Squash has any combat abilities or he is simply a humble merchant that aids the player with wares, only time will tell. The update also unveiled a monster that the player will encounter called a Nikkari, a dangerous wraith that possesses the soul and skills of a dead warrior.
Recruiting over 100 characters is one of the many features you can expect to see in Eiyuden Chronicles; Hundred Heroes. Thanks to the overwhelming fan support smashing all its stretch goals, the game will include fully-voiced dialogue, more party members, more sidequests, more mini-games, a fully orchestrated soundtrack, and much more.
With many promises to keep, will Eiyuden Chronicles: Hundred Heroes live up to expectations and become one of the best games on Xbox Game Pass? We will have to wait until 2023 to find out.
Eiyuden Chronicles; Hundred Heroes is scheduled to be released in 2023 on PC, PlayStation 4, PlayStation 5, Xbox One, Xbox Series X and Xbox Series S. It will also be added onto Xbox Game Pass when it launches on Xbox systems. Also, an action RPG prequel, Eiyuden Chronicles; Rising will be released on the same systems in 2022.
Band together with friends
Eiyuden Chronicles; Hundred Heroes
A new adventure awaits in the land of Allraan.

Eiyuden Chronicles; Hundred Heroes is a JRPG that promises to take players on a journey inspired by classic titles like the Suikoden series. Meet over a recruitable over a hundred potential party members, engage in tactically-intense turn-based battles, and embark on a quest that will change the realm of Allraan forever.
Alexander Cope is a writer for Windows Central and iMore that has been gaming since the 16-bit era.
I can't wait for this one. Reminds me of Suikoden, but with gorgeous visuals.
Windows Central Newsletter
Get the best of Windows Central in in your inbox, every day!
Thank you for signing up to Windows Central. You will receive a verification email shortly.
There was a problem. Please refresh the page and try again.