Xbox Games with Gold for April 2019 feature Outcast and Star Wars: Battlefront II
Star Wars: Battlefront II is phenomenal!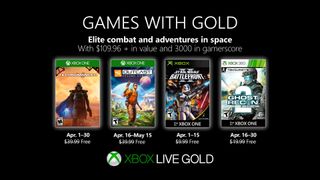 Today, Microsoft announced April's free Games with Gold for Xbox One and Xbox 360 owners. Starting on April 1, The Technomancer and Star Wars: Battlefront II will be free with the subscription. Keep in mind that this is the first Star Wars: Battlefront II that launched on the original Xbox in 2005. Then, on April 16, Outcast: Second Contact and Tom Clancy's Ghost Recon: Advanced Warfighter 2 can be downloaded at no cost. You need an active Xbox Live membership to play the Xbox One games, but the original Xbox and Xbox 360 titles are yours to keep after you redeem them once. It doesn't matter if you're still an Xbox Live Gold subscriber.
According to the company, April's lineup provides over $109 in value and up to 3,000 in Gamerscore. You can read about the titles below.
The Technomancer
The Technomancer is a role-playing game which takes place on Mars. You have to use a combination of various weapons to uncover the truth and unravel a conspiracy that threatens everyone. Have you ever played Bound by Flame? Well, The Technomancer is from the same developer.
Outcast: Second Contact
Outcast: Second Contact is a remake of the original cult classics from the early days of gaming. While the visuals have been overhauled, the control scheme remains the same. The "floaty" controls may be the biggest barrier to entry because you can't shoot enemies with much precision. Luckily, there are ways around that. Outcast: Second Contact was one of the first games to feature open-world environments and a fast-travel system.
Star Wars: Battlefront II
What can be said about the original Star Wars: Battlefront II that hasn't been said before, it's an amazing third-person multiplayer game. This is what EA's title should've been when it launched a few years back. Instead, the new game was full of microtransactions and other balancing issues. If you want to relive the good old days, be sure to check out the original Xbox title.
Tom Clancy's Ghost Recon: Advanced Warfighter 2
Tom Clancy's Ghost Recon: Advanced Warfighter 2 is a third-person action game which takes place across diverse locations. While the title may not be comparable to modern games due to its technical limitations, it's still a lot of fun if you want to see how experiences like Tom Clancy's Ghost Recon Wildlands and The Division 2 were influenced by it. If you already own it on Xbox 360, the good news is that it became backward compatible today.
Be sure to download all four of these games next month because many of them are great experiences. Out of all of these, we would recommend playing Star Wars: Battlefront II because it's an incredible title that holds up even to this day.
Asher Madan handles gaming news for Windows Central. Before joining Windows Central in 2017, Asher worked for a number of different gaming outlets. He has a background in medical science and is passionate about all forms of entertainment, cooking, and antiquing.
Anybody else feel the Games With Gold titles are getting more and more underwhelming?

I still have around a year and a half left on my membership, which now I hardly ever use as I haven't touched a game in ages, and even when I do, it's mostly single player. If I don't see anything worth wild I might not renew anymore.

Yes, I would say since game pass.

I would like at least one killer title every month. The only good one here is Battlefront II and I already own it... Like most people interested in it likely do.

I was actually thinking the opposite. I'm excited about this months games. I haven't played any of them, other than Star Wars, which I haven't played since the early 2000's

I think we should just be thankful that we get free games. I have been on xbox live since day one. I got the xbox live kit for my birthday in 2002. If I recall correctly the price for the service was the same a it is now, 17 years later. On top of that, we now and have been getting 4 games per month for free for quite a while. I, personally can't find a single reason to complain about what I am receiving for my $5 a month. But that's just me.

I'm sure people will find something else to complain about. I personally really liked Outcast, Star Wars: Battlefront II, and even The Technomancer. I haven't played TCGRAW2 yet.

I'm not complaining about the fact we get free games. Just saying it isn't like it used to be. Publishers are likely getting more greedy with licencing fees. And/or Microsoft is fully focused on integrating xCloud with Game Pass.

"the fact we get free games"
Is it really free if you're paying for the service and these games are part of the service? This is like those who say we get so and so game for free on game pass. Well, you are paying for the service... This is like saying I'm getting a TV channel for free even though I pay for it every month.
Plus let's not forget that in case of XB1 games (with GwG and game pass). It's only renting the game.

Good points. I thought when you download a Games With Gold title, it's yours to keep.

You can keep an Xbox 360 game or an original Xbox game you get from GwG. However, Xbox One titles are only available while your Gold subscription is active. If you let it lapse you will lose access to any Xbox One games you got through GwG.

@Rodney
Well, they'll have to show us that most of the money is actually going to maintaining and upgrading the servers. And most of it isn't going straight back in their pocket. Do they need continuous income for so many years to build the infrastructure? Do they need that much money just to maintain servers? Why can't they be transparent about where the money goes? In 2013, we were promised dedicated servers. Why aren't PC gamers paying to play online? MS who already introduced paying to play online on console tried to do the same for PC. PC gamers told them to **** off and finally MS aren't charging them to play online. MS didn't stop running servers for PC gamers. In fact they are trying to get more and more non-XB1 owners to play on their servers withour asking them money. How many times have I seen people trying to defend microtransactions by saying that they need to do that to maintain servers for a multiplayer game. Then why the **** are we paying every month to play online? The whole problem is that console gamers accepted the idea that they need to pay to play online. MS introduced games just because PS+ was offering games. They waited YEARS before doing it and only did this thanks to competition. And while some of the gamers want to ask questions, others will just accept it like sheep.

Ghost recon aw2 is a really good one

Outcast was a gem back in 1999 and it is still nowadays. I haven't played the remake yet, but I'm super happy about it's inclusion to Games with Gold! Is it still possible to play Star Wars Battlefron II online on original Xbox nowadays?

This is good for me, both of the One games I'm looking forward to playing, I loved the original release of Outcast.
Windows Central Newsletter
Thank you for signing up to Windows Central. You will receive a verification email shortly.
There was a problem. Please refresh the page and try again.