Best Xbox game deals for April 2020: Borderlands, Shenmue, and more
Check out these great deals on Xbox One games.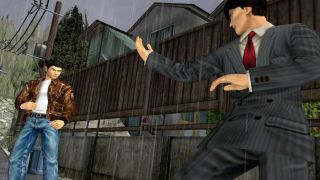 (Image credit: Sega)
Every week Microsoft and certain publishers discount numerous games for Xbox Live users. Some deals are available only to Xbox Live Gold members and others are available to anyone who utilizes the service through a Spotlight sale. A wide variety of titles, ranging from small experiences to massive blockbusters, are available for substantially less. This week, prominent games from the Borderlands and Shenmue franchises are on sale. Here's a look at some popular discounted titles.
See at Microsoft Store (opens in new tab)
Xbox One games
Ark: Survival Evolved - Explorer Edition
Combining the base game with three massive expansions, Ark: Survival Evolved - Explorer's Edition is a ultimate way to get even more dinosaur action! The Explorer's Edition gives you access to the mega hit Ark: Survival Evolved as well as the Scorched Earth, Aberration, and Extinction Expansion Packs, adding nearly 900 hours of gameplay.
You can purchase Ark: Survival Evolved - Explorer Edition for $31.49 on the Microsoft Store (opens in new tab). The game is Xbox One X Enhanced.
Borderlands: The Handsome Collection
Shoot and loot as you explore the mayhem-filled world of Pandora in Borderlands 2 and the lunar madness of Borderlands: The Pre-Sequel in Borderlands: The Handsome Collection. Experience the award-winning first-person shooter series, including its bazillions of guns, trademark cooperative gameplay, and all bonus add-on content, with high performance like never before on a new generation of consoles.
You can purchase Borderlands: The Handsome Collection for $14.99 on the Microsoft Store (opens in new tab). The game is Xbox One X Enhanced.
Contra: Anniversary Collection
Grab power-ups and blast your way through waves of menacing enemies and bosses that will put your reaction skills to the test. Also included is a digital Bonus Book with tons of concept documents and sketches, the official chronology of the franchise, an exclusive interview with the veteran producer of the series, and more.
You can purchase Contra: Anniversary Collection for $7.99 on the Microsoft Store (opens in new tab).
Darksiders: Genesis
Darksiders: Genesis is an action-adventure that tears its way through Hell and back with guns blazing and swords swinging. Genesis gives players their first look at the world of Darksiders before the events of the original game. Furthermore, it introduces the fourth and last horseman Strife, as well as co-op gameplay for the first time in the history of the franchise.
You can purchase Darksiders Genesis for $35.99 on the Microsoft Store (opens in new tab). The game is Xbox One X Enhanced.
Grand Theft Auto V
When a young street hustler, a retired bank robber and a terrifying psychopath find themselves entangled with some of the most frightening and deranged elements of the criminal underworld, the government and the entertainment industry, they must pull off a series of dangerous heists to survive in a ruthless city in which they can trust nobody, least of all each other.
You can purchase Grand Theft Auto V for $14.99 on the Microsoft Store (opens in new tab).
Gears 5
The world is crumbling. The Swarm has corrupted the Coalition's robot army and is descending upon human cities. With danger closing in, Kait Diaz breaks away to uncover her connection to the enemy and discovers the true danger to Sera – herself.
You can purchase Gears 5: Ultimate Edition for $43.99 on the Microsoft Store (opens in new tab). The game is Xbox One X Enhanced and a part of Xbox Game Pass.
No Man's Sky
No Man's Sky is a popular space simulator where you can go anywhere and do anything. Whether you leave your mark as a trader or pirate is up to you.
You can purchase No Man's Sky for $19.93 on Amazon (opens in new tab). The game is Xbox One X Enhanced.
Shenmue I & II
In 1986, teenage jujitsu artist Ryo Hazuki returns to the dojo of his father, Iwao Hazuki, only to witness his murder by a Chinese man, Lan Di. Lan Di steals a mysterious artifact known as the Dragon Mirror. Ryo vows to avenge his father's death and sets out tracing Lan Di's path.
You can purchase Shenmue I & II for $14.99 on the Microsoft Store (opens in new tab).
Titan Quest
From Age of Empires co-creator Brian Sullivan and Braveheart writer Randall Wallace comes an innovative action role playing game set in ancient Greece, Egypt, and Asia. The Titans have escaped their eternal prison, wreaking havoc upon the earth. The gods seek a hero who can turn the tide in an epic struggle that will determine the fate of both men and gods.
You can purchase Titan Quest for $7.49 on the Microsoft Store (opens in new tab). The game is Xbox One X Enhanced.
Keep in mind that you need to be an Xbox Live Gold member to access the majority of these discounts. For the complete list visit Major Nelson.
Which titles are you interested in? Let us know! Be sure to check out games from the Kingdom Hearts and Mutant Year Zero franchises because they're great experiences.
Play more games
(opens in new tab)
Play for a few months

Xbox Game Pass gives you access to over 200 games for one monthly fee. Xbox Game Pass Ultimate also adds Xbox Live Gold to the package so you can play online with your friends.
Windows Central Newsletter
Get the best of Windows Central in in your inbox, every day!
Asher Madan handles gaming news for Windows Central. Before joining Windows Central in 2017, Asher worked for a number of different gaming outlets. He has a background in medical science and is passionate about all forms of entertainment, cooking, and antiquing.
Finally the HW2 DLC is down

Diablo 3 = a must buy for everyone. Awesome game

titan fall 2 ultimate for $10? maybe.

I got it for $6 2 weeks ago. :D

Theeeeere's the elite dangerous pricedrop i was waiting on

Fly Safe Commander, See you in the Black!

Feel free to add me on Xbox, Sin Ogaris is my gamertag, I'm keen to find some people to fly with.

@Sin Ogaris, those comments are from February lol.

Yeah, I realised after the fact, but he should add me anyway.

Um, the headline reads "Forza and Lego"...Did you mean Farming Simulator and Fortnite?

I think the article itself is messing up as those were last week's deals.

This article is wrong. Completely wrong

Oh...it's the app...showing a two week old article as a new one... wtf

App is still showing the wrong content for the headline on the main page...

Can you please fix this crap. Happens every time. Keeps loading the article that's three weeks old.

Here we go again with the mobile article not updating and posting the wrong info.

dang tfall2 ultimate was just $10, now it's even less already.

Really? I loved the Story mode. But the OG TF (for multiplayer) is way better than TF2.

Oh wow, that's a lot of xbox 360 deals there. Thanks Microsoft, you must have really dug deep for those same deals again out of the 1000s of games you could have put on sale. Way to push xbox one, nice going.

GTA Online rakes in so much money, when are they going to just put GTAV for $5 or even free to pull in the last humans on earth that don't have it yet.

Is there a problem with the article ? 🤔

They shall not pass for free, thank you very much 😎

oh great, Origins dlc is discounted already

We're trying out a new format where we're only listing the most prominent games.

Well, it doesn't seem like a good idea, all kinds of games deserve their very own crowd. Also, please stop editing the same article every week (or whatever keeps happening), it messes up the comments.

I agree, it's weird reading one year old comment.
For more than a year, Asher Madan just edits the article instead of creating a new one.

It's a shame Mass Effect: Andromeda was never updated for Xbox One X. The game looks fantastic on PlayStation 4 Pro.

Hated the game. Worst in the series. No wonder its dirt cheap.

Of Course it was, and it runs much better than on PS4 Pro. DF even did a video about it.

I might grab Torment digitally at this price just so I can jump in and out whenever I want and eventually finish it.

I'm going to pick up the Surge to replace my disc copy.

Still waiting to see Need for Speed, Hot Pursuit (2) (by far the best versions) to be released for backwards compatibility. (The Run, & Most Wanted also desired). None of the newer online versions are very good compared to those...

DD:DA needs to come down to $10 eventually

So is Xbox going to do there big summer sales event this week? I haven't seen anything on it.

Nothing jumping out at me this week, which my wallet is thankful for.

Legacy collection 2 is twice the price for less games?

Okami is criminally underappreciated. In my opinion, Okami did Zelda style games better than any of the 3D Zelda's have managed to achieve. Plus, it's X enhanced. Granted, it's an HD makeover of a PS2 game, but man, does it hold up well. Exceptional style and just smooth gameplay. I couldn't recommend it enough, especially if it's on sale for Gold subscribers.

My issue with Okami was you progress through, get to end, you feel like this is it, you're done! Then you realise you are only halfway through the game and have to do all the same stuff for another ten hours or so. It is a fun game, don't get me wrong, but that bugged me about it.

What I want to know is when are Operation Flashpoint: China Rising and Medal of Honor (2010) and MoH: Warfighter going to be available for digital purchase?

Might spring for Unravel2

if only they would bring FF XII Zodiac Age to xb1x

TitanQuest rocks even at the original price. The publisher recently released updates that have improved the play and UI. Fun game, wish there was DLC!!

It's crashing incessantly for me (at least once every hour), it really makes me annoyed that I bought it.

Getting six dollars off Darksiders III doesn't seem like much of a deal. If it was 40-45 I probably would have jumped on it.

GTA that's pretty sweet for anyone who hasn't played it yet.

Sucks there are so many old posts getting posted as new

Well, the readership is at an all-time low.

I think readership is probably fine, but it seems like article discussion is much lower than it used to be, unless it's an article about upcoming Microsoft tech.

Because it is so much easier for the writer to just edit old topic. I think he must be thinking "who cares about the comment section?".
It's sad because people take their time to comment on a topic and that comment will just not make sense next time the "article" is updated.

Well I am guessing this is USA Only?

Pricing yes, but the sale, no. I get it here in Australia.

If anyone feels like playing an awesome game and story AND sh*tting their pants, play Soma!!

Xbox enforcement is bull **** don't cut my communication on my adult rated games lame mfs

And what gives you the right to cut communications for this #$%& thats not offensive or threatening again adult rated so **** **** ass ***** adult content mfs not to mention im an adult on a adult rated game you should all be **** canned you dumb asses

I've checked everywhere, and it seems that the list is so wring. Little Nightmares is not in the real deals for example.

Remember Ebates people... MS store is 15% cash back right now!!! https://go.ebat.es/LKV4UlMNlW

... And still %15 cash back!

Looks like it is over.... Back to 3.5 percent. Still better than nothing, and you still get MS reward points!

FYI I don't recommend the PDP Talon remote... It's actually amazing, but mine quit working after about 7-8 months and I NEVER heard back from either of my 2 support inquiries. Now, it's beyond warranty so it doesn't matter..

DMC5 and Re2 on sale! Pretty nice. I picked up FM7 on sale last week.

It's becoming quite noticeable that anyone who is paying for Game Pass doesn't really benefit much from Xbox sales.

Yes indeed. I'm to the point now where I'm likely not buying anything on sale. Now, DLC for GP games is another matter.

Agreed, I've bought a lot more DLC for games than I normally would have.

Yeah this 100%. I literally haven't bought a game since Red Dead 2. I have such a backlog on Gamepass. It's pretty rediculous the amount of games I have to play for like £120/year.

Ooooh, Call of Cthulhu for 75% off is mighty tempting.

Picked up snake pass... holy heck, no one told me it wasn't a kids game. How hard!

Think this one is an error: Madden NFL 20* | 10 percent | $90
Even if it is Xbox1X enhanced, it is overpriced.

I think you are missing some games. Like EA Games (Anthem, Battlefront) and Stranger Things 3.

The Sonic games are $2.49, not $1.49.

I appreciate that I was accepted into the Halo flight, but the process could be streamlined. Why can't I go to Steam, install the game, login with my credentials, and start playing? Restrict it to the Windows Store if they want more control over the process. It should be as simple as install, login, play.

When it comes to games on special that are also on Game Pass, do you also get the Game Pass discount on top of the standard sale price?
Windows Central Newsletter
Thank you for signing up to Windows Central. You will receive a verification email shortly.
There was a problem. Please refresh the page and try again.