New this week for Xbox One: Titanfall 2, The Elder Scrolls V: Skyrim Special Edition
Here are the upcoming releases for the week of October 24, 2016.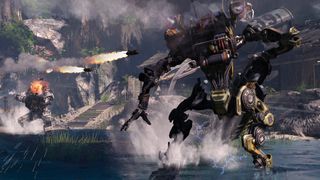 The month of October is coming to a close, bringing another wave of releases to the Xbox One. While the holidays are rapidly approaching, several this year's biggest titles are still on their way to the console. This week's lineup is packed with some strong contenders, including Electronic Arts' second shooter of the year, Titanfall 2. The Elder Scrolls V: Skyrim Special Edition also drops later this week, bringing a definitive version of Skyrim to current generation hardware. Other highlights include Farming Simulator 17 and Just Dance 2017.
Our top picks this week:
Titanfall 2
Only one week after the worldwide release of Battlefield 1, Electronic Arts will be debuting its second shooter of this fall: Titanfall 2. Hoping to improve upon the shortcomings of the first game, Titanfall 2 expands on the dynamic Titan vs Pilot gameplay which originally debuted back in 2014.
Unlike the original, which was a solely multiplayer experience, Titanfall 2 introduces a single-player campaign exploring the relationship between rifleman Jack Cooper and his Titan BT-7274. With larger sandboxes similar to the game's multiplayer battles, you and your Titan will fight through enemy forces while uncovering a character-driven narrative.
Titanfall's well-established multiplayer will also be making a return in Titanfall 2, introducing various changes which expand upon the original concept. With a new approach gameplay and progression, these changes are expected to create a more engaging and replayable experience over time.
Titanfall 2 launches on October 28 for Xbox One and PC.
See on the Microsoft Store (opens in new tab)
The Elder Scrolls V: Skyrim Special Edition
Return to the expansive world of Skyrim this week, with the remastered re-release of The Elder Scrolls V: Skyrim Special Editon for the Xbox One. Taking players back to the vivid landscapes on the 2011 classic, the Special Edition re-release brings together all Skyrim content into a definitive package.
Not only will you be getting all post-launch downloadable content, but also improved visuals in contrast to the version that shipped at launch. Notable graphical enhancements include new effects, volumetric god rays, dynamic depth of field and improved reflections. This version of the game will also support mods on both Xbox One and PlayStation 4, similarly to the original PC version.
The Elder Scrolls V: Skyrim Special Edition releases this Friday, marking the game's debut on current generation consoles.
See on the Microsoft Store (opens in new tab)
Farming Simulator 17
Farming Simulator 17 also hits shelves this week, bringing an updated farming experience to the Xbox One. Throwing new animals, crops, and tools into the mix, the game expands the potential of your digital farms.
The game also extends its online functionality this time around, with sixteen-player cooperative play over Xbox Live. User created mods can also be installed on both consoles and PC to open an unlimited range of farming scenarios!
Farming Simulator 17 makes its way to Xbox One and PC on October 25.
See on the Microsoft Store (opens in new tab)
Other releases this week:
Tuesday, October 25
Wednesday, October 26
Saturday Morning RPG
Blast Brawl 2: Bloody Boogaloo
Exile's End
Friday, October 28
What about you?
What are you looking forward to this week? Are there any games you're looking to pick up? Make sure to let us know in the comments below!
Windows Central Newsletter
Get the best of Windows Central in your inbox, every day!
Matt Brown was formerly a Windows Central's Senior Editor, Xbox & PC, at Future. Following over seven years of professional consumer technology and gaming coverage, he's focused on the world of Microsoft's gaming efforts. You can follow him on Twitter @mattjbrown.
I'm looking forward to Skyrim special edition, but on the PC.

When will MS Store prices come down! Skyrim is £49.99 but on Amazon UK is £34.99.
Euro price is even higher. Please companies of the world if you want us to embrace digital one of the barriers is price.
I understand fear of upsetting traditional retailers who you still need to sell the actual devices but there the cost benefit outweighs the convenience of having the game pre-installed and not changing the disc.

I'm to the point now where when I see digital downloads for codes in the store I am almost tempted to get them. Hopefully Amazon follows. I would prefer digital out of the sheet laziness of not having to change discs to play different games, but buying them is usually more expensive.

Totally cant wait for Friday to be DragonBorn again!

I'm guessing it's the same release date for PC too?

Haven't kept up much with the development of Titanfall 2 after jumping in at launch with the original. Even though i enjoyed the multiplayer for a while, I didn't like that the first game had no campaign but seeing as though part 2 does, I'll most likely pick it up.

Titan fall 1 was fun to an extent. I had a lingering feeling it felt like a F2P under developed rushed game.. Just wasn't polished like CoD or Battlefield

Why did those fools at Bethesda decide to release their game this week when they know they'll have Cluster Truck to compete with and stealing their sales

Already have Skyrim downloaded just waiting for midnight and some mods to rummage through.